Georgia Facts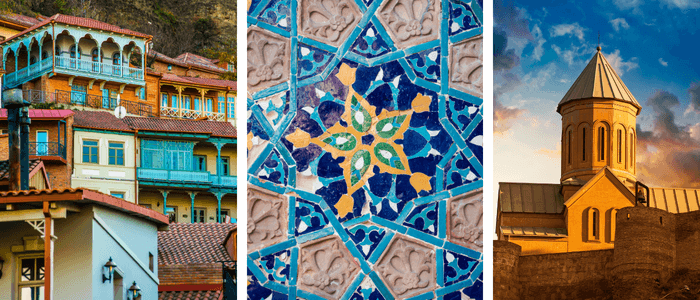 Georgia Facts: Impressions from Tbilisi
Interesting Georgia Facts for Kids
Here are some interesting Georgia Facts which were chosen and researched by kids especially for kids.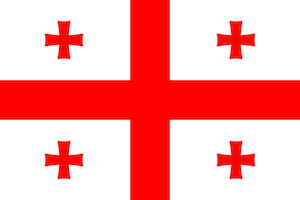 Georgia Flag
Population: 3.8 million people live in Georgia (2023)
Capital: Tbilisi, which is the biggest city in Georgia with over 1.1 million inhabitants.  
Name: Georgia, however, the Georgians call their country Sakartvelo. Saint George, the legendary dragon slayer, is the patron saint of the country.
Government: semi-presidential republic
Language: Georgian
Religions: Orthodox Christian (86%), Muslim (10%)
Literacy: 99%
Life expectancy: 77 years
Currency: 1 lari (GEL) = 100 tetri
National Flag: in the national colours white and red with five crosses. The Georgian flag is usually referred to as the Five Cross flag
National Symbols: Saint George (patron saint), lion (national animal)
National Day: 26 May (Independence Day)
National Anthem: The anthem called Tavisupleba (meaning "Liberty") was adopted after the Rose Revolution in 2004.
Georgia Geography | Georgia Facts

Georgia is a transcontinental country, and located mainly in Southwestern Asia. Georgia views itself as part of Europe. Georgia is located in a region called South Caucasus. The Great Caucasus mountain range is the natural border to Russia, one of its four neighbouring countries. 
The country is dominated by mountains and hills and has a central valley around Tbilisi and lowlands close to the coast of the Black Sea.
The population lives mainly in the central valley around the capital city Tbilisi and along the coastline. Svaneti in the country's north west is the most populated region in the Caucasus mountains.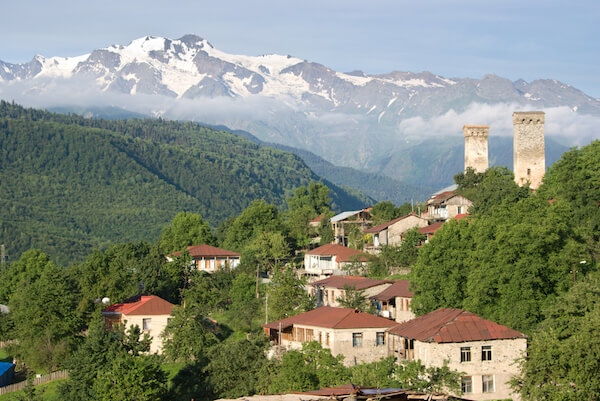 Svaneti and the Caucasus mountains
Georgia has a dry and continental climate in the eastern regions with snow in the higher lying regions of the Caucasus mountains and a mid Mediterranean-like climate in the western parts of the country close to the Black Sea.
Where is Georgia? - Georgia Map
There are four countries bordering Georgia. These are: Russia, Azerbaijan, Armenia, Turkey. The country also borders the Black Sea.
On the map below you can spot where Georgia is located in southwestern Asia.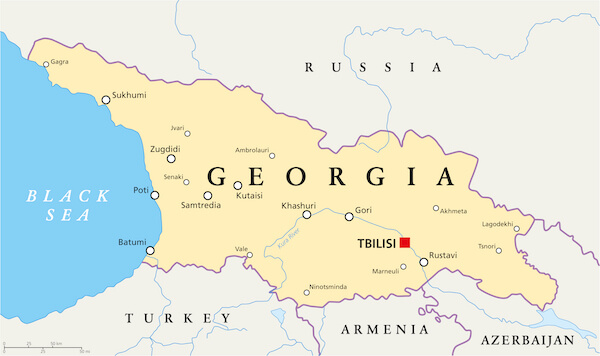 Map of Georgia
About 18% of the country's area actually is occupied and supported by Russia. The republics of Abkhazia and South Ossetia declared independence from Georgia in 2008. The USA, however, recognizes the break-away regions of Abkhazia and South Ossetia to be part of Georgia.
Georgia is bigger than Sri Lanka, slightly smaller than Ireland and also slightly smaller than South Carolina/USA.
A flight to Tbilisi takes roughly 5 hours from London/England and 13 hours from New York/USA. 

Geography Superlatives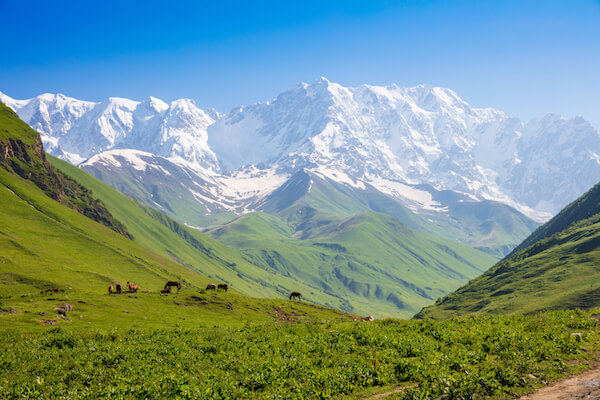 Shkhara Mountain - Georgia's highest mountain
Shkhara is the highest mountain peak of Georgia with 5,193 m/ 17,040  ft. in height.
The longest river is 

Mtkvari River with 1,364 km/ 847 miles

The largest lake is called Lake Paravani.

Georgia produces energy mainly in form of hydroelectric power and Zhinvali Dam is one of the biggest dams in the country.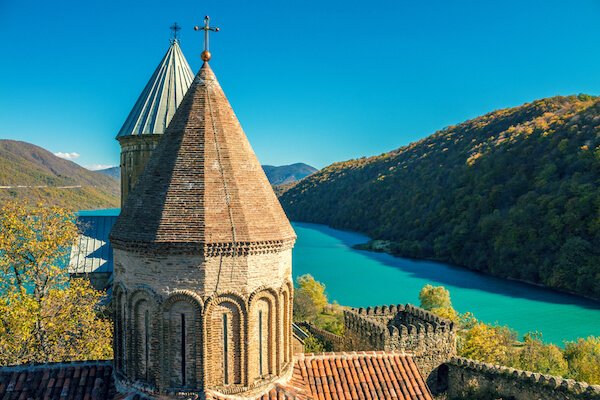 Zhinvali Dam
The four deepest caves in the world are located in Georgia. The  deepest cave called Veryovkina Cave is 2,212 m / 7,257 ft. deep beneath the earth's surface and the lowest point was only reached in 2018.
The three biggest cities are Tbilisi, Kutaisi and Batumi.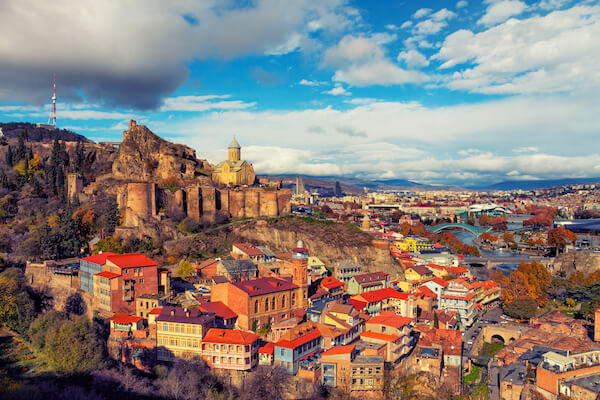 Tbilisi - capital city of Georgia
Georgia Attractions
Here are some attractions and famous landmarks in Georgia:

Tbilisi: The capital city presents a wonderful mix of old and new. Some of the government buildings in the city centre look futuristic space ships. The modern pedestrian Bridge of Peace is a well known landmark for the city; the curvy bridge links the old city centre with the new parts of the city.
Bridge of Peace over the Mtkvari River
Kutaisi: one of Georgia's biggest cities, Kutaisi was once, in the sixth century, the capital city of the ancient kingdom of the legendary Colchis. If you visit the town in May during the Chamomile Celebration, which Georgians call Gviriloba, you can experience some old Georgian traditions coming alive and many sports and cultural activities will take place during the festival.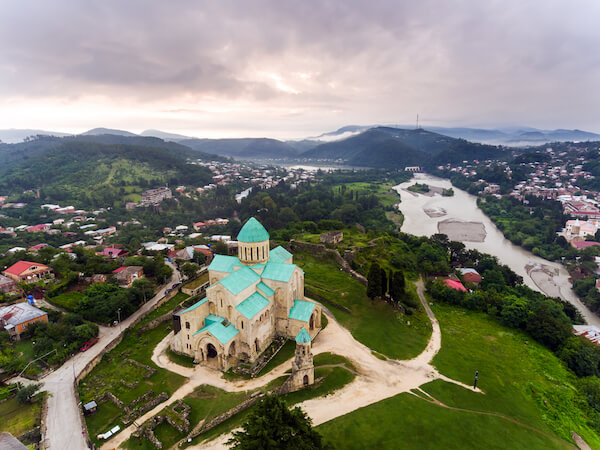 Kutaisi and the Bagrati Cathedral
Batumi: The Black Sea resort is known its magical botanic gardens and the Alphabet Tower as well as for its 9 km/ 5.5. mile-long seaside boulevard.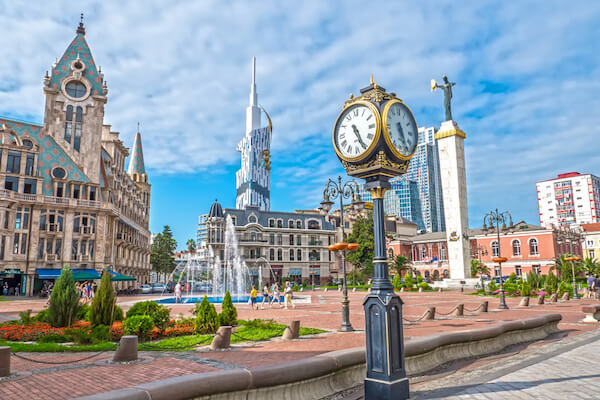 Batumi
Mtskheta: once the capital city of Georgia, this is one of the oldest towns in Georgia. Today the city is a often referred to as a 'living museum' with its many historical monuments. The early Medieval Jvari Monastery is a UNESCO world heritage site. The Orthodox church has hardly experienced any changes over all the centuries.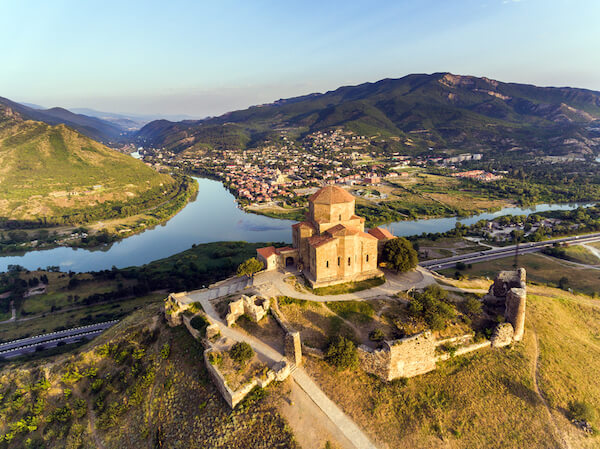 Jvari monastery overlooking the town of Mtskheta
The Katskhi pillar is a limestone monolith, that stands about 40 m/ 130 ft high. A tiny church hall and several rooms including three hermit cells are located on top of the pillar. Many legends surround the monolith, that is revered as the 'Pillar of Life'.
Katskhi Pillar
Ushguli, a small village in the Caucasus mountains is one of the four UNESCO world heritage sites in Georgia. The village is located near Georgia's highest mountains.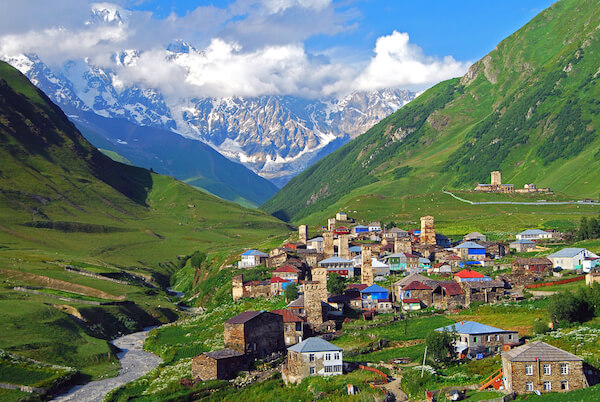 The village of Ushguli - and Mount Shkhara in the background
Yes, you can ski in Georgia! Gudauri is a popular Georgian ski resort. The winter sports resort is located at almost 2,200 m/ 7,200 ft and skiing is possible between December and April in this region.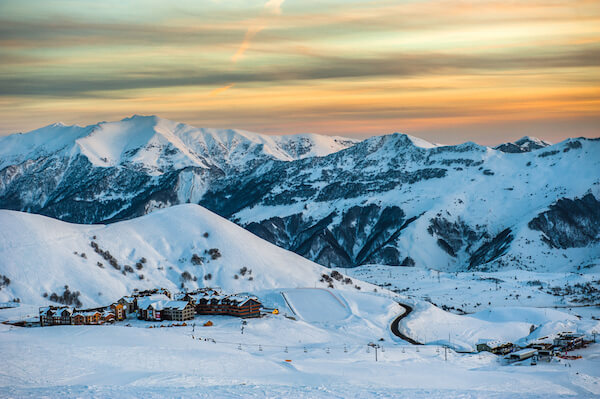 Gudauri ski resort
Holy Trinity Church in Gergeti,  located at 2,170 m/ 7,120 ft is a popular attraction. It can be reached either via a scenic but strenuous hike or since 2018, by car. 
Holy Trinity Church in Gergeti
Georgia Facts | Georgia People
The skulls of the Dmanisi hominids that were discovered in Georgia between 1991 and 2005 are more than 1.8 million years old. They are seen as an important link between the Africa ancestors and the European ancestors.
The biggest ethnic groups in Georgia are the Georgians (86%), Azeri (6%) and Armenians (5%).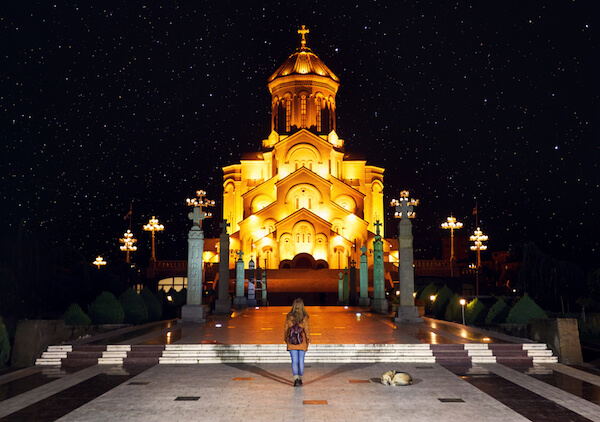 Holy Trinity Church in Tbilisi
Most of the people are Orthodox Christians (83%). Orthodox Christianity is the state religion in Georgia since the 4th century.  Religion plays a big part in the country's culture.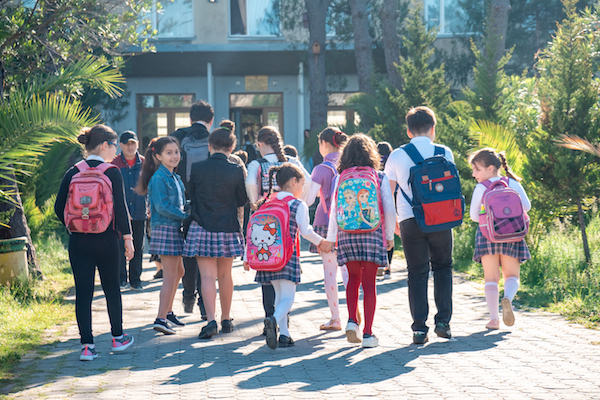 Children on their way to school in Poti/Georgia
School is compulsory in Georgia for nine years. All children must complete their six years of primary schooling and three years of further basic education in Grades 7-9. 
Almost 60% of the population live in the cities and major towns of the country. Youth unemployment is high with about 3 out of 10 young people under 24 years without any work.
Famous Georgians
Famous Georgians are:
Zaza Pachulia, former NBA-basketball player in the USA. He played for the Golden State Warriors and Detroit Pistons until he retired in August 2019. Pachulia annually hosts a summer basketball academy for young players in Georgia.
Singer-songwriter Katie Melua. She was born in Tbilisi in 1984. She left Georgia with her family when she was eight years old.
Joseph Stalin, former leader of the Soviet Union (1878-1953). Gori is the birthplace of Joseph Stalin. The former leader of the Soviet Union - Russian federation - is seen both as the leader who defeated Hitler and as a tyrant who turned on his own people.
Georgia Facts | Georgian Language
The official language in Georgia is Georgian. In the autonomous republic of Abkhazia Abkhazian is together with Georgian the official language.
About seven million people worldwide speak Georgian. The Georgian language is called Kartvelian by the Georgians. The language has a quite complicated system of conjugating verbs and includes seven cases for nouns!

The Georgian alphabet is called Mkhedruli. Below you see the landmark of Batumi, the Alphabet Tower.
Batumi Alphabet Tower with the 33 letters of the Georgian alphabet
The Georgian alphabet has 33 symbols for the 28 consonants and five vowels.

Georgian alphabet 'Mkhedruli' - image by Omniglot
Georgia Facts | Georgian Food
Georgian people are very hospitable and love to share their love of delicious food and drinks with visitors. 
The Georgian diet consists mainly of vegetables, fruits and meats such as lamb, pork and beef. In the western regions there are many variations of seafood dishes. Nuts, especially walnuts, are used in many Georgian dishes.
Typical Georgian dishes
Popular food in Georgia is:
Khinkali: dumplings filled with vegetables, meat (lamb, beef or pork) and spices, they get twisted at the top - see image above. 
Pkhali: vegetable dip or appetiser that is made with minced vegetables  such as spinach, eggplants or beets and mixed with a variety of spices and herbs as well as ground garlic and ground nuts
Skhmeruli: roasted chicken in garlic sauce
Khachapuri: a flat bread or pastry filled with cheese, see image above. Khachapuri is often referred to by foreigners as the 'Georgian pizza'. There are many different variations of this dish though, but bread dough and melted cheese are the main ingredients.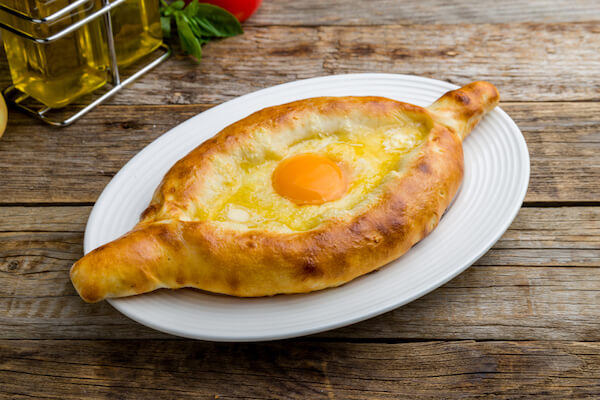 Adjara Khachapuri with raw egg yolk
Satsivi: spicy sauce made with ground nuts, garlic, cinnamon and herbs such as coriander. It is typically with vegetables, meat and fish dishes or as a dip with boiled eggs.
Churchkhela: this snack is a sweet treat! Strings of raisins, almonds, walnuts and hazelnuts get first dipped in sweet syrup which is made with grape juice and dough. Then the strings are left to dry for several days. These sweets are also popular also with Christmas and New Year celebrations.
Colourful Churchkhela sweets
Georgia is one of the oldest wine-producing regions in the world and Georgians are proud of their locally produced wine which is stored and aged in huge clay Kvevri (also spells as Qvevri) jars.

Georgia Facts | Animals in Georgia
There are about 100 species of mammals, 330 species of birds and 50 species of reptiles in Georgia.
There are dolphins and porpoises in the Black Sea as well as sharks and rays. 
High in the Caucasus mountains there are red deer, bears, wolves, jackals, wild goats and wild sheep. Some of the species here are endangered due to hunting and poaching.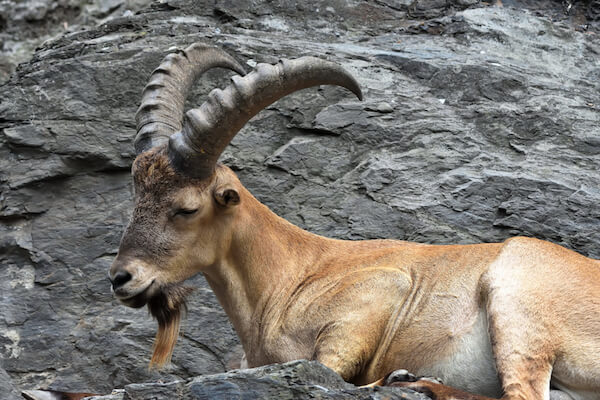 Caucasian goat
Among the most common farm animals in Georgia are cattle, pigs and sheep. These are raised for their meat. Sheep are raised for wool as well and for their milk.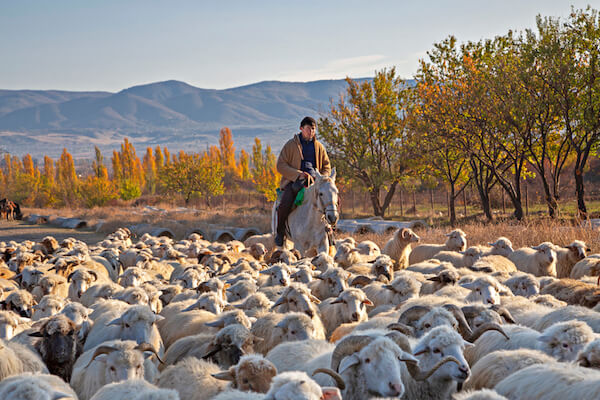 Georgian sheep farming
Georgia Facts | Georgia Economy
Georgia's main economic sectors are agriculture and mining. In Georgia, gold, copper and manganese is mined.
Dried Fruits and Nuts - Common produce at Georgian market
Grapes, citrus fruits, tea and hazelnuts are important agricultural products in Georgia. More than half of the population work in the agricultural sector.
The main trading partners of Georgia are Turkey, Russia, Azerbaijan and China.
Interesting Georgia Facts
Did you know...?
Good to know: If you want to present flowers as a gift in Georgia, make sure you give an uneven number of flowers! Even numbers of flowers are used in funerals.
----
And last but not least: Georgia Facts - Which continent does Georgia belong to? Asia, really? Or Europe?
Some people will argue, that Georgia belongs to Asia, some say the country belongs to Europe. Some might argue more diplomatically that the country is in-between continents.
In our guide, we define the borders of the continents through the location of the Caucasus mountain range. Although Georgia clearly is located on the Asian continent, we go with the notion that the country considers themselves as part of Europe. 

Popular Pages
Georgia Facts for Kids
Resources
Find more Georgia Facts for further research here:
Central Intelligence Agency. "Georgia". WorldFactbook. Last updated 25 July 2023. Accessed 4 August 2023
Gudauri Info. Gudauri Winter Sports Resort. gudauri.info. Updated 25 June 2021. Accessed 4 August 2023
Georgian Journal. "Top 10 Must-Try Georgian Dishes". Palitra Media. Updated 23 January 2019. Accessed 4 August 2023
We hope you enjoyed reading our Georgia Facts for Kids. 
Picture credits on this page: Images from shutterstock, as well as stock photos by K. Samurkas, Maxim Ratov, Viktor Kotchetkov, MehmetO/all Shutterstock.com and Omniglott.
Return from Georgia Facts to Kids World Travel Guide Homepage
Competition 2023 closed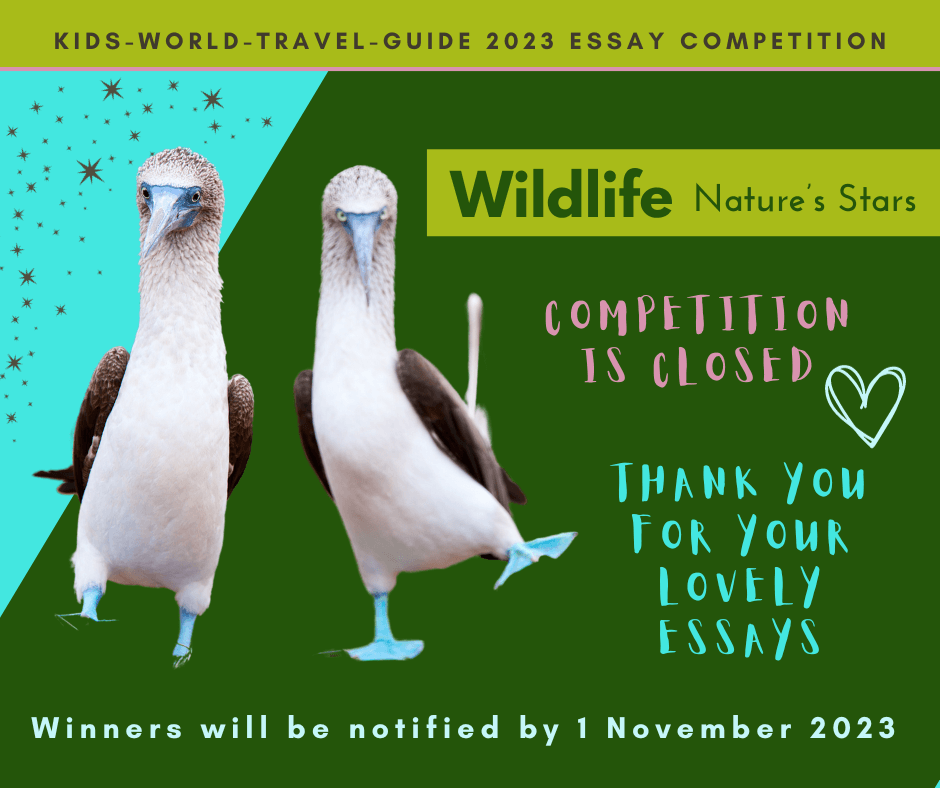 Watch this space
Competition 2024 will be announced in February