Qatar Facts
Interesting Qatar Facts for Kids

Here are our easy to read Qatar Facts for Kids which were researched by kids and edited by us.
Qatar's Soccer Worldcup 2022 takes place in this Middle Eastern country - under the hot desert sun and that is really different!
So we checked our clever books again to find more fascinating facts about the country on the Arab peninsula for you. Enjoy!
Qatar Facts at a Glance
Here are some interesting Qatar Facts which were chosen and researched by kids especially for kids.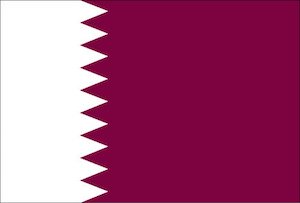 Flag of Qatar
Population: about 3 million people live in Qatar (2022)
Capital City: Doha (Al Dawha in Arabic)
Language: Arabic
Literacy: About 97% can read and write.
Religions: Islam is the official religion. There are mainly Muslims 68%, Christians (mainly Copts) 14%, Hindus 14%, Buddhists 3%
Currency: 1 Qatari Riyal = 100 fils
Government:

Absolute 

Monarchy. The country is ruled by the Al Thani family. Emir of Qatar, Tamim bin Hamad Al Thani, rules the country since 2013. The Sharia law is followed in Qatar. This is a religious law which partly follows the Islam traditions.
National Symbols: Qatari flag, Arabian Oryx (national animal). The name 'Qatar' was first used by the Roman writer Pliny the Elder and referred to the inhabitants of the region called Catharra. 
History: Doha, the capital of Qatar, once was a fishing village, where pearl fishers were looking for their fortunes and also a famous centre for horse and camel breeding. Qatar was a popular stop with traders exploring and shipping goods from India and China. After World War I, Qatar became a British Protectorate in 1916. The country only gained independence from British rule in 1971.
Qatar Geography | Qatar Map
Where is Qatar? Qatar lies in the Middle East and the country is located on the Asian continent.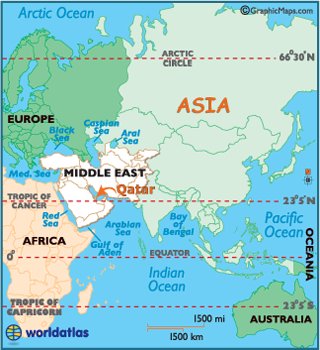 Now here is the Map of Qatar in more detail: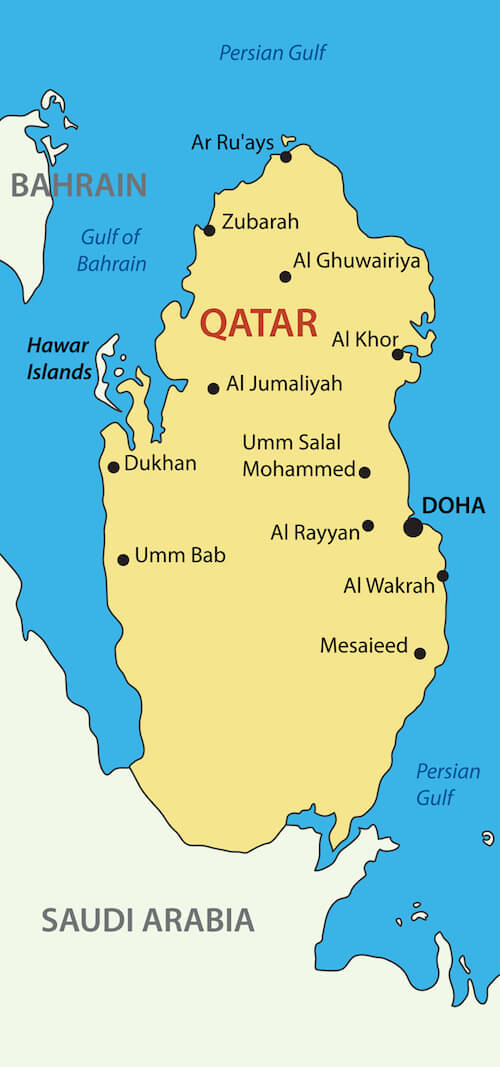 Qatar Map
The country only shares one short land border with Saudi Arabia that lays to the South of Qatar. The border length is 87 km/ 54 miles. 
Qatar can be reached via land from Saudi Arabia or otherwise via sea and air. 
The national airline is Qatar Airways and is one of the largest airlines in the world. The Qatar Airways logo includes the head of an oryx, the national animal of Qatar. A flight to Doha/Qatar takes roughly 7 hours from London/England, more than 12 hours from New York/USA.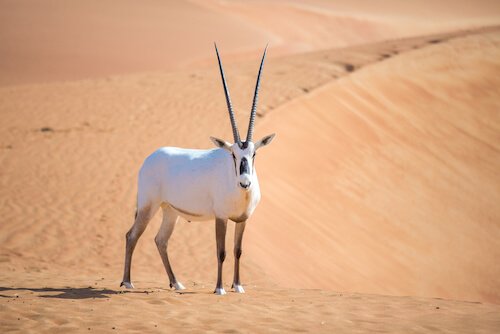 Oryx in the desert
Qatar Facts | Qatar Geography
The country lies on a peninsula in the Persian Gulf. In size Qatar is roughly as big as the US state of Connecticut. Qatar is an emirate, which means it is ruled by the Emir of Qatar.
Caravan in the Qatar Desert
Qatar is a desert country bordering Saudi Arabia on the Arab peninsula. The country is mostly flat and the landscape is barren and dry. 
There is only limited natural water supply and thus there is not much agriculture or crop farming possible, only 5% of the lands is used for agriculture such as for date palm plantations.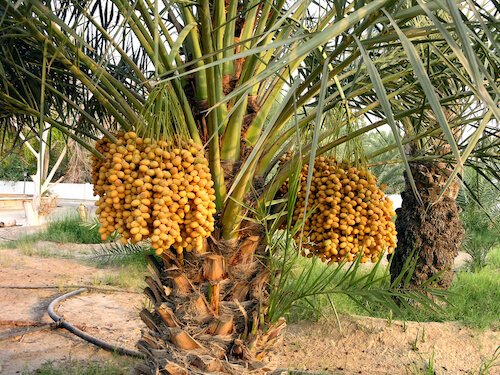 Date Palms in Qatar
The highest point of Qatar is located in the south of the country. The peak is called Qurayn Abu Al Bawl, also referred to as Tuwayyir al Hamir, and reaches 103 m/ 338 ft in hight.

Qatar has a dry desert climate and temperatures can easily reach more than 40°C/ 104°F in summer. Natural hazards include sand storms, dust storms and haze. 
Qatar Economy
Most food produce must be imported into the country and thus the citizens rely on good relationships with nearby countries. Qatar, however, is a very rich country due to its mineral resources such as oil and natural gas. 
Qatar has the third largest natural gas reserves in the world, after Russia and Iran
The main trading partners of Qatar are India, China, Japan, South Korea, the USA and the UK.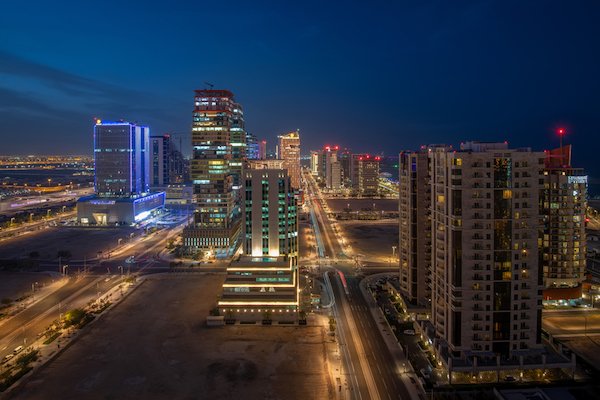 Doha by night - image by Hasan Zaidi
The vast majority of Qatari live in urban areas. The biggest cities in Qatar are: Doha, Ar Rayyan, Umm Salal Muhammad and Al Wakrah.

Qatar Facts | Qatar Attractions
The emirate on the Persian gulf has many attractions for the whole family to visit. Among the most popular are:
Soul Waif: Visit Doha's main and very picturesque market place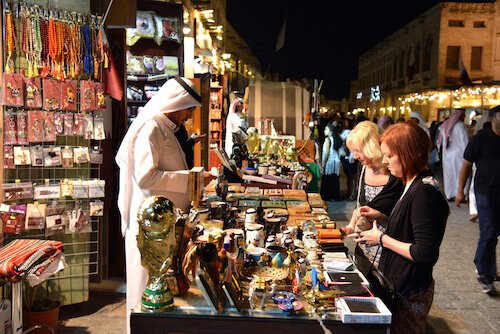 Popular night market in Qatar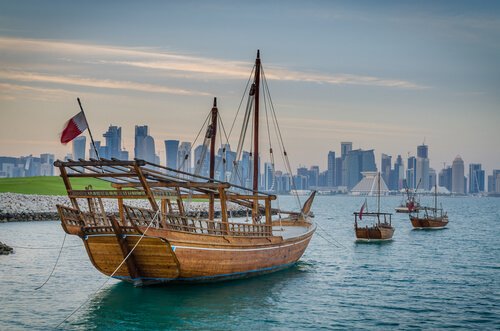 Typical Dhow in Qatar
Take a stroll in Doha's Corniche Park, see below or visit the National Museum of Qatar which is situated in a very futuristic building.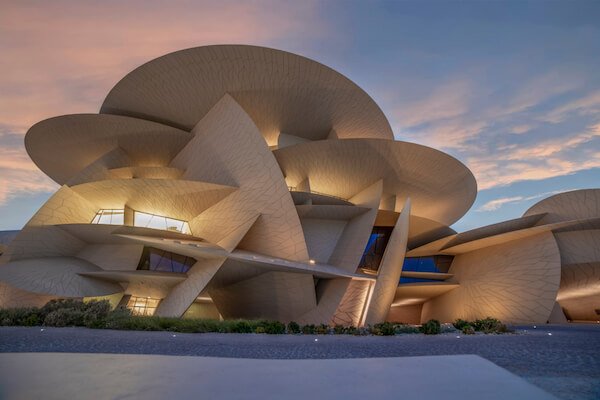 National Museum of Qatar - opened in 2019
The National Museum of Islamic Art (MIA) which is the largest of its kind in the world has been designed by I.M. Pei, the architect who also designed the Louvre Pyramid.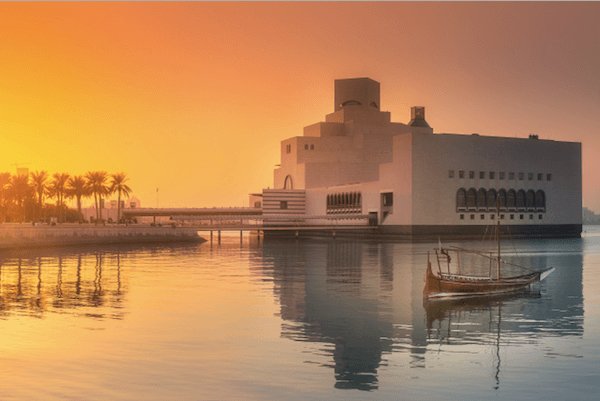 Qatar Museum of Islamic Art
Other interesting places for families are: Msheireb Enrichment Center with exhibits about the history of Qatar in a floating museum and the 'Kingdom of Aladdin' also called Entertainment City, an amusement park for families
Go on a desert adventure with camels or join a desert safari. It is also popular to watch a camel race.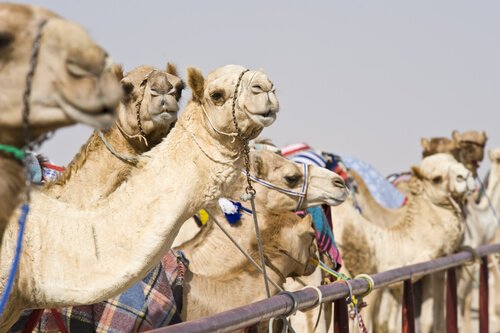 Camels 'parking' at the races
Qatar Facts
Qatari - Qatar People
Qatar is country where many foreigners live: Arabs, Pakistani, Indian, Iranian, Nepalis, Filipinos and other expats (workers living in the country only for some years) have made Qatar their home. Only 12% of all people living in Qatar are Qatari! As the expats are mainly men, only about one quarter of the total Qatar population are women!
Oil-rich Qatar is the richest country in the world before Luxemburg, although it is one of the smallest countries in the world. In fact, the people in Qatar are the richest in the world and rich Qatari own property around the world. Many famous buildings in London/England such as The Shard and Harrods are owned at least in part by Qatari citizens! About 14% of the Qatari are millionaires (in dollars).
The country has been dominated by the Al Thani family for more than 150 years. In 1999, women were allowed to stand for and vote for the first time in municipal elections.
The Qatari people are mainly Muslims and the Sharia law is written law in the constitution. This strict law allows for stoning and whipping as legal punishment for misbehaviour such as drinking alcohols and criminal activities such as robbery.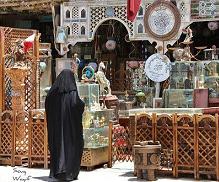 The Qatari dress modestly, and this is also asked from tourists. So women need to cover their skin and should not miniskirts, leggins or sleeveless tops and dresses and men should not wear shorts and sleeveless t-shirts.
Arabic is the predominant language in Qatar. English is the second most spoken language in the country.
The most popular sports in the country are soccer, handball and tennis.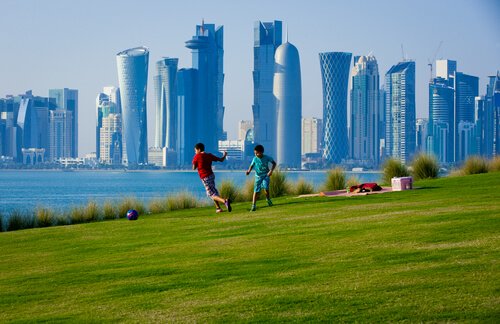 Kids playing soccer with Doha skyline in background
Qatar Facts | Living in Qatar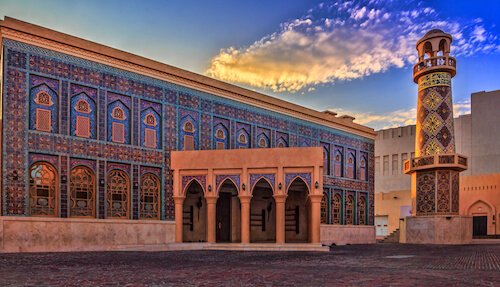 Katara Mosque
Qatar is a muslim country and thus has a different working week than we in the western countries know it. The work week in Qatar runs from Sundays to Thursdays, as the shops are usually closed on Fridays and Saturdays. Shops are usually open in the morning until noon and then close for a long lunch break and only open in the late afternoon again.
Below on the picture you can see the Corniche Walkway in Doha, where many families go for a stroll on the weekends. There is lots of entertainment for kids in Corniche Park too.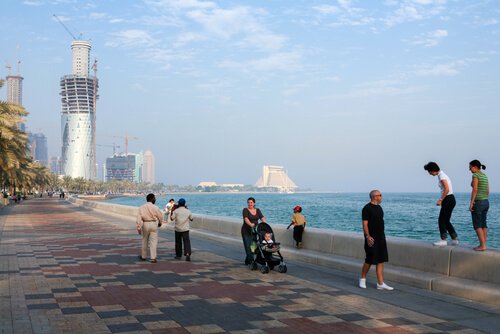 Doha Corniche
Did you know that the news agency Al-Jazeera has its headquarter in Doha?
Qatar Facts | Qatari Food
As the population of Qatar is multicultural, one can notice the influence of the Indian food traditions and of the Iranian, Mediterranean and Northen African cuisine in the Qatari dishes.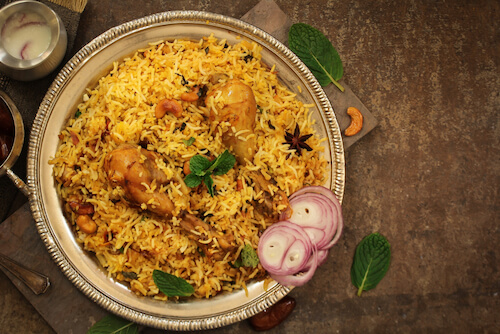 Machboos - Chicken Kabsa
Popular Qatari food includes:
Machboos: spiced rice with meat or seafood. This typical Arabian dish is also often referred to as Kabsa
Ghuzi: roasted lamb with spiced rice
Umm Ali: bread pudding made with custard and nuts
Luquaimat: sweet syrupy fried dough balls - typically eaten during Ramadan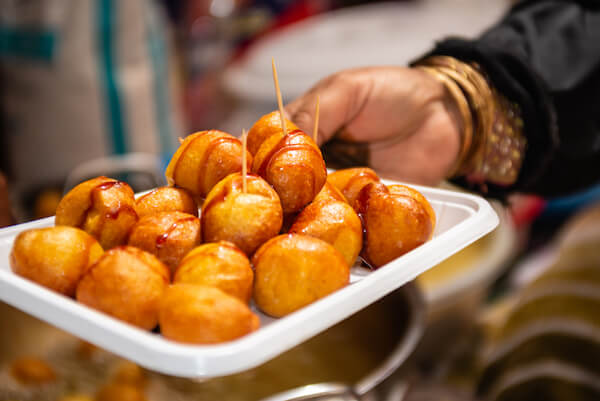 Luquaimat
Qatar Facts | Soccer World Cup 2022
In 2010, Qatar won the bid to host the 2022 Soccer World Cup. Qatar is the first Arab country to host FIFA's Soccer World Cup. The country built nine new stadiums for this mega sports event. 
Corruption accusations and human rights violations are currently investigated and cast a huge shadow on the country. Qatar is historically not a strong soccer nation and also the women's national soccer team only was introduced to win the bid but never was set up. Many people all over the world boycott esthe games which is a major setback for FIFA.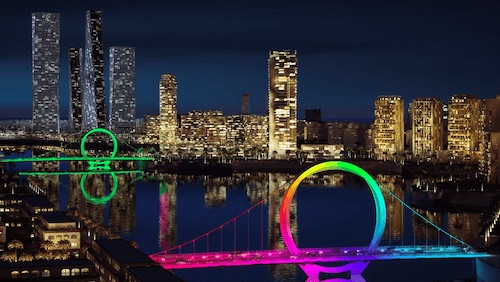 Amazing bridges are constructed for Lusail City
Lusail City: A new city called Lusail City has been built in the sandy dunes close to the Northern suburbs of Doha. The name "lusail" comes from a desert flower. This city was intended for 200,000 people who live and work there and there is a very long shopping arcade, golf courses, housing, marinas, a new stadium and even a zoo with giraffes! There are many futuristic buildings which are cooled by solar power.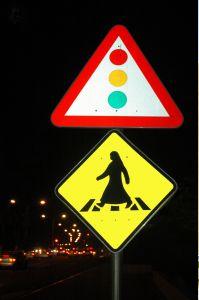 New roads and infrastructure: There is a new causeway which links the neighboring Arab state of Bahrain with Qatar. And the German railway company (Deutsche Bahn) built a new railway system in the capital Doha which altogether stretches to 320km of railway lines.

New Airport and SeaPort: The new international airport in Doha cost about 11 billion US Dollars. A new deepsea port will be added to the Qatar infrastructure too.
New Hotels: Many new hotels were to house the many visitors for the Worldcup. Alcohol is only allowed to be consumed in some five-star hotels and alcoholic drinks are only allowed for special guests at the 2022 Worldcup.

Lusail City
Qatar Facts | Qatar Gulf Crisis
The blockade involving Qatar that led to closed borders between Saudi Arabia and Qatar has been ended with the Gulf Cooperation Council held in January 2021.
Many Qatari go for shopping trips into neighbouring Saudi Arabia, as the prices there are cheaper than in Qatar. Building materials for infrastructure projects are imported to a major part from Saudi Arabia too.
The gulf crisis is still not completely resolved and still unresolved issues remain. Read more here.

Picture Credits for Qatar Facts: Shutterstock: Doha night skyline and Museum of Islamic Art by Hasan Zaidi and Lugsail City by Satheesh Madh - Clipboard: 1. Doha by Kaleff at sxc, 2.Falconry by Jan Smith, 3. Doha by Vobios 
Qatar Facts
Recommended Reading
Back from Qatar Facts to Kids World Travel Guide Homepage

Enter our competition NOW