Suriname Facts
Interesting Facts for Kids
Here are some interesting Suriname Facts which were chosen and researched by kids especially for kids.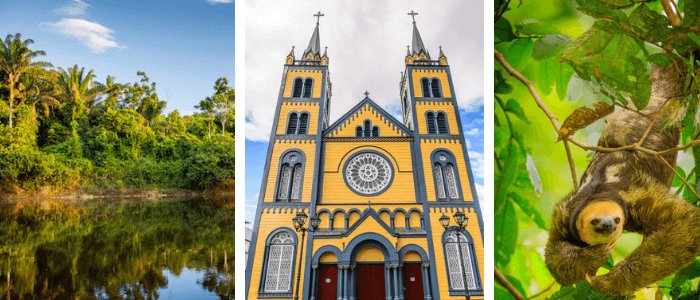 Suriname for Kids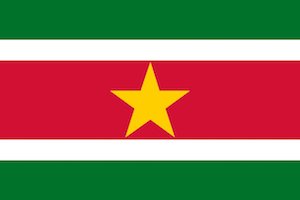 Population: about 632,000 people live in Suriname (2022)

Capital: Paramaribo with 241,000 inhabitants
Name: Republic of Suriname
Government: Presidential Republic
Official Language: Dutch
Literacy: More than 96% of the people can read and write.
Religion: mainly Christian (48%) Hindu (23%) and Muslim (13%)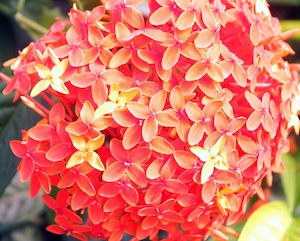 Fayalobi
Currency: 1 Surinamese dollar = 100 cents (the symbol is Sr$)
National Symbols: Fayalobi (national flower), royal palm (national tree), jaguar (national animal)
Motto: "Justice, piety and trust"
National Day: 25 November (Independence Day)
National Anthem: "God zij met ons" (God be with our Suriname)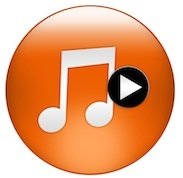 Suriname Anthem
History: The country was first colonised by Spanish and English settlers, then Suriname became a Dutch colony in 1667. Therefore it is often referred to as Dutch Guyana and as one of the three Guianas with French Guiana (former French colony) and Guyana (former British colony). When slavery from Africa was abolished, the Dutch settlers brought in slaves from Java (Indonesia) and India, mainly to work on the plantations. Suriname today is an independent country as it gained independence from the Netherlands in 1975. 
Suriname Geography
Where is Suriname? Suriname located on the South American continent bordering the Atlantic Ocean.
Suriname is the smallest independent country in South America. The capital city is called Paramaribo.
Below you see a map of Suriname with the neighbouring countries Guyana to the West, French Guiana to the East, Brazil in the South and the Atlantic Ocean in the North.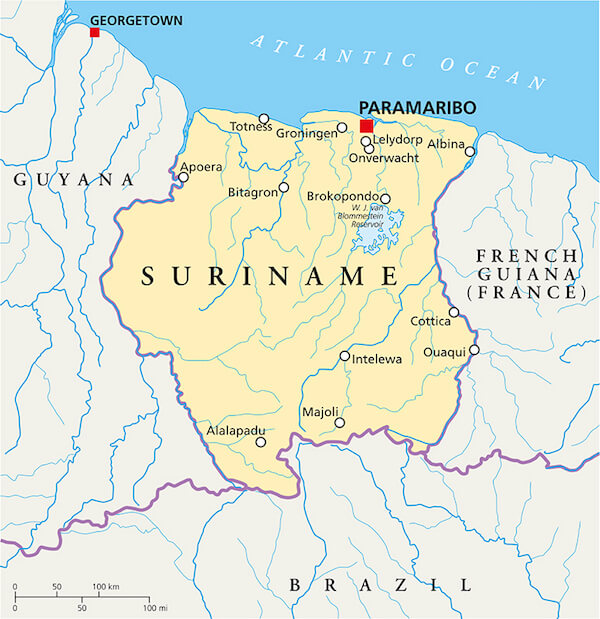 Suriname Map
The small South American country shares borders with three countries: French Guiana (which is an overseas department of France), Guyana and Brazil. Please note that French Guiana is not an independent country.
Suriname is roughly the same size as Tunisia and slightly larger than the state of Georgia in the USA.
To reach Suriname, it takes a 11-hour-flight from London/UK and from New York/USA, a flight takes about 14 hours.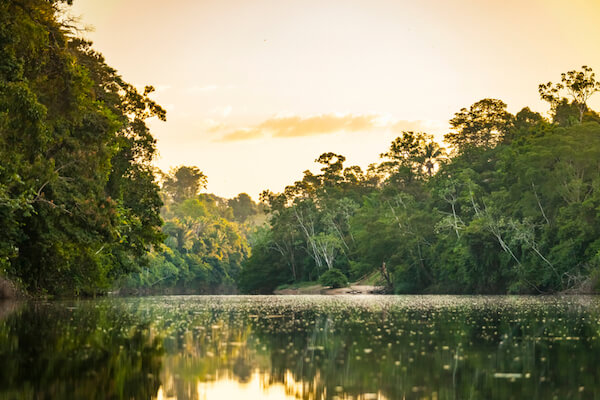 Suriname river
Suriname lies just some degrees north of the Equator and has a hot and tropical climate.
The landscape is dominated by rolling hills and tropical forests as well as plains and swamps along the coastline.

Suriname Geo Superlatives
Here are some fascinating facts about Suriname:
Suriname is the smallest independent country in South America.

The country has

a coastline along

 the North Atlantic Ocean and the shortest coastline in South America.

Suriname is one of highly diverse countries in re

gards to biodiversity.

Suriname's biggest city is the capital city Paramaribo.

Over 90% of the country is covered by tropical rain forest

.

The country's name 'Suriname' derives from the Surinen people who lived in the area in the 16th century.
Suriname is known for its Dutch sugar plantations.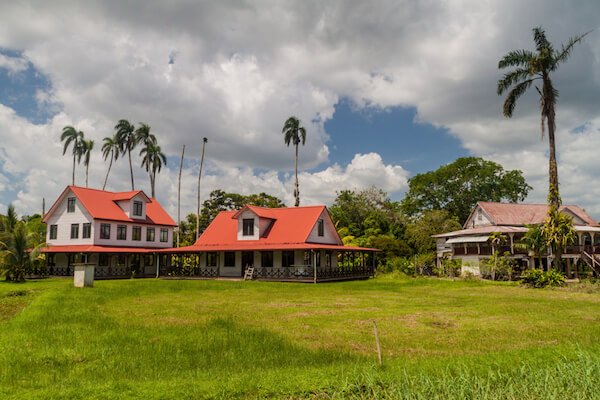 Pepperpot Plantation in Suriname
The longest river in Suriname is the Corantjin River. It has a length of 724 km/450 miles. This river forms the western border between Suriname and French Guiana.
Suriname's highest mountain is called 'Juliana Top' and is 1,230 m/ 19,020 ft high.
Suriname Facts
Suriname Attractions and Landmarks
Raleigh Falls and the Voltzberg granite dome are two great nature attractions. The Blanche Marie Falls are another great waterfall to admire.
Paramaribo: The capital city's historic centre is a UNESCO world heritage site.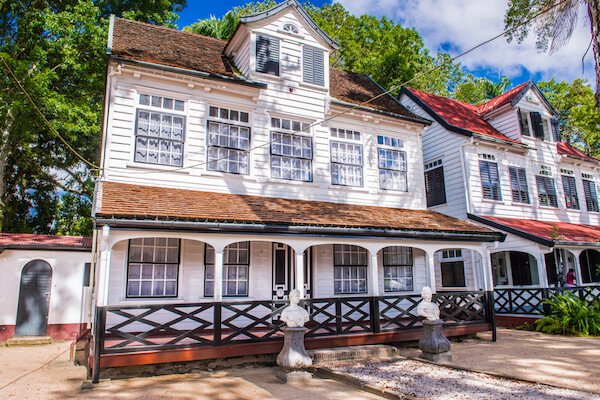 Paramaribo historic houses
In Paramaribo you can explore the colonial history, see colonial buildings and be amazed at the huge wooden Saint Peter and Paul Cathedral, that is the biggest wooden structure in the Western Hemisphere. In 2014, Pope Francis designated it a 'Minor Basilica'.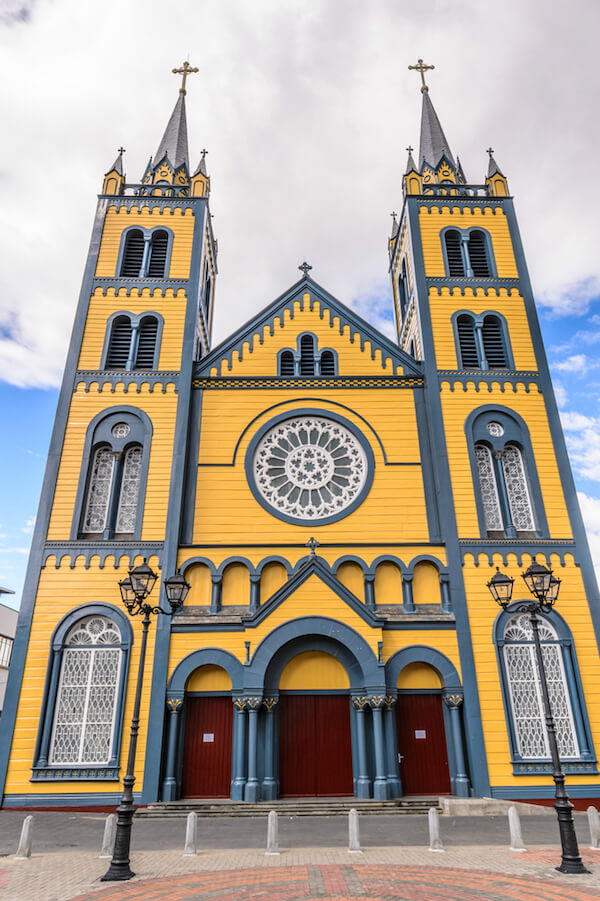 Suriname Cathedral
Nieuw Amsterdam: The historic Fort Nieuw Amsterdam just across the Suriname River from Paramaribo, was initially built to defend the colony. In the 18th and 19th century, the fort was converted into a prison and today, it is an open-air museum.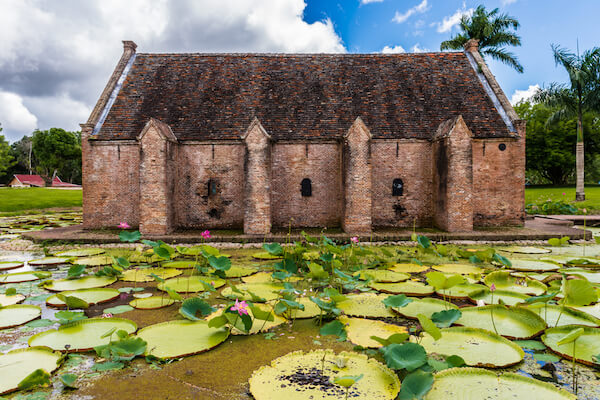 Lilypond on the grounds of Fort Nieuw Amsterdam
Central Suriname Nature Reserve: Suriname's second world heritage site houses many animals that are protected such as the giant river otter, the giant armadillo or the jaguar.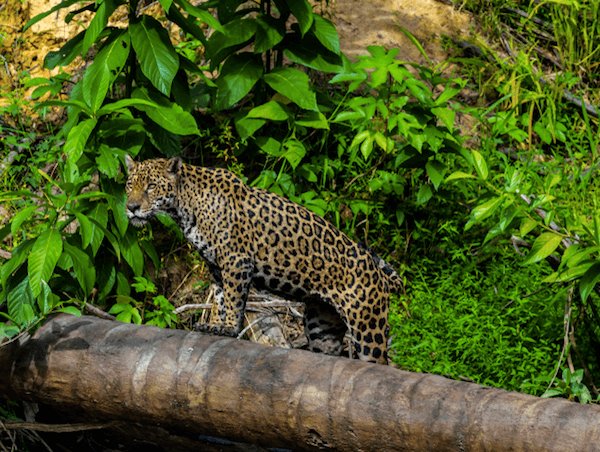 Jaguar in Suriname
Brokopondo Reservoir, one of the largest water reservoirs in the world. This man-made lake is located south of Paramaribo and covers almost 1% of the country. With the building of a dam, many villages had to be abandoned when the reservoir was created in 1965.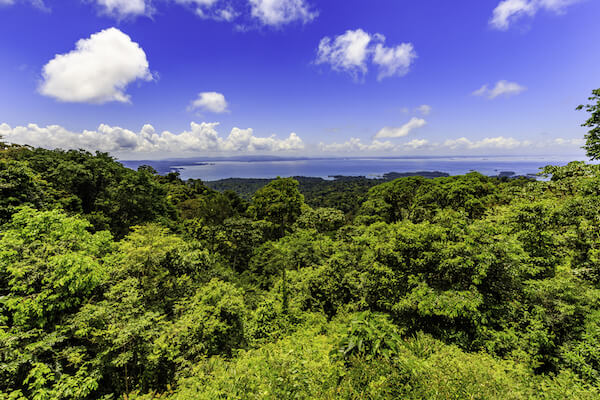 Brokopondo Reservoir in Suriname
People in Suriname
Surinamese people are also called Surinamers - this name comes from the Dutch language. Dutch is the official language in Suriname, but most people speak a Creole language at home, this Creole language is called Sranan Tongo.
English is spoken by most people as well and is the second most used language in hotels, shops and businesses.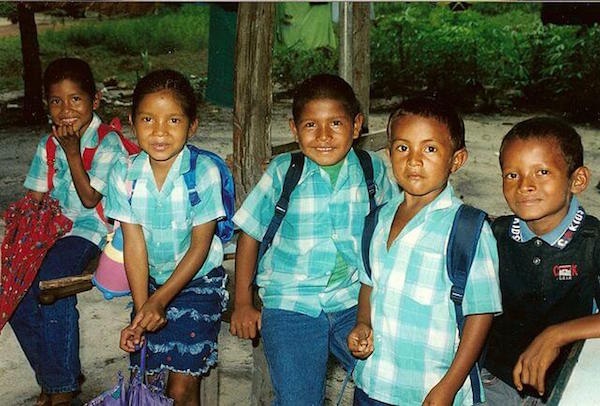 Schoolchildren in Suriname
Suriname Facts: Most Surinamese people live in urban areas of the northeastern region of the country and in the capital city. The main ethnic groups in Suriname are:
East Indians or Hindustani (their ancestors came from northern India)
Maroons (their ancestors came from Africa)
Creole (mixed white and black)
Javanese
Amerindians
Europeans
Suriname Facts
Suriname Economy
Suriname is one of the poorest countries in South America with many people living below the poverty line.
However, Suriname has rich bauxite resources as well as some gold, copper, nickel and oil. The country's biggest trading partner are the USA, Switzerland, Hong Kong and the Netherlands.
The major seaports are Paramaribo and Wageningen.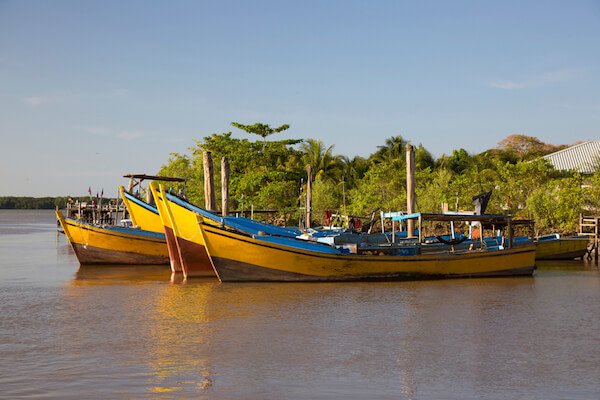 Fishing boats in Suriname
Agricultural products include timber, bananas and rice. Seafood such as yellow-fin tuna is exported as well. 

Suriname Facts
Typical Food in Suriname
The Surinamese cuisine is influenced by the various cooking styles of the East-Indians, Amerindians, the Asian and African immigrants. The typical dishes in Suriname contain rice, cassava as well as meats and seafood including shrimps or crabs.
Commonly prepared vegetables are beans, okras and eggplants (also called aubergines). Many dishes are variations of Indonesian or Indian and Asian food so you will easily find dishes such as roti, nasi goreng or saté.
Food in Suriname: Fried rice with Saté sticks and beans
Typical Suriname food and drinks include:

Animals in Suriname
Suriname is one of the most biodiverse countries in the world although not referred to as a megadiverse country. There are over 190 species of mammals which include various types of monkey, sloth, ocelot, jaguar or pigs.
There are also lizards, butterflies and colourful birds. The Scarlet Ibis is one of the rare ibis species found in tropical regions of South America and in the Caribbean.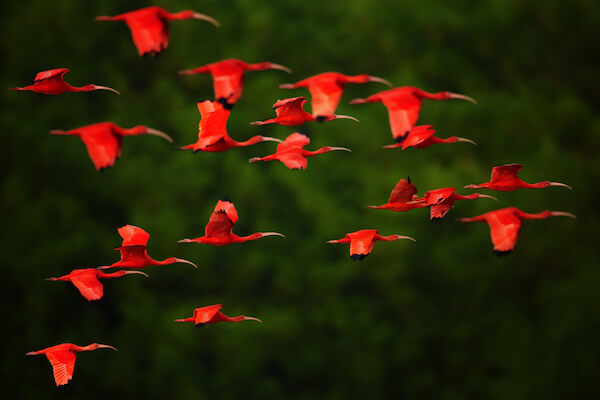 Flock of Scarlet Ibises
Popular Pages
Useful Resources for Suriname Facts
Central Intelligence Agency. "Suriname" The World Factbook. Last updated 25 July 2022. Accessed 29 July 2022
Suriname Tourism Board. "Suriname Factsheet." Suriname Tourism. Last accessed 29 July 2022
Suriname Cooking. "Suriname Cooking." Suriname Cooking. Last accessed 29 July 2022
Images on Suriname facts page: shutterstock.com and own images
Return from Suriname Facts to Kids World Travel Guide Homepage
Competition 2023 closed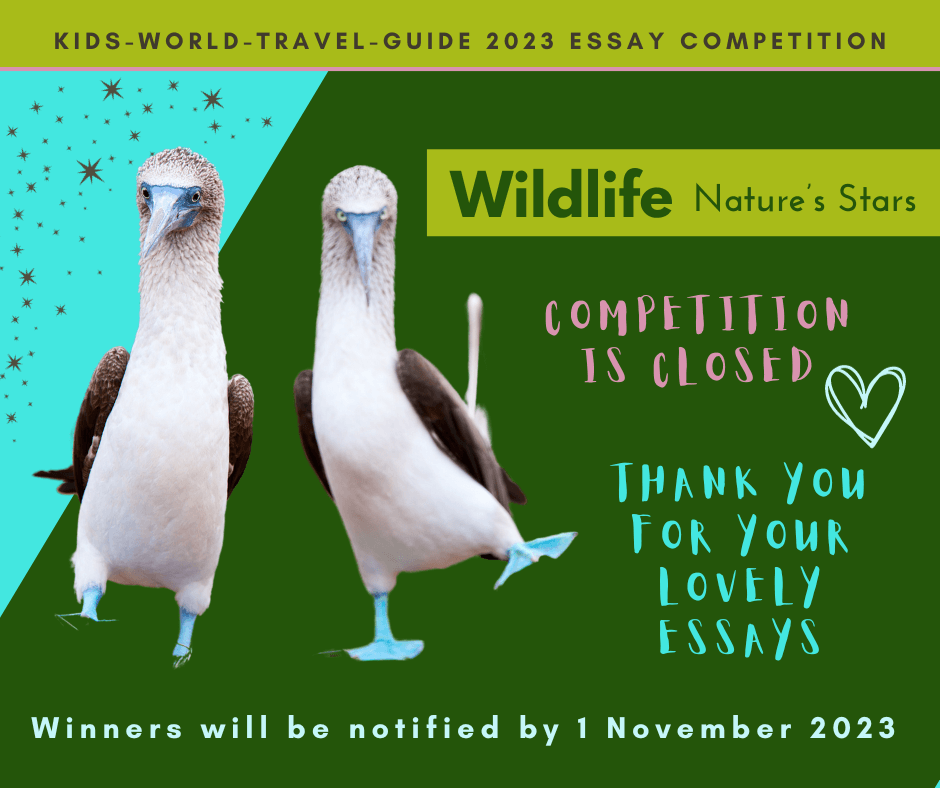 Watch this space
Competition 2024 will be announced in February