Colombia Facts
Interesting Facts for Kids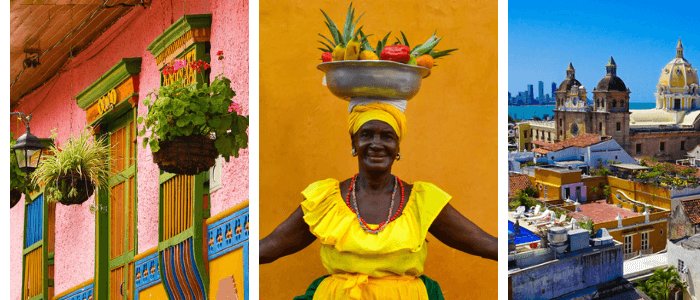 Here are some interesting Colombia Facts which were chosen and researched by kids especially for kids.
Colombia for Kids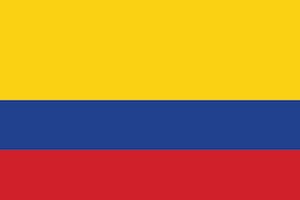 Population: More than 51 million people live in Colombia (2022)

Capital: Bogotá with 11 million inhabitants is the country's largest city 
Name: Republica de Colombia or Republic of Colombia. 
Government: Presidential Republic
Language: Spanish
Literacy: More than 94% of the people can read and write.
Religion: mainly Christians (Roman Catholics 79%, Protestants 14%)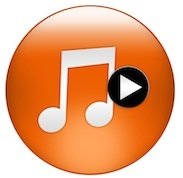 Currency: 1 Peso = 100 centavos 
National Symbols: Orchid (national flower), Andean condor (national bird) wax palm tree (national tree)
Motto: "Libertad y Orden" which means "Freedom and Order"
National Day: 20 July (Independence Day)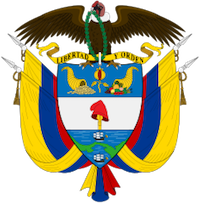 History: The country was inhabited by mainly semi-nomadic tribes before the arrival of the Spanish colonialists. Colombia is named after explorer Christopher Columbus. However, the land was also referred to as New Grenada from 1499. Colombia gained independence from Spain on 20 July 1810. Slavery was abolished in Colombia in 1849. Finally in 1886 the Republic of Colombia was proclaimed. 
Colombia Facts: Geography
Where is Colombia?
Colombia is a country in South America. The Latin American country shares borders with five countries: Venezuela, Brazil, Peru, Equador and Panama. Colombia's capital city is Bogotá.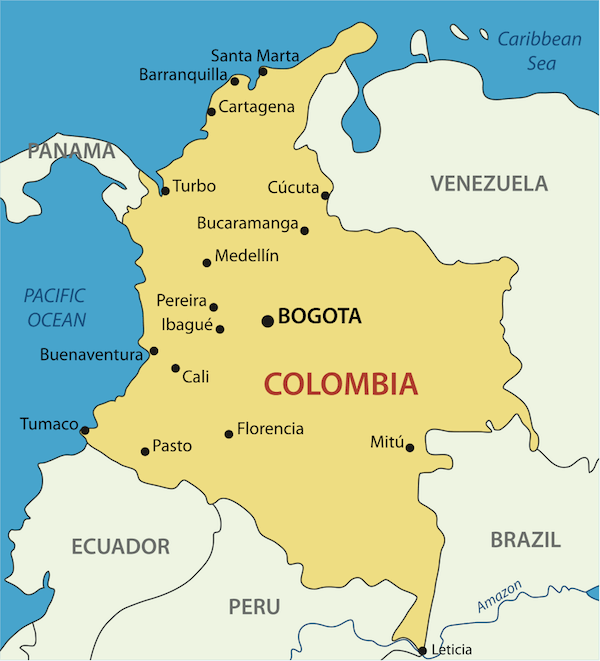 Map of Colombia
Below see another Spanish map of Colombia with the neighbouring countries as well as the major waterways and roads. The Caribbean islands San Andrés and Providencia are the largest islands belonging to Colombia.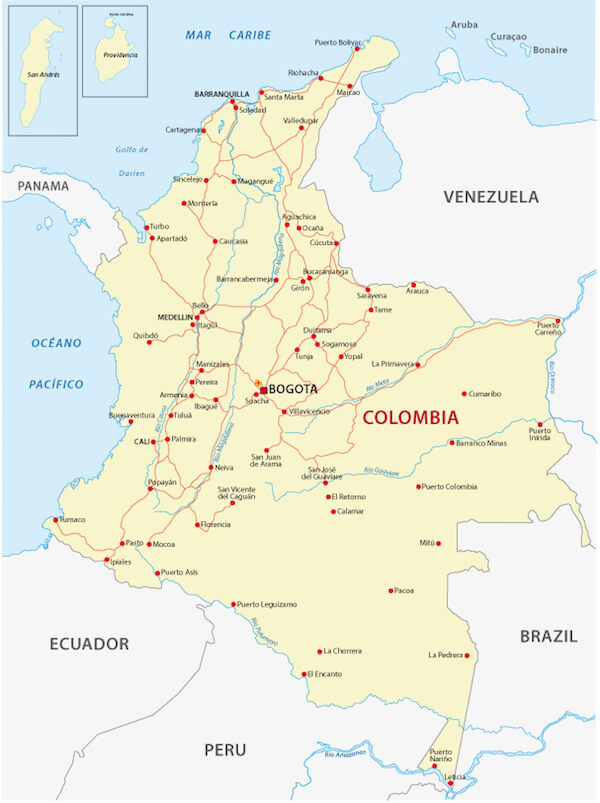 The longest of the Colombian borders is shared with Venezuela and is 2,219 km/ 1,378 miles long.
Colombia is roughly the size of Norway, Sweden and Finland combined, or similar in size to Ethiopia or about twice the size of Texas/USA.
A flight from London/UK to Bogotá takes roughly 11.5 hours and from New York/USA a flight takes 5.5 hours. 
Colombia has a diverse climate from tropical steppe, rainforest as well as glacial climate in the Andean mountain regions. More than 60% of the country are low-lying grassland and sparsely populated. Colombia sits on the Ring of Fire and is prone to volcanic eruptions and earthquakes.
Colombia Facts
Colombia Geo Superlatives
Colombia is the fourth largest country in South America and the 

second most populous country in South America

after Brazil.

The country has

coastlines on two oceans

: the Pacific Ocean and the Caribbean Sea which is part of the Atlantic Ocean. 

Colombia is the second most biodiverse country in the world after Brazil and thus one of 17 megadiverse countries.
Colombia houses the world's largest protected tropical rainforest: 

Serrania del Chiribiquete.

The Magdalena River is

Colombia's longest river (that is flowing entirely in Colombia). It has a length of 1,528 km/ 950 miles. In Colombia, you will also find the world's second longest river, the Amazon. There are several other big rivers in Colombia, such as the Orinoco River or the Rio Negro.
The highest waterfalls of the country are the La Chorrera Falls with 590 m/ 1,936 ft in hight.

Colombia's

highest mountain

is the 'Pico Cristobal Colon' which is 5,800 m/ 19,020ft high.

There are more than 30 volcanoes in Colombia, with Galeras (4,276 m/ 14,029 ft) as the

most active volcano

. 

Nevada del Ruiz is the

highest active volcano of the Andes mountain range. 
| | | |
| --- | --- | --- |
| | | Did you know, that 80% of the country lie below 1,000 m/ 3,280 ft. (above sea level)? |
Colombia Attractions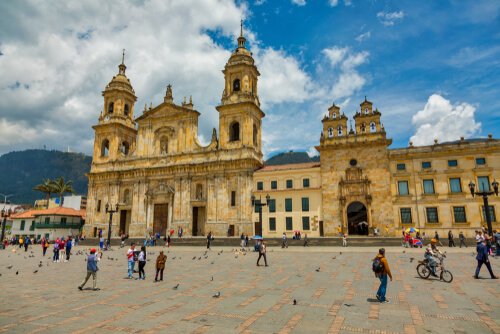 Bogota
Bogotá: the country's capital city has a beautiful old centre called La Candelaria with 300 year old Spanish colonial buildings. There are also graffiti and street art to be admired throughout the city. The artists are actually sponsored by the Colombian government!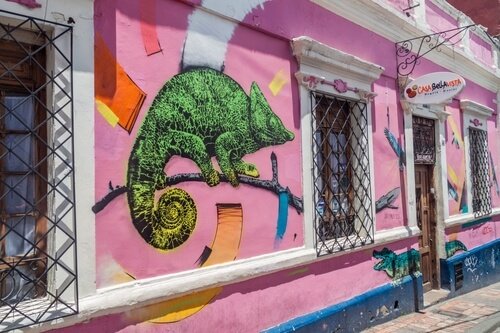 La Candelaria quarter in Bogota
In Cartagena on the northern coast of Colombia, you will find colonial buildings and an old town with cobbled streets. Today this city is a major port city.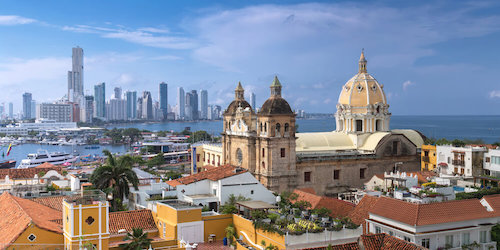 Cartagena
Medellin: During the civil war the city was called 'murder capital of the world', today, Medellin has cleaned up crime and is now known for its arts and culture scene. Here you will find sculptures of Colombian artist Fernando Botero in many places. These sculptures are known for displaying oversized people and objects.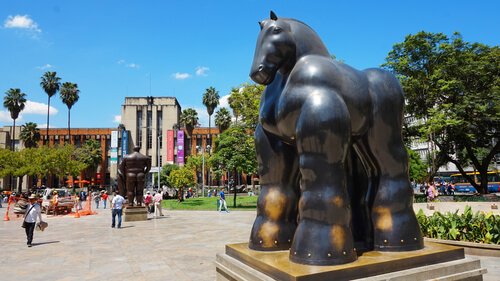 Sculpture by Botero in Medellin - image by Alejo Miranda
Parque Nacional Natural El Cocuy: Here are some of the largest glaciers on the South American continent.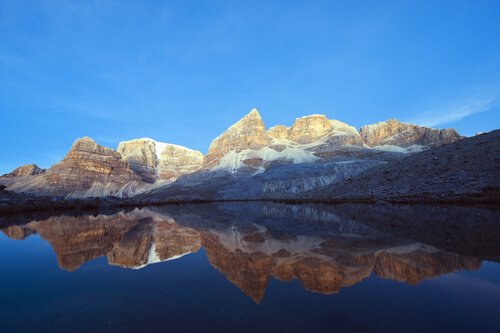 El Cocuy National Park
Caño

 cristales: The crystal river is also called River of Five Colours or the 'Rainbow River' because of its changing colour during the year.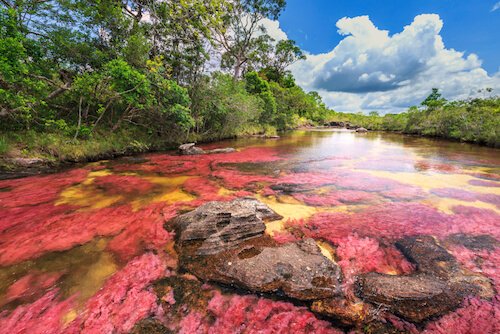 Caño cristales
San Andrés Island, also called Saint Andrew island is the largest island of Colombia in the Caribbean sea. The island is known for its beautiful coral reefs and picturesque white sandy beaches.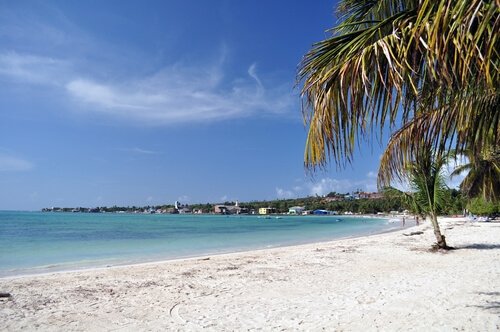 Beach on San Andres island
Colombia Facts
Colombia Economy
Colombia is rich of natural resources such as petroleum, natural gas, coal, gold and copper. The country's biggest trading partner is the USA.
Coffee is also a main export product and Colombia is the world's third biggest exporter.
The country is also famous for its magnificent emeralds, which are bright green gemstones.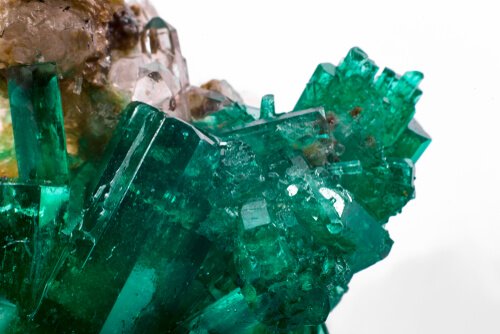 Emerald
Colombia Facts
Colombia People
Colombia is the second most populous country in South America. Colombia is a Spanish speaking country, but various Amerindian, Creole and Romani languages are spoken as well. In fact more than 75 indigenous languages are used in Colombia.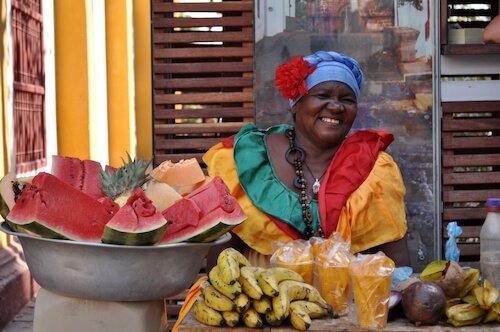 Palenquera selling fruits at the market
Most Colombians live in the northern and western regions of the country, in the Andean highlands near the capital city Bogotá or near the Caribbean coast. The southern and eastern parts of the country are the least populated areas in Colombia.
More than 81% of the population of Colombia live in cities or major towns. The five biggest cities in the country are:
Among famous Colombian people are singer and songwriter Shakira or the painter and sculptor Fernando Botero you can see below with one of his artworks.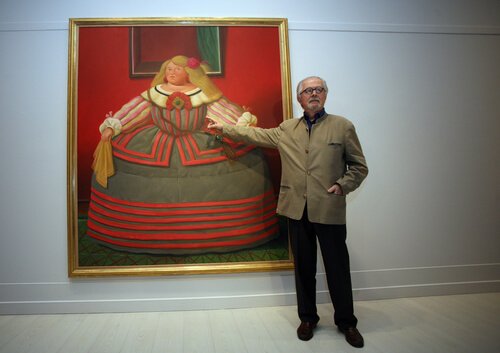 Painter Fernando Botero
Famous is also Colombian author Gabriel Garcia Marquez. Marquez is well known for the Spanish book "Love in the Time of Cholera" which is one of the most read Spanish novels of all times. 
One of the most well known Colombians was terrorist and drug lord Pablo Escobar. He was the founder and head of the notorious Medellín drug cartel that supplied cocaine and other drugs to the USA and thus was also referred to by many as the 'King of Cocaine'. He was the world's wealthiest criminal (while also being a Colombian politician) until he died in a shooting in 1993.
Family is very important to Colombians. Among sports, soccer is the most popular sport played in Colombia. Tejo is considered a national sport. 
| | | |
| --- | --- | --- |
| | | Did you know, that Barranquilla Carnival is one of the biggest carnivals in South America? Read more here. |
Colombia Facts | Peace
Colombia has been shaken over many decades by civil wars and clashes between government forces and paramilitary groups. These rebels were largely funded by drug trade in the 1990s. Over 200,000 people were killed and over 8 million people were displaced in the civil war.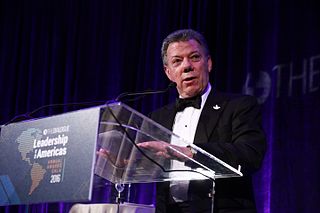 Juan Manuel Santos
In 2016, the historic peace deal was signed between the Colombian government and the Revolutionary Armed Forces of Colombia (FARC). For this peace deal, the former Colombian president Juan Manuel Santos won the Nobel Peace Award in 2016. The current president is Iván Duque Márquez (2021).

Colombia Facts
Typical Colombian Food
The Colombian cuisine is mainly influenced by indigenous food as well as Spanish and African cooking styles. The typical Colombian dishes vary depending on the regional climate and the fruit and vegetables available in season.
Many traditional dishes contain maize, rice, potatoes or cassava as well as meats and seafood. Tropical fruits such as mango, papaya, passionfruit, guava, dragon fruit or lulo (a fruit with a citrus flavour) are available throughout the country.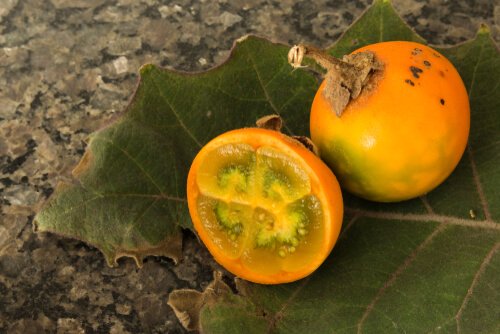 Lulo fruits
Typical Colombian food and drinks include:

Tamales: South American corn or rice cakes that are filled with chicken, vegetables or even sweet fruits
Arepa: maize flatbread, a common snack usually baked or grilled and often eaten with avocados or meats, sometimes split open and stuffed with a variety of fillings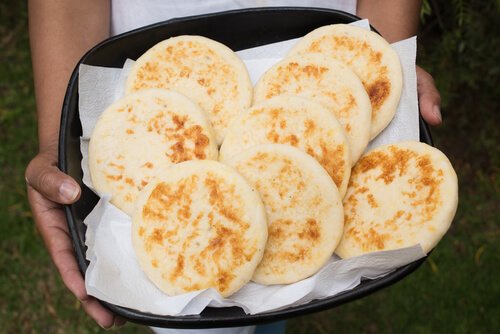 Arepa
Arequipe: caramel sauce similar to dulce de leche and made with sweet milk and sugar
Changua: milk soup with eggs which is traditionally eaten for breakfast
Lechona: roasted pig or pork meat with onions and yellow rice and various spices, usually made in outdoor ovens
Chocolate con Queso: hot chocolate drink made with real cacao and cheese that gets dipped into the hot drink
Colombia Facts
Animals in Colombia
Colombia is the second most biodiverse country in the world. It has the largest amount of endemic species, that means animals that exist only in this country.
Manatees and brown woolly monkeys are among the vulnerable species. Endangered animals include the pink Amazon river dolphins.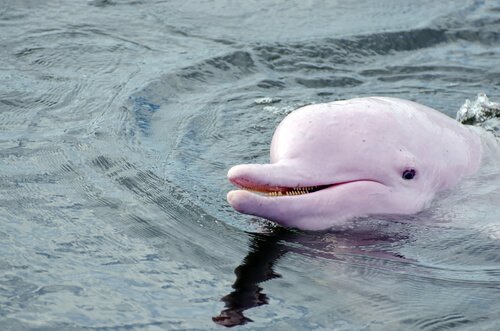 Pink dolphins are endangered animals
Colombia is also the country with the world's largest number of bird species.

Popular Pages
Useful Resources for Colombia Facts
Images on Colombia facts page: shutterstock.com and own images
Return from Colombia Facts to Kids World Travel Guide Homepage
Enter our competition NOW