Nepal Facts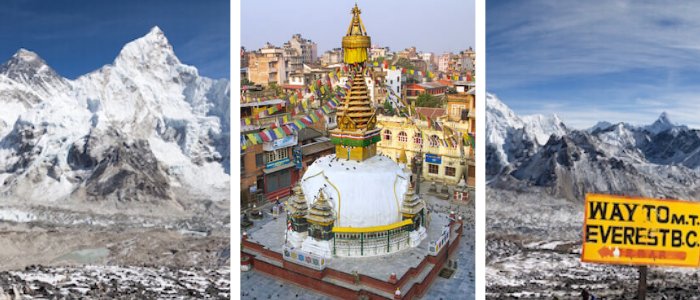 Nepal Facts: Impressions of Everest - Kathmandu - Himalayas
Nepal Facts for Kids
Here are some interesting Nepal facts which were chosen and researched by kids especially for kids.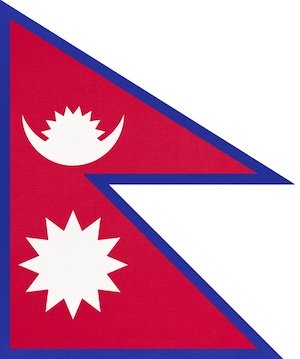 Nepal Flag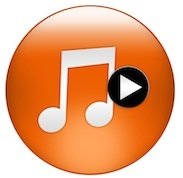 Listen to the anthem
National Symbols: cow (national animal), rhododendron blossom (national flower)
National Colour: crimson red

National Anthem: 'Hundreds of Flowers' 
National Day: 20 September is a public holiday (Constitution Day)
President: Ram Chandra Poudel (since March 2023)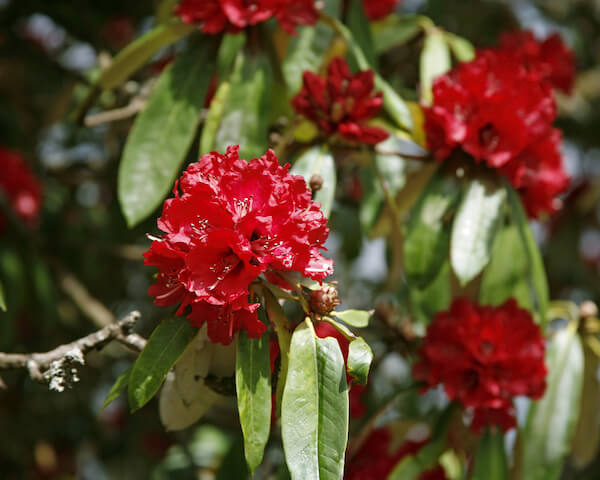 Rhododendron tree in Nepal
Fun Facts about Nepal
Nepal is located on the Asian continent.
The South Asian country is landlocked and borders two countries: China to the North and India to the East, South and West. The longer border is between Nepal and India.
Nepal map
Nepal is the largest country in the Himalayas and about the size of the state of New York/USA, about half the size of Ecuador in South America and quite a bit bigger than the three European countries Austria, Liechtenstein and Switzerland combined.
In Asia however, the country is quite small compared to other countries as it measures just about 800 km/ 500 miles from east to west. From North to South the smallest distance only measures about 150 km/ 93 miles.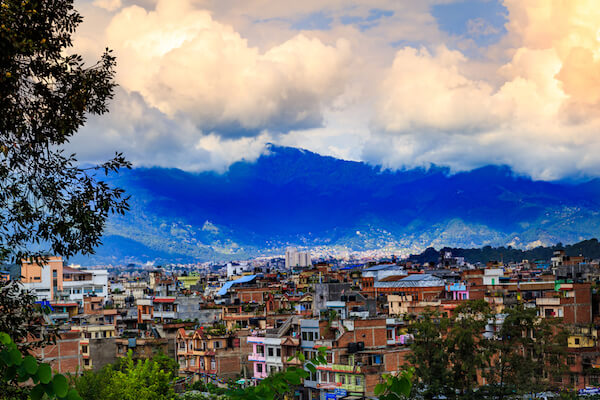 Kathmandu is the capital city of Nepal
The name of the country originates from Hindu story that referred to a wise man called Ne and the region in the Himalayas that was protected by Ne was then called Nepal.
Nepal enjoys mainly a temperate climate. The landscape is dominated by the Himalayan mountains in the north, alpine pastures, fertile valleys and temperate forests in the middle hill region and the Tarai plains in the south.
To reach Nepal it takes a 13-hours flight to Kathmandu from London/UK or a 2-hours flight from Delhi/India. The shortest flights from the USA go via Dubai, Doha or Abu Dhabi and still take at least 21 hours!
Facts about Nepal
Nepal Geography Superlatives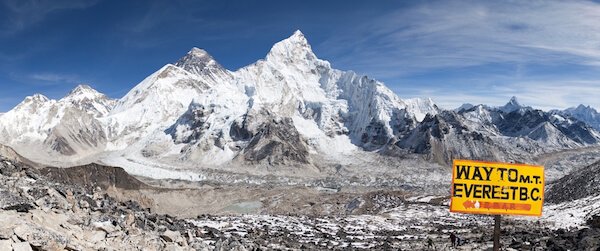 Mount Everest and Khumbu Glacier
Nepal's 

highest mountain is 

Mount Everest, the world's highest peak, with 8 848 m or 29 028 ft. Mount Everest is named after Sir George Everest. In the Nepali language the mountain is called Sagarmatha which means 'Forehead of the Sky' and by the local Sherpas the mountain is referred to as Chomolungma which means 'Goddess Mother of the World'
The country is known to have the widest range of elevations in the world. 
The Kochi river is the highest and longest river in Nepal with 720 km/ 450 miles.
Kochi river in Nepal
The Plains of Kechana Kalan are the lowest point of the country with only 60 m/ 196 ft. 
The highest lake is Tilicho at 4 800 metres/ 15 748 ft.
Nepal has over 6 000 rivers that are either fed by snow or rain and thus the country is also referred to the 'water towers' of South Asia.
Eight of the world's fourteen highest peaks above 8 000 m/ 26246 ft. are located in Nepal: 

Mount Everest, Kanchenjunga, Lhotse, Makalu, Cho Oyu, Dhaulagiri, Manaslu and Annapurna.
Nepal Facts:
Landmarks and Attractions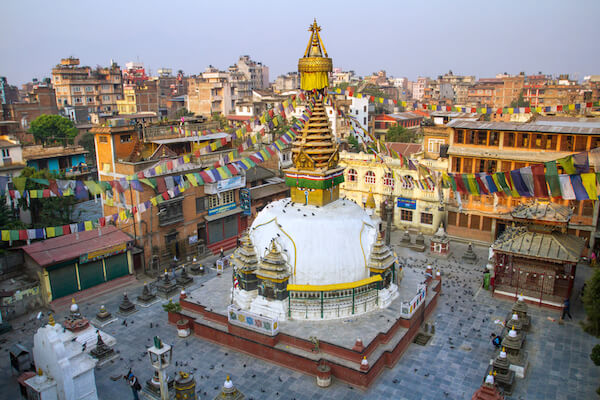 Kathesimbustupa in Kathmandu
Lumbini: This town is said to be birthplace of Buddha Siddhartha Gautama who was born here in 623. See the Maya Devi Temple in the image below.
Lumbini
Bhaktapur: Here you can visit Changu Narayan which is the oldest temple in Nepal. The temple dates back to 464 AD and is a UNESCO World Heritage site. 
Bhaktapur Durbar Square and the Royal Palace
Nepal Economy
Nepal is one of the poorest and least developed countries in the world. Many people live in poor conditions and especially young people try to find better life in other countries. About 1 in 4 Nepali live below the poverty line.
The country in the Himalayas frequently experiences earthquakes. The latest major earthquakes in 2022 and 2015 destroyed many old temples, buildings and monuments and killed many people in the respective districts.
The economy in Nepal is mainly driven by agriculture, the textile industry and tourism. Rice is grown in Nepal in the fertile valleys. 
Rice fields near Kagbeni village in Nepal
India, China and the USA are the main trading partners.
Nepal is known as third biggest producer of ginger after India and China.
In Nepal most energy is produced by hydroelectric plants and Nepal is also called the 'Water Tower of South Asia' due to its snowcapped mountain peaks, glaciers and rivers originating in the Himalayas.
Nepal Facts | Nepali People

There are more than 100 different ethnic groups and over 90 languages are spoken in Nepal.
The Nepali are known as very welcoming people who are friendly and open towards visitors. 
Religion plays an important part in the life of most Nepalis. The vast majority of the Nepali people are Hindus (80%) or Buddhists (over 15%). Nepal is the only country in the world where Hinduism was the official religion (until 2006). 
Hindu man dressed in traditional clothes
The 'Namaste' gesture is the common greeting and handshakes are rarely given. For the Nepali greeting put your palms together and bow your head saying "Namaste". 'Namaste' means 'Salute to the God in you'.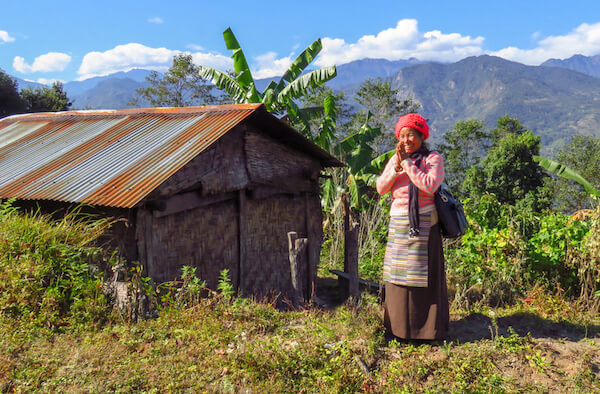 Nepali woman greeting visitors
Nepali ethnic people living in the Kathmandu valley are called Newars. Originally farmers and traders, they celebrate unique traditional and festivals. 
The Sherpa people live mainly in the eastern and mountainous regions of Nepal. They are known for their excellent climbing skills and often work in the trekking and mountaineering industries.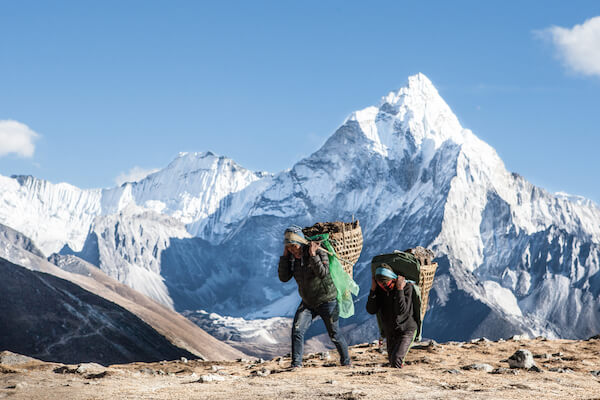 Sherpa people in the Himalayas
New Year's Day is celebrated in Nepal according to the Nepali Calendar in April. The Nepali calendar is called Bikram Sambat and New Year's Day 'Nava Varsha' is an official holiday.
In 2023, the Nepali New Year's Day was celebrated on 14 April. The Nepali count differently and this is the Nepali year of 2079! The Nepali calendar is 56.7 years ahead of our Gregorian calendar.
Languages in Nepal 
Nepali Language
The official language Nepali is spoken by about half the population, while is Maithili is spoken by many and learned as the second language. Nepali is spoken as mother language by almost half of all Nepali people. English is taught and spoken by many people as a foreign language. 
School children in Nepal
The different ethnic groups also have their own languages, among them are Maithili, Bhojpuri and Tharu which are the other most spoken mother tongues.  There are at least 120 languages spoken in Nepal as mother tongue!
Nepali is written in the Devanagari script.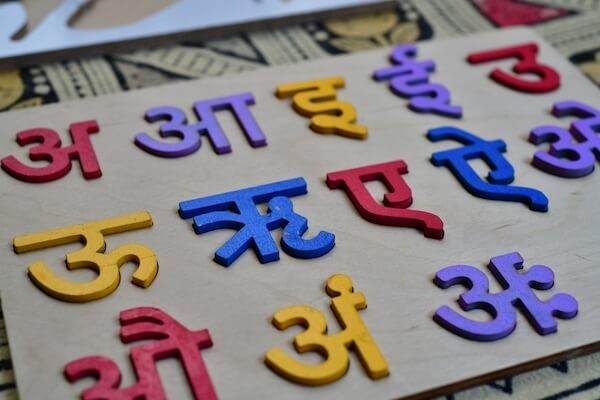 Devanagari letters
Devanagari is also used to write the Hindi and mainly used in the Indian subcontinent. Devanagari is written left to right and has 47 main characters.
Nepal Facts
Food in Nepal
Nepali food uses similar spices as the Indian cuisine such as cumin and coriander but is less spicy than Indian food. and some ingredients that are also used in Chinese cuisine such as bamboo shoots. 
Many Nepali dishes are vegetarian and do not use meat. Meat dishes are made with chicken, pork, mutton and water buffalo as cows are not slaughtered as they are considered sacred animals in Nepal.
Streetlife in Pokhara - image by Meeh
Potatoes (aloo), roti (flatbreads) and dhedo (stiff boiled flour porridge) are common staple foods in Nepal. Another Nepali staple food is rice which is eaten with every meal. 

Here are some typical Nepali dishes and traditional Nepali food:

Daal bhat: rice dish with lentil stew. 'Daal' means lentils and 'bhat' means boiled rice.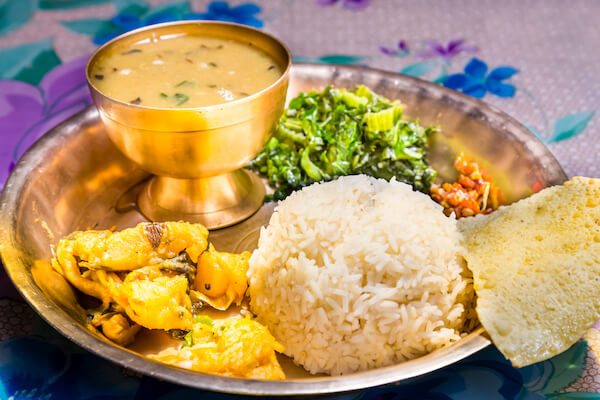 Daal bhat
Chatamari: the thin pancake is a common snack and looks similar to a small thin pizza. Chatamari is made with rice flour and topped with chopped onions and vegetables, minced meat, egg and different spices.
Momos: steamed dumplings filled with minced meat, onions, garlic, ginger, cabbage and spices. Served with a spicy sauce called achar. Momos are a popular fast food or street food.
Nepali momos with achar sauce
Pustakari: sugary sweets made with coconut, dates and peanuts 
Sel Roti: similar to a doughnut, but in a thinner ring shape - usually served during festivals and celebrations
Aloo Tama: potato stew with bamboo shoots
Gundruk: green leafy vegetables that are pickled and served as accompaniment with many curries  
Nepalis tend to eat two main meals, the morning meal at around seven o'clock and another meal in the evening meal around seven or eight o'clock.

Nepal Animals
Cows are considered sacred in Nepal. They can be seen wandering in the streets everywhere. It is illegal to slaughter cows in Nepal.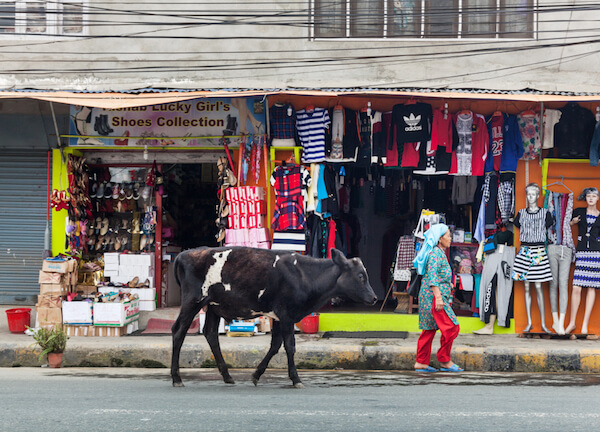 Cow in Kathmandu - image by Mark Benham
The spotted deer and Himalayan tahr can often be seen in the wild.
There are 26 protected mammal species in Nepal. Snow leopard, red panda and bengal tiger are among the endangered animals.
Yaks are commonly used for transporting goods in the Himalayas.
Yak at Mount Everest Base Camp
Nepal Facts: Did you know…?
Nepal has the only national flag in the world that is not rectangular or square!

Nepal Facts
Resources and Further Reading
Source for Nepal Facts page:
Image Credits on Nepal Facts: shutterstock.com and wikicommons, if not otherwise stated.
We hope you enjoyed reading our Nepal Facts. Please bookmark this page and spread the word. We will add more information in the near future as we still have to sort through our images and stories from our recent travels.
Go from Nepal Facts to Asia Continent Facts
Back from Nepal Facts to Kids-World-Travel-Guide
Competition 2023 closed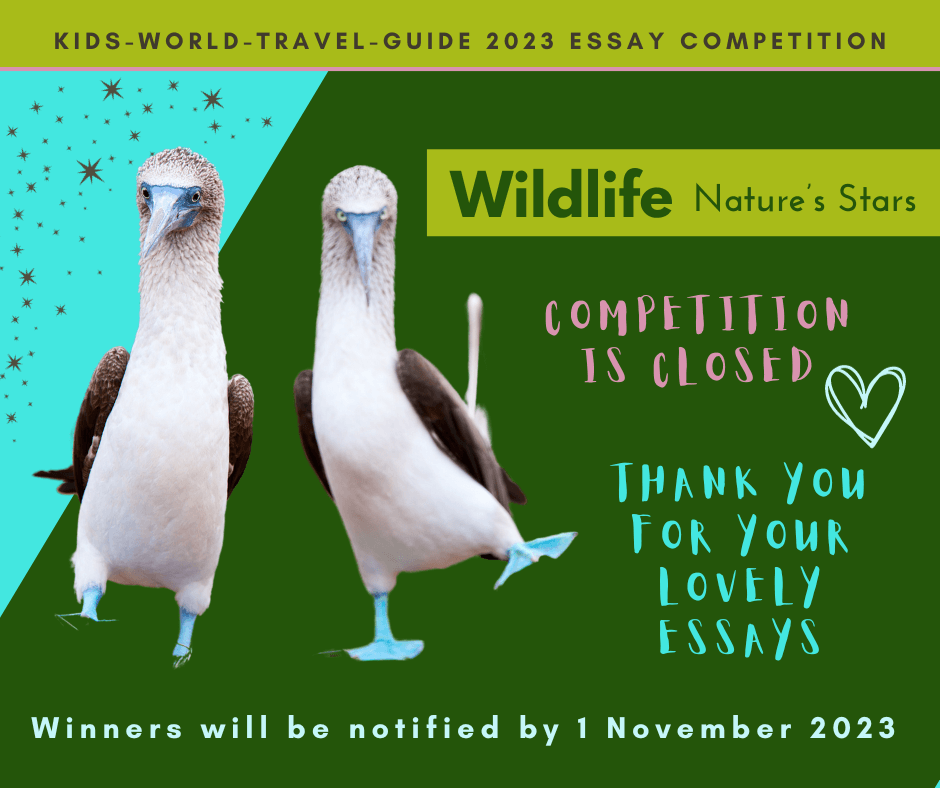 Watch this space
Competition 2024 will be announced in February