Facts about Hong Kong
30 Hong Kong Facts for Kids
Here are some interesting facts about Hong Kong which were chosen and researched especially for kids.
Facts about Hong Kong | Geography
1. Hong Kong is located in Eastern Asia. Hong Kong sits at the mouth of the Eastern Pearl River Delta and borders the South China Sea.
2. Hong Kong shares a land border with China as Hong Kong is a special administrative region (SAR) of China. This border is 33 km/ 20 miles long.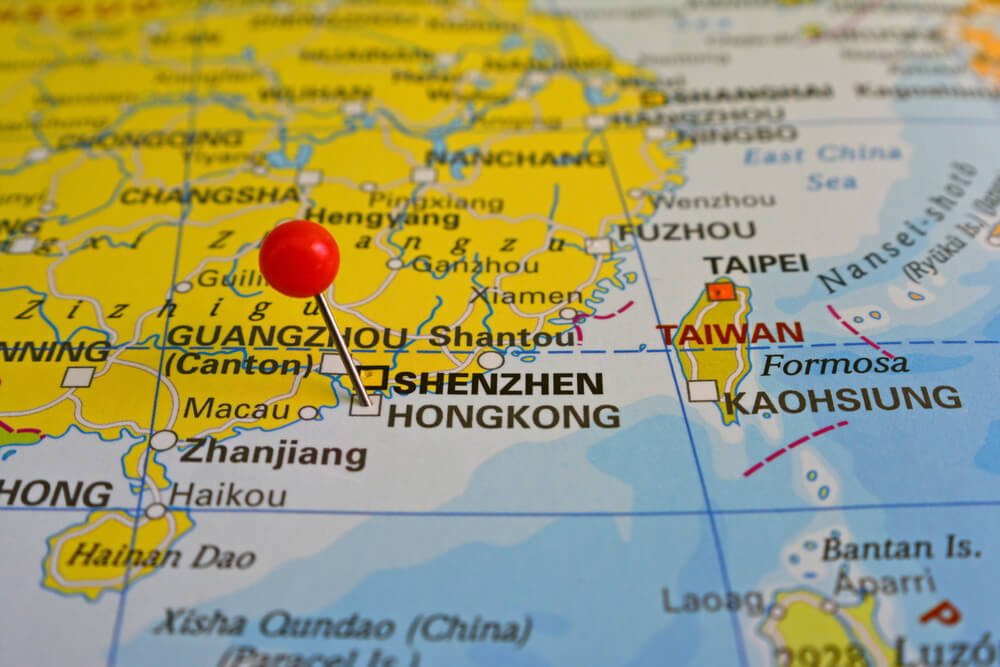 Hong Kong Map
3. Hong Kong consists of the New Territories and Hong Kong Island, and also includes over 260 islands. Most islands are hilly or mountainous.
4. Hong Kong Island is the second largest of all the islands, while Lantau island is the largest island and almost double the size of Hong Kong Island.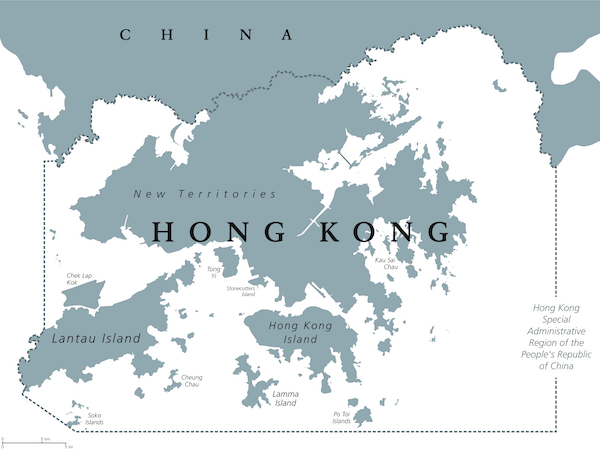 5. About 7.7 million people live in Hong Kong (2022) While Hong Kong is about six times the size of Washington D.C./USA or half the size of Mauritius. 
6. The name Hong Kong comes from the Cantonese pronunciations of the words hēung góng meaning 'fragrant harbour' and refers to the smell of the incense factories that once lined the coast of the Pearl River.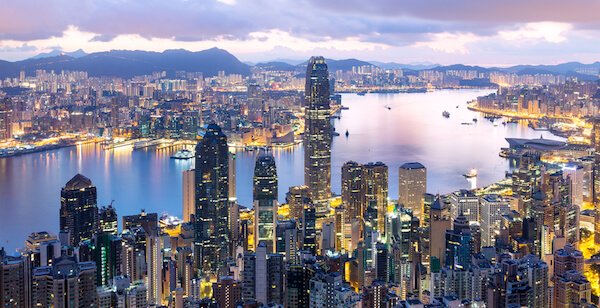 Hong Kong City Skyline
Fact about Hong Kong  
History
7. Hong Kong is a special administrative zone of the People's Republic of China since 1 July 1997. 

In 1984 the UK and China signed an agreement that the People's Republic of China would grant Hong Kong special status under the 'one country, two systems' rule. This rule grants Hong Kong a high degree of autonomy to Hong Kong after 1997 and that this agreement would be in place for 50 years.
8. Between 1842 und 1997 Hong Kong was a British colony and between 1941 and 1945, Hong Kong was occupied by Japan. 
During the First Opium War, the British had occupied Hong Kong in 1841. With the Nanjing Treat ending the war, the Qing Dynasty handed over Hong Kong to the British in 1842.
Facts about Hong Kong 
Geography Superlatives
9. Hong Kong is the city with the most skyscrapers in the world. The city houses 355 skyscrapers. The International Commerce Centre (ICC) building with 118 floors is currently the highest skyscraper in Hong Kong.
The ICC is located in West Kowloon's business district and houses also the world's second highest hotel, the Ritz-Carlton Hong Kong.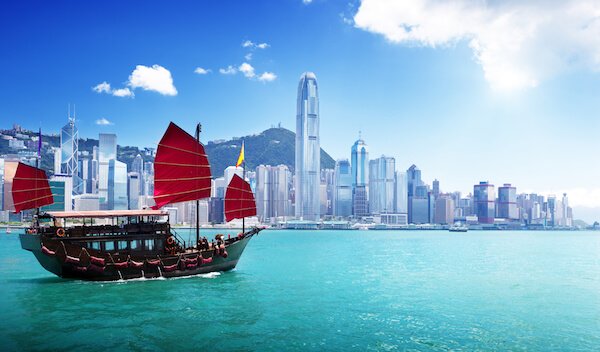 The International Commerce Centre of Hong Kong is the tallest skyscraper
10. Hong Kong is also linked to Macao, another special administrative zone of China via the Hong Kong - Zhuhai - Macao bridge and tunnel system, which is the longest open sea fixed link bridge in the world. This bridge-tunnel system is 55 km/ 34 miles long.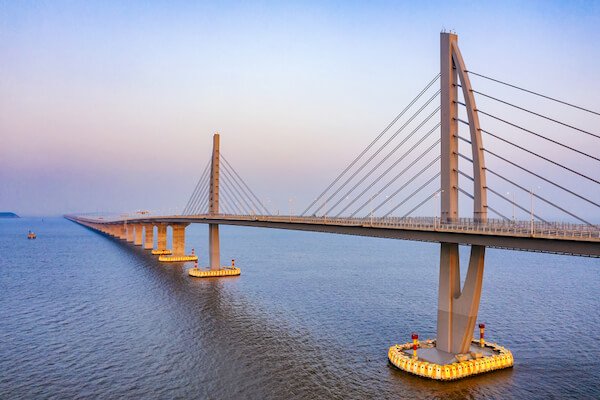 Hong Kong - Zhuhai - Macao Bridge
11. The highest point of Hong Kong is called Tai Mo Shan and is 958 metres/ 3,140 ft high. The mountain is an inactive volcano and the tallest coastal peak in Southern China.

12. Hong Kong has a long coastline of 456 km/ 283 miles which is popular for its many stunning beaches such as Clearwater Bay and Golden Beach, Shrek O Beach and Big Wave Beach which you can see in the image below.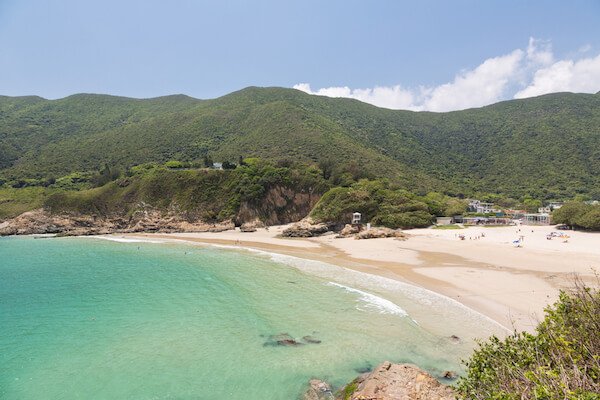 Hong Kong's Big Wave Beach
More Facts about Hong Kong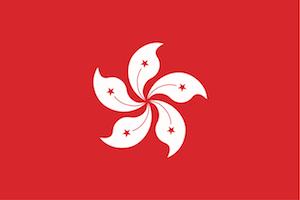 Flag of Hong Kong
13. Hong Kong has a subtropical climate which is hot and humid in summer and mild though colder and dry in winter. Snow is occasionally experienced on the higher mountain peaks. Typhoons can occur during the autumn months, mainly in September.
The water temperatures in Hong Kong range between 17°C/ 64°F in winter and 29°C/ 84°F in summer.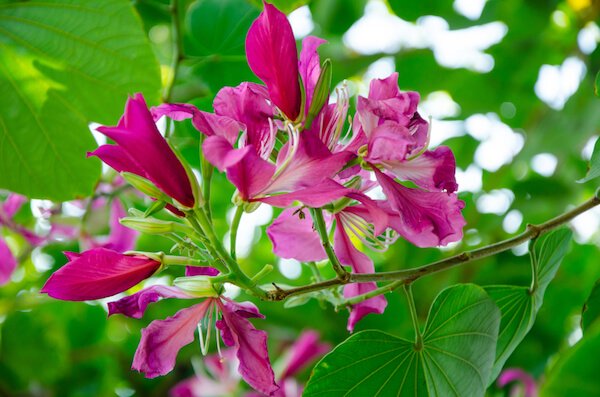 The Hong Kong orchid is also shown on the flag
14. The Hong Kong Orchid (Bauhinia Purpurea) is Hong Kong's symbol and also show in the flag of Hong Kong.
Facts about Hong Kong  Landmarks
15. Among the most famous landmarks of Hong Kong are the 'Peak' on Hong Kong Island which is otherwise known as Mount Austin. The Hong Kong Peak is 522 m/ 1,811 ft high.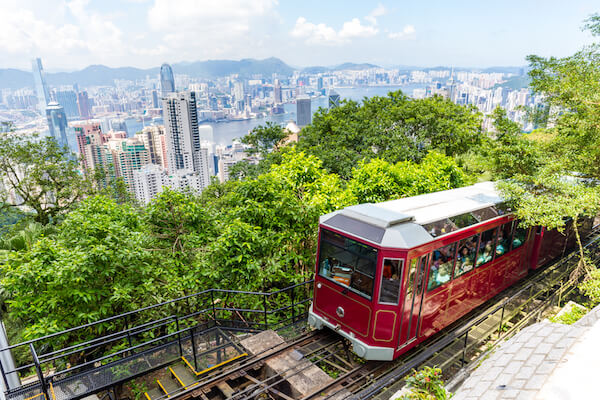 Peak Tramway
The is easy access to the Peak is via the Peak Tramway. The Peak Tower is another iconic landmark of the city.

Hong Kong Peak Tower
16. The big bronze Buddha statue on Lantau Island is another famous landmark as is the red brick clocktower of the old Railway Station on Kowloon which is a reminder of the island's colonial area.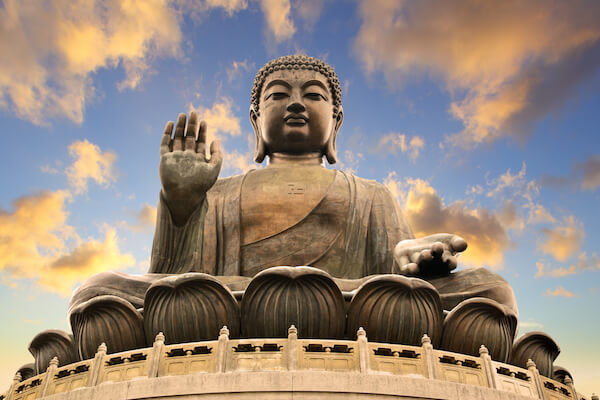 Hong Kong Great Buddha
17. Hong Kong University was established in 1911 and is today the most prestigious universities in China and among the best in Asia.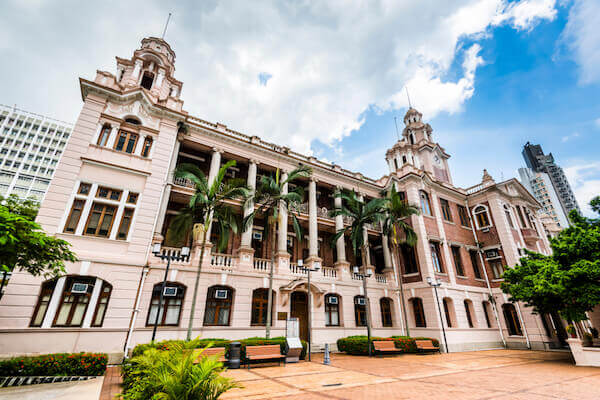 University of Hong Kong
English is still the main language of instruction at this university.

Facts about Hong Kong | People 
18. Hong Kong is one of the most densely populated areas in the world. More than 7.7 million people live in Hong Kong.
19. The majority of people in Hong Kong are Han Chinese (92%). About half of the residents have British National Overseas Status - this was granted by the UK to the residents who had settled in the city before the handover to China in 1997.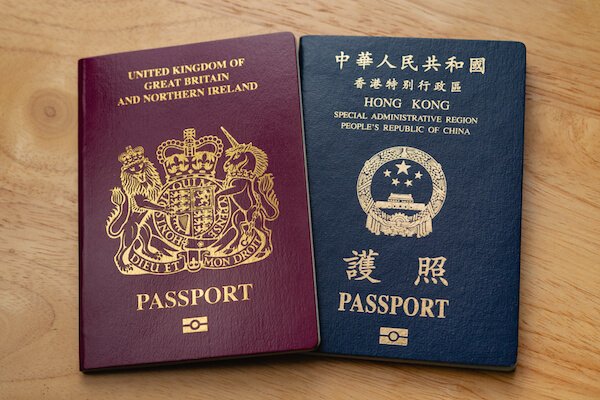 UK and Hong Kong passports
20. The national languages of Hong Kong are Mandarin and English. Almost 90% of the Hong Kongers speak Cantonese as their home language.

21. About 28% of the people in Hong Kong are Taoist or Buddhist and 12 % are Christians while 4% are Muslims. Most people, however, practise Confucianism. This means Hong Kongers adhere to the values of mutual respect and kindness towards each other.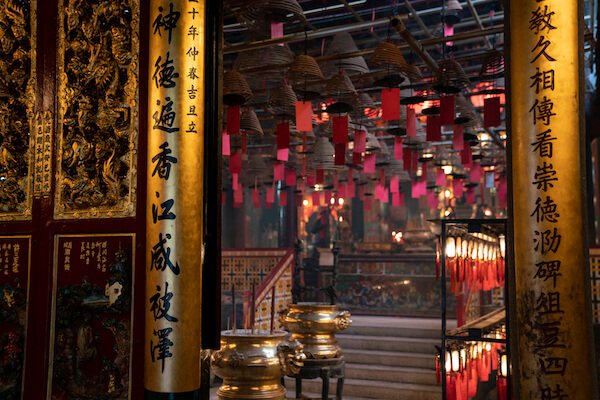 22. Chinese cultural traditions are blended well with Western cultural ideals in Hong Kong. Feng-shui traditions are followed widely as are other spiritual concepts such as that numbers 3,5 and 8 are considered auspicious and luck bringing.

23. The Hong Kong cuisine is predominantly Cantonese with famous dishes such as dim sum, egg tarts and Mango pudding.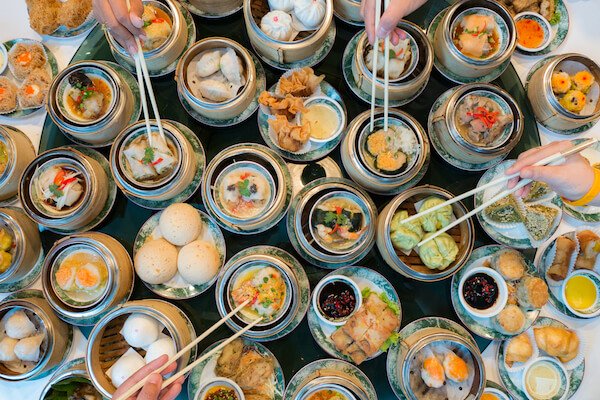 Dim Sum
Facts about Hong Kong | Animals
24. A large variety of birds, marine animals such as dolphins, turtles or rays and many land animals such as civets and porcupine, macaques and leopard cats that look like little tigers can be experienced when visiting Hong Kong.
Wild boars are nocturnal and relatively shy, but can still be encountered on Hong Kong Island.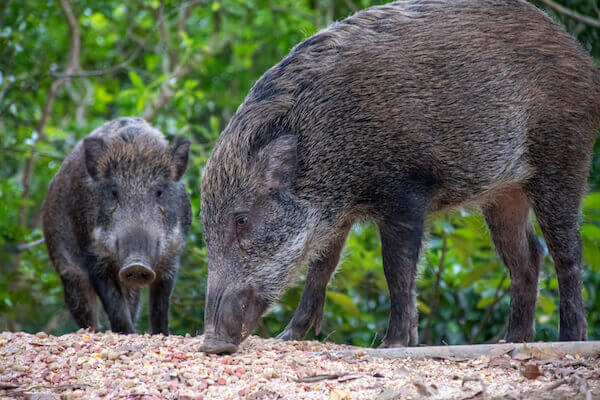 Boars on Hong Kong Island
Hong Kong Facts for Kids | Hong Kong Economy
25. Hong Kong belongs to the Asian Tiger Economies which also include Singapore, South Korea and Taiwan.
26. Hong Kong is one of the largest financial centres in the world - after Tokyo, Shanghai and Singapore. Most of the people in Hong Kong work in the service sector.
27. Hong Kong also has an outstanding deepwater harbour and thus is one of the busiest and largest container ports in the world.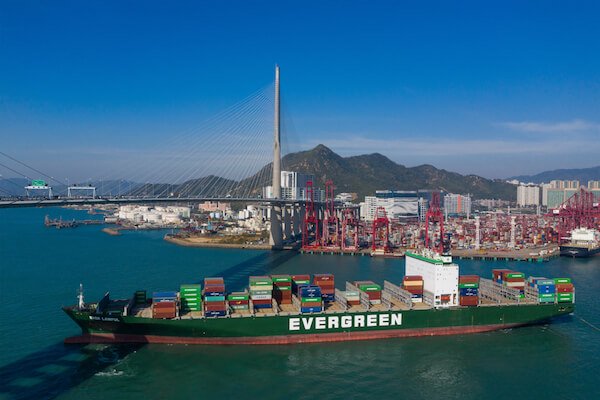 28. Hong Kong's currency is the Hong Kong Dollar.
29. The country is known for its free market economy and there are no duties imposed on imported goods except for hard liquor/alcohol, oil, tobacco and methyl alcohol. 
30. The main trading partner is China. The USA, Singapore, South Korea and Japan are among the bigger import partners. Hong Kong does not have significant natural resources and imports food and raw goods. Some raw fruits and vegetables grown in the country. 
 Hong Kong Facts | Resources
Sources for Facts about Hong Kong page:
TimeOut."13 Beaches to Visit in Hong Kong this Summer." TimeOut. 26 June 2020. Last accessed 23 January 2023
Central Intelligence Agency. "Hong Kong." CIA World Fact Book. Last updated 11 January 2023. Last accessed 23 January 2023
Martin Williams. "Wild Boar, Civet Cats, Barking Deer: Hong Kong Wild Animals And Where To Find Them." SouthChinaMorningPost. 2 April 2018. Last accessed 23 January 2023
Image Credits on Facts about Hong Kong: photo stock from shutterstock and wikicommons, if not otherwise stated.
We hope you enjoyed reading our Hong Kong Facts for Kids. Please bookmark this page and spread the word. We will add more information in the near future.
Popular Pages
Back from Hong Kong Facts to Kids-World-Travel-Guide

Enter our competition NOW