Vietnam Facts for Kids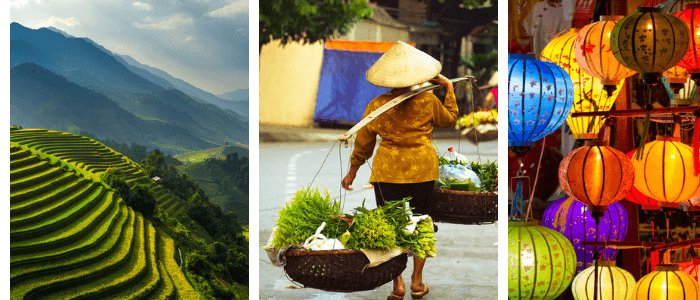 Interesting Facts for Kids
Here are some interesting Vietnam Facts which were chosen and researched by kids especially for kids.
Population: 102 million people live in Vietnam (2023)
Capital: Hanoi with 5 million inhabitants
Name: Socialist Republic of Vietnam or Viet Nam
Government: Communist 
National Holiday: 2 September (Independence Day)
Language: Vietnamese, with English and French the most common second languages

Literacy: 95% of the adult population can read and write
Religion: Folk religions our non-religious (81%), Buddhism (8%) Christianity (8%)
Currency: 1 Vietnamese Dong = 100 Xu. However, coins are no longer accepted in shops. Mainly banknotes from 1000 Dongs upwards are used. 1000 VND equals 4 US cents or 3 British pence!
Lotus flower
National Symbols: five-pointed star on red field, lotus blossoms (national flower). 
National colours: red and yellow.
History: Vietnam was ruled by the Hung kings since the 3rd century BC. Chinese troops invaded the northern parts of the country in 111 BC and then various Chinese dynasties ruled the area, later in the 18th century the peninsula was colonised by France and from 1858 until 1954 the country was part of French Indochina. After the end of World War II and the declaration of independence in 1945, the French still ruled the country until 1954. Then Vietnam was divided into North Vietnam and South Vietnam and the country was shuck by the violent Second Indonesian War from 1955-1975. This war is also referred to as the Resistance War Against America or American War. The fall of Sài Gòn/ Saigon was on 30 April 1975. The city 

Saigon 

was later renamed to Ho Chi Minh City in honour of the fallen Vietnamese communist leader Ho Chi Minh.

Vietnam Facts | Geography 

Vietnam is located on the Asian continent, more exactly in Southeast Asia. 
Vietnam is situated on the Indochinese peninsula and borders the countries Cambodia, China and Laos as well as the South China Sea. The longest border is shared with Laos.
The capital city of Vietnam is Hanoi.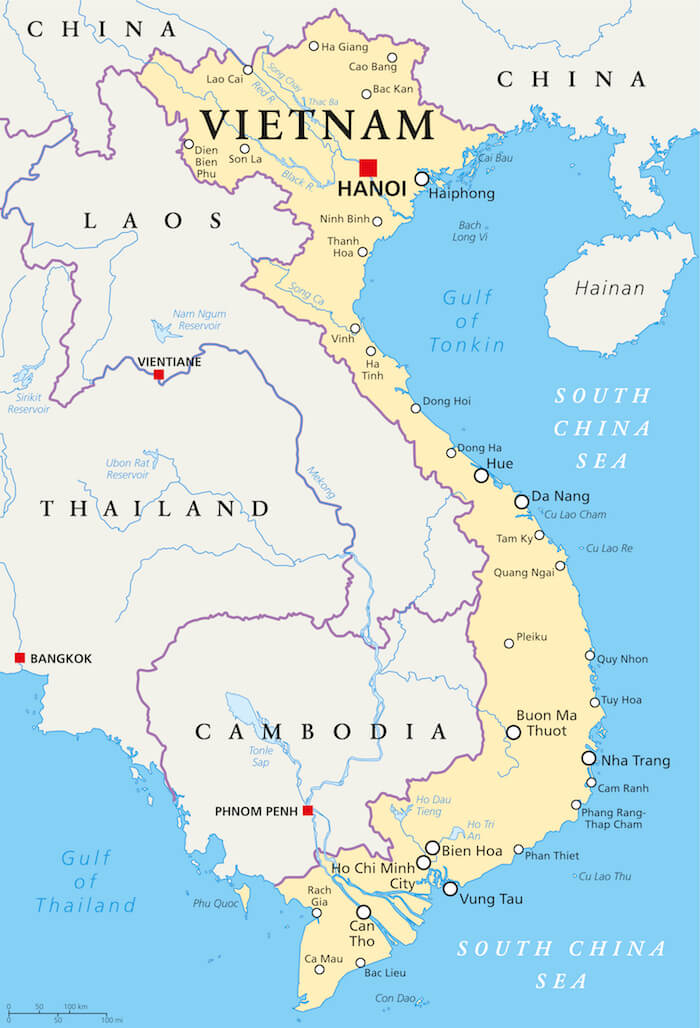 Vietnam Map
Vietnam has a coastline of about 3,444 km/2,140 miles length - not counting in the many islands!
Vietnam is roughly the size of New Mexico/USA and about half as big as France. 

A flight from London/UK takes roughly 12 hours and from New York/USA a flight takes about 20 hours as there are currently no direct non-stop flights between the USA and Vietnam. 

Vietnam Facts
Vietnam Geography
The country is very narrow and long. It stretches over 1,650 km/ 1,025 miles from north to south. At the most narrow point the country is just 50 km/ 31 miles wide!
Due to the shape, Vietnam has different climatic zones. The temperatures are generally higher in the southern parts than in the country's north.
Vietnam has many forested regions and rolling hills. High mountain peaks can be found in the northern parts of the country.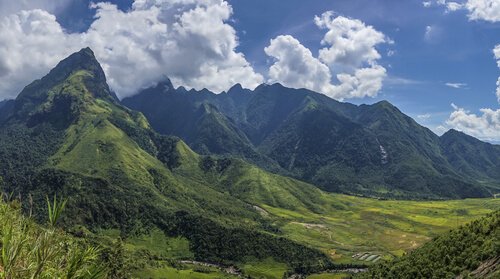 Fan Si Pan Mountain in Vietnam
The highest point of Vietnam is Fan Si Pan, also called Phan Xi Pang and nicknamed 'Roof of Indochina'. The mountain is 3,143 m/ 10,312 ft high.
The largest island is Pho Quoc. The island is located in the Gulf of Thailand. The island is closer to the Cambodian coast than to the Vietnamese southern coastline.
Vietnam's biggest city is Ho Chi Minh City in the country's south. About 9 million people live in the city.
The Son Doong Cave in Phong Nha-Ke Bang National Park is the world's largest cave passage by volume. It is about 5 km long, 200 m high and 150 m wide. (3.1 mi x 600 ft x 490 ft)
Vietnam Facts
Vietnam Attractions
Hanoi is Vietnam's capital city. It is situated in the country's North. The buzzing city is Vietnam's major trading centre for centuries and it is fascinating to discover the historic past of the city.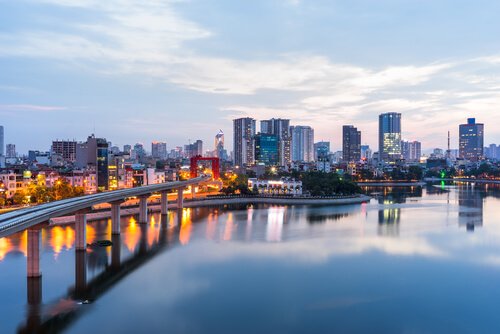 Cityscape of Hanoi
In the city's Old Quarter the streets are still named after the goods and wares that were once crafted and traded here, such as Hang Be Street  - the street of the bamboo crafters, Hang Dao Street - the silk weaver street and Hang Tung Street, where once barrels were skilfully made.

Street vendor in Hanoi's Old Quarter - image by Tony Duy
Da Nang is the county's second biggest city. Due to its location at the Central Coast, the sandy beaches and nearby international airport, this is one of the most popular holiday destinations in Vietnam. It is easy to explore the nearby historic cities of Hue and Hoi An or the magnificent Marble Mountains from here.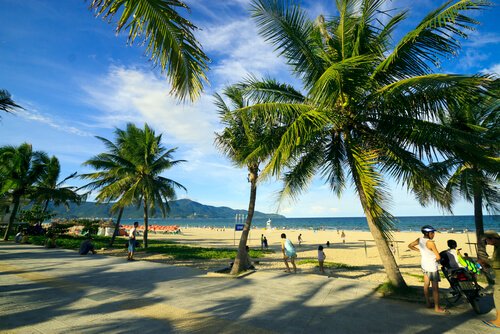 Da Nang Beach - image by John Bill
The Golden Bridge near the mountain resort of Ba Na Hill further inland from Da Nang is a wonderful new attraction to explore as well. The new skybridge is 150 m/ 490 ft long and offers awesome views.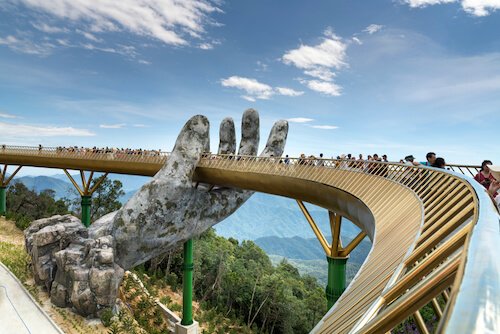 Golden Bridge - image by Quang Nguyen Vinh
And there the fascinating historic cities too! Hue and Hoi An are surely a must visit when in the central region of Vietnam.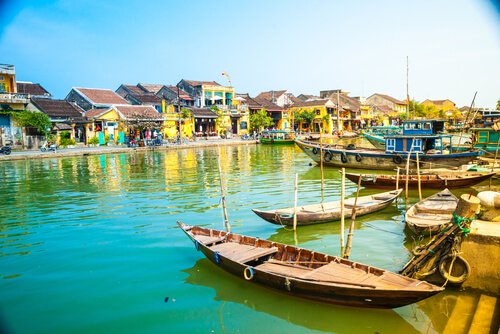 Hoi An in Vietnam is a UNESCO wold heritage site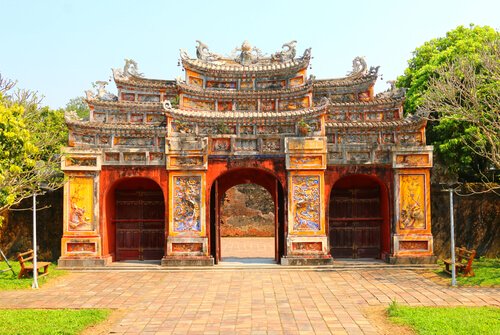 Forbidden City gate in Hue
Phu Quoc: Vietnam's largest island attracts visitors to its clear turquoise waters and stunning beaches.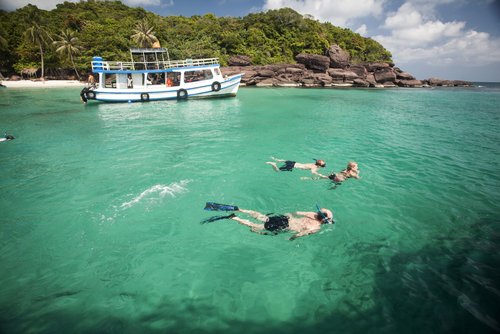 Snorkelling off Phu Quoc - image by Melinda Nagy
The Mekong Delta in Vietnam has been voted among the best attractions to visit in 2019 by CondeNast Traveller magazine readers. The waterways in the southwestern part of the country can be explored by boat and traditional village markets can be visited.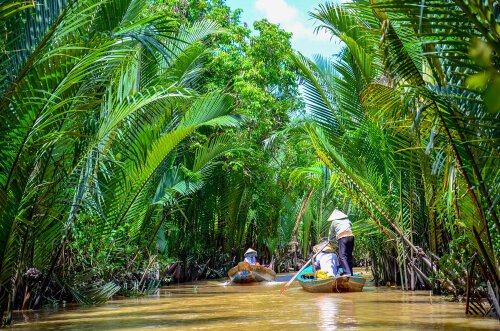 Mekong Delta
Hạ Long Bay and its magical karst rock formations is among the most amazing wonders of the world.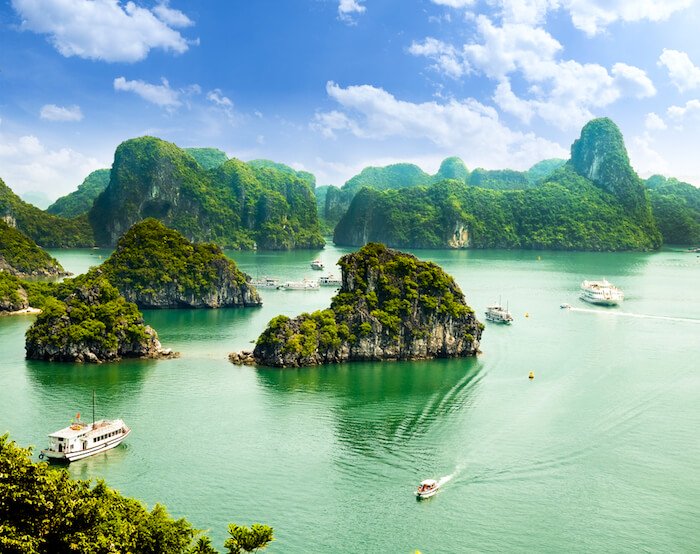 View of Ha Long Bay and the karst rock formations
Nearby Van Don International Airport opened in December 2018 and now it is much easier to reach this popular tourist attraction. The bay is home to about 2,000 local residents while already over 10 million tourists visit Hạ Long Bay every year!

Vietnam Facts | Vietnam Economy
The main agricultural products are rice, coffee, tea, pepper as well as soybeans, cashews, peanuts and rubber.
The main trading partners of Vietnam are China, Japan, South Korea and the USA. Exports from Vietnam include clothes, shoes, electronics, seafood, crude oil and rice. The main imports include machinery and equipment and raw materials for their manufacturing industries.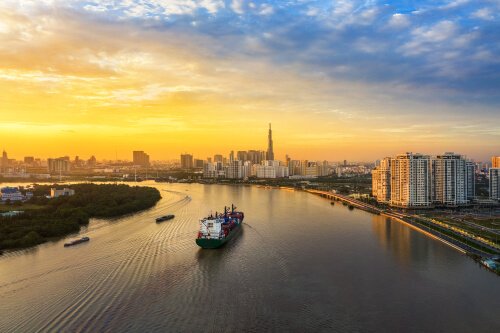 Containership on the Saigon River near Ho Chi Minh City
Vietnam Facts
People of Vietnam
Only 36% of the population live in urban areas of the country. The majority of the people live in the Red River Delta in the north of the country and in the Mekong Delta and Ho Chi Minh City in the south.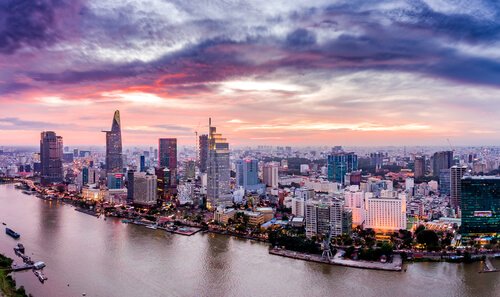 Ho Chi Minh City
The biggest city of the country is Ho Chi Minh City, formerly called Saigon, where more than eight million people live. Da Nang, Hai Phong, Can Tho and the capital city Hanoi are big cities with more than one million inhabitants.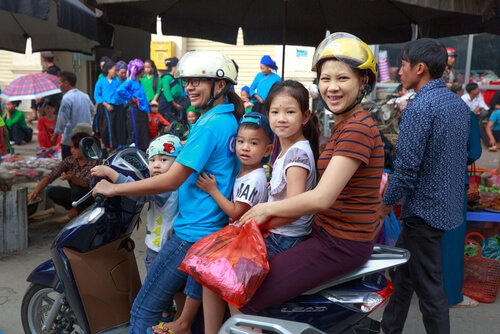 Five on a motorbike - image by Quang Nguyen Vinh
Interesting Fact about Vietnam: There are about 45 million motorbikes registered in Vietnam! 
Vietnam is one of the most densely populated countries, but large areas of the country are still very rural and consist of arable land, rice fields and forests.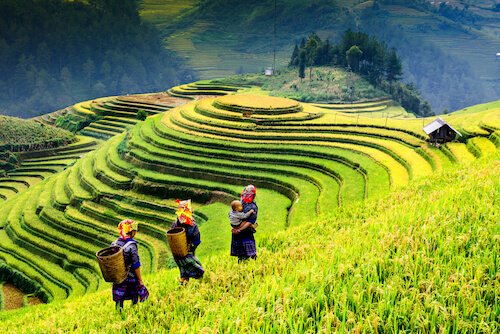 Workers in the rice fields in Vietnam
More than 40% of the Vietnamese people work still in the agricultural sector. The people in rural areas lead a simple life. More than 8% of the population are very poor and live below the poverty line.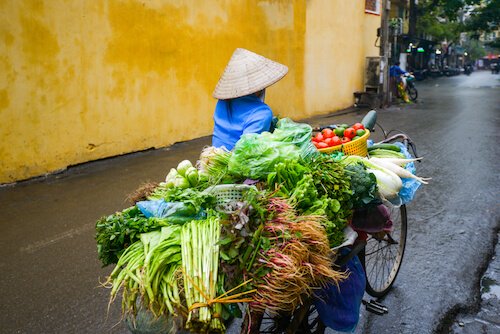 Street vendor in Vietnam
In Vietnam, the government recognises 54 ethnic groups. The vast majority (85%) of people belong to the Viet people. The biggest minority group are the Thai and Khmer people.
In Vietnam, military service is compulsory for young men. The up to two-year-long national service in the country's army or navy is compulsory for all young Vietnamese men over 18 years and voluntary for young women over 18 years. 
Vietnam Festivals
Vietnamese Lunar New Year  

Vietnamese people celebrate the new year twice! The New Year celebration are on 1 January as most countries do. But they also celebrate the Vietnamese Lunar New Year which is celebrated at the same dates as Chinese New Year.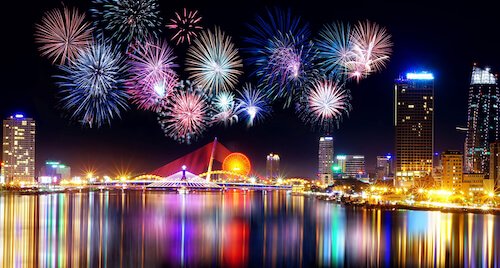 New Year's fireworks in Da Nang
The Vietnamese Lunar New Year is called Tet. This is the main cultural festival in Vietnam. 2023 is celebrated as the 'Year of the Cat' in Vietnam, even though everywhere else in the world Chinese people celebrate the 'Year of the Rabbit'. Read more about zodiac signs here.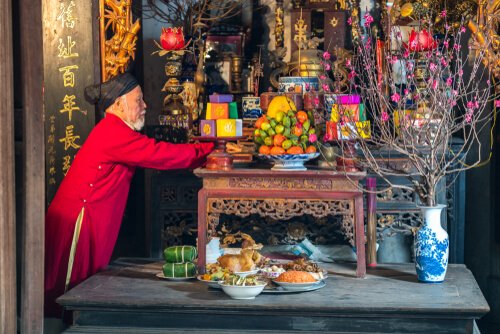 Preparing the altar for Tet
People in Vietnam will wear their traditional dress and celebrate new year as their main cultural festival. During Tet, the people visit the temples and give presents to family and friends.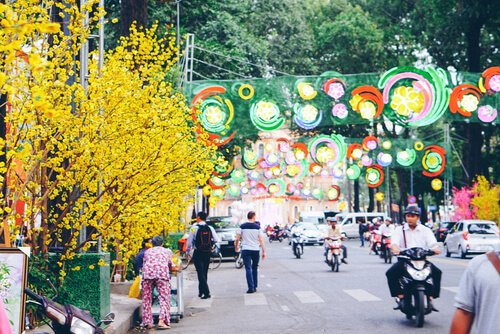 Ho Chi Minh City decorated for Tet - image by Joel Whalton
Vietnamese towns are decorated with lots of flowers during Vietnamese Lunar New Year. Popular flowers are peach blossoms and apricot blossoms, chrysanthemums and pansies.

Vietnam Facts | Vietnamese Food
Many dishes in Vietnam consist mainly of rice and vegetables as well as fish, seafood, chicken or beef. 
Rice products as well as soy sauce, fish sauce or shrimp sauce are the most common ingredients in Vietnamese dishes. Here are some typical Vietnamese dishes: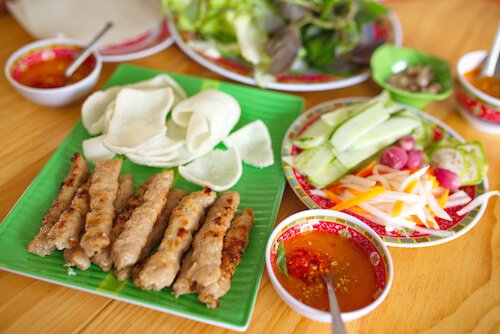 Typical Vietnamese nem skewers
Nem: Grilled pork meat skewers which have been marinated in fish sauce. They are often served with spicy chilli sauce
Canh chua: sour soup with fish, tomatoes and vegetables as well as pineapple chunks 
Pho: traditional soup dish made with clear broth, spring onions and sprouts as well as sliced chicken or beef slices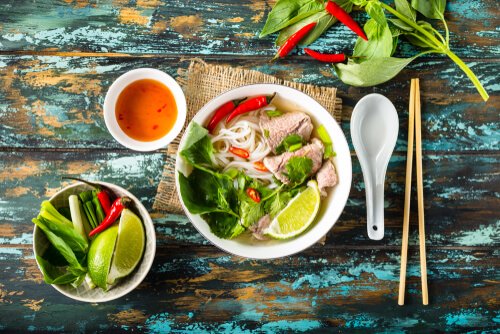 Traditional Vietnamese food: Pho soup
Banh Bao: Vietnamese pastry dumpling with usually savoury filling such as pork or chicken meat
Xoi: Sweet sticky rice cakes made with coconut milk and mung beans, often with added food colouring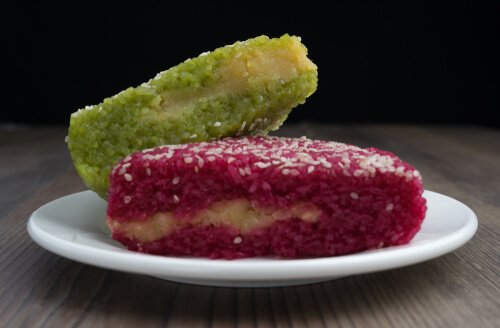 Vietname Xoi Vi - image by Moon Lee
Vietnam Facts 
Vietnam Animals
Vietnam is one of the most biodiverse countries in the world. There are over 840 bird species and more than 310 mammal species recorded in Vietnam, some of these can only be found in this country.
The Saola, an antelope species, was only discovered quite recently and is considered one of the rarest large mammals in the world.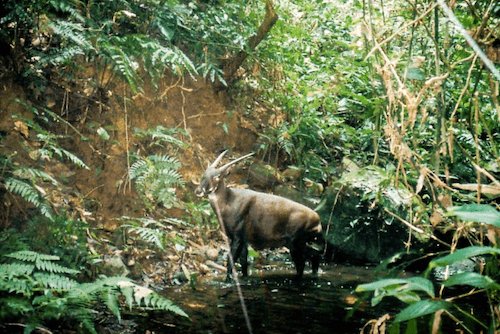 A rare glimpse of a Saola
The Red Shanked Douc is native to Vietnam as well and also is critically endangered. These monkeys are among the most colourful primate species. Doucs eat and sleep in trees.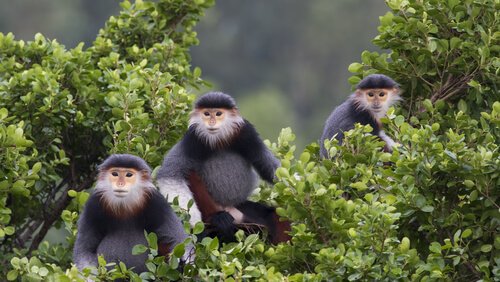 Vietnamese Red Shanked Douc males and female
Other Popular Pages
Vietnam Facts - Resources
These are the resources that were used for this article about the most important Vietnam Facts:
Please bookmark our page if you are interested in Vietnam Facts for Kids as our Vietnam for Kids page will be updated regularly. Feel free to contact us if you or your school would like to join in our schools project. Looking forward to hearing from you!
And enjoy learning more great Vietnam Facts soon:-)
Picture credits in main text on Vietnam Facts:  shutterstock.com


Return from Vietnam Facts to Kids-World-Travel-Guide Homepage
Competition 2023 closed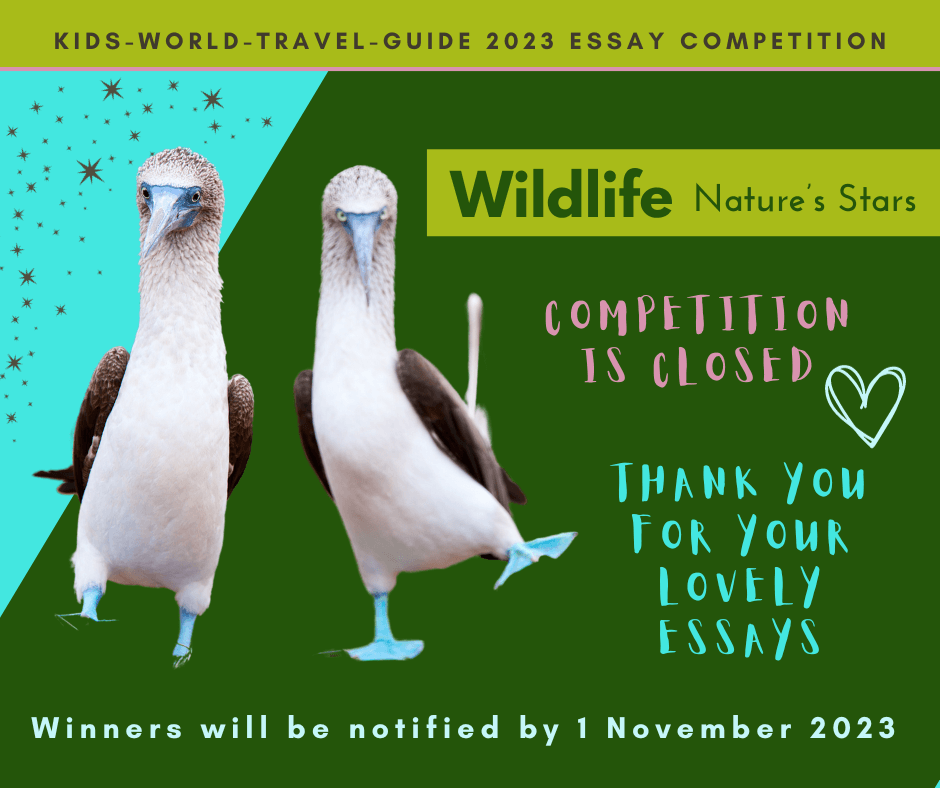 Watch this space
Competition 2024 will be announced in February