Cyprus Facts for Kids
Our Cyprus Facts for Kids provide interesting and fun facts about the country in Southern Europe, the island's geography, landmarks, attractions and people and so much more.

Cyprus Facts for Kids
Here are some interesting facts about Cyprus which were chosen and researched especially for kids.

Cyprus Flag with EU flag
Population: about 1.3 million people live in Cyprus (2023)
Capital: Nicosia (Lefkosia) with about 300,000 inhabitants
Name

: Republic of Cyprus

Government: Presidential Republic
Official Languages: Greek and Turkish
Religion: Eastern Orthodox Christians about 70%
Literacy: 99% of the population aged 15 and over can read and write
Currency: 1 Euro = 100 cents (before 2008: Cyprus pound)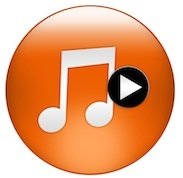 National Anthem: Hymn to Liberty (Greece and Cyprus have the same national anthem)
National Holiday: 1 October (Independence Day)
National Symbol: Olive branch, mouflon
History: Cyprus gained independence from Britain in 1960
Cyprus Facts for Kids | Cyprus Geography
Cyprus is an island country in the Mediterranean Sea. The island is located to the south of Turkey/ Türkiye and to the east of Greece.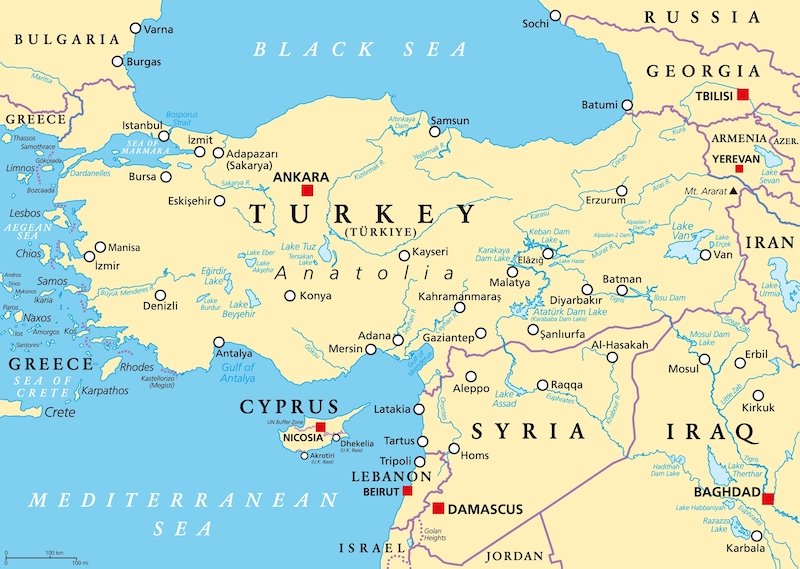 Location of Cyprus in the Mediterranean
Cyprus is a country in southeastern Europe, but strictly geographically speaking we would have to say Cyprus is located in Western Asia. 
The country is linked culturally as well as politically with European countries. The Republic of Cyprus is part of the European Union since 2004.
The island is a divided as the north eastern parts are governed by the Turkish as a self-declared republic of Northern Cyprus. In 1974, Turkish troops had invaded the island and supported the Turkish minority group. 
The Republic of Cyprus houses about two thirds of the island's land area or the southern and central parts of the country. There is a UN buffer zone between both parts of the country.
Map of Cyprus
The division of the island of Cyprus is shown on the map above. The border between the Republic of Cyprus in the South and Northern Cyprus is manned by UN peacekeepers. 
Cyprus has a mild and temperate climate with wetter and colder winters and hot and dry summers.

Cyprus is slightly smaller in size than the state of the U.S. island of Puerto Rico, or a bit less than three times the size of Rhode Island, or about half the size of Fiji or Slovenia, or ten times smaller than Portugal.
Facts about Greece
Geo Superlatives
Cyprus is the third largest island in the Mediterranean Sea - after Italian islands Sicily and Sardinia.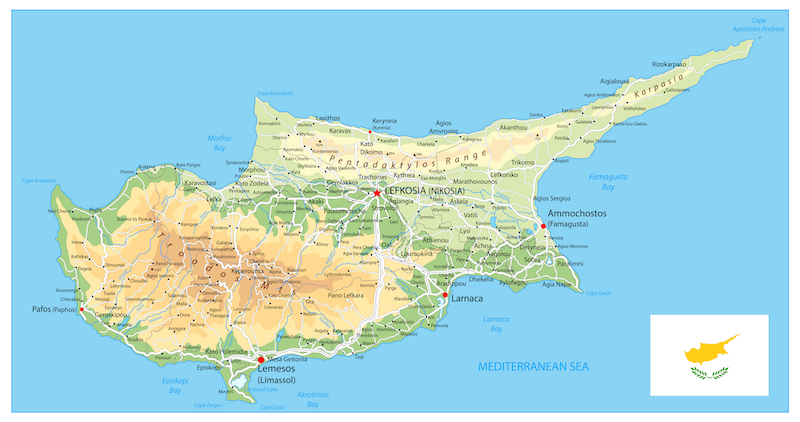 Physical Map of Cyprus
The longest river in Cyprus is the river Pedieos with about 100 km/ 60 miles but the river is not navigable.

The island is mountainous with the highest mountains in the southwestern parts of the country. The largest mountain range are the Troodos mountains. The area here is known also for cooper mining.
Montoullas village
Akrotiri Salt Lake is the largest lake in Cyprus. It is located in the southwest of the island and also referred to as Limassol Salt Lake.
Lefkosia (also referred to as Nicosia) is the largest city of the island. Although many will have heard of Ayia Napia, but this is "only" a popular seaside resort. Limassol (referred to also as Lemesos), Larnaka and Pafos (Paphos) are other main cities.
Limassol's Oval building is a major landmark of the city
Cyprus Facts for Kids
Landmarks and Attractions
There are three UNESCO world heritage sites in Greece: the mosaics of Pafos/ Paphos, the prehistoric round houses in Choirokoitia near Larnaka and the painted churches of Troodos such as the Archangel Michael Church in Pedoulas.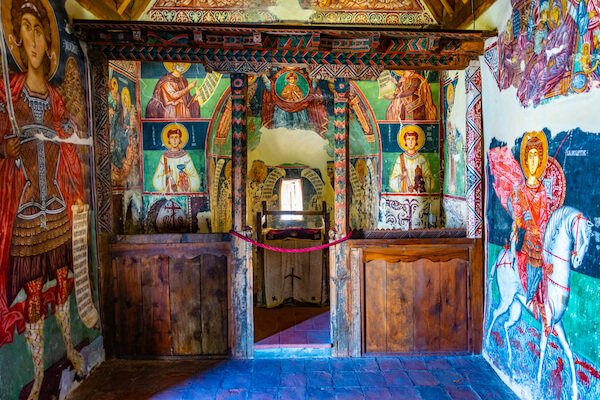 Painted Church in Pedoulas - image by trabantos/shutterstock.com
Among the most well known monuments, landmarks and attractions of Cyprus are the Tombs of the Kings, the ruins of Kourion, the mosaics of Paphos and Aphrodite's Rock.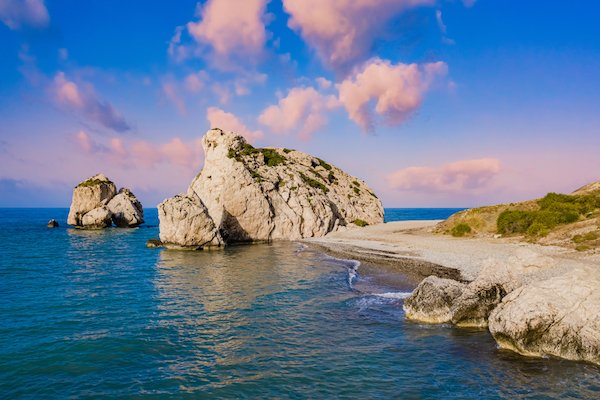 Aphrodite's rock
Ruins of Kourion
Kanares Aqueduct
There are many famous sandy and rocky beaches in Cyprus as well as fabulous rockpools such as at Coral Bay or Konnos Bay in Ayia Napia that we show on this page.
Then there are also over 70 'Blue Flag' beaches in Cyprus. 'Blue flag' means these beaches are rated amongst the best of the country with clear safe waters and good facilities as well as lifeguards. Amongst these fabulous Cyprus' Blue Flag beaches are the long stretch of golden sand of Pissouri beach, the beach resort of Santa Barbara where many love to go snorkelling, and the natural Agia Thekla beach.
Coral Bay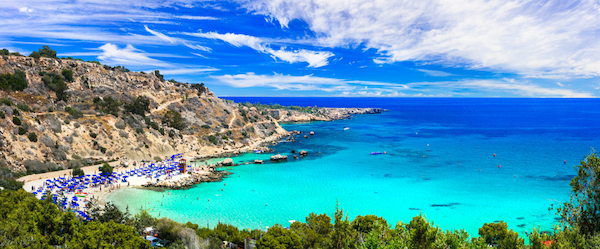 Konnos Bay Beach
Of course, here are some impressions of Nicosia, the divided capital city and Northern Cyprus.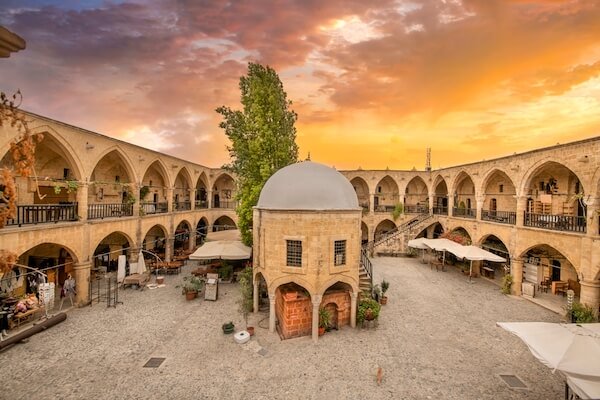 "Great Inn" Ottoman building in Nicosia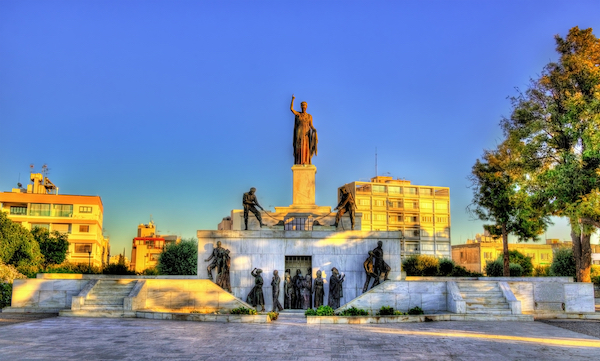 Liberty monument in Nikosia/Lefkosia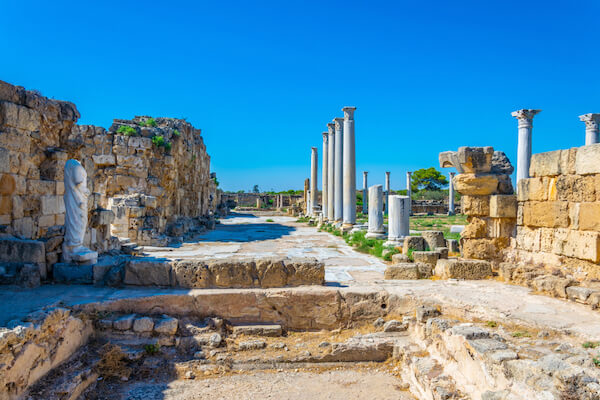 Roman ruins at Salamis in Northern Cyprus
Kyrenia harbour in Northern Cyprus
Bellapais Abbey in Northern Cyprus
Cyprus Facts for Kids | Cypriots 
Most of the population of Cyprus live in the capital city Nicosia and in and around the major cities on the island's southern regions. The majority of Cypriots (67%) live in cities and larger towns.
Most of the people living in Cyprus are Greek Orthodox Christians.
The Cypriots celebrate various festivals, the Limassol Carnival, the Ayia Napia Medieval Festival and Greek Orthodox Easter celebrations are the country's biggest and most popular festivities and events.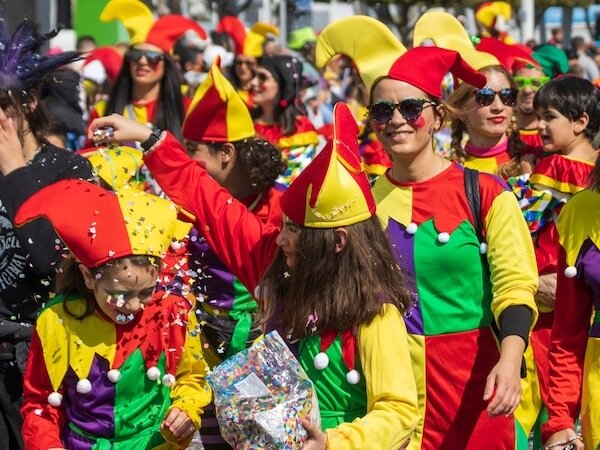 Carnival celebrations in March
In Cyprus, children go to primary or elementary school from age five. Public school education is free of charge. Schooling is compulsory until Grade 9 or the age of 15. Cypriot pupils learn Greek at school, while English is usually taught early on, from grade one. Most lessons are taught in the mornings, starting at 7h45 and lasting until about 13h00. English is the first foreign language for the pupils while French is offered in many high schools as a second foreign language.
Soccer or football is the most popular sport in Cyprus but many people also volleyball, basketball or cricket.

Cyprus Facts for Kids | Food in Cyprus
The Cypriot cuisine is full of fresh fish and seafood, citrus fruit and vegetables. Spices used in the Mediterranean cuisine such as thyme, oregano or rosemary are added to most Cypriot dishes while dill and mint are also very popular spices. 
Many dishes are a blend of the Greek, Turkish and Middle Eastern cuisines.
Meze are small dishes that are served as starters and include usually halloumi, olives, breadsticks, various dips, freshly caught seafood such as octopus and stuffed vegetables.
Popular food in Cyprus:
Halloumi: white cheese usually fried golden and crispy and served with salads and breads
Fried halloumi cheese
Souvlaki: skewers of marinated meat kebabs, mostly chicken and lamb
Taramosalata: pink coloured dip made with fish roe, lemon, mashed potatoes as well as onions and of course olive oil
Koupepia: vine leaves stuffed with tomatoes and minced pork
Daktyla: so-called ladies fingers are delicious sweet treats similar to baked pancakes with almond filling
Kafes Peksemet: bread sticks with onion seeds and sesame that are baked in form of a grid or gate
Kafes Peksemet
Cyprus Facts for Kids | Economy

Cyprus is part of the European Union since 2004 and since 2008, the Euro is the currency of Cyprus.
Grapes, olives, citrus fruits as well as potatoes and wheat are the main crops in Cyprus.
The main trading partners are Greece, Italy, India, Libya, Turkiye and the United Kingdom.
Cyprus Facts for Kids
Animals in Cyprus
Cyprus is home to the mouflon, a wild sheep, that lives in the mountains and forests around Pafos/Paphos. Mouflons are the largest wild species and are a protected species. They have a redish brown coat and horns. The mouflon is the national animal of Cyprus.
21 mammal species and 380 bird species live on the island. Most of the birds here are migratory birds that fly from Europe to Africa for the colder winter months. Amongst these migratory birds are flamingoes and imperial eagles as well as the Cyprus warbler that is a songbird that is native to the island. 
Cyprus is also a nesting place for loggerhead turtles and green turtles, both are endangered species.
Popular Pages
Useful Resources for Cyprus Facts for Kids
This Cyprus facts for Kids page was added on 23 June 2023. 
Cyprus Tourism. "Akrotiri Salt Lake." VisitCyprus. Last accessed 23 June 2023
Central Intelligence Agency. "Cyprus". CIA World Fact Book. Last updated 12 June 2023. Last accessed 23 June 2023
Cyprus Tourism. "Gastronomy". VisitCyprus. Last accessed 21 June 2023
UNESCO. "Paphos". whc.unesco.org. Last accessed 23 June 2023
Northern Cyprus Tourism. "Famagusta" Northern Cyprus. Last accessed 23 June 2023
Image Credits on Cyprus Facts for Kids page: Shutterstock.com and wikipedia commons
Return from Cyprus Facts for Kids to Kids-World-Travel-Guide Homepage
Enter our competition NOW