Malaysia Facts
Malaysia Facts for Kids
Here are some interesting Malaysia facts which were chosen and researched by kids especially for kids.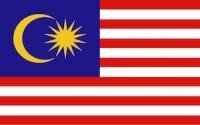 Malaysian Flag
Population: 32 million people (2018)
Capital: Kuala Lumpur with more than 7 million inhabitants, the administrative capital, however, is Putrajaya with less than 100,000 inhabitants!
Name: Malaysia
Motto: 'Unity is Strength'
Government: Constitutional monarchy. Federation of 13 states and three territories. The country also has a king who is elected every five years.
Language: Malay (Bahasa Malaysia)
Religion: mainly Islam (60%). There are also Buddhists (20%), Christians (9%) and Hindu (6%)
Currency: 1 Ringgit = 100 sen
History: Signs of human settlements on the Malay Peninsula date back more than 40,000 years. The first settlers arrived from China and India around the first century AD. In the 15th century Portuguese conquered port towns such as Melaka, after this the Dutch established their rule. In the late 17th century the British ruled in the area with main settlements in Melaka, Penang and Singapore. During the second world war the Japanese invaded the country and occupied the area for three years. Malaysia gained independence in 1963.

Listen to the anthem
National Day: 31 August 

National Symbols: Malayan tiger (national animal), hibiscus (national flower)
National Anthem: 'My Country' 
Malaysia Map
To see the location of Malaysia, look for the name on the map and zoom in (click on the + sign to the left) to see the huge country centrally located in southeastern Asia.
Malaysia Geography: Overview
The country is located on the Asian continent and consists of two regions, the Peninsular Malaysia and East Malaysia which is Malaysian part of the island of Borneo.
Malaysia has six neighbouring countries. These are:
Thailand to the north,
Singapore to the south
Indonesia on the island of Borneo and maritime border 
Brunei on the island or Borneo
Kuala Lumpur is a 7 hours flight from Dubai and 14 hours flight from Johannesburg/South Africa, 13 hours flight from London/UK and 21 hours from New York/USA.

Malaysia Facts:
More Geo Facts
Malaysia Facts:
Tourist Attractions in Malaysia
Kuala Lumpur's former court building
Borneo's Mount Kinabalu is the highest mountain in Malaysia. The two- or three-day trek up the mountain can be undertaken by adventurous families who come prepared. Read more.
Penang, also called Georgetown is known as the food capital of Malaysia. The local Nonya cuisine, which includes Chinese and Malay cooking traditions is well worth a visit. The historic city with its British colonial buildings, Chinese shophouses and modern graffiti paintings is a must-see.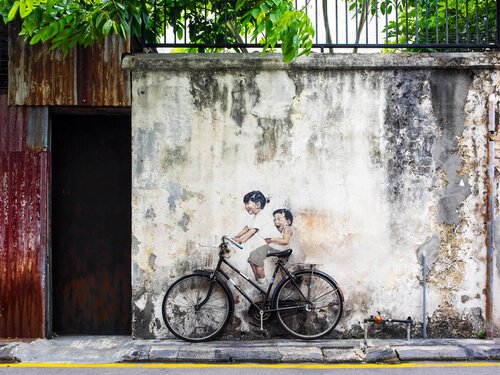 Penang graffiti
Read more about Penang as seen by our writing competition winner from 2017 here.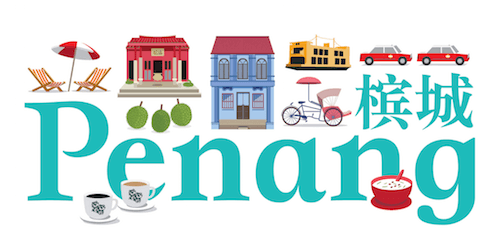 Langkawi: an archipelago of 99 islands is located off the Malaysian north-western coastline, close also to the southernmost region of Thailand. Only four islands of the archipelago are inhabited. The main island 

Pulau

 Langkawi is known for its cable car, skybridge and beautiful beaches.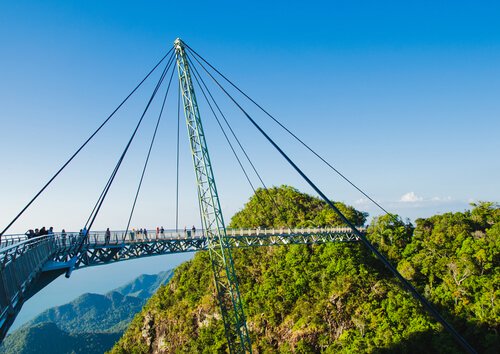 Langkawi Sky Bridge
Cameron Highlands: these lush green rolling hills with tea plantations are located on a plateau in central Malaysia, roughly 200km (120 miles) north of Kuala Lumpur. This is one of the favourite tourist destinations in Malaysia due to its mild and cool climate, abundant wildlife and rainforests.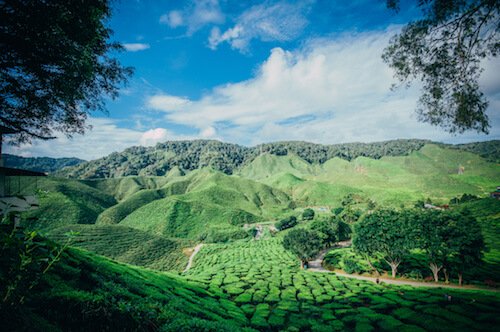 Cameron Highlands
Malaysia Economy
The economy in Malaysia is mainly driven by the rubber and palm oil industries, as well as petroleum and natural gas production. Agricultural products include palm oil, cocoa and rice. The tourism sector is also dominant in many regions.
Singapore, China, the USA and Japan are the country's main export and import partners. Malaysia exports mainly palm oil, petroleum and liquefied natural gas as well as electrical appliances, wood products and textiles. It mainly imports electronics, plastics, vehicles and machinery.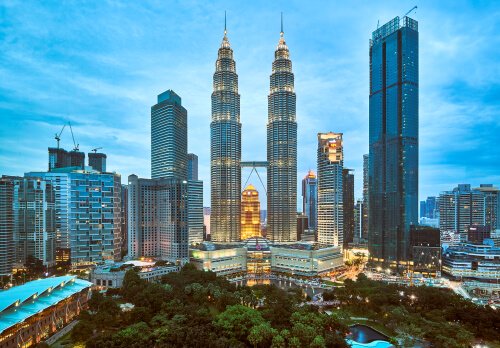 Modern Kuala Lumpur - image by Andrey Paltzev
Major Malaysia cities are Kuala Lumpur its twin sister Petaling Jaya and others such as Georgetown, Ipoh, Johor Bahru and Kota Kinabalu.

Malaysia People and Languages 
Almost 60% of the population are Malay or indigenous people. While 21% are Chinese and 6% are Indian.
80% majority of Malaysians live on the Peninsula which only occupies only about 40% of the land area. Malaysian cities are quite modern and have shiny modern skyscrapers.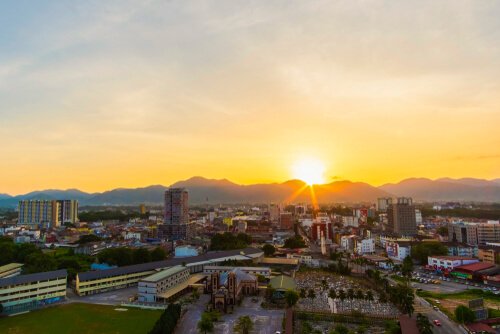 Ipoh in central Malaysia
However, people in rural Malaysia are still often quite poor and only have access to basic facilities such as markets instead of shopping malls. Healthcare is also poor in many places with few clinics in larger villages or towns.

The population in rural East Malaysia lives in typical long houses.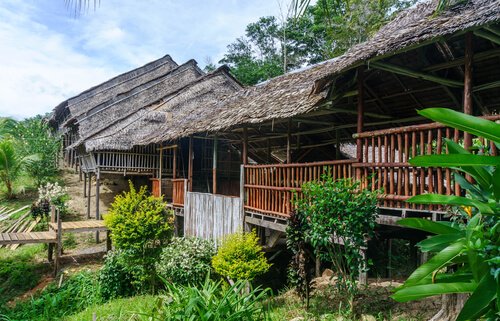 Typical Longhouse in Borneo
Almost 44% of all Malaysians are under 24 years of age. Malaysian children go to primary school from 7 years of age and then attend school for up to 13 years until their final exams. Most kids, however, already take part in pre-school classes from the age of three.

Malaysian schoolkids - image by Sonya SooYon
The majority of Malaysians are Sunni Muslims. The largest mosque in Malaysia is the Blue Mosque in Shah Alam in Malaysia.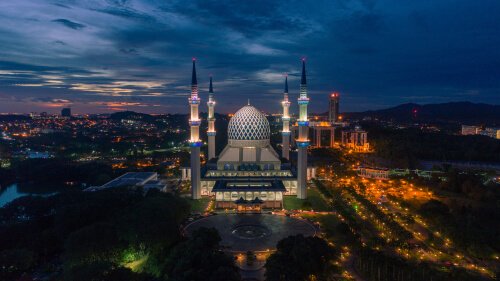 Blue Mosque in Shah Alam
This mosque is the second largest mosque in Asia! Shah Alam is a city near Kuala Lumpur. The largest mosque in Asia is located in Jakarta in Indonesia.
Languages in Malaysia
Bahasa Malaysia is the official language in Malaysia, but more than 112 indigenous languages are spoken in Malaysia! The most common indigenous language is Iban. 
Besides English, many people speak a Chinese language (such as Hokkien or Cantonese). Tamil as well as Thai are also spoken in the northern parts of the country. Malay and English are compulsory languages in public schools. All high schools also teach Mandarin (Simplified Chinese) or Tamil classes which students can attend.
Malaysia Facts:
Food in Malaysia
Bananas, coconuts, cocoa, pineapples and rice are the main agricultural products in Malaysia. 
Most Malaysian dishes contain: rice (called nasi)or noodles (mee), coconut, shell fish and beef, chicken, peanuts and chill.
Typical Malaysian Food
Here are some typical Malaysian foods and dishes:

Nasi Lemak: coconut rice (rice that has been cooked in coconut milk) with boiled egg, vegetables, curried meat such as chicken or beef and sambal (chili sauce)
Nasi lemak
Mee Goreng: Yellow fried noodle dish with chili and soy sauce and fried vegetables as well as beef or chicken strips and sometimes shrimps are added in as well. 
Beef Rendang: beef stewed in curried coconut milk and lots of spices, usually served with rice
Asam Laksa: spicy fish stew with rice noodles and tamarind
Murtabak: fried and folded pancake which is filled with minced meat and vegetables
Roti John: flat pancake sandwich filled with minced meat, eggs and cheese - typical street vendor or hawker centre food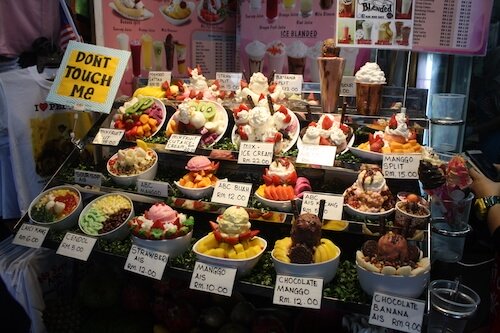 Ice Kacang
Ice Kacang: shaved ice topped with sugary syrup in various bright colours - usually sits on a mount of red bean jelly and served with various fruits. Very sweet but delicious. It comes in many flavours!
Rojak: fruit and vegetable mix served as salad or even in fried dough parcels that are filled with the mixed fruits and vegetables such as pineapples and cucumbers
Goreng pisang: deep fried banana fritters sprinkled with sugar
Read more about great Malaysian recipes here
Malays use forks and knives when eating or use the right hand which is tradition with Indian Malaysians too, while Chinese Malaysians eat with chopsticks. 

Malaysia Animals
Malaysia is among the seventeen megadiverse countries which have an extremely high biodiversity.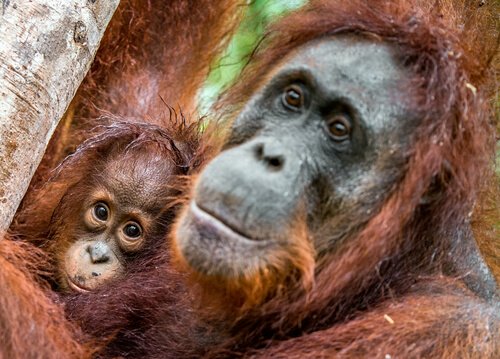 Orang-Utan in Borneo
The Borneo Urang-Utan is among the most fascinating species in the world. 
The Malayan tiger also inhabits the southern parts of the Malaysian Peninsula and a critically endangered species. The tiger is threatened by poaching and other human activities such as deforestation.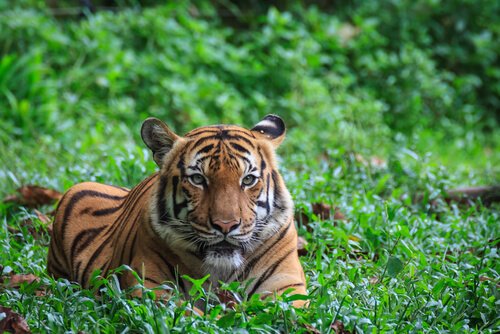 Malayan Tiger
Malaysia Facts: Did you know…?
The island of Borneo is not only the largest island in Asia, but the third largest island in the world!
The Malaysian part of Borneo is smaller than the Indonesian part as it covers less than ⅓ of the island. The country of Brunei is surrounded by Malaysia and is the third country sharing the island.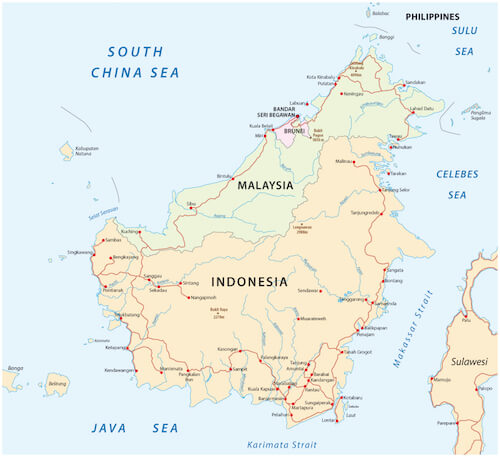 Map of the island of Borneo
Malaysia Facts: Resources and Further Reading
Source for Malaysia Facts page:
Image Credits on Malaysia Facts: shutterstock.com and wikicommons, if not otherwise stated.
We hope you enjoyed reading our Malaysia Facts. Please bookmark this page and spread the word. We will add more information in the near future as we still have to sort through our images and stories from our recent travels.
Go from Malaysia Facts to Asia Continent Facts