Facts About Switzerland
Grüezi mittenand! Hello everybody! Here are some more facts about Switzerland that are not well known, but worth to know!
Read here our additional page to our Switzerland Facts.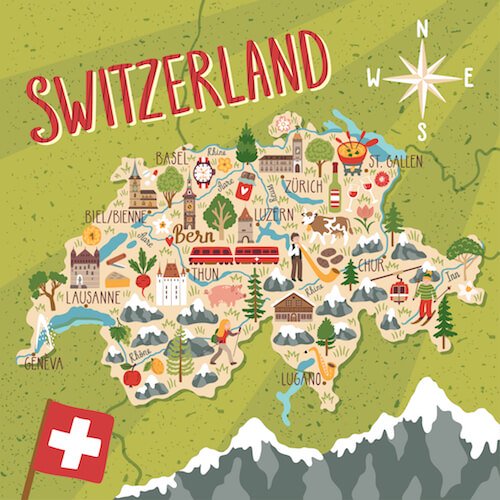 Switzerland is of course famous for its mountains and lakes, chocolate and cheese, luxury watches and a well-organised banking system. However, there is much more to know about this beautiful mountain country.
We are quite sure that you have hear about these facts and events or have used some of the famous Swiss inventions we share below, but most certainly you did not link these items to Switzerland. Be surprised!
Now, let's review some basic Switzerland facts first.
Basic Facts about Switzerland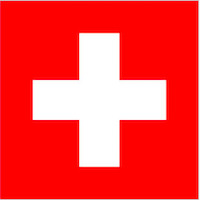 Switzerland Flag
Switzerland is located in Central Europe.
Switzerland is a landlocked country. 
Five countries share borders with Switzerland: France, Germany, Austria, Liechtenstein and Italy.
Switzerland's official name is Swiss Confederation which stems from the Latin term "Confoederatio Helvetica". The country code abbreviation is CH.
Switzerland's personified symbol is Helvetia armed with a spear and a shield. She is depicted on the ½, 1 and 2 Swiss Franc coin.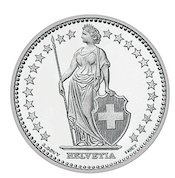 Helvetia
Switzerland's currency is the Swiss Franc. 1 Swiss Franc equals 100 centimes (French) or 100 centesimi (Italian) or 100 Rappen (German)
Switzerland has four official languages: German, French, Italian and Romansh.
About 8.6 million people live in Switzerland.
The capital city is Bern with 420 000 inhabitants. 
The largest city is Zürich with 1.3 million inhabitants.
Six Switzerland Superlatives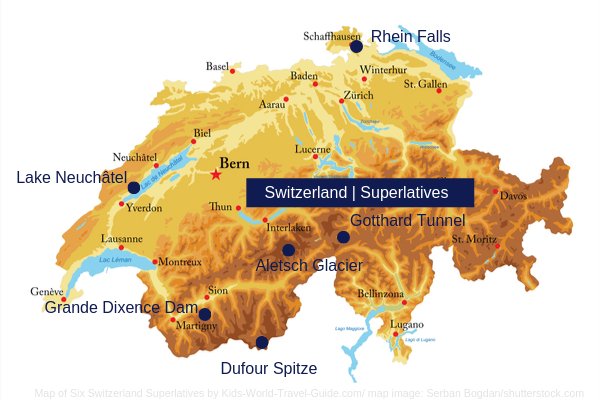 Dufour Spitze is highest summit of Monte Rosa mountain in Switzerland. The mountain is 

4 634 m/ 15 203 ft. high.

Aletsch Glacier is the longest glacier in Europe. It is 

about 23 km/ 14 miles long

.

The Rhein Falls are the most powerful plains waterfalls in Europe. The falls are 

23 m/ 75 ft high and 150 m/ 470 ft wide.

Grande Dixence Dam is the tallest gravity dam in the world. The dam wall is 285 m/ 935 ft high.

Gotthard Tunnel is the longest and deepest railway tunnel in the world. The track 

is 57 km/ 35 miles long.

Lake Neuchâtel is the largest lake in Switzerland. The lake is up to 8 km/ 5 miles wide and 38 km/ 23 miles long.
Facts about Switzerland | Swiss People
About 75% of the population live in the urban centres in Switzerland. The biggest cities in Switzerland are: Zürich, Geneva, Basel, Bern and Lausanne.

Zürich is Switzerland's most populous city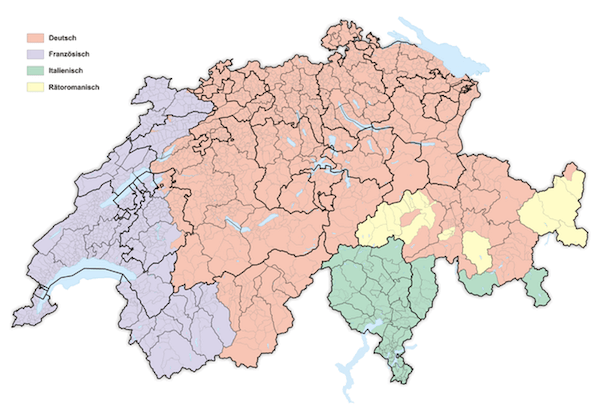 | | | | | | | | |
| --- | --- | --- | --- | --- | --- | --- | --- |
| | German | | French | | Italian | | Romansh |
| | |
| --- | --- |
| | Swiss German is spoken and understood by almost two thirds of all people in Switzerland. There are, however, many dialects spoken. Most people can understand or speak some English. Older people, however, rarely speak English and mainly communicate in the regional language or dialect.  |
Facts about Switzerland | Famous Swiss Inventions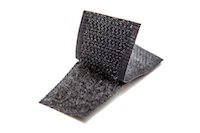 Velcro Tape
Many popular articles and items we use in our daily routines were invented in Switzerland. Among these are:
Velcro: The hooks-and-loops fastener was invented by Swiss engineer George de Mestral in 1941. Velcro is used instead of zippers or buttons on many clothing items, shoes, bags and backpacks.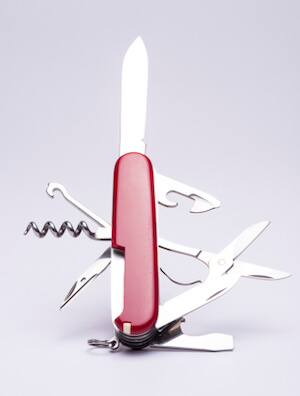 Swiss Army Knife
Swiss Army Knife: this multifunctional tool not only has a knife blade but includes also several useful tools such scissors, a file, a screwdriver, a can opener and many others. It was first produced in 1891.
Cellophane: This non-plastic wrap is an invention by Jacques Edwin Brandenberger in 1910. Cellophane is often used for food packaging. Cellophane is made from natural sources such as wood or cotton and as such is biodegradable that means it can be composted.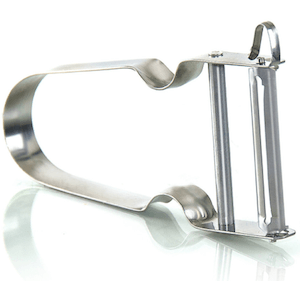 The 'Y-Peeler'
The Rex vegetable peeler: The very useful vegetable peeler was invented by Alfred Neweczerzal. He crafted the kitchen tool, which is also referred to as a 'Y-Peeler' from a single piece of aluminum in 1947. The cutter is used for peeling vegetables like potatoes or carrots.
Swiss Festival and Celebrations
Basler Fasnacht is a 3-day festival after Carnival which annually starts on the Monday after Ash Wednesday. The festival is celebrated in the city of Basel since the Middle Ages.
Fasnacht in Basel - image by Lucarista
An important event is the Morgenstreich, an early morning parade with drummers and flutists who are dressed in colourful traditional costumes. This Fasnacht event starts on Monday at 4am.

Basel has many different clubs, each with its own costumes and masks. People dress up in their costumes on the first morning of the festival and each group marches to the city center where the groups all meet. The members then march through the city while marching and playing their drums and pipes. 
'Alpenaufzug' is a Spring time event in many mountain villages and towns. It is a traditional celebration when the farmers lead their cows back up to the mountain pastures. The cows are decorated with bells and flowers for this special occasion. As  during the winter there is usually lots of snow in the mountains and the cows cannot survive up there, they are driven down and kept in barns in the valley villages over the winter season. Only when the snow has melted, it is safe for the cows to go back up the mountain pastures.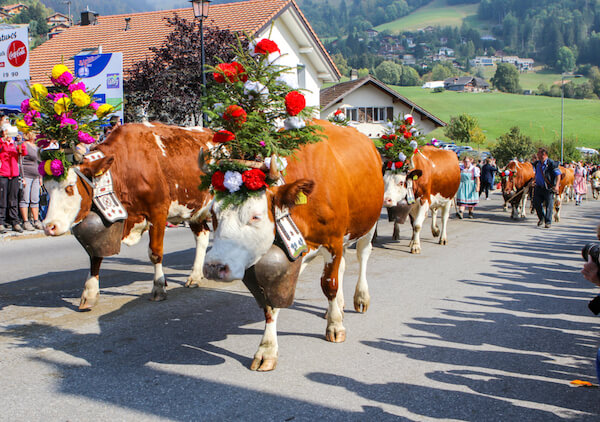 Desalpe Festival in Charmey - image by Tatyana Soares
| | |
| --- | --- |
| | Another traditional mountain celebration is when the cows are coming down from the Alp (mountain) in autumn. As the picture of the Désalpe Festival near Fribourg shows the decorations which are made with various flowers, twigs and bells, are stunning! |
The International Hot Air Balloon Festival is held annually in January in Fribourg over nine days. The festival attracts pilots from 15 countries and includes a magical night show.
International Hot Air Balloon Festival in Switzerland
| | |
| --- | --- |
| | Over sixty hot air balloons of various shapes and sizes can be admired at this colourful spectacle. Local crafts and traditional Swiss food can be experienced on the festival grounds as well. The next festival takes place from 25 January 2020 until 2 February 2020. |
Facts about Switzerland
Did you know?
Did you know that Switzerland and Vatican City are the only two countries in the world that have a square flag?
| | |
| --- | --- |
| Switzerland Flag | Vatican City Flag |
And here is another one of our favourite Switzerland Facts:
The Swiss Guard in Vatican City protects the Pope and his palace since its foundation by Pope Julius II. in 1506. The guards must be Swiss citizen between the ages of 19 and 30 years, unmarried and Roman Catholics. They must have served in the Swiss army before they can take up a post in the Swiss Guard.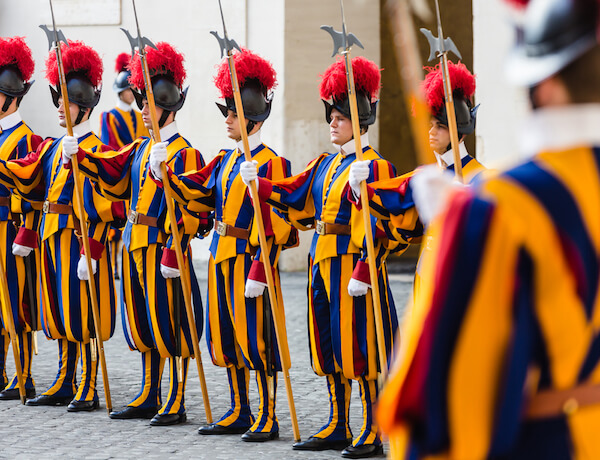 Swiss Guard in Vatican City
Facts about Switzerland
Related Pages
Facts about Switzerland | Resources
United States Central Intelligence Agency. "Europe: Switzerland." World Fact Book

.

Updated 3 October 2019. Accessed 17 October 2019.
Basel Tourismus. "The History of the Carnival in Basel." Basel Culture Unlimited. Accessed 17 October 2019
Dominik Holeiter. "The Monday - Morgenstreich". Basler Fasnacht Info. Accessed 17 October 2019
La Gruyère Tourisme. "Désalpe de Charmey." La Gruyère - A Land with a Heart. Accessed 17 October 2019
Pays-d'Enhaut Région Economie et Tourisme. "International Hot Air Balloon Festival. Chateau D'Oux. Accessed 17 October 2019

Schweizerische Eidgenossenschaft FDFA. "8 Swiss Inventions That Changed the World." House of Switzerland. Accessed 17 October 2019
Many thanks to Layla and Salome Affhalter who contributed their insights on this page about Switzerland. Your support of our project is very much appreciated!
Let us know if you want to share some more tips on our Facts about Switzerland page. We will add your tips and insights about your family travels in Switzerland.
Back from Facts about Switzerland to Switzerland Facts
Picture Credits on Facts about Switzerland: All Pictures, if not otherwise mentioned sourced from shutterstock,  sxc.hu and wikicommons. 
Back from Facts about Switzerland to Kids-World-Travel-Guide