Nicaragua Facts
Interesting Nicaragua Facts
Here are some interesting Nicaragua Facts for Kids which were choosen and reseached by kids especially for kids.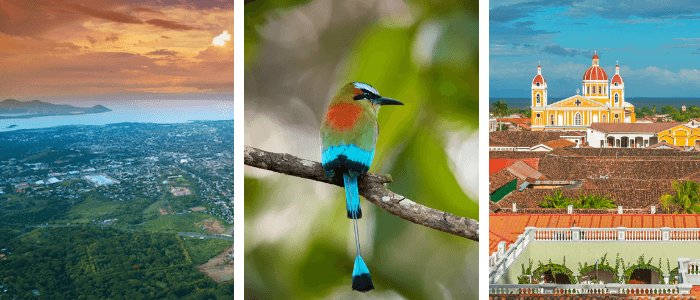 Managua - Motmot - Granada
Nicaragua Facts for Kids
Flag of Nicaragua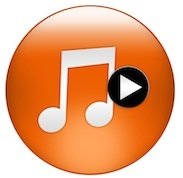 Anthem
National anthem: "Salve a ti" (Hail to Thee)
Motto: En Dios Confiamos (In God We Trust)
History: The region was settled by Paleo-Americans already in 12000 BCE. Indigenous people were the Miskitos, Ramas and Matagalpas. The Nicarao people lived in the area from about 1200 CE. Conquered and colonised by the Spanish in the 16th century. Nicaragua gained independence from Spain in 1821.
Nicaragua Rica Map 
Where is Nicaragua?
Nicaragua is a country on the North American continent. Nicaragua is the largest country in the region called Central America.
- Central America includes seven countries: Belize, Costa Rica, El Salvador, Guatemala, Honduras, Nicaragua and Panama. Read more about Central America here. - 
Nicaragua has a Pacific Ocean coastline and and Atlantic Ocean coastline. The Caribbean Sea is part of the Atlantic Ocean. The coastlines combined measure about 910 km/ 565 miles.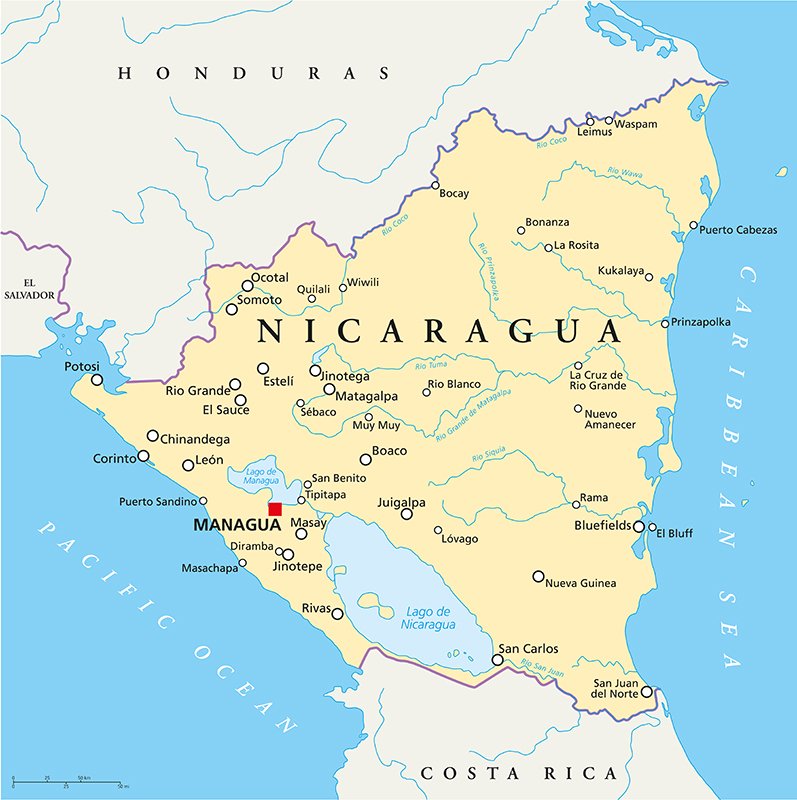 Nicaragua map
Nicaragua borders two countries: Honduras in the north and Costa Rica in the south of the country. The border to Honduras is about three times as long as the border to Costa Rica.
The name Nicaragua originates most probably from the indigenous Nahuatl words for "by the water".
Nicaragua is slightly larger than England/ UK or slightly larger than the US state of Pennsylvania.

Nicaragua Facts | Nicaragua Geography
Nicaragua's nickname "the land of lakes and volcanoes" refers to the many lagoons, lakes and waterways as well as the chain of volcanoes alongside the Pacific Ocean coastline.
Nicaraguan landscape
There are about 50 volcanos in Nicaragua, though only seven are considered as active. Here is Masaya volcano which is located just 20 km/ 12 miles outside of the capital city Managua.
Masaya Volcano
Most volcanoes are situated along Nicaragua's narrow coastal plain on the Pacific coast. Nicaragua has Central America's largest freshwater lake, Lago de Nicaragua. This lake has over 400 islands! The largest island of these is Ometepe island.

Ometepe island
Nicaragua Geo Superlatives
Managua is the capital city of Nicaragua
Nicaragua's capital city and largest city is Managua, which houses more than one million people.
The highest mountain peak is the Mogotón at 2,085 m/ 6,841 ft. The mountain is located in the country's South at the border to Honduras.
The most active volcano of Nicaragua is the Cerro Negro. It last erupted in 1999. Today the crater can be used for hiking or sand boarding down!
Sand boarding on Cerro Negro - image by Matyas Rehak
The most important river of Nicaragua is the San Juan River along the border to Nicaragua. 
The largest island of Nicaragua is Big Corn Island, about 50 km/ 35 miles off the country's Caribbean coastline.
The largest lake of the country is Lake Nicaragua which is also Central America's largest freshwater lake. This lake is also referred to as Gran Lago or Lago Cocibolca by the locals.
The largest island of Lake Nicaragua is Ometepe island. About 35,000 people live on this island.
Nicaragua Facts | Landmarks
Nicaragua Attractions for Kids
Nicaragua is one of the countries where tourism is growing tremendously and agritourism as well as ecotourism is thriving.
León and Granada with their colonial architecture are well-liked cities with tourists and San Juan del Sur and Ometepe island are popular beach and nature destinations. There are clear crater lakes and many of the volcanos invite for hikes and climbs or sand boarding.
Here are some favourite attractions in Nicaragua for families:

San Juan del Sur
San Juan del Sur is also known for the Christ of Mercy Statue that overlooks the bay, similar to the Christ Redeemer Statue in Brazil.
Granada cathedral
Granada not only has a very picturesque Immaculate Conception of Mary Cathedral but many well preserved colonial buildings that are painted in bright colours.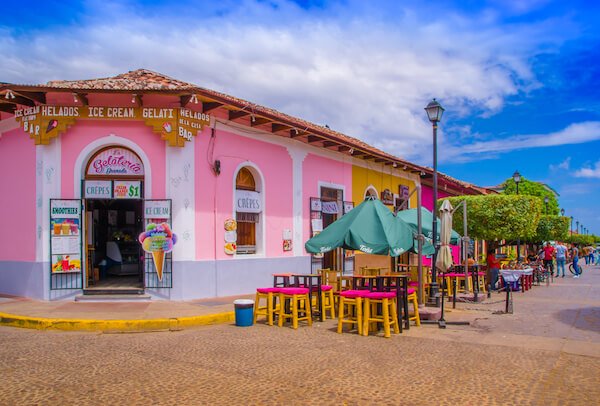 Granada
León: The cathedral of León and the old city are Nicaragua's only UNESCO world heritage sites. Las Peñitas is the beach area of the city and popular with many families.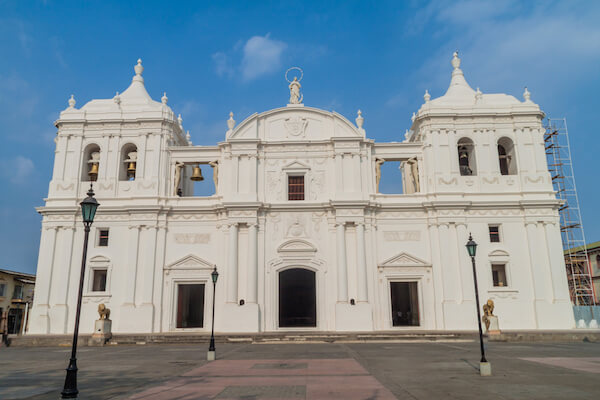 Leon cathedral
El Castillo: The castello Immaculate Conception of Mary is an impressive fortress from the Spanish colonial times in Nicaragua. The fortress is located at the San Juan river close to the border with Costa Rica.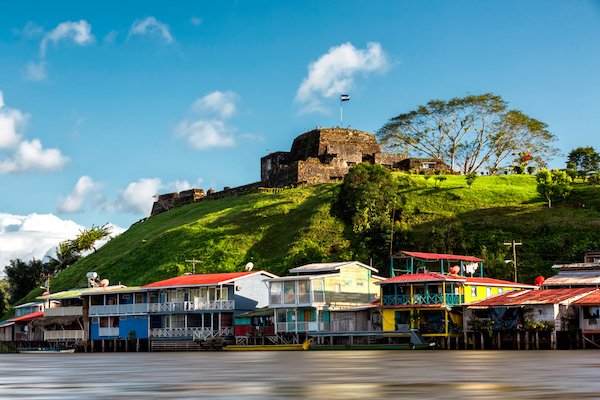 El Castillo Fort
Nicaragua Facts for Kids | People
Nicaraguans
Nicaragua is the poorest country of the Americas and the second poorest in the Western Hemisphere.
There are seven indigenous peoples in Nicaragua. Five percent of all Nicaraguans are indigenous peoples, the descendants of the country's original inhabitants.
The Chorotega (221,000) and Miskito (150,000) peoples are the largest indigenous communities. The Chorotega and Matagalpa people live mainly in the Pacific and northern regions while the Miskito and the Rama live mainly along the Atlantic Coast.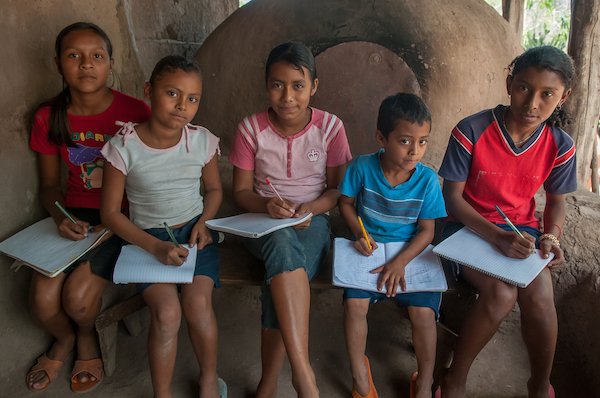 Nicaragua school children - image by Gonzalo Bell
Other ethnic communities include the Garifuna and Creole peoples, who are Afro-descendants.
The people in Nicaragua speak mainly Spanish and English as well as indigenous languages. The Nicaraguan Spanish has many indigenous influences and several distinguishing characteristics.
Children in Granada - image by Marek Poplawski
Baseball and soccer are the most popular sports in Nicaragua.

Dance is popular in Nicaragua with many dance styles around. Marimba and guitarilla (smaller guitar, similar to a ukulele and also has four strings) are common instruments.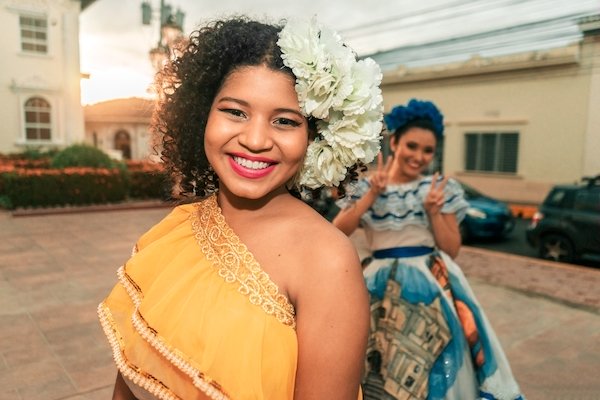 Nicaragua dancers
There is no official religion in Nicaragua as freedom of religion is promoted also by the government. The major religion is the Roman Catholic faith.
Nicaragua Facts for Kids
Nicaragua Economy
Nicaragua is mainly an agricultural country and the main agricultural products are coffee, tobacco, sugar cane, cassava, peanuts, plantains and fruits including melons.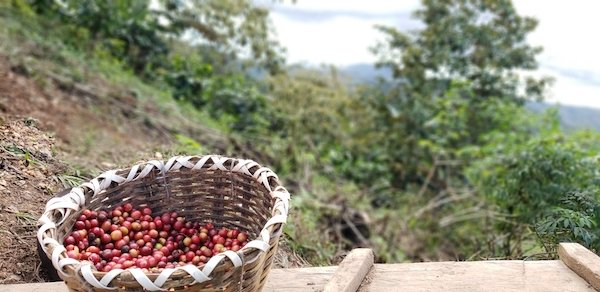 Ripe coffee beans in basket
The main exports of Nicaragua are coffee, beef and gold and the main trading partners of Nicaragua are the USA, Mexico, China and El Salvador.

The main ports of Nicaragua are Bluefield and Corinto.
Food in Nicaragua
In Nicaragua, you will find a large variety of fruits and vegetables at the street markets. The main agricultural products sold here are plantains, root vegetables, melons, citrus fruits and groundnuts.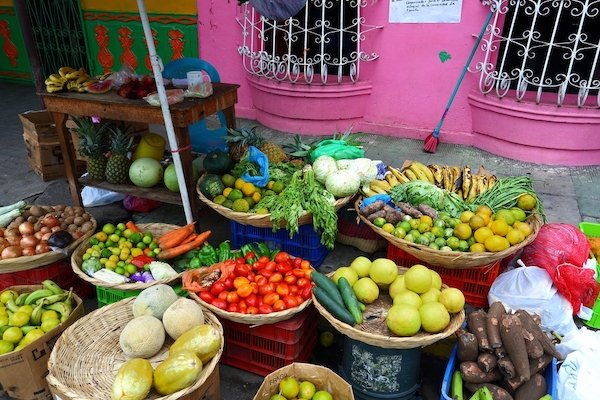 Food market stall in Nicaragua
Traditional Nicaraguan dishes include:
Gallo Pinto: Considered by many as Nicaragua's national dish is made of rice and red or black beans, served with sour cream, tortilla and fried plantain
Nacatamales: meat tamales or large tamales that are filled with shredded pork, vegetables and some bitter orange. They are often wrapped in plantain or banana leaves and steamed and eaten in almost every home on Sundays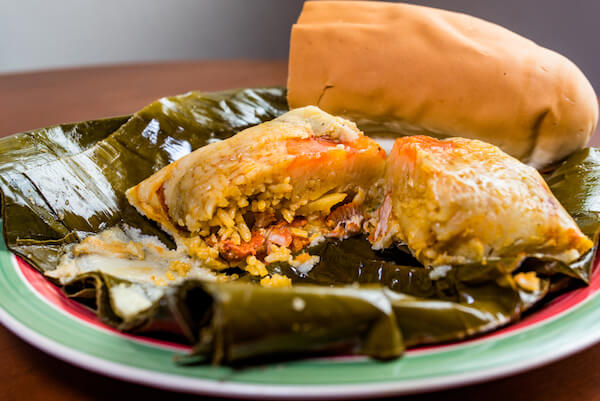 Typical Nicaraguan tamales or "nacatamales"
Tajadas

or

Tortones: both dishes are fried plantains. Tajadas are made with ripe plantains and tostones are with green plantains
Indio Viejo: thick corn stew made with shredded corn and beef or chicken as well as onions, tomatoes and sour orange. This dish looks similar to porridge and is usually eaten with tortillas
Quesillo: thick tortilla filled with homemade white cheese, pickled onion and sour cream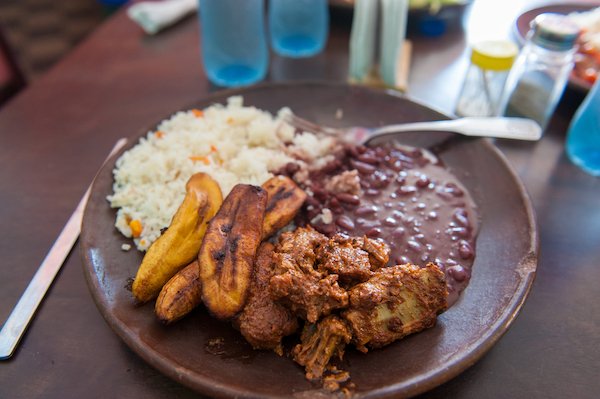 Typical Meal in Nicaragua including rice, meat, plantains and beans
Nicaragua Facts | Animals in Nicaragua
Nicaragua is home to over 12,000 species of plants and animals.
There are over 700 bird species in Nicaragua, however, none of the birds are endemic, which means they are not only found in this country but are encountered in other countries too. For example, the brightly marked toucan with the enormous colourful bill is found in many other Central American countries too.
Toucan
The motmot with their colourful plumes are another bird that is commonly encountered in Central America as are the resplendent quetzals, hummingbirds and goldfinches.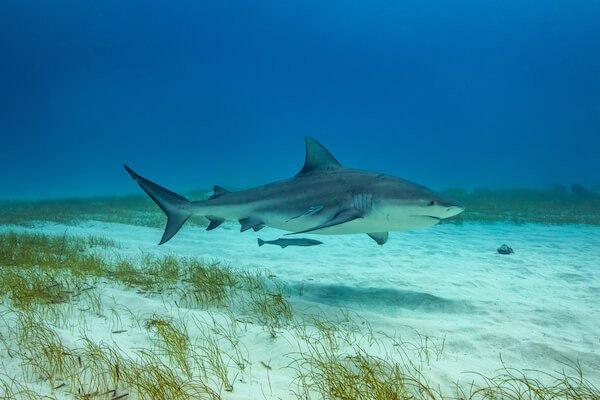 Bull shark
A unique shark species, the bull shark, can be found in the Nicaraguan waters that also survives in freshwater for an extended time. The bull shark is found in the San Juan river and in Lake Nicaragua and is referred to often as the Nicaraguan shark.
This shark species thrives in warm shallow water and otherwise found in rivers and lakes in Africa or Australian and  in the Mississippi River in the USA.
***
We hope you enjoyed reading our Nicaragua Facts for Kids. Make sure to bookmark this page, as we plan to add on more information. Feel free to contact us if your school would like to work on a school project about Nicaragua (animals, food, people, traditions, games, sport etc.) with us.
Popular pages
Nicaragua Facts for Kids | Resources
Central Intelligence Agency. "Nicaragua." WorldFactBook. Last updated 14 November 2022. Last accessed 29 November 2022
International Working Group for Indigenous Affairs. "Indigenous Peoples in Nicaragua." IWGIA. Last accessed 29 November 2022
Smithsonian Institute. "Masaya." VolcanoSIEdu. 16 October 2022. Last accessed 29 November 2022
Nicaragua Tourism. "Nicaragua - Fast Facts." TourismNicaraguaUS. Last accessed 29 November 2022
Picture credits on Nicaragua Facts for Kids: Shutterstock.com; sand boarding by Matyas Rehak/shutterstock.com; school children by Gonzalo Bell/shutterstock.com; children in Granada by Marek Poplawski/shutterstock.com; image Panamacanal by Erwin Widmer/shutterstock.com

Return from Nicaragua Facts to Kids World Travel Guide Homepage