Chile Facts
Interesting Facts for Kids
Atacama Desert and Santiago de Chile
Here are some interesting Chile Facts which were chosen and researched by kids especially for kids.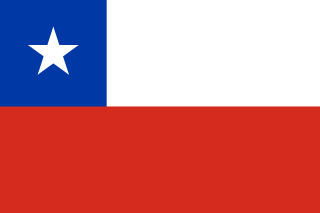 Population: 18.2 million people live in Chile (2018)

Capital: Santiago, with 6.5 million inhabitants is the country's largest metropolitan area  
Name: Republic of Chile
Government: Democracy, Republic
Language: Spanish
Literacy: More than 97% of the people can read and write.
Religion: mainly Christians (Roman Catholics 77%, Protestants 16%)
Currency: 1 Chilean Peso = 100 centavos
History: The country was inhabited by the Inca in the North and the Mapuche people in the centre and southern parts before the arrival of the Spanish colonialists. The country gained full independence from Spain in 1818. Chile's president is 

Sebastián Piñera

National Day: 18 September
National Symbols: Copihue (flower), Condor (bird) and Huemul (animal)
Chile Facts: Geography
Where is Chile?
Chile lies in South America, a flight from London/UK takes roughly 14.5 hours and from New York/USA a flight takes 10.5 hours. 
Below see a map of Chile with the neighbouring countries and you will find Chile's capital city: Santiago, just at the lower end of the map. Simply click on the + or - to zoom in or zoom out to see more cities, as this country is huge!
The Latin American country shares borders with the Pacific Ocean and the South American countries Peru, Bolivia and Argentina. The longest of the borders is shared with Argentina and is 6,691 km/4,157 miles long. Large parts of Chile are covered by mountains. 
Chile Geo Superlatives
Chile is the longest and most narrow country in the world stretching from the north to the south over 4,300km (2,670miles). 
The Atacama desert in the north is the largest dry desert in the world.
The southern Andes mountains are home to the world's highest volcano and the world's highest lake which is called the Ojos de Salado. 
Chile's highest mountain, which is in fact the peak of a volcano, is the 'Nevado Ojos de Salado' and is 6,880m (22,572ft) high.
The country has almost 6,500km (4,038 miles) of mainly rugged coastline but there are also beautiful beaches.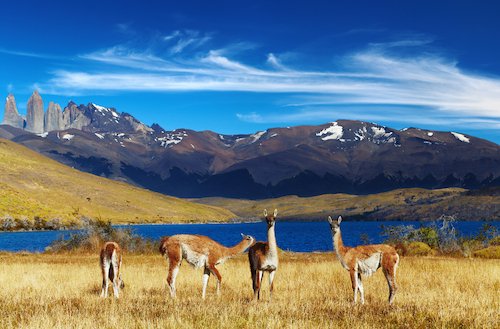 Torres del Paine National Park
The most famous landmarks of Chile are the mountain peaks of the Torres del Paine national park and the statues on the Easter Islands

There northern parts of Chile are hot and there is the driest desert in the world, the Atacama desert.

The climate in Chile is mostly temperate with a

desert climate in the northern parts of the country and there is a cool climate in the South
Did you know? There are about 3,000 volcanoes in Chile and about 36 of them are active volcanoes. The country was struck by many severe earthquakes in the recent years.
Chile Facts: Animals in Chile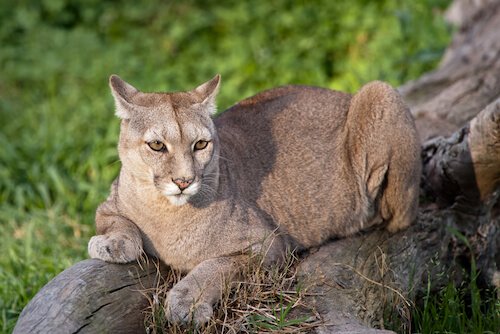 Chile is home to some animals that are almost extinct and are on the list of endangered animals, among them are the pumas, the pudu and the huemul.
Puma sightings are rare as these big cats hunt mainly at night. They live in the Chilean mountains. The pudu is a small deer that lives in the forests of southern Chile. Pudus are the smallest deer species in the world. The tiny Darwin's frog can be found in the streams in Chile's forests. Did you know, that these frogs grow inside their father's mouth? 
Blue Whales and Macaroni Penguins can be seen off the coast in southern Chile. The penguins often slide or surf on the snow to get around as this is easier than walking!
In the Atacama desert national park, one can encounter llamas, guanacos and alpacas, and if one is lucky also chinchillas.
Read more about animals in Chile here.
Chile Attractions for Kids
Santiago: Costanera Centre (biggest building in Latin America), Pablo Neruda's house, Parque Arauco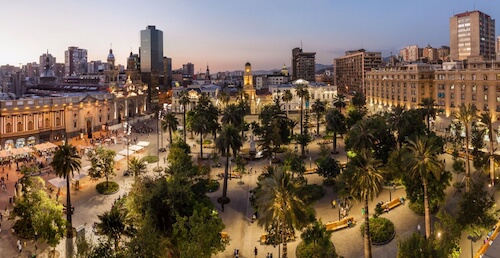 Santiago de Chile
Valparaiso (short form is Valpa): The town with the colourful houses is close to Santiago
Torres del Paine National Park: for admiring its glaciers and hiking in the mountains
Easter Islands to see the magnificent statues
Atacama desert: Valle de la Luna (in English it's called Moon Valley) where one can see lots of salt crystals and salt pans and visiting the Atacama cave and sand boarding in San Pedro de Atacama
Moon Valley in the Atacama Desert in Chile
Vina del Mar and Alfonso del Mar where there is the largest swimming pool in the world. Even boats can drive in the 35-meter-deep pool (115ft).
Skiing in Colorado: go skiing or snowboarding in the mountains. Yes, the ski resort is named Colorado!
Find out more here soon!
More Chile Facts: Chile People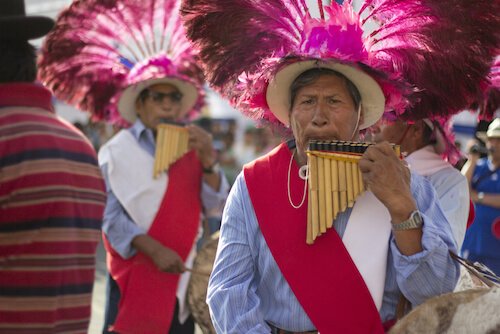 Chileans in traditional clothing
Most Chileans live in a town or city of more than 20,000 people in central Chile. 85% percent live in urban areas. Three quarters of all Chileans live in central Chile, between Copiapo and Conception. About 5 million people live in metro Santiago. Other large cities are Valparaiso, and Concepcion. About 28% of all Chileans are children under 15 years of age.
Did you know most Chileans are of mixed Spanish and native American ancestry? The majority of the people are mostly of European/Spanish descent. About 30% have a mixed ancestry and are called Mestizo. The natives are called Mapuche. About 3% are native South Americans and 2% have other ethnic backgrounds. About 77% of the Chileans consider themselves as Roman Catholics.
More info on people and languages as well as on festivals in Chile coming soon! 
Chile Facts:
Sport and Games in Chile
In Chile there are a lot of interesting games and sports. For example soccer is very popular in Chile. The team is mostly known as La Roja (the red team) because of their bright red uniform. Some of the popular teams in Chile are called Colo-colo, Catolica, and Cobreloa. These teams and more are in the premier league called Copa Scotiabank. 
People also enjoy playing volleyball, playing tennis, doing watersports such as surfing, doing or going to the rodeo or skiing in winter.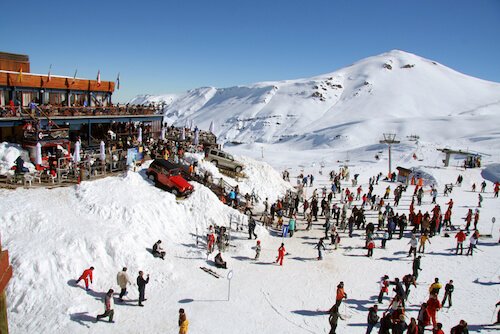 Ski resort in Chile
Then there are many traditional games such emboque or trompo. The game emboque is a typical children's game and players have to hit a bell shaped wooden cone. It is also played in other countries where it might be called 'ball in a cup'. Also, another popular game in Chile is called trompo. The goal is to spin a whipping top as long as you can. There are competitions in this game. 
More info on sports and traditional games in Chile coming soon:-)
Chile Facts: Typical Food
Chileans eat lots of seafood such as tuna, bacalao (codfish), octopus, prawns and salmon.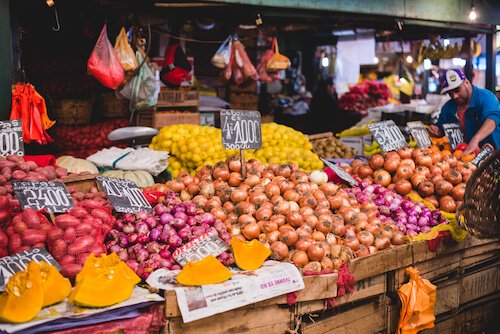 Here an image of the market in Chile. Corn, known in Chile as choclo is main staple and fruits such as grapes, apples, pears and lucumas, avocados and green chilli are grown and harvested in Chile. 
Typical Chilean food and drinks:
Empanada: fried bread dough filled with cheese and olives or cheese and ham or meat and hard-boiled egg or many other fillings.
Pebre: hot and spicy sauce made of tomatoes, onions, garlic, olive oil herbs and peppers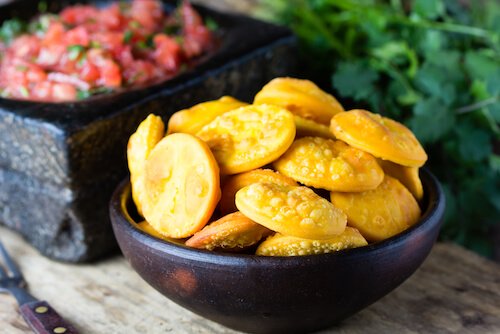 Sopaipilla - typical Chilean food
Sopaipilla: a typical snack consisting of fried pastry sometimes topped with sugar, marshmallows or chancaca, a sweet sugarcane sauce
Dulce de Leche: caramel cream
More about other typical Chile foods

Just two more Chile facts...
Did you know that...

... Chile has the world's largest copper mines? Copper is used in electric wiring and as this metal is a good conductor for heat it is used in radiators, heating and air-conditions.
... Chile is often shaken by earthquakes. The strongest earthquake ever measured happened in 1960 in Valdivia/Central Chile. It had a magnitude of 9.4 on the Richter scale.
Images on Chile facts page: shutterstock.com and own images
Text on Chile facts page. This info was researched and collected by the Grade 4 students of the International school in Santiago/Chile 'Nido de Aguilas'. Many thanks to the students and the 4th Grade teaching team for the comprehensive and insightful 'Chile travel guides' which were shared with us to be included here on our Kids-World-Travel-Guide.com. More pages from their guides will be added here soon. So keep this site bookmarked and click here to learn more about the International School Nido de Aguilas, where the authors of the Chile travel guide go to school.