Facts about Fiji
Facts about Fiji: palm trees, canopy walk, kokoda
25 Fiji Facts for Kids
Here are some interesting facts about Fiji which were chosen and researched especially for kids.
1. Fiji is located in the southern Pacific Ocean - thus in the Southern Hemisphere. Fiji is part of Oceania.
2. Fiji belongs to the Polynesian islands. The archipelago lies about 3,000 km/ 1,900 miles off the eastcoast of Australia and more than 4,000 km/ 2,500 miles to the Southwest of Hawaii. 
Fiji is an archipelago in the South Pacific Ocean
3. Fiji consists of 332 islands, only one third of the islands is inhabited. About 500 small islets also belong to Fiji.
4. The largest island of Fiji is called Viti Levu and covers more than half of the country's land area.
Fiji in the South Pacific Ocean
Facts about Fiji | Geography
5. The two main islands, Viti Levu and Vanua Levu, are mountainous and the lowlands are used for agriculture, mainly for sugar cane farming. More than half of the land area of Fiji is forest. (55.5%)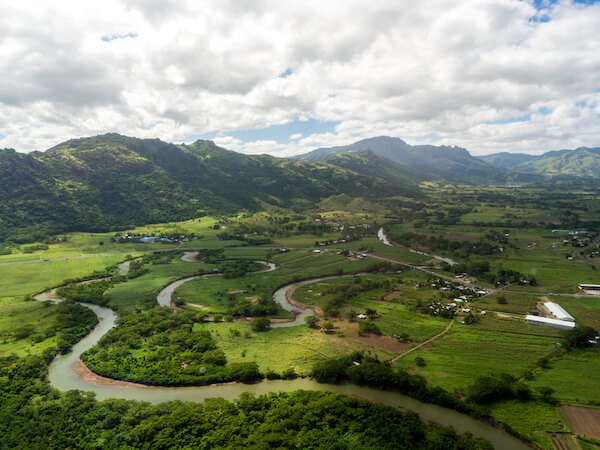 Viti Levu island landscape
6. The highest peak is Mount Tomanivi with a height of 1,324 m/ 4,344 ft.
7. The longest and widest river in Fiji is called Rewa river and on Viti Levu.
8. The capital city is called Suva and is home to about 180,000 people.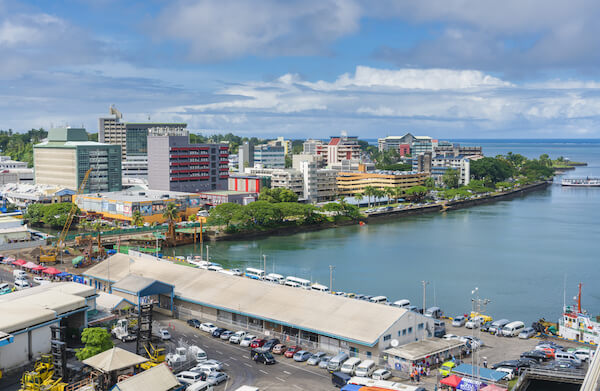 Fiji's capital city Suva - image by JM German/ shutterstock.com
9. The national symbol is the Fijian canoe and the national colours is light blue. 
10. The flag of Fiji shows the country's link to Britain with the Union Jack and a shield with the St George's Cross and a lion holding a coconut which is also on the country's coat of arms that also depicts sugarcane, palm tree, bananas, and a white dove of peace.
Traditional Fijian canoe
Facts about Fiji | People 
11. About 944,000 people live on the Fiji islands. About three quarters of all iTaukei people live on Viti Levu. About one third of the People living in Fiji are of Indian descent.
12. About 60% of the people are indigenous Fijians. The islands are inhabited by Austronesians, Melanesians and Polynesians since 2,000 BCE. Europeans only settled here from the 17th century.
Navala Traditional Village
13. Fiji was a British colony for almost one hundred years from 1874. Fiji gained independence from the UK on 10 October 1970.
14. Levuka Historical Port Town is an Unesco World Heritage Site in Fiji. This town was the first colonial capital of Fiji.
Levuka Town/ Fiji - image by maloff/shutterstock.com
15. The majority of Fijians are Christians (64%) or Hindu (28%). About 7% are Muslims. The largest Hindu temple in the Pacific is located in Nadi on Viti Levu.

Sri Siva Subramaniya temple on Viti Levu/ Fiji
16. The official languages of Fiji are English, Fijian Hindi and iTaukei. iTaukei refers to the Fijian people who refer to themselves as iTaukei. "Bula" means "hello" and "vinaka" means "thank you".
17. Over 99% of the population over 15 years can read and write. And Fiji is one of the most developed economies in the Pacific Ocean.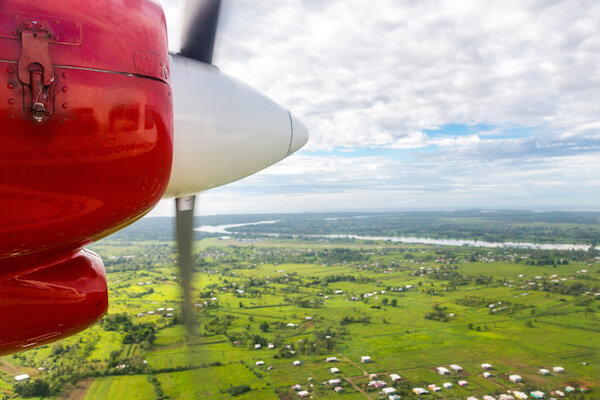 Flying over Viti Levu
Fiji Attractions and Landmarks
18. Fiji is known for its many paradise beaches such as the ones on Yasawa Islands or the Mamanuca islands.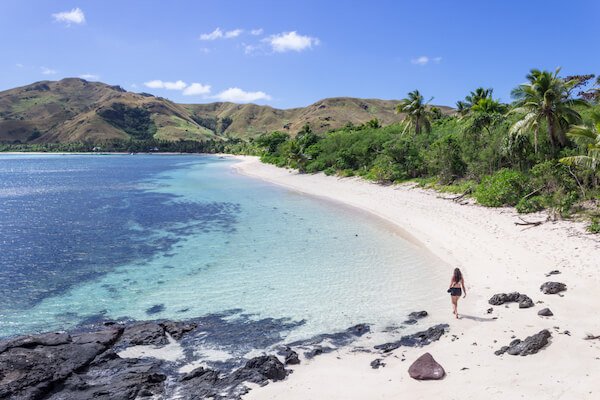 Beach on Nacula island - part of the Yasawa islands
Or the tropical scenery of the Mamanuca islands, as here on Castaway island which houses a popular tourist resort.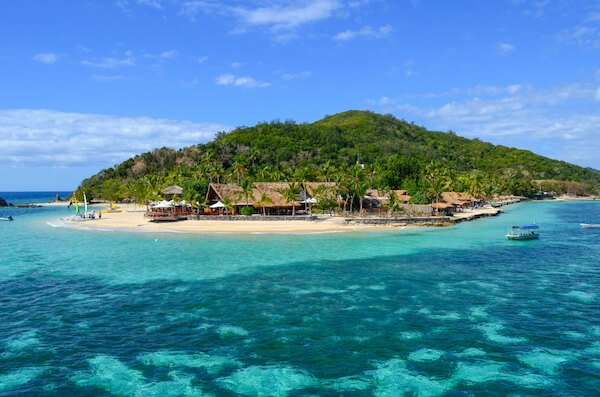 Castaway Island is part of the Mamanuca islands
Fiji invites for canopy walks in the lush forests and there are numerous hotsprings. There are canopy walks and zip lining activities on Viti Levu and on Taveuni you can experience the Lavena coastal walk.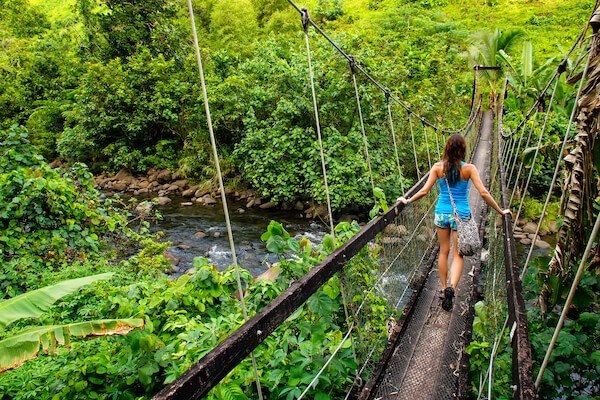 Lavena Coastal Walk on Taveuni
On Taveuni, the third largest island of the archipelago, you can also admire the scenic rockformations at Lavena beach.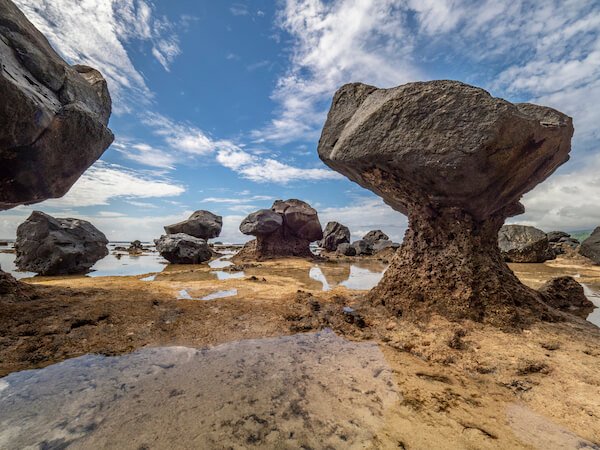 Rock formations on Taveuni
Facts about Fiji | Animals
19. The Fijian National animal is the Collared Lory. This colourful rainforest lorikeet can be seen in urban areas in the capital city. The local people call this bird "kula".
Collared lory - national bird of Fiji
20. The Fijian Crested iguana is a critically endangered species that lives in the dry forests on the northwestern islands of the archipelago. This iguana was only discovered about forty years ago on fourteen of the islands. Today, there are only about 13,000 left and they are only found now on three islands. Bush fires and predators such as feral cats are their main threat.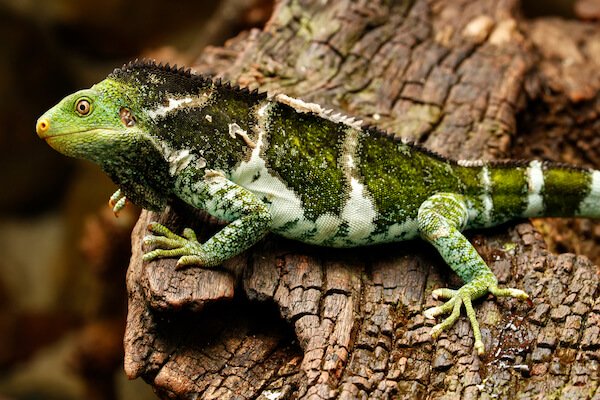 Fijian crested iguana
21. The Fijian coral reefs are home to some 1,500 species of fish and over 300 species of hard corals. Fiji is also known for its many species of colourful soft corals. Fiji is known for the many prime snorkelling and diving spots and here you can even swim with mantarays!

Swim with manta rays in Fiji
Fiji Facts | Economy
22. The currency of Fiji is the Fijian dollar which is divided into 100 cents. Here you see the colourful banknotes.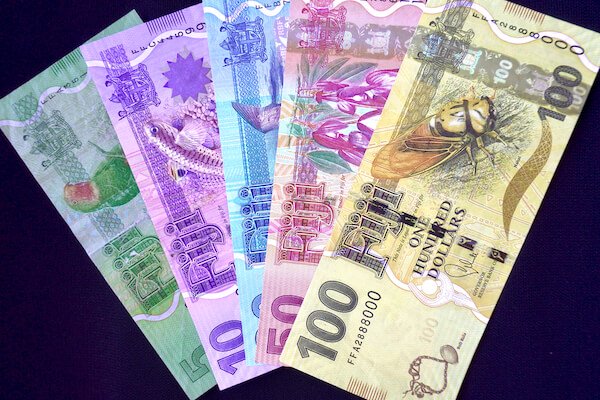 23. The main agricultural products are sugar cane, cassava, fish and coconuts. Fiji is known for high quality bottled water.
24. The main trading partners are USA, Australia, Singapore, China and New Zealand.

Facts about Fiji | Food
25. The most popular dish is called kokoda which is a raw fish salad. Many meats or fish dishes are prepared in a lovo, which is a special way of steaming food in taro leaves or placing food on hot stones and covering the food.
Kokoda is a popular dish in Fiji
Most Fijian dishes include coconut meat or coconut milk, root vegetables such as taro, yams or cassava, as well as chicken or fish.
Facts about Fiji: Resources
Sources for Facts about Fiji page:
Fiji Tourism. "Escape to Fiji for a Fun Family Holiday." Tourism Fiji. Last accessed 15 July 2022.
Central Intelligence Agency. "Fiji." WorldFactBook. Last updated 12 July 2022. Last accessed 15 July 2022
Your Fiji Guide. "What is an awesome thing to do in Fiji that most tourists don't know about?" FijiGuide. 28 Juni 2022. Last accessed 15 July 2022
Image Credits on Facts about Fiji: photo stock from shutterstock and wikicommons, if not otherwise stated.
We hope you enjoyed reading our Facts about Fiji. Please bookmark this page and spread the word. We will add more information in the near future.
Popular Pages
Back from Facts about Fiji to Kids-World-Travel-Guide

Enter our competition NOW