Greece Facts
Our Greece Facts for Kids provide interesting and fun facts about the country in Southern Europe, her geography, Greece landmarks and attractions and so much more.

Here are some interesting Facts about Greece which were choosen and researched by kids especially for kids.

Greece Facts for Kids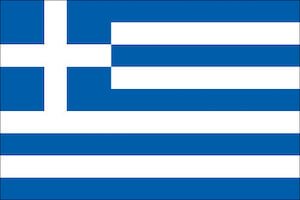 Flag of Greece
Population: about 10.5 million people live in Greece (2022)
Capital: Athens with 3.1 million inhabitants
Name: Hellenic Republic; locally also referred to as Ellas or Ellada
Government: Parliamentary Republic
National Language: Greek
Religion: mainly Greek Orthodox over 80%
Literacy: 97% of the Greek population aged 15 and over can read and write
Currency: 1 Euro = 100 cents (before 2001: Greek drachma)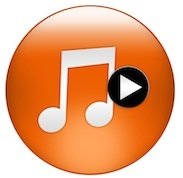 Greece Facts | Greece Geography
Greece is a country in southeastern Europe. The country is situated on the Balkan peninsula.
The country shares land borders with four countries: Albania, North Macedonia, Bulgaria and Turkey. Please note that the name Macedonia was disputed by Greece and the country to the north of Greece changed its name to North Macedonia in February 2019
Greece is a mountainous country as you can see on the map. Mountains cover 80% of the country. The two major mountain ranges are the Pindus and the Taurus mountains.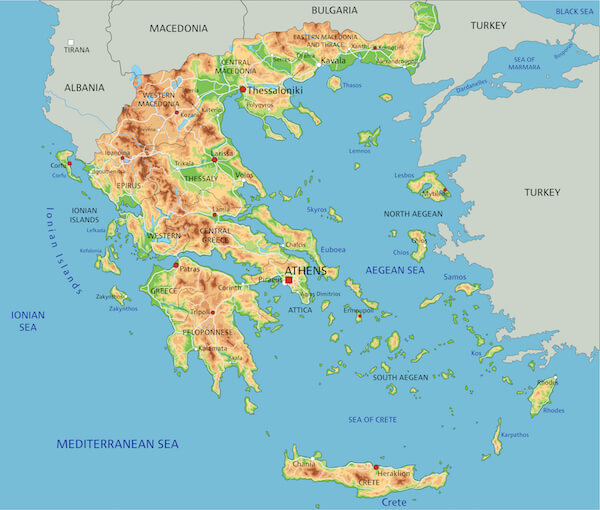 Map of Greece
- Click here for a larger map and satellite images. -

Greece is located in the Mediterranean Sea. The Greek coastline borders the Ionian Sea and the Aegean Sea as well as the Libyan and Crete Seas in the south. 
The country consists of the mainland with two peninsulas called Peloponnese (in southwestern Greece) and Chalkidiki (in northeastern Greece).
Greece also includes an archipelago of about 6,000 islands with Crete being the largest island.
Greece has a mild and temperate climate with wet and colder winters and hot and dry summers.

Greece is slightly smaller in size than the state of Alabama/USA.
Facts about Greece
Geo Superlatives
Athens is known as the oldest capital city in Europe. Athens is the southernmost capital city on Mainland Europe. The city is named after Athena, the Greek goddess of wisdom.

Views over Athens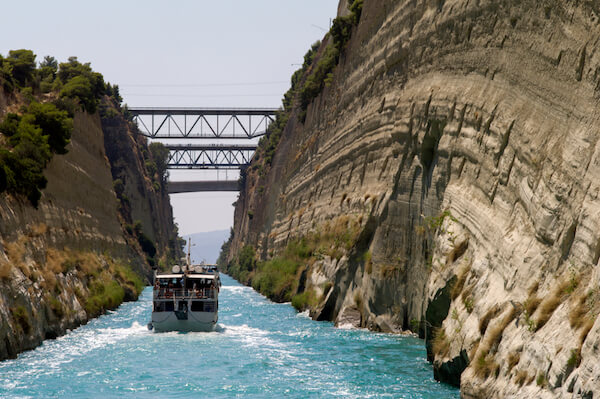 Corinth Canal
Greece is known to possess one of the largest merchant fleets in the world. The harbour of Piraeus in Athens is the largest container port in Greece.

The longest river in Greece is the river Haliacmon with 297 km/ 185 miles.
Greece's highest mountain is Mount Olympus. The mountain's Mytikas peak is the highest peak with 2,917 m/ 9,570 ft.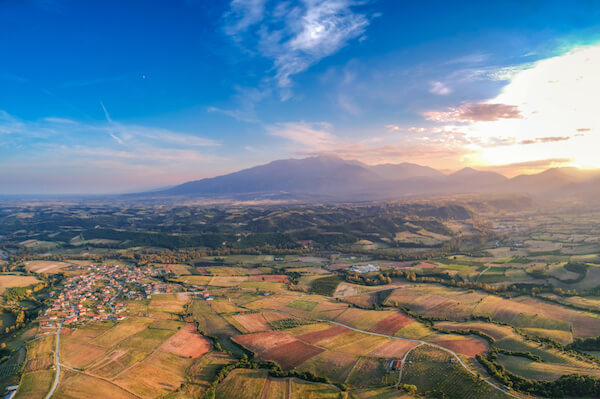 Mount Olympus is the highest mountain in Greece
Lake Trichonida is the largest lake in Greece. It is located north of the city of Patras.
Greece is the third largest olive oil producer in the world - after Italy and Spain.
Greece Facts
Landmarks and Attractions
There are 18 UNESCO world heritage sites in Greece.
Among the most well known monuments of Ancient Greece are the Acropolis in Athens and the Parthenon temple, the Sanctuary of Delphi, the ruins of the Olympic stadium in Olympia and the Shrine and Theatre of Asklepios in Epidaurus. 

Here are some images of the most well known Greek landmarks.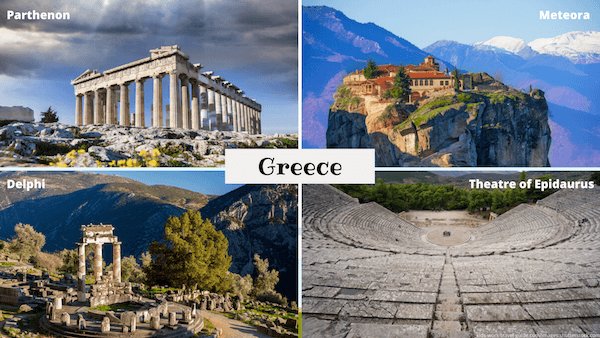 Please let us know if you have some more info, we plan to add more info here shortly.

Besides the ancient Greek monuments, Greece is known for its scenic landscapes with picturesque villages and towns such as Oia on the island of Santorini and stunning beaches such as Elafonissi Beach on the island of Crete.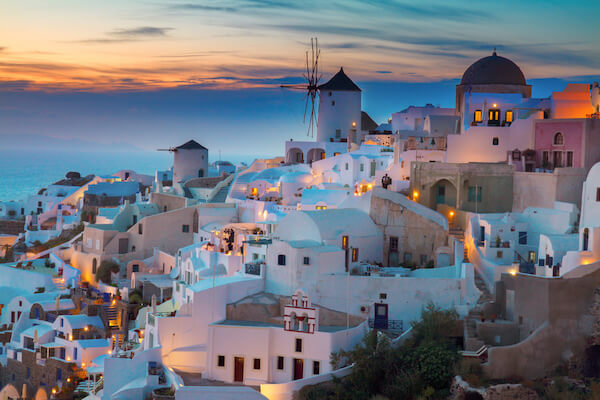 Oia town on the Greek island of Santorini
Elafonissi Beach on Crete
The windmills on the island of Mykonos were built in the 16th century and are a prominent landmark. Mykonos, one island of the Cyclades is amongst the windiest places in Greece. The power of the wind was mainly used here to mill grains such as wheat.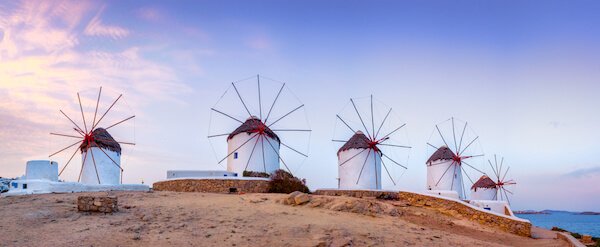 Mykonos windmills
Greece Facts | Greek People
About one third of the population of Greece live in the capital city Athens. The majority of Greeks (80%) live in urban centres.
Athens and Thessaloniki are the biggest cities in Greece. Only a few other cities have more than 100,000 inhabitants, these include Patras, Heraklion and Rhodes. The city of Athens has a modern and efficient public transport system and a Metro or rapid transport system. The cities Athens and Thessaloniki are connected by a speed train called the "Hellas Sprinter".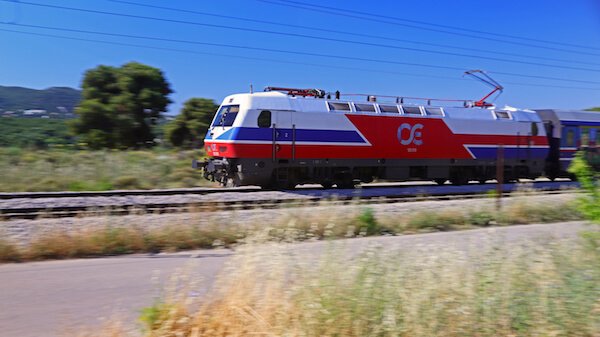 Greece's Hellas Sprinter
The Greek enjoy following traditions and customs such as folk music and dances. The Sirtaki is one of the most famous dances around the world and also often performed for tourists.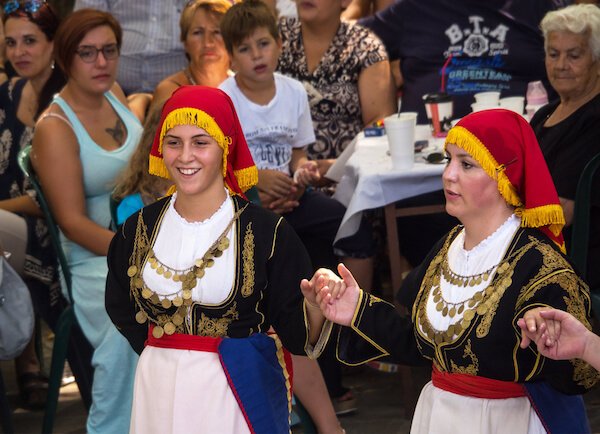 Greek girls dancing - image by Alika Obraz
In Greece, children go to primary or elementary school for six years, similar to the UK. Public school education is free of charge and includes the supply of free textbooks. Schooling is compulsory until Grade 9 or the age of 15. Greek pupils learn at least one foreign language, usually English is the first foreign language for the pupils while French or German can be studied as the second foreign language.
Soccer is the most popular sport in Greece but many people also enjoy watersports or athletics.

Greece Facts | Greek Language
Καλημέρα! pronounced as Kaliméra! means 'Good Day!' in Greek. The Greek language has the longest history of any of the Indo-European languages and written records date back about 3,500 years. See how the letters are written in printed writing and cursive writing.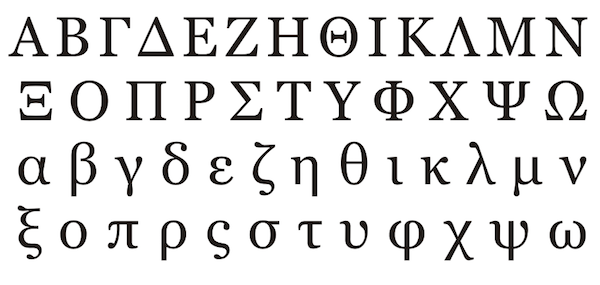 The Greek alphabet has letter 24 letters. Here is how to pronounce the letters.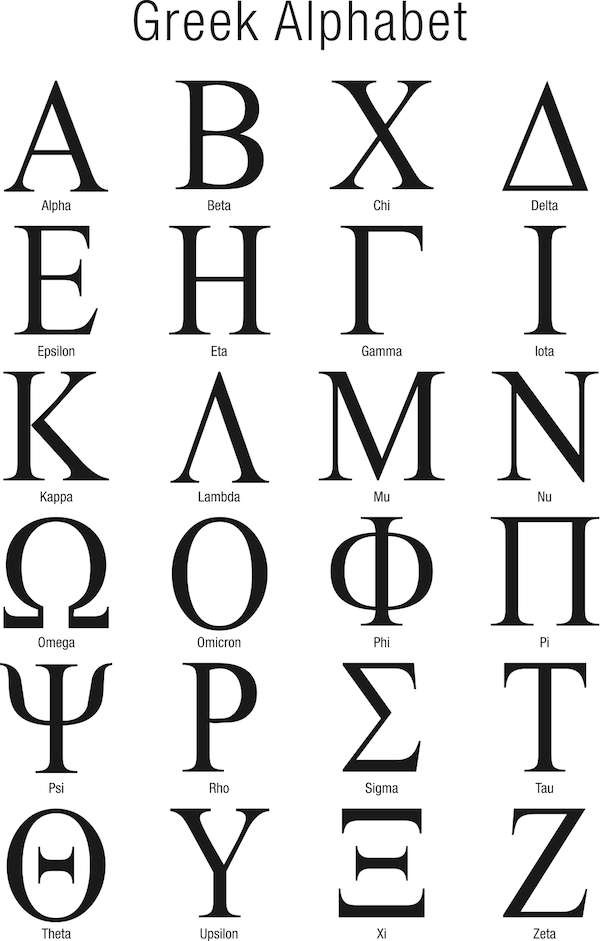 Many Greek words have been introduced in other languages. Some of the Greek words that we use in the English language are: mathematics, physics, athletics, telephone, politics, academy, democracy and geography.

Greece Facts | Greece Economy
Greece has one of Europe's highest unemployment rates with more than one in every four Greeks being unemployed. Most people work in the services sector and were affected strongly by the Covid-19 pandemic.
Tourism, food and textile manufacturing are among the main business sectors in Greece. One third of the Greek population work in the tourism sector.
Enjoying a holiday on a Greek island
Olives, tomatoes as well as wheat, barley and potatoes are among the main agricultural products of Greece.
Italy and Germany are Greece's biggest trading parters.
Major natural resources include iron-ore, petroleum, zinc, nickel, salt and marble.

Greece Facts | Food in Greece
The Greek cuisine is full of aroma! Fresh fruit and vegetables and seafood dominate most dishes. Spices such as oregano, thyme, mint or rosemary are added to most Greek dishes. Olive oil is used in most dishes or for dipping bread.
Mezedes are snacks that can be eaten before meals or enjoyed with drinks at the local restaurants or tavernas.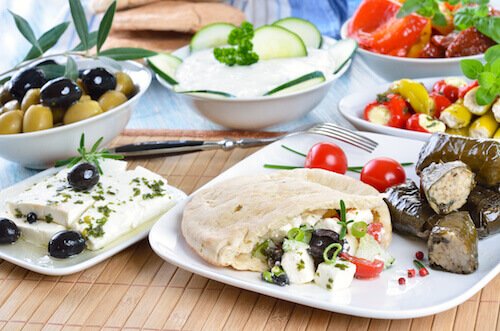 Typical Greek Mezedes
Popular food in Greece:
Choriatiki salata: This 'village' salad is what we know all over the world as 'Greek salad', made with plenty of tomatoes, cucumbers, olives and feta cheese. Usually eaten with bread not with pita ;-)
Feta cheese: white soft cheese made from goats milk 
Tsatsiki:

dip or thick sauce made with Greek yoghurt and cucumbers, garlic, olive oil and spices

Moussaka: layered dish with aubergines (also called eggplants or brinjals) and potatoes and creamy sauce
Spanakopita: filo pastry dish with a spinach and feta filling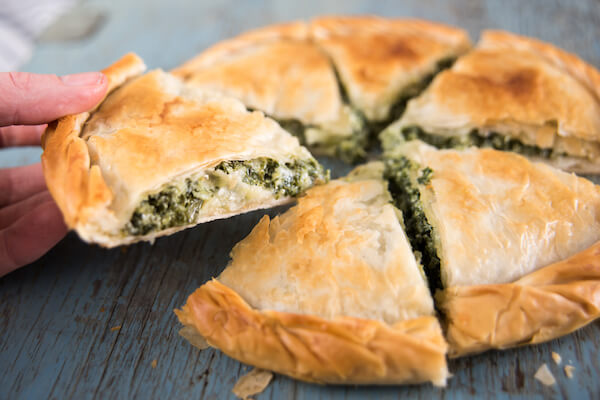 Spanakopita
Souvlaki: skewers of marinated meat, usually eaten as fast food
Pastitsio: pasta dish with minced meats and white sauce, similar to the Italian lasagna
Dolmades: little parcels of rice that has been mixed with vegetables and spices and that are wrapped in vine leaves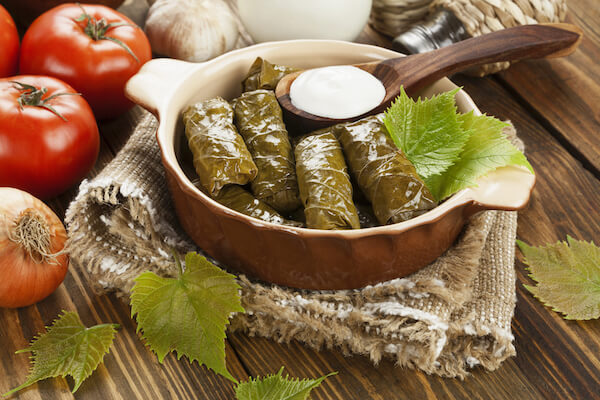 Greek dolmades - vine leaf parcels
Greece Facts | Did you know?
Greece still has a royal family. However, King Constantine II does not have any power in governing the country as the monarchy was abolished in Greece in 1974.


King Constantine II with four of his grandchildren in 2014
The royal family includes King Constantine II, born in 1940, Queen Anne-Marie, their five children and nine grandchildren.
Did you know that Constantine II is an avid sportsman? He took part for Greece in the 1960 Olympics when he achieved a gold medal in sailing before he ascended the throne in 1964. By the way, Constantine II is also the younger brother of Queen Sofia of Spain.

Popular Pages
Useful Resources for Greece Facts
This Greece facts page was last updated on 24 June 2022. Many Thanks go to Vail Gousdova from Greece for the corrections!
Angela King & Brad Cole. Geoscience News and Information. "Greece Map and Satellite Images." Geology.com Last accessed 24 June 2022
Central Intelligence Agency. "Greece". CIA World Fact Book. Last updated 21 June 2022. Last accessed 24 June 2022
Greek National Tourism Organisation. "Places to Go". VisitGreece. Last accessed 24 June 2022
Elena Paravantes. "The Best Authentic Greek Salad". OliveTomato. Last accessed 24 June 2022
Greek Royal Family. "Media Center" The Greek Royal Family. Last accessed 24 June 2022
Image Credits on Greece Facts page: Shutterstock.com and wikipedia commons
Return from Greece Facts to Kids-World-Travel-Guide Homepage
Competition 2023 closed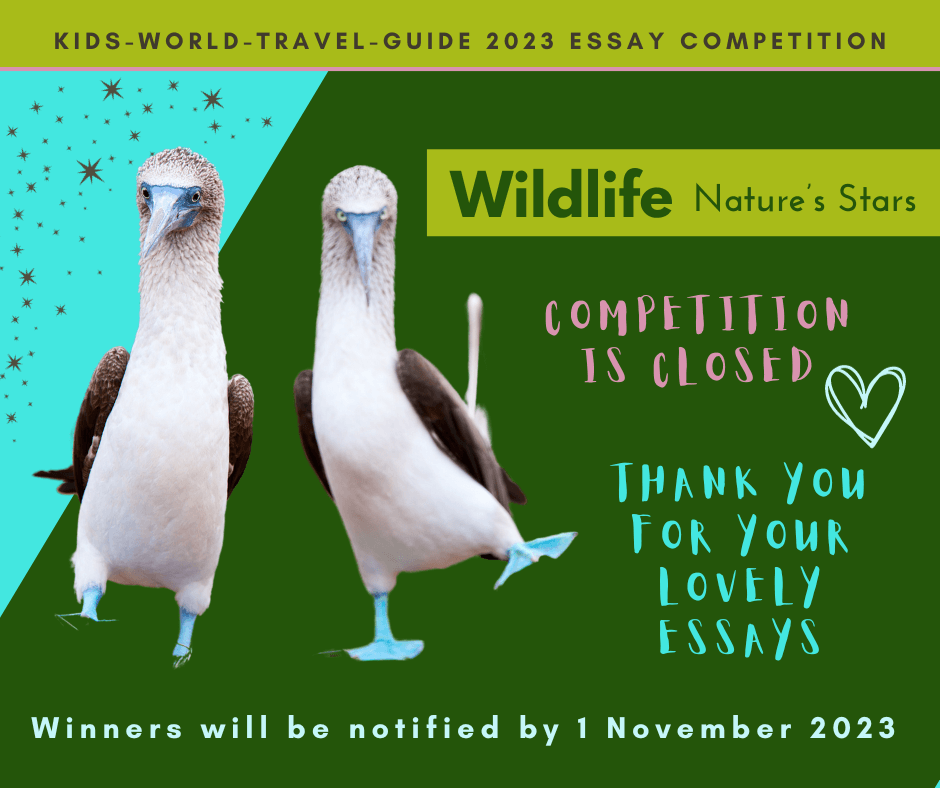 Watch this space
Competition 2024 will be announced in February