German Christmas Markets
2023
Here you will find some interesting facts about German Christmas markets. Traditionally these family markets are held from end of November until Christmas Eve.
In 2023 the festive season with the highly popular markets in Germany has arrived with some markets already open for this week! 
Read here how families usually enjoy the festive season at the different festive markets of Germany and you will get some interesting insights about Christmas markets in Germany.

Christmas Markets in Germany 
German Christmas markets are a long-standing tradition on the German events calendar. And people from around the world dream of visiting the special festive markets in Europe.

These festive markets in Germany are a wonderful way to embrace the Christmas spirit, mix and mingle with the locals and delight in Christmas treats. Plus, you will have a lot of fun when shopping for unique little gifts for friends and family and enjoying all the family activities alongside the markets. 
German Christmas Markets offer many wonderful treats
There are free carol concerts and meet-ups with Santa as well as musical performances usually are held at the markets in many towns and cities across the country. 
Many families love to visit the festive markets in their region in the evenings and might even venture further to nearby towns to experience the fantastic Christmas atmosphere the many different markets exude. 
Festive Christmas atmosphere in Hamburg
At the typical markets there are dozens of stalls selling traditional homemade arts and crafts such as glass baubles, carved nativity scenes, jewellery, wooden toys, knitwear, pottery and ceramics. There are also food stalls that cater for the visitors' cravings of traditional German Christmas delicacies such as Lebkuchen (ginger bread), roasted sweet almonds and Maroni (hot chestnuts) as well as more hearty food such as Bratwurst (sausage), Flammkuchen (flatbread) oder the obligatory hot tea or Glühwein (red spiced wine, usually non-alcoholic versions are available too!).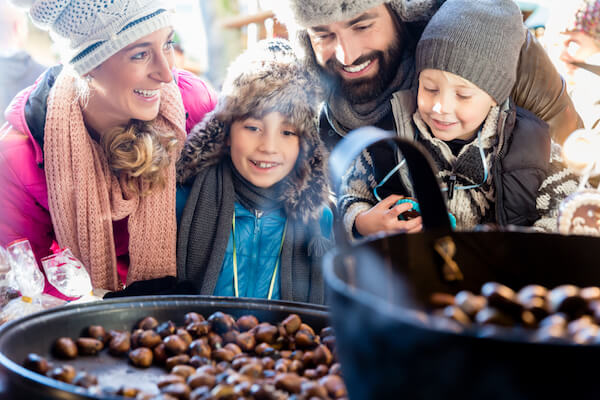 Hot "Maroni" (Chestnuts) at a German Christmas Markets
German Christmas markets are usually held during the whole month of December and last until the day before Christmas Eve, 23 December. Some Christmas fairs might extend their activities until the beginning of January while others already open their market stalls already in the week before the first Sunday in Advent. 
And please know that German Christmas markets are usually referred to as Weihnachtsmarkt or Christkindlmarkt in German.
10 Wonderful Festive Markets in Germany
German Christmas Markets:
Hamburg
1. Hamburg: During the month leading up to Christmas, the northern German city of Hamburg hosts about thirty Christmas markets. The biggest market is held in the area around the city hall, at the Rathausmarket Square. There is even a flying Santa who visits the main Christmas market!
Then Hamburg is known for various Christmas parades held in the festive season. Every Saturday afternoon these parades take place during the market weeks. They take place in 2023 on these dates: 2, 9 and 16 and 23 December 2023. Then dancing angels and happy Santas, magic elves and funny reindeer spread the cheer amongst the visitors.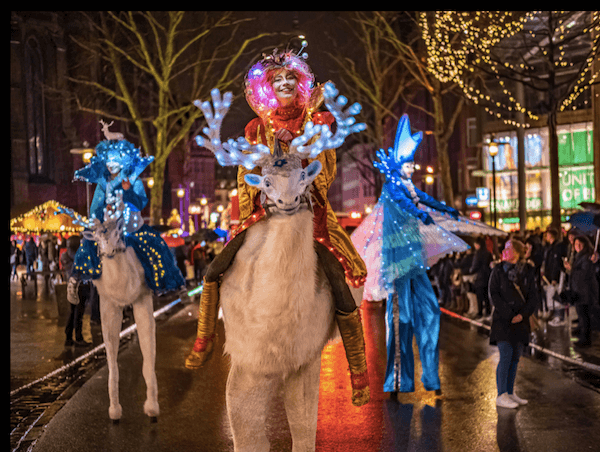 Christmas Parade in Hamburg
In Hamburg you should also make time to visit the largest model train set in the world which is located in the Speicherstadt, where there is also a lovely Christmas market. And don't miss to admire Hamburg's splendid Alster river location from the city's landmark - St Michael's church, also called 'Michel'. From the 132 m/ 433 ft. high viewing platform, you can see the the busy city harbour and the twinkling christmas lights will create a very special atmosphere. 
More info on the Hamburg Christmas parades here.
German Christmas Markets in Berlin
2. Berlin: The capital city of Germany is famous for the Weihnachtsmarkt in the historic city centre around the capital's opera house.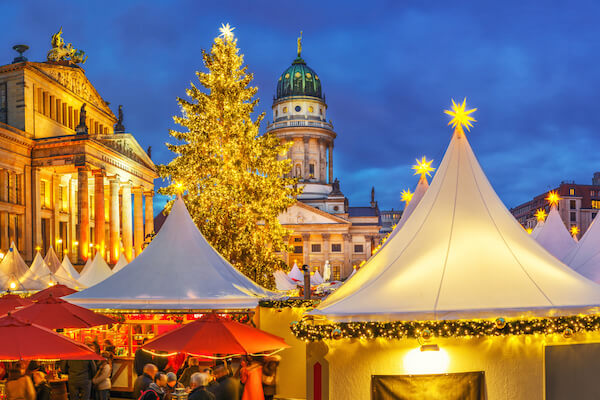 Christmas market in Berlin
In Berlin you have the tough choice of over 70 other festive markets that are held throughout Germany's largest city during the festive season. There is even a Japanese and a Scandinavian Christmas market! Some of the most popular markets are the Historic Market at the Gendarmenmarkt, the Advent Eco Market at Kollwitzplatz or the Medieval Market at the Rotes Rathaus. This market previously included a 50 m/ 154 ft. high ferris wheel is usually open until early January. 
Ferris Wheel at the Berlin Christmas fair
Find out which Christmas market in Berlin suits you best - click here!
German Christmas Markets
Munich | München
3. Munich/ München: The Munich Christkindlmarkt (Christ market) in front of the neo-gothic city hall building at Marienplatz is a firm family favourite. The market at Marienplatz is the oldest in town and dates back to the 14th century!
München Christkindlmarkt at Marienplatz with old town hall
Every afternoon you can listen to Bavarian folk music, singers and wind players performing Christmas tunes. St Nicholas who is always quickly surrounded by children attends the market in the afternoons as well. 
From Marienplatz it is an easy two-minute walk to nearby Saint Peter's Church and Rindermarkt - just follow the little stars on the pathway. At Rindermarkt, you can admire the biggest nativity market of Germany!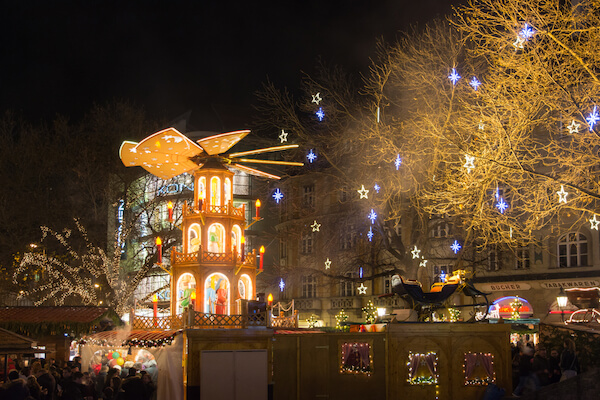 Christmas pyramid at Rindermarkt
Some market stalls are entirely dedicated to nativity figurines, stalls and mangers of all sizes and materials. And usually on 22 December about 20 really scary looking creatures are the main attraction at the annual Krampuslauf (Krampus run) of the Christmas market. The Krampus is the scary looking companion of Saint Nicholas.
This year, there was set up an ice arena event called 'Eiszauber' at München's Karlsplatz, "am Stachus", which is open from 24 November 2023 until 14 January 2024. There is also a Christmas Village at the Munich Residence and at Olympiapark, there is a Fairy Tale Bazaar from 23 November until 29 December 2023 which will keep the whole family excited! And many other fascinating festive markets will be held all over town.
And don't miss the "Market of Ideas" at the Tollwood Winter Festival 2023 which runs from 23 November until 31 December 2023. More info here.
Read here how Christmas is celebrated in German families.
Christmas Market in Frankfurt
4. Frankfurt: One of the largest christmas markets in Germany is taking place around Römerberg, Hauptwache and the promenade along the Main river.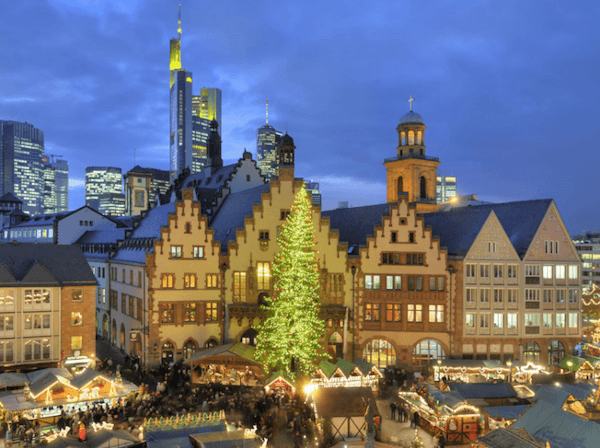 Frankfurt Christmas Market at the Römer
The Römer is the old town hall of Frankfurt. The first market held on the site called Römerberg dates back to 1393 and according to old documents this market included a church mystery play. 
At this festive market, you must try the 'Bethmännchen', marzipan-filled biscuits that were a favourite already with Johann Wolfgang von Goethe, German's most famous poet who was born in Frankfurt and who lived in the city as a child.
Bethmännchen - Christmas cookies
This market takes place from 27 November 2023 until 21 December 2023. On 6 December children can expect a Santa visit in the afternoon around 17h00 at the Römer. Every Friday/Saturday and Sunday evening until 17 December, at 17h10, choirs will sing Christmas carols and share the festive cheer with all visitors.

At 16h30 on 2 December 2023 and at 17h00 on 24 December 2023, ten churches in the city vicinity will ring their 50 bells in celebration of Christmas for half an hour. A very special sound experience not to miss. More info here. 
German Christmas Market 
Nuremberg | Nürnberg
5. Nuremberg/ Nürnberg: The Bavarian city is not only home to one of Germany's oldest festive markets but world-renowned for its Christkind (Holy Child). 
In Nuremberg, every second year another young woman is selected in this city to represent the Christkind who gets dressed in a white gown and this Christkind is the one who opens the festive season.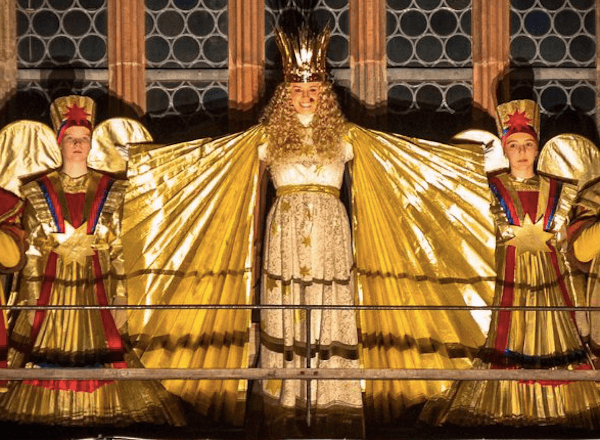 Christkind at Nuremberg Christmas Market
The German tradition that the Christkind (literally translated as Christ child) delivers the presents and gifts originates from the protestant reformer Martin Luther's teachings (1483-1546). Prior in the area's Catholic tradition, gifts were presented to kids by Saint Nicholas on Nicholas Day, the 6 December. Luther broke with this tradition and in the mainly protestant city, the Christkindlesmarkt keeps the new tradition alive.

Christkindlesmarkt Nuremberg - image by Steffen Oliver Riese
Nuremberg is also known to be the hometown of the famous Nürnberger Bratwurst (sausages) and the Nürnberger Lebkuchen (gingerbread). In Nuremberg there is also a special Christmas market for young children at Hans-Sachs-Platz where there is a merry-go-round and a steam train to entice the little ones. The popular Nuremberg Christmas Market will be open from 1 December 2023 until 24 December 2023. 
More info on the Nuremberg market here.
Christmas Market in Cologne | Köln
6. Cologne/ Köln: At the foot of Cologne Cathedral, this festive market with about 150 market stalls and more than 100 events attracts visitors from around the world. The market takes place this year from 23 November 2023 until 23 December 2023. Please take note: The Christmas market will be closed on Sunday 26 November 2023, as this is "Totensonntag" (Sunday of the Dead), a protestant religious holiday.
At the Köln Christmas Market you will find pretty much everything - from the traditional homemade wooden gifts and Stollen (Christmas cake), Flammkuchen and Glühwein-Stalls to the unique Kölner Spekulatius-biscuits and Heinzelmännchen-biscuits or up-cycled gifts made from old basketballs - not only the kids will love these unique gifts.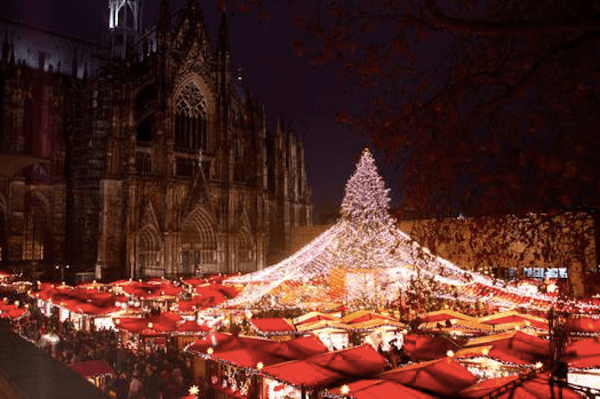 Cologne Christmas Market
This Christmas market is unique also regarding the fact that several stalls are offered by the city free of charge to charities such as Greenpeace or Kindernothilfe ('Children in Need') and the donations raised during the fair and at various events are gifted every year to a variety of charitable project in and around Cologne. More info here. 

German Christmas Tradition | Krippenweg in Oberammergau
7. Oberammergau: In Oberammergau, a small and picturesque town in the Bavarian Alps, it is a tradition to display intricately designed nativity scenes made by local wood carvers during the festive season. The 1.5 km/ almost one mile long 'Krippenweg' trail passes 25 nativity scenes that are exhibited in the storefront windows of the town centre until early January. Visitors can stroll along the town centre and admire the creative work of the local wood carvers. 
Krippe (Nativity scene) at the Oberammergau Museum
The trail ends at the Oberammergau Museum which exhibits a huge church nativity scene that was created by local carvers over 100 years. The Oberammergauer Christkindlsmarkt takes place on 3 December 2023. More info here.

Christmas Markets in Weimar
8. Weimar: It is in Weimar that the first christmas tree was erected for the public - in 1851. A librarian wanted to share his wealth with all the children and residents of his city and put up a festively decorated tree in the market square.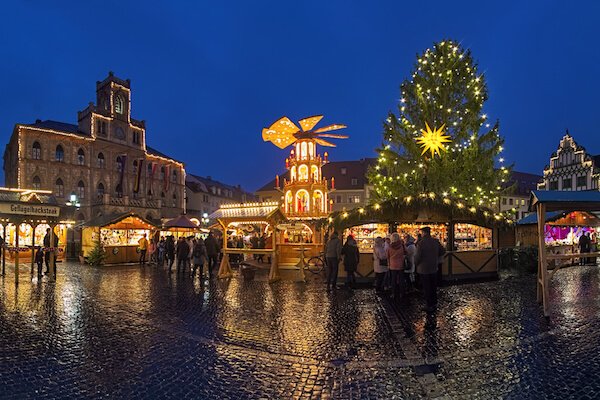 Weimar Christmas Market - image by Mikhail Markovskiy
The town hall is decorated in style of an huge Advent Calendar where every day leading up to Christmas a door is opened by Santa. Every day Santa Claus will distribute small presents to little children. There are several market sites in the eastern German town and visitors from near and far are attracted to the picturesque home town of German's foremost poet, Johann Wolfgang von Goethe. 
The Weimar Christmasmarkt is open from 28 November 2023 until 7 January 2024. More info here.
Ulm Christmas Market
9. Ulm: More than one million visitors come to marvel at the Minster Square market's unique living nativity scene every year. In 2023, the Ulm Christmas Market is planned take place from 27 November until 23 December 2023. This nativity scene is complete with real animals: little lambs, some sheep and a donkey gather around the manger!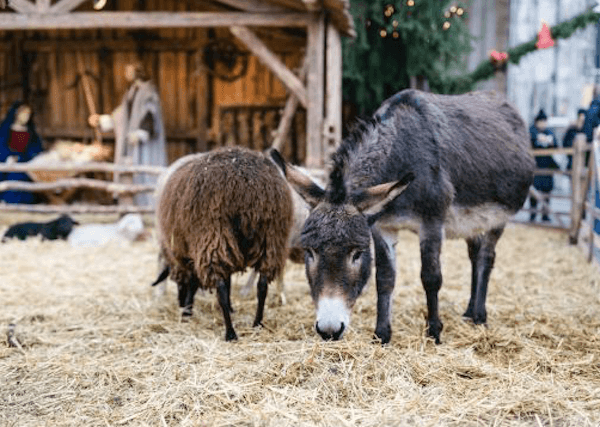 Living nativity scene at Ulm Christmas Market
Every evening a choir and a band perform at the market and delight the visitors with Christmas carols and festive music. More than 18,000 tiny lights illuminate the tall Christmas tree in front of the Ulm Münster. More than 120 stalls spread the festive atmosphere at this fabulous Weihnachtsmarkt.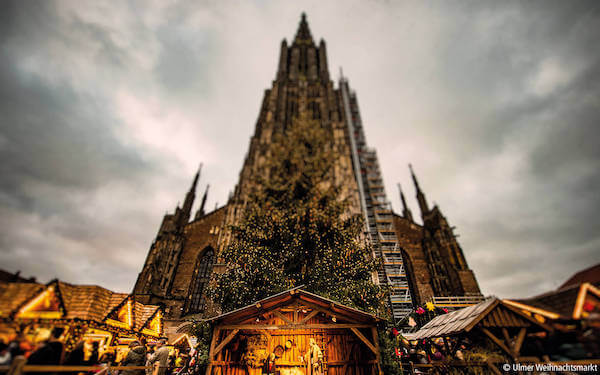 Ulm Münster and Weihnachtsmarkt
The Ulm Münster has the highest church spire in the world. It is 161 m/ 528 ft. high. You can climb up the 768 steps of the tower and be rewarded with fantastic views - when the weather is clear, you might even catch a glimpse of the snow-covered Alps! More info here.
German Christmas Markets
Würzburg
10. Würzburg: This Christmas market has one of the most romantic settings in Germany as the market is located in front of the gothic chapel of St Mary. The tradition of holding festive markets in the city dates back to 1800.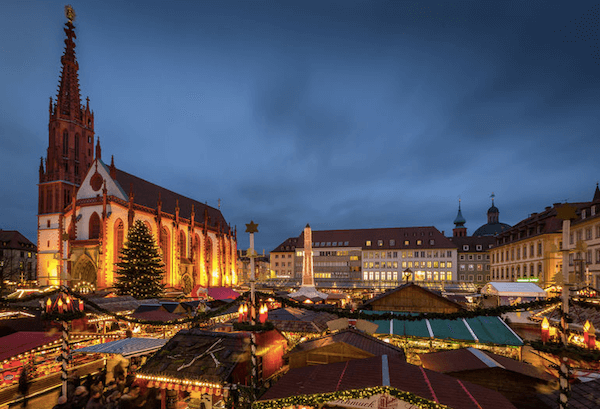 Christmas Market in Würzburg
Today, 120 stalls invite visitors to get handmade gifts such as artfully knitted wollen socks or handcrafted paper.
Do not miss to visit the fabulous fresco-staircase in the nearby palace, the Würzburg Residence, which is one of the UNESCO world heritage sites. 

Würzburg Castle high above the Main river - image by Juan Carles Juarez
The 2023 Würzburg Christmas Market will take place from 1 - 23 December 2023. More info here.
Do you know how we say 'Merry Christmas' in German?
Fröhliche Weihnachten! or: Frohe Weihnachten!

and: Happy Holidays - Frohes Fest!
'Fröhliche Weihnachten' means 'Merry Christmas'
We hope you enjoyed our information about these ten fabulous German Christmas markets. Let us know if you experienced a German christmas market and want to share your insights about favourite market and special Christmas market treats. Looking forward to hearing from you.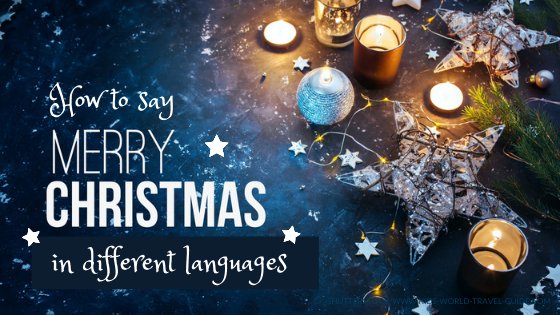 Find out how to wish Merry Christmas in other languages
- Only submissions from our young readers and students will be considered. No commercial advertising and link requests please -
Popular Pages
More about Christmas
Resources 
Berlin Official Travel Website. "Christmas Markets in Berlin." VisitBerlin. Last accessed 23 November 2023
Munich Official Travel. "Markets in München." SimplyMunich. Last Accessed 23 November 2023
Image sources for German Christmas Markets page: 1. visitBerlin/DagmarSchwelle, 2. weihnachtsparade-hamburg.de, 3. muenchner-christkindlmarkt.de, 4. Tourismus+Congress GmbH Frankfurt am Main, 6. koelnerweihnachtsmarkt.com, 7. oberammergaumuseum.de, 8. Mikhail Markovskiy / Shutterstock.com, 9. Rainer Maiores, 10. Ulm Messe GmbH as well as own images and intro images by shutterstock.com
Back from German Christmas markets to KidsWorldTravelGuide Homepage

Competition 2023 closed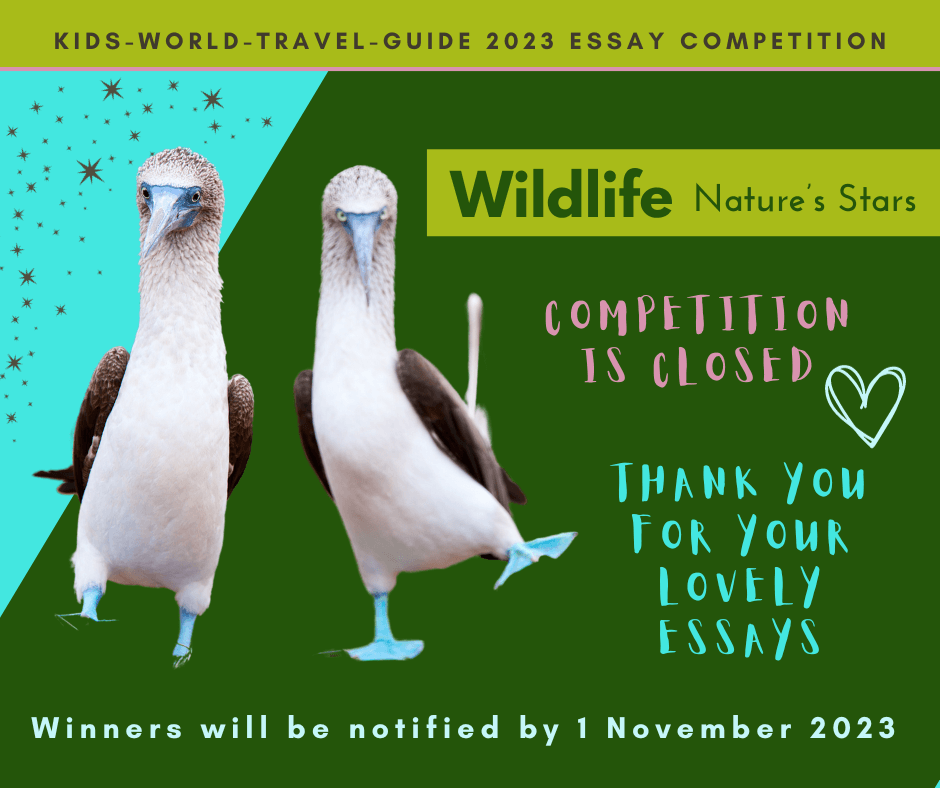 Watch this space
Competition 2024 will be announced in February