Mauritius with Kids
Review of Trou aux Biches Resort 
Thinking of travelling to Mauritius with Kids? We have done this recently and love to share our holiday experiences about our stay at the amazing Trou aux Biches Resort with you.
We spent eight days with our teenagers at the five-star Trou Aux Biches resort also called TAB by the locals. To tell you right away, this was the best holiday resort we have ever been to, and trust us, we have seen quite a few amazing places all over the world.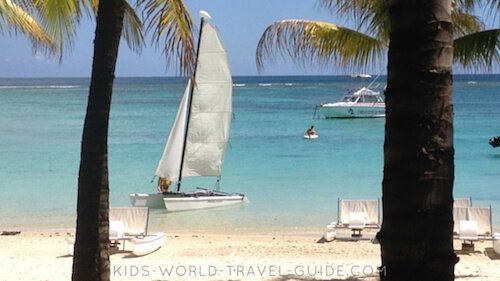 Enjoying water sports at Trou aux Biches
The '5-Star-Superior' hotel Trou aux Biches is located in the north of Mauritius island and sits on the probably most wonderful white and sandy beach you will experience on the western side of the island.

Mauritius with Kids
We enjoyed a blissful holiday and our kids were kept busy and happy all day too. A wide range of watersports facilities, such as canoes, pedal boats, catamarans, stand-up paddle boards or windsurf boards, were all offered for free. There is a kids club and various activities are offer for children and teens. 
There were daily glass bottom boat trips and snorkelling boat trips to the reef offered to families as complimentary service by the hotel as well. Our teens loved the freedom to roam the far spread grounds of the fantastic well guarded resort and we parents were spoilt by the wonderful staff every minute during our stay! From the moment we stepped into the hotel lobby, we were spoilt to bits!

Staying at the 5* Trou Aux Biches Resort
The staff at the luxury Trou aux Biches resort treat their guests like royals and there was not one moment when we did not receive outstanding service. Fatima and her team are simply amazing!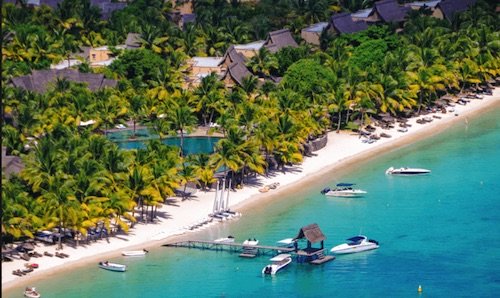 Trou aux Biches resort on their website - It's really as beautiful!
But let's start with the hotel and its facilities. The Trou Aux Biches resort, belonging to the Beachcomber hotel chain, is the biggest and oldest resort on Mauritius, but was constantly updated and renovated over the years and received a major revamp in 2011.
Located in north-western Mauritius, close to Grand Baie, it is located along the tranquil and protected western coastline. The north-western parts of the Indian Ocean islands are renowned for its milder climate and are generally less windy and less cloudy than other parts of Mauritius.

The resort can accommodate more than 700 hotel guests at one time, however, we never felt like staying at a crowded resort.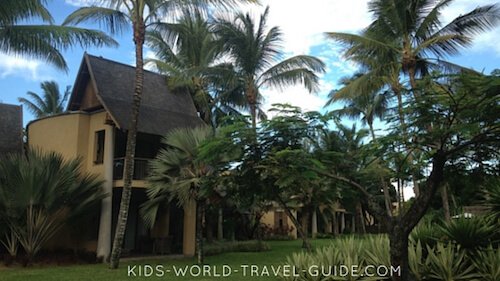 Trou aux Biches resort chalet-style
The two-storey buildings were spaced out on the well-maintained grounds and always a handful of houses/chalets shared a common pool area - these pools were additional to the beautiful and huge main pool in the centre of the resort. 

Rooms at the Trou Aux Biches Hotel
The hotel offers accommodation in junior suites, tropical junior suites, beach front or senior suites with pool, family suites (with a second bedroom for children) and villas with two or three bedrooms. 
We had first requested a family suite, but were recommended to book two adjacent junior suites which we then booked on a bed and breakfast basis directly with the hotel. Upon arrival at the resort, we were surprised by the lady at reception that we received an upgrade to two tropical junior suites.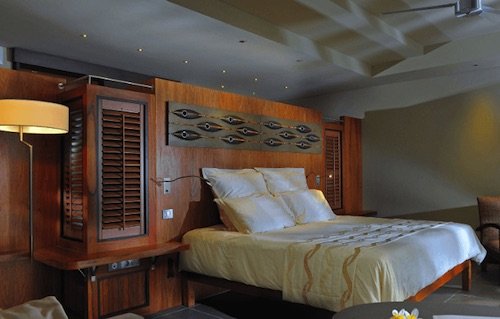 The room was exactly as the photo on the website shows
Each of the tropical junior suites had a spacious bedroom with a king sized bed in the parents' room - the kids had two single beds in their room -, a small sitting area with table and two chair as well as a desk and flatscreen TV, a patio with sun lounger and another small table with two chairs, a huge bathroom with massive bathtub, rain shower, two wash basins, a separate toilet room, a dressing area with open shelves, a minibar and an outdoor shower. We really loved our tropical suites! It is so wonderful to take an outdoor shower surrounded by small palms and ferns, listening to the birds singing in the lush green tropical gardens of this resort. In April, the outside temperature was 25°C/77 F and above even in the morning, so using the outdoors shower was such a relaxing experience!
The rooms are very clean and room service is wonderfully efficient and discreet. Housekeeping managed to come in always when we were out for breakfast and later again during dinner time. Towels for the bathrooms and the beach towels were always changed and the rooms were always looking well kept, which is really a special treat when travelling with kids or teenagers in their own rooms. 
Food at the Trou Aux Biches
There are six restaurants catering for the guests at the Trou aux Biches. Due to the anniversary special we had booked, we were lucky that the hotel also included our dinners as well as a special free lunch buffet with a large variety of salads, small snacks and dishes such as pizza, pasta, meatballs and oh so yummy desserts! The buffet was always freshly prepared, mouthwateringly arranged and displayed and very delicious, and also catering for a huge range of tastes and preferences, including vegetarian options.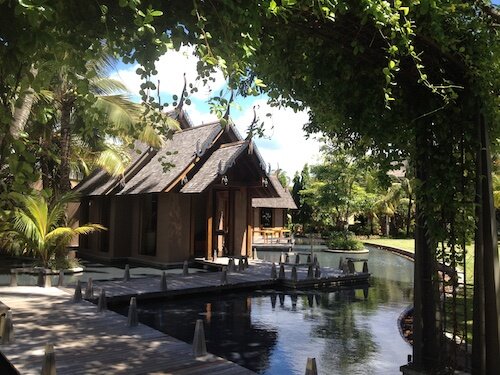 The Thai restaurant at Trou aux Biches
We enjoyed eating our breakfasts at either the buffet restaurant 'L'Oasis' or at the smaller 'Caravelle' bar and restaurant. We ate dinners in five of the six restaurants on the premises, and only missed out on the seafood specialty restaurant at the poolside. Dinners have to be booked at least one day in advance, only the buffet restaurant does not need reservation. The buffet restaurant offers themed buffets in the evening - seafood, mediterranean, Mauritian specialties and has a very scenic setting. There is also fabulous Indian restaurant, called 'Mahiya', as well as an Italian restaurant 'Il Corallo' with an excellent antipasti buffet. Our favorite restaurant, however, was 'Blue Ginger', the Thai restaurant with authentic Thai food. We lived and travelled widely in Asia, but the dishes - and the service - were outstanding. As a special surprise, one night, our whole family of four was treated to a special anniversary dinner in the 'Le Deck, the 'a-la-carte' restaurant, where the chef even cooked and served a special 'anniversary dinner' for us! What an amazing experience!

Trou Aux Biches with Teenagers and Kids
The Trou Aux Biches has a kids club for children aged 3 - 12 years, which seemed to be popular with many families, especially those with younger children. There is also a club for older children or teenagers, however, there were not many families with teenagers staying during the Easter holidays and thus there were not many organised group events or activities. Our kids joined-in the late afternoon beach volleyball games, enjoyed doing the runs along the beach and one day they were playing with other youngsters at a tennis tournament, however only very few guests took part.

We thoroughly enjoyed using the amazing watersport facilities and going for longish sailing or paddle trips along the coast several times of the day, but there was never a time, the boards or boats were all booked out, so there was always some activity to enjoy. Our kids were most of the day in or on the water (even got several free waterski lessons at the hotel's own pier) and were happy to do their 'own thing', sometimes joining the friendly young tennis coach/animateur at the fitness centre cum youth club for a table tennis game or fun table soccer match at the 'youth club'.
There were also various beach sellers walking on the beach, occasionally approaching guests for boat and dive trips or offering tube rides.
A Relaxing Holiday at Trou Aux Biches
During our week's stay we rented a small car to explore the island a bit more. The concierge was so kind to organise a rental car for us and off we went to explore the beautiful island. Driving in Mauritius is pretty easy, if you are used to left side driving, although the roads are quite small and often full of potholes, and there are many trucks and buses. Everywhere drivers hoot when showing that they are approaching a crossing and expect others to watch out for them.

During our stay we rented a car to explore the island a bit more, as we had stayed on another holiday further south on the west coast before. The concierge was so kind to organise a rental car for us and off we went to explore the northern parts of the island. Due to the sparse road signage, which is to the major part in French, we got lost several times, but thoroughly enjoyed our little adventure. We visited the gardens of the chateau Labourdonnais and had a tasty lunch at the restaurant there and also explored Grand Baie (which means in English: Big Bay), its scenic little harbour, the many boutiques (several with gorgeous swim wear and leather goods) and also had a look around the newly built mall, where we explored the local supermarket. The kids loved the full shelves with the biggest Nutella jars, they ever had seen and were wondering at the many exotic fruits and vegetables.

We spent most of our days in or on the water, as the weather was very mild and even on overcast days, we enjoyed splashing in the warm waters of the Indian Ocean. The water was actually as warm as the air, so taking a bath at sunset (which was around 6h30) was really an amazing experience!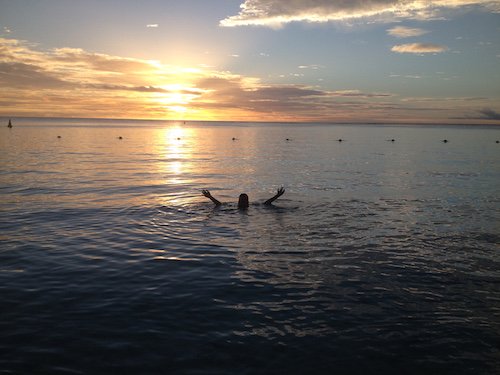 We loved watching the sunsets splashing in the warm ocean
Conclusion of our Trou Aux Biches review: If you ever want to visit Mauritius with kids, this is a fantastic resort for the whole family. We highly recommend it! ******
And if you go or ever should you have been there, let us know about your experiences. Looking forward to hearing from you! Contact us here
Image Credits on Mauritius with Kids: Pictures from the Trou Aux Biches website where mentioned, otherwise own images.
Return from Mauritius with Kids to Mauritius Facts
Back to Kids-World-Travel-Guide.com
Competition 2023 closed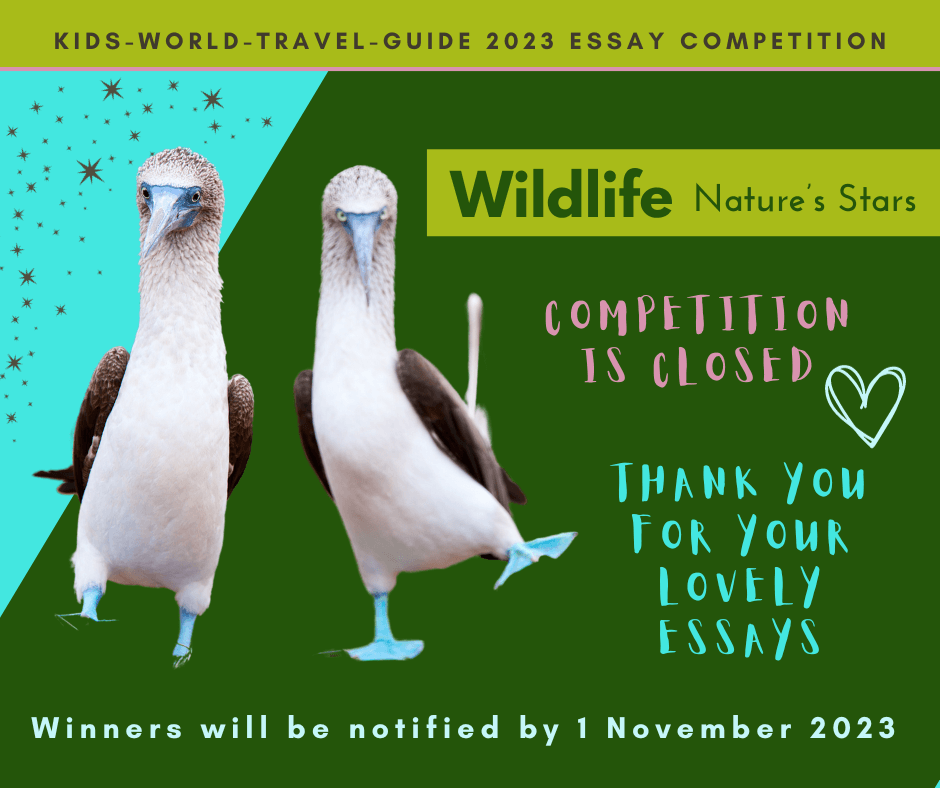 Watch this space
Competition 2024 will be announced in February