Pakistan Facts for Kids
Here are some interesting Pakistan facts for kids which were chosen and researched by children especially for children.
Pakistan Facts | Country Facts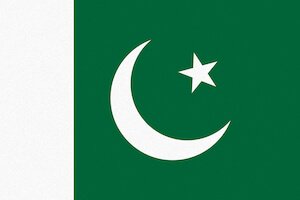 Flag of Pakistan
Population: 240 million people live in Pakistan (2023)
Capital city: Islamabad with 1.2 million inhabitants
Name: Islamic Republic of Pakistan
Government: Federal Parliamentary Republic
Languages: English and Urdu
Religion: mainly Muslims (96%)
Climate: Temperate climate in the northwest, but mainly hot and dry 
Currency: 1 Pakistani rupee (PKR) 
Motto: Unity, Faith, Discipline
National Symbols: Five pointed star and crescent moon, Jasmin (national flower)
Prime Minister: Shehbaz Sharif
National Days: 14 August (Independence Day)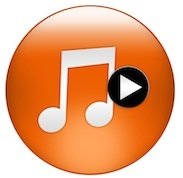 National Anthem: Qaumi Tarana
History: The Indus Valley civilisation developed as the first urban culture in South Asia. In 1947, India was divided into India and Pakistan. 
Pakistan Facts |Pakistan Geography
Pakistan is located on the Asian continent. Pakistan also has a coastline along the Arabian Sea and the Gulf of Oman of the Indian Ocean.
Pakistan borders four countries: Iran and Afghanistan, China and India.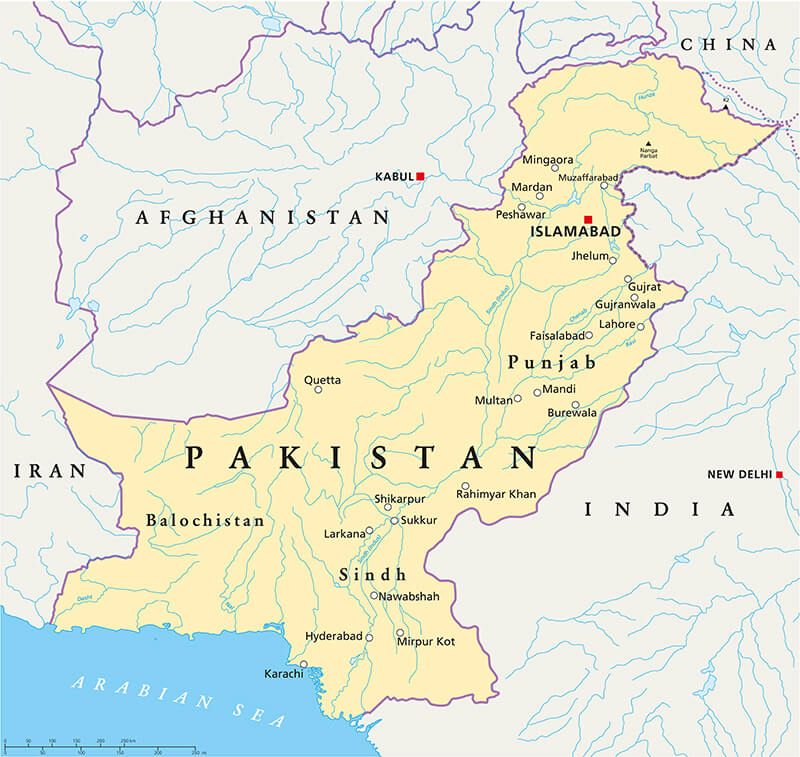 Map of Pakistan
Pakistan has 5 provinces: Punjab, Sindh, Balochistan, Khyber Pakhtunkhwa and Gilgit Baltistan. 
Pakistan sits on the borders of the Indian and the Eurasian plate and thus experiences many violent earthquakes. Attabad Lake was created in 2010 after a massive landslide.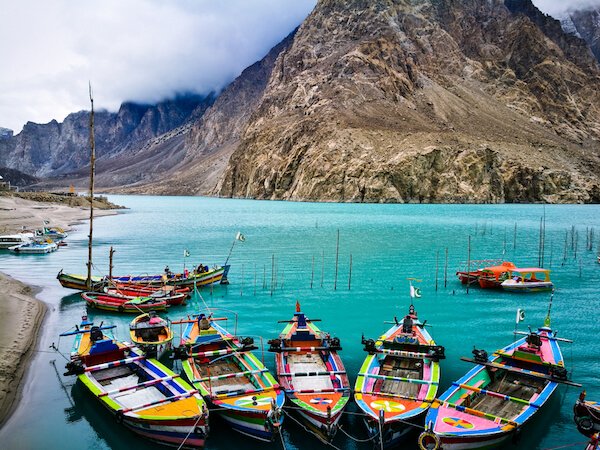 Attabad Lake
The landscape varies widely from Indus plains and deserts to forested hills and a plateau to the rugged mountains with glaciers. Pakistan is home to five of the 14 highest independent mountains in the world!
Pakistan is about the size of the UK and France combined and slightly less than twice the size of California/USA.
Pakistan Facts for Kids 
Pakistan Geography Superlatives
Pakistan is the world's fifth most populated country - after China, India, the USA and Indonesia.
Pakistan's mountain K2 is the second highest mountain in the world, after Mount Everest at 8,848 m/ 29,029 ft. K2 is also known as Mount Godwin-Austen or Chhogori and is the highest point of the Karakoram mountains.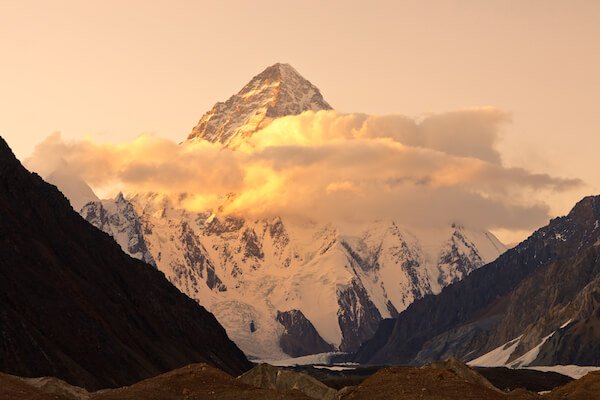 Sunset over K2
Pakistan also has five other peaks that are over 8,000 m/ 26,246 ft and more than 100 mountain peaks that are higher than 7,000 m/ 22,965 ft.
Punjab Province is the most densely populated region in Pakistan with Lahore, the cultural hub of the country. This is also the most fertile region of the country. The region is nicknamed "Land of five rivers" and was part of the ancient Indus River Civilisations more than 4,000 years ago.
Karachi in Pakistan's South is the largest and most populous city of the country with more than 16 million inhabitants. This city is the economic hub of Pakistan.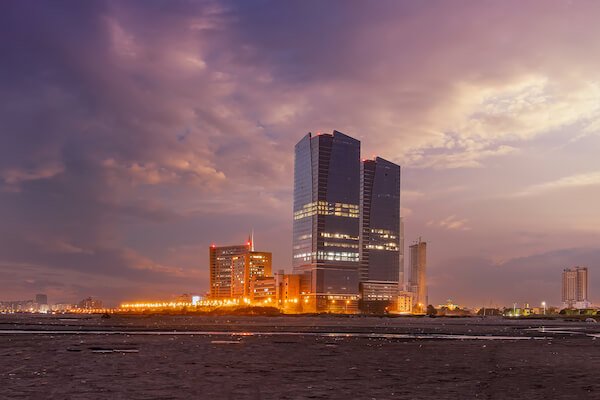 Dolmen Twin Towers in Karachi - image by HasanZaidi
The longest river in Pakistan is the Indus River. 
The Thar Desert is a large region in the east of Pakistan and forms a natural border to India. About three quarters of the desert are located in India.

Manchar Lake

 is not only the largest lake in Pakistan, but also in South Asia.
 Pakistan Landmarks and Attractions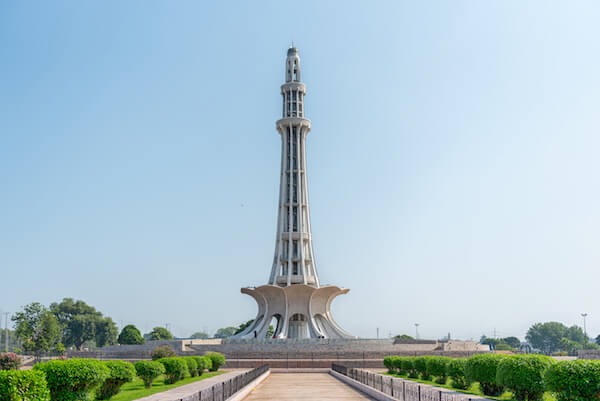 Minar-e-Pakistan monument in Lahore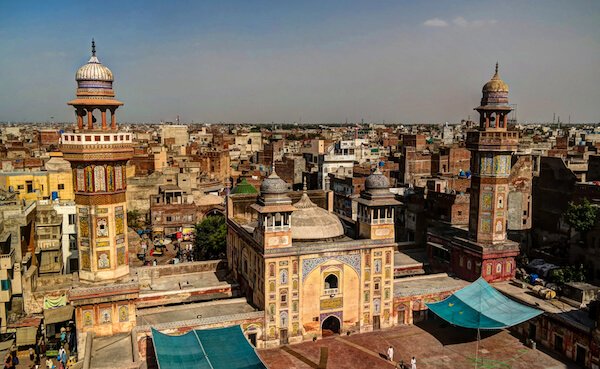 17th century Wazir Khan Mosque in Lahore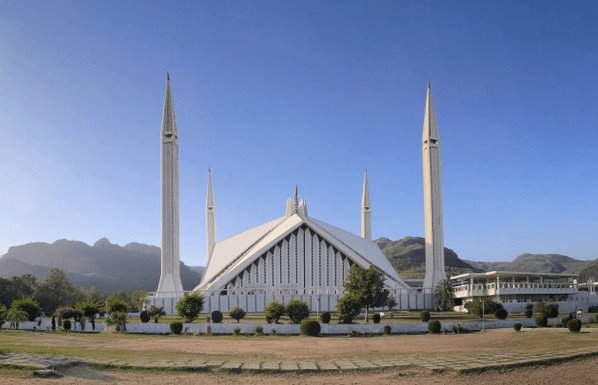 Faisal Mosque in Islamabad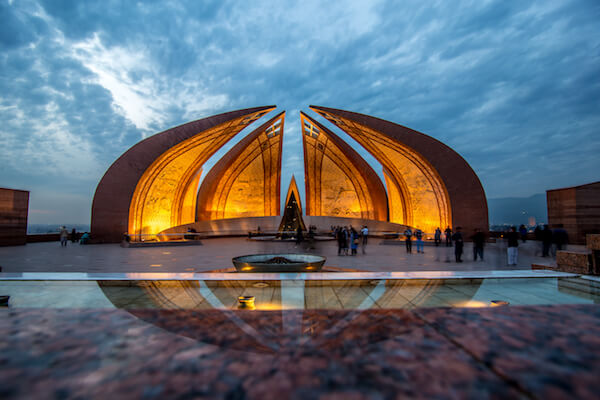 Pakistan Monument in Islamabad - image by Saqib Rizvi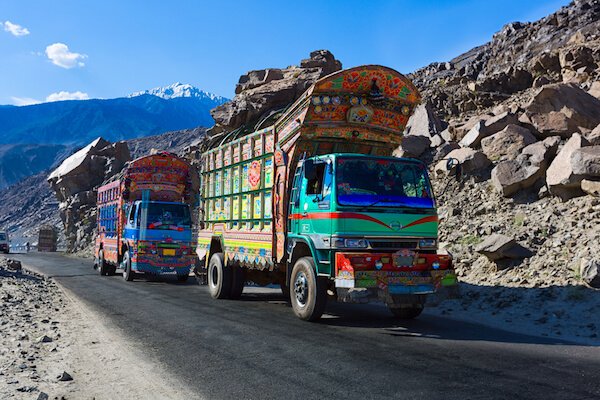 Colourful Pakistani trucks on the Karakoram Highway
Pakistan People | Facts for Kids

Pakistan is home to the world's second largest Muslim population - after Indonesia. Islam is the state religion in Pakistan. 
There are many different ethnic groups in Pakistan, with the Punjabis being the largest group and including almost half of the country's population. Over 60% of the people live in rural areas.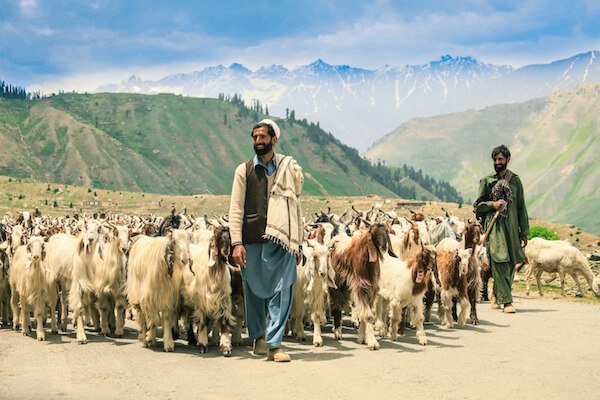 Goat herders - image by Dave Primov
Over seven million Pakistanis live abroad, making up the sixth largest diaspora in the world. Diaspora means nationals living outside the country's borders.

Pakistan also has the second largest refugee population in the world and houses many Afghans, Bangladeshi, Burmese and Uyghurs within the country's borders.
The national sport is field hockey. Other popular sports are cricket, polo and soccer.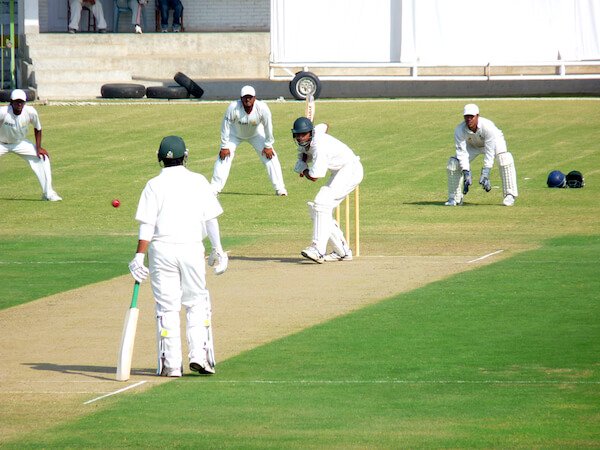 Pakistan cricket - image by Jahanzaib Naiyyer
Famous Pakistani people are:
Muhammad Iqbal (1877-1938): writer, he is considered the national poet of Pakistan.
Imran Khan (born 1953): former prime minister of Pakistan (2018-2022) and formerly famous international cricket player (Khan was part of the winning team in the Cricket WorldCup in 1992)
Malala Yousafzai (born 1997): activist for female education and the youngest Nobel laureate ever
Pakistan's biggest cities are:

Karachi: 16.5 million
Lahore: 13 million
Faisalabad: 3.5 million
In Pakistan, cars drive on the left side of the road as they do in the UK and Australia or neighbouring country India.
Road signs on most roads in Pakistan are in English and Urdu.

Pakistan Facts | Languages in Pakistan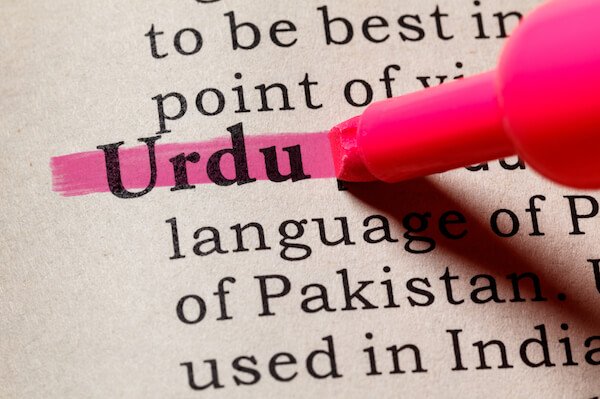 Urdu is the national language of Pakistan
Urdu and English are the official languages in the country. Although Urdu is the main language spoken in the country less than 10% of the population in Pakistan speak it as first language.
Urdu is called a lingua franca, a language that is spoken and understood by most people in the country. Urdu is closely to related to Hindi. English is the main language in all schools in Pakistan.
There are about sixty languages spoken in Pakistan. Punjabi or Pashto, Sindhi, Saraiki and Balochi are the main regional languages.
Arabic is widely studied in Pakistan, as the language is used in respect to the Muslim population and teachings of the Holy Quaran.
Pakistan Facts | Animals in Pakistan
Sheep and goats are found in many regions. There are also wildcats, mongooses, porcupines, deer, civets, jackals and wild boars. The Indian pangolin can still be seen in southern plains regions and there are mugger crocodiles in the Indus river.
Snow leopards and the Indus river dolphins are amongst the rarest and most endangered species in Pakistan.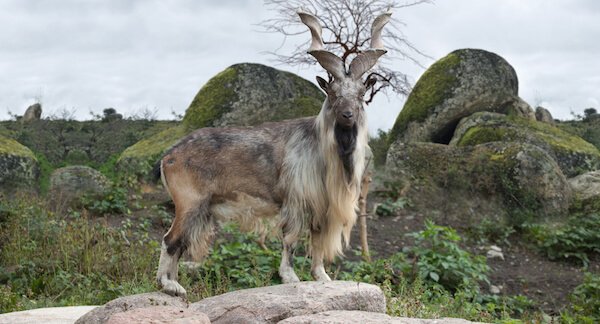 Markhor
Large goats called markhor can be seen in northern with spiral shaped horns and long fur coat. The markhor is often considered the national animal.
Pakistan is one of the world's country's with the highest deforestation rates. Pollution and hunting practises massively impact the ecosystem as well.

Pakistan for Kids | Food in Pakistan
Food in Pakistan is aromatic and spicy. The dishes vary according to region, but rice and flatbreads called roti or chapati are eaten with most meals.
The dishes have influences from the Indian, British, Middle Eastern and Asian cuisines. Herbs and spices such as turmeric, chill or garam masala are used in most dishes. Chicken and mutton are the most common meats.
Lassi and black tea with milk and sugar are the most common drinks.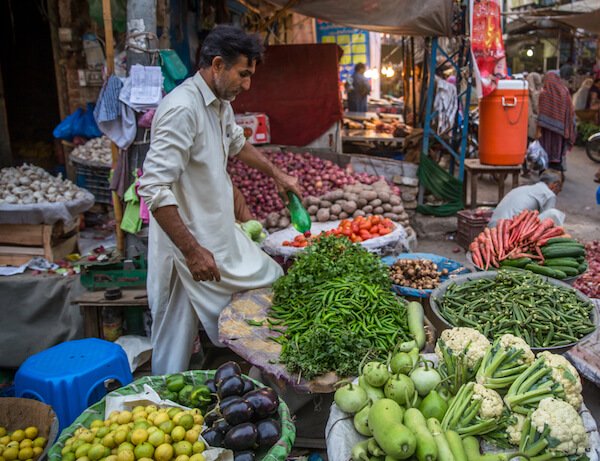 Market Vendor - image by Saquib Rizvi
Typical Food in Pakistan:
Seekh-Kabab: minced meat grilled on a skewer
Shami-Kabab: minced meat and chickpea patties
Tikka: barbecued mutton, beef or chicken, served with rice of flatbread
Sajji: barbecued leg of lamb or chicken
Shorba: thick souplike vegetarian stew
Pullao: rice dish
Biryani: rice dish with chicken and vegetables, herbs and spices
Nihari: slow cooked meat stew is a very popular dish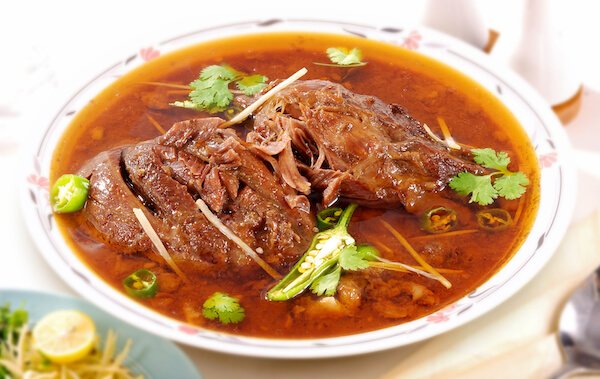 Beef nihari
roti: also referred to as chapati is a flat bread 
nan: soft and thick bread baked in a clay oven
lassi: yoghurt-based drink, often spiced with cardamon or cumin and flavoured with fruit such as mango 
Muslims do not eat pork, thus pork will not be served.
Fork, knife and spoons are not usually used during meals, as various kinds of nan bread are used for dipping and picking up the liquid or soft foods such as beans, stews or shorba.
Pakistan Facts for Kids Resources 
Central Intelligence Agency. "Pakistan". CIA World Fact Book. Updated 11 January 2023. Accessed 17 January 2023
Pakistan Tourism Development Corporation. "Pakistan". Pakistan Tourism. Accessed 17 January 2023. Images on Pakistan Facts for Kids: shutterstock.com, sxc.hu and own images.
Pakistan Facts page: Many thanks go to our young writers Rania and Miraal Khan as well as Fatima Zehra. Please bookmark our page, as we will add more info from other young Pakistani writers soon.
Popular Pages
Go back from Pakistan for Kids to Kids-World-Travel-Guide Homepage
Competition 2023 closed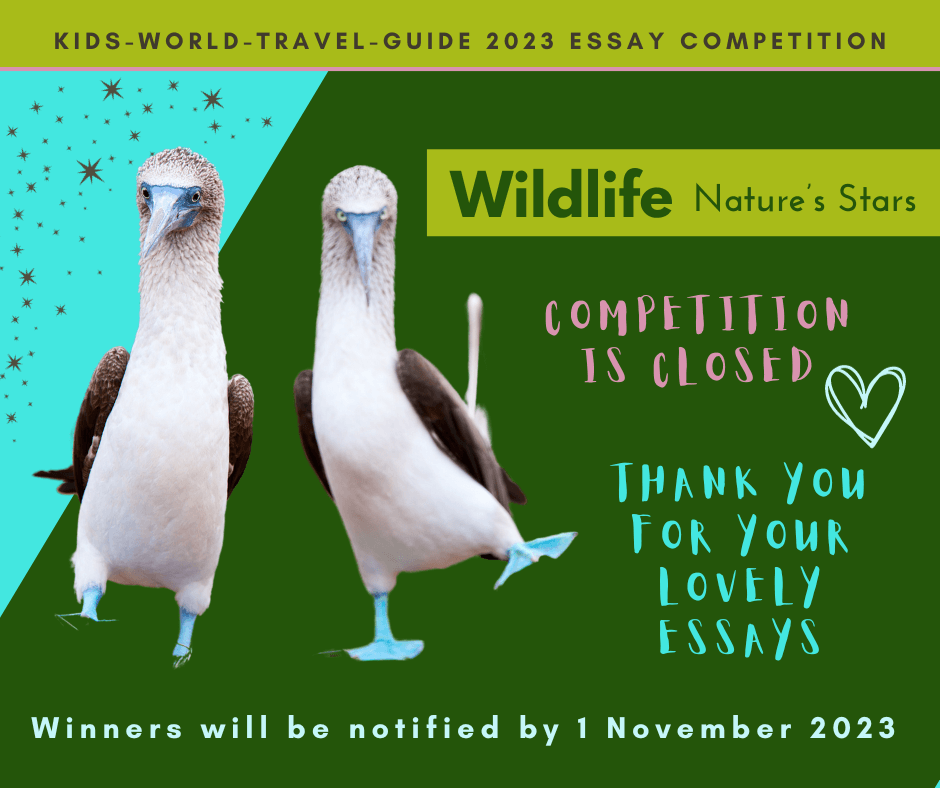 Watch this space
Competition 2024 will be announced in February