Russia Facts for Kids
Russia for Kids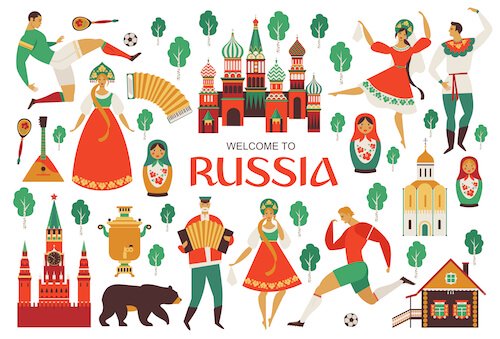 Here are some interesting Russia Facts which were chosen and researched by kids especially for kids.

Population: roughly 142 million people (2020)
Capital: Moscow with 12.5 mio inhabitants and Russia's largest city.
Name: Russian Federation
Government: Semi-presidential federation
President: Vladimir Putin
Official Language: Russian
Literacy: More than 99% can read and write.
Religion: Russian-Orthodox 20%, Muslim 15%, Christians 2%, many Russians are non-believers
Currency: 1 Ruble=100 kopeka
National Holiday: 12 June (Russia Day)
History: The Russian Federation was created on 25 December 1991 
National symbols: national anthem, coat of arms and national flag (white - blue - red). National animals: bear and the double-headed eagle. National flower: camomile
Where is Russia? - Russia Map
Russia stretches from Eastern Europe to Northern Asia. The country thus is located both on the European and on the Asian continents.
The 14 countries bordering Russia are: Norway, Finland, Estonia, Latvia, Lithuania, Poland, Belarus, Ukraine, Georgia, Azerbaijan, Kazakhstan, Mongolia, China and North Korea.
Russia Facts | Russia Geography
Russia is a huge country that is double the size of Australia and about 1.8 times as big as the USA. The vast country is located in part on the European continent and on the Asian continent. Most people in Russia live in the westernmost part of Russia.
Almost half of the country is covered in forests, only 14% are suitable for agricultural land due to the harsh climate.
The climate ranges from steppe in the South to subarctic in Siberia and tundra in the polar North.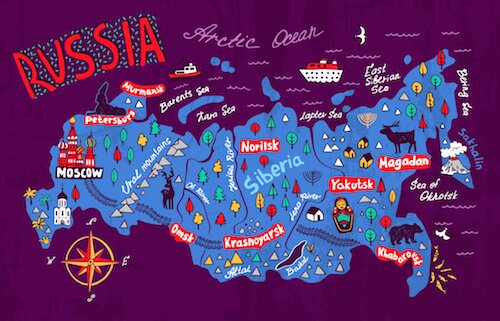 Russia Map
Here some Russia facts and geo superlatives:
Russia is the biggest country in the world and borders 14 countries. The longest border is shared with China.
It has more than 37,600 km (23,300 miles) of coast line. 
The highest mountain in Russia is Mount Elbrus with 5,642 m/ 15,510 ft. This is also Europe's highest mountain.
The Volga is Russia's and Europe's longest river with 3,530 km/ 2,190 miles. The Volga river mouth is in the Caspian Sea.
The Caspian Sea is the world's largest lake.
The deepest lake in the world is Lake Baikal. The Russian refer to it as the 'Blue Eye of Siberia'. Lake Baikal is the biggest water reservoir in the world holding 1/5 of the world's freshwater reserves. Lake Baikal holds more water than North America's Great Lakes combined!
The Ural mountain ridge is more than 2,000 km long and runs from North to South in the western part of Russia. Ural's highest peak, Narodnaja Gora, is 1,894 m/ 6,217 ft high. 
Russia has 11 time zones!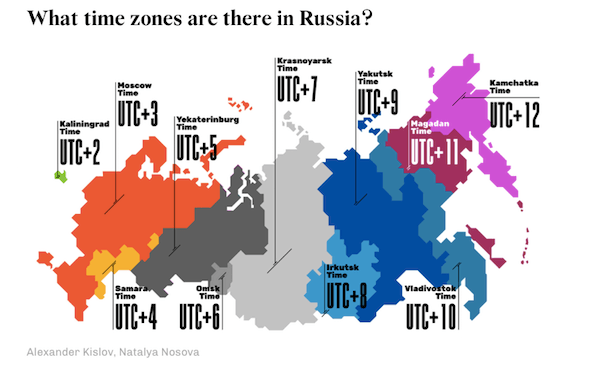 Timezones in Russia
Did you know that the geographical distance between Russia and the USA is very small. The Bering Strait separates Russia from the USA and the North American continent. The two countries are just 82 km/ 51 miles apart! 
A flight to Moscow takes almost 4 hours from London/England and 9 hours from New York/USA.

Russia Facts | Russia Attractions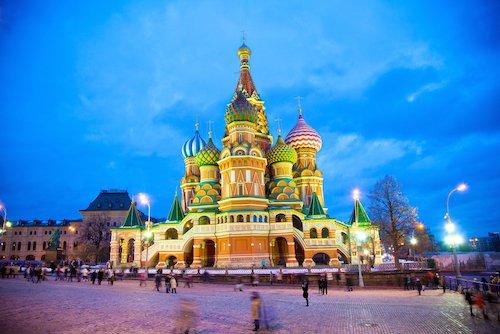 Saint Basil's Cathedral
Moscow: Visit the Red Square, wander through the Kremlin fortress and admire the colourful St Basil's Cathedral.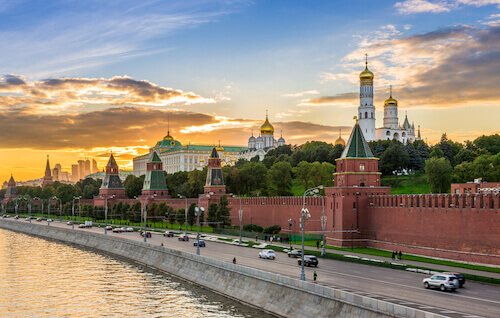 Russia: Kremlin in Moscow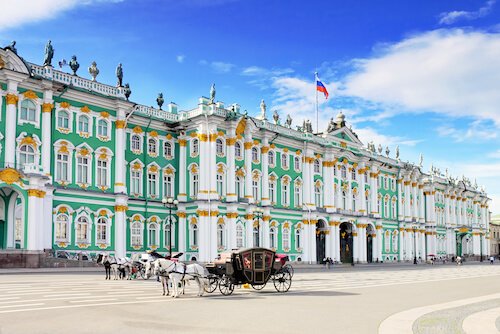 Experience the 'White Nights' which are for about two weeks from mid of June. Then the sun will not set in St Petersburg and there will be daylight for 24 hours!
Sochi: The city is located on the Black Sea and a popular seaside resort. Sochi was the location for the Winter Olympics in 2014.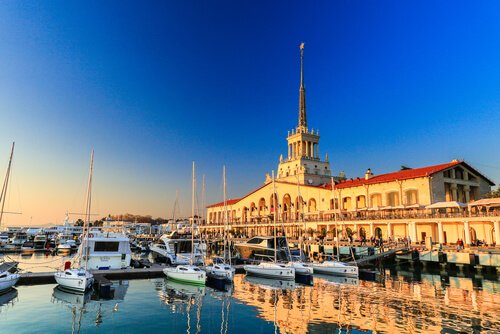 Port of Sochi - image by Goncharovaia
Trans-Siberian Railway: Take a train trip through the  vast landscape. The Trans-Siberian Railway offers one of the longest rail network in the world and runs from Moscow to Vladivostok near the border to China and North Korea.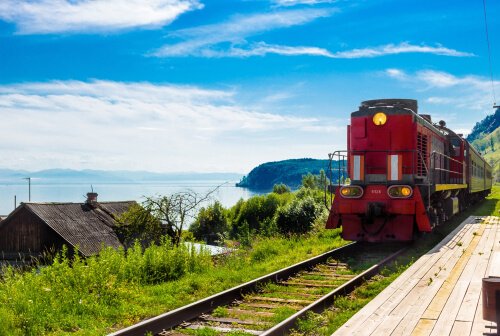 Trans Siberian Railway and Lake Baikal
Lake Baikal is a stop on the Trans-Siberian rail route. How about a refreshing dip in the cold water of the world's deepest lake?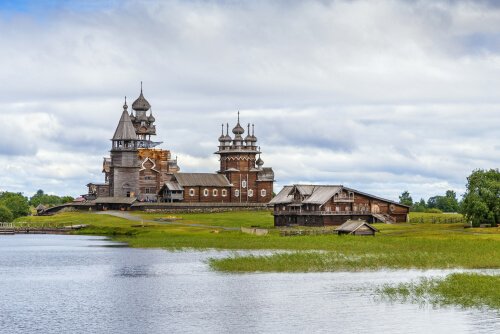 Kizhi Island in Karelia
Kizhi Island's open-air museum in Karelia is a great adventure for the whole family. Step back in time and learn about the Karelian culture. Karelia is a region close to the Finnish border in Northwestern Russia.
Russia Facts| Russian Language
Russian is a Slavic language and it is the most widely spoken Slavic language (before Ukrainian and Polish).
It is spoken in Russia, Belarus, Kazakhstan and Kyrgyzstan. Russian is also spoken by many people as a second language in much of Eastern Europe and the Baltics as well as in the Caucasus and Central Asia.
The language is the eighth most spoken language in the world but is the second most dominant language on the internet - after English!
Russian is one of the six working languages spoken at the United Nations!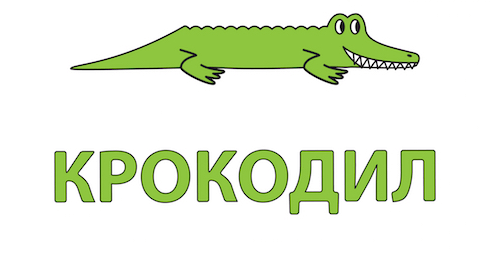 The Russian language is written with the Cyrillic alphabet which consists of 33 letters. Some letters are similar to the Latin alphabet, but some are different. For example: 'P' in Russian is pronounced 'R' in English or the 'C' is pronounced as 'S', the 'Y' is an 'U'
Until 1991, Russia belonged to the USSR (Union of Soviet Socialist Republics) and this was commonly displayed as 'CCCP' which is pronounced as 'SSSR' in English
Most young people in Russia also learn to speak English, French or German in school.

More Russia Facts |
Russian People
Most of the Russian population lives in the westernmost part of the country that belong to the European continent. Here are the majority of the largest Russian cities such as Moscow, St Petersburg, Yekaterinburg, Samara and Omsk. Three out of four people in Russia live in urban centres.
In 2018 Russia hosted the Fifa Soccer World Cup from 14 June to 15 July 2018. Soccer which in Russia is referred to as 'Futbol', and ice hockey are the most popular sports in Russia.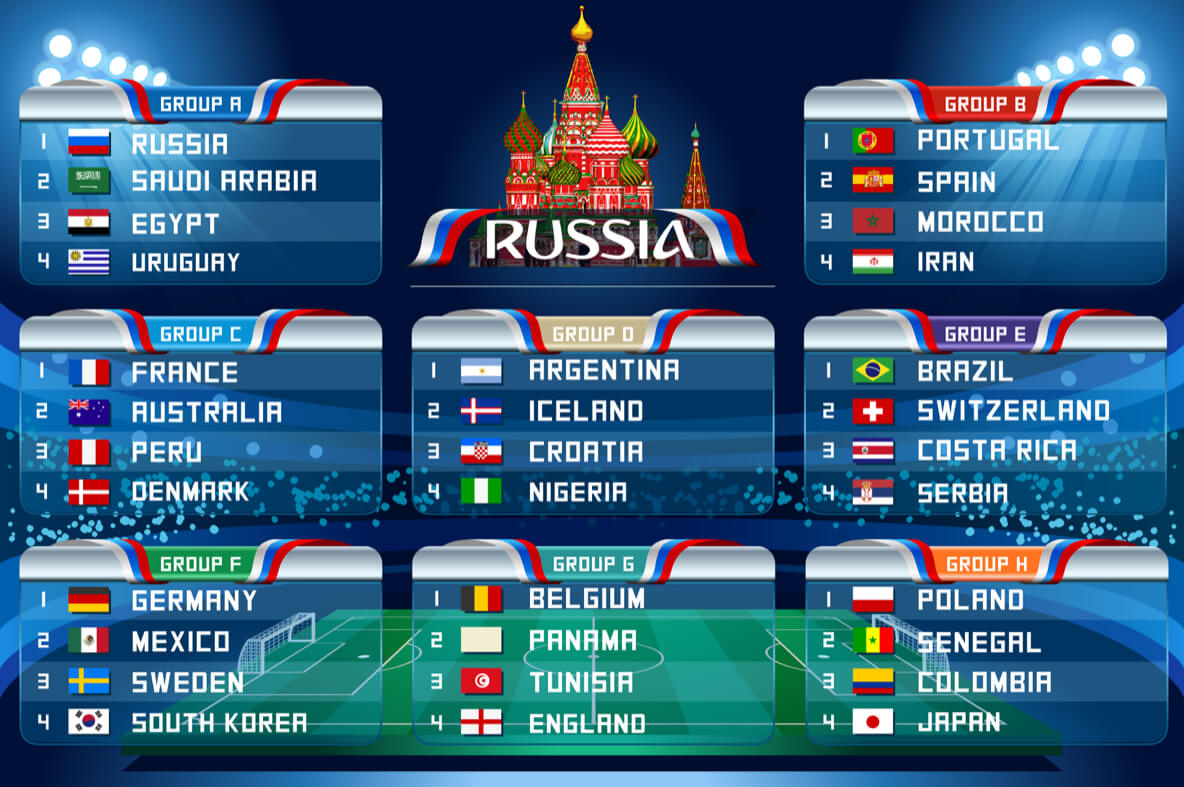 Click to see the results and most important facts here.
The winner of the 2018 world championship was the national football team of France. Russia lost in the quarter finals against Croatia. 
The family is very important to Russians. Here most families include the grandparents, parents and children in the same household. 
Children start school when they turn six years old and typically go to school for ten years. After Grade 11, students can go to study at university.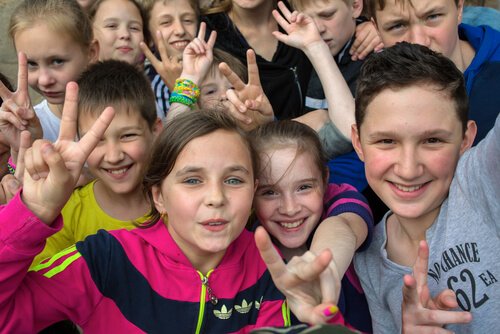 Russia kids - image by Vikulin
Russian Economy
Russia is among the ten largest economies in the world and the world's third biggest gold producer after China and Australia. 
The Russian Federation belongs to the BRICS countries. The BRICS are an association of the world's major emerging economies and include Brazil, Russia, India, China and South Africa.
Russia is one of the leading producers of natural gas and oil as well as metals. The main agricultural products are grains, sugar beets, sunflower seeds and vegetables and fruits as well as beef and milk.
The country's main trading partners are China, Germany, Netherlands, Belarus and the USA.
Russian Food
The Russian main dishes contain: pork and beef, lamb, chicken, fish, potatoes and root vegetables as well as porridge and bread. Sour cream accompanies many dishes.
Especially vegetable soups and stews play an important role in Russian cuisine.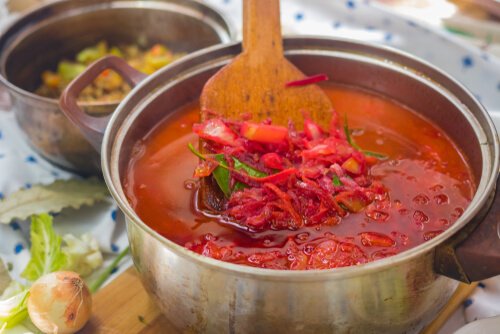 Russian Borscht soup
Russian food is full of flavour and the Russian cuisine is as diverse as the regions in the huge country. Here is some typical Russian food:
Borscht or Red beet soup: soup made with red beets and vegetables that are cut into small pieces. This red soup is often served cold and is then blended with yoghurt or sour cream from which the soup gets its pink colour.
Soljanka: thick cabbage and vegetable soup with pickled mushrooms or vegetables that gives it a spicy flavour
Blinis: thin Russian pancakes often served with savoury or sweet fillings
Porridge: made with local cereal depending on available crops especially buckwheat, semolina and oats. It is cooked in milk for breakfast
Olivier Salad, usually known internationally as Russian salad: salad made with boiled and diced potatoes, carrots, boiled eggs and boiled chicken pieces, pickles and mixed with sour cream or mayonnaise
Shashlik: skewered and grilled lamb or chicken cubes, similar to a shish kebab or satay
Pirozhki: fried dough pockets or mini pies, that are stuffed with meats or savoury fillings, sometimes they come with apple or other sweet fillings
Salted herring: pickled vegetables and salted herring are popular starters, often served with rye bread and onions
Kulich: Russian Easter cake in form of a dome which is made with nuts and fruits and often decorated with icing
Moroshenoe: Russian ice-cream, popular even when it's cold outside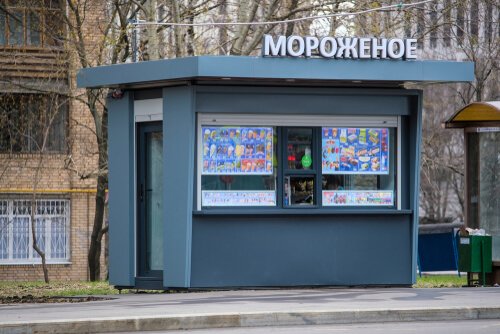 Ice cream stall in Russia - image by Vereshchagin Dmitry
Caviar: salted or cured roe (fish eggs) from the wild sturgeon or other fish. However, black caviar is a delicacy and a costly treat which is only served on special occasions or eaten in small amounts.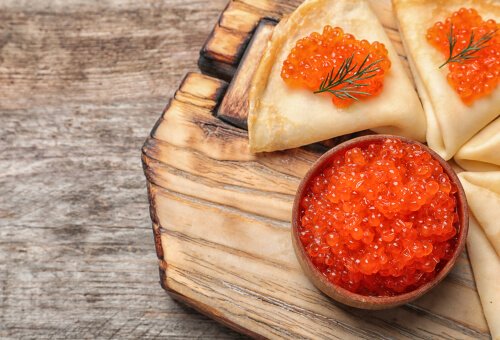 Red caviar on folded blinis (pancakes)
Did you know? One of the rarest and most costly caviar comes from the Beluga sturgeon of the Caspian Sea. Black Beluga caviar cost up to 10,000 US dollar per kg/4,500 British pounds per lb! Today, caviar comes from fish farms, as wild caviar from the Caspian Sea has become illegal due to overfishing.

Russia Facts | Animals in Russia
Due to the harsh climate in many regions in Russia, wildlife is often limited. The tundra landscape is covered by snow for more than nine months every year. However, large mammals such as reindeer survive in the tundra. Reindeer are referred to by some as caribou.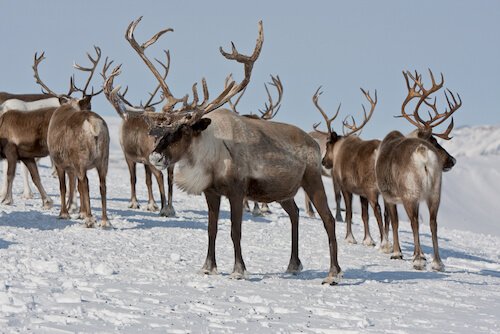 Herd of caribou in the Russian tundra
Arctic foxes and polar bears can be seen in the far north, while whales and seals swim in the Arctic waters.
Steppe (grassland) mammals in southern Russia include wild boars and various antelope species.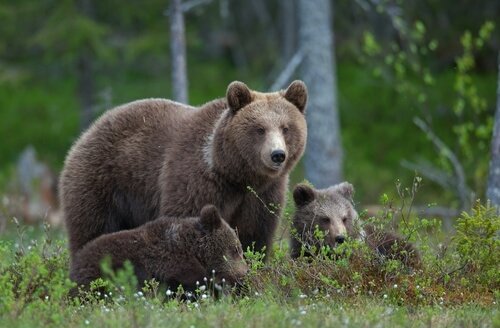 Brown bear with cubs
There are several bear species such as the brown bears in the Caucasus and the Asian black bears which live in the Russian far-east. 
The Siberian tiger and the Amur leopard are among the most endangered species in Russia.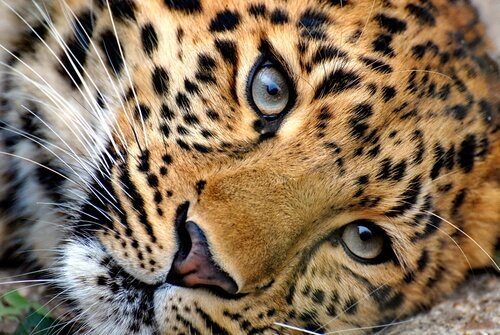 Amur leopard
Russia facts | Resources
Russia facts last amended and updated on 22 May 2020.
Popular Pages
Please bookmark this page if you are interested in Russia Facts for Kids as our Russia Facts will be updated regularily.
And enjoy learning more great Russia Facts soon:-)