Singapore Facts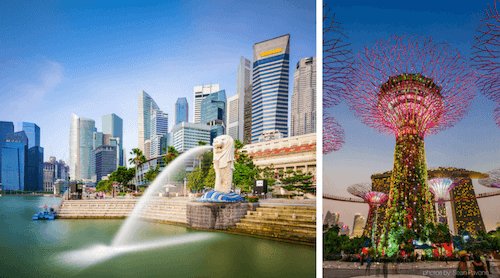 Singapore Facts: Marina Bay-images by Sean Pavone
Interesting Singapore Facts for Kids
Here are some interesting Singapore Facts which were chosen and researched by kids especially for kids.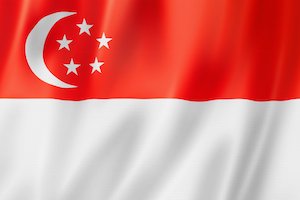 Population: almost 6 million people live in Singapore (2023)
Capital: Singapore. It's a city state! 
Name: Republic of Singapore
Government: Parliamentary Republic
Languages: English, Mandarin, Tamil, Malay
National Flower
Religion: majority are Buddhists or Christians
Life expectancy: 82.6 years
Currency: 1 Singapore dollar (SGD) = 100 cents
National Colours: red and while

National Flag: The red stands for brotherhood and equality, the white for purity and virtue, while the crescent moon stands for the young nation on the rise and the five stars are the ideals which are followed: democracy, peace, progress, justice and equality. 
National Symbols: 'Miss Vanda Joaquim orchid, the Merlion (half fish, half lion)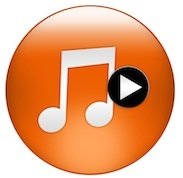 Singapore Anthem
National Anthem: Majulah Singapura (Onward Singapore)
History: Singapore was founded as a British colony by Sir Stamford Raffles in 1819. During World War II, from 1942 - 1945, Singapore was occupied by Japan. It became independent in 1965. Much of the country is built on sand on reclaimed land. The sand is imported mainly from Malaysia, Vietnam and Cambodia.
National Day: 9 August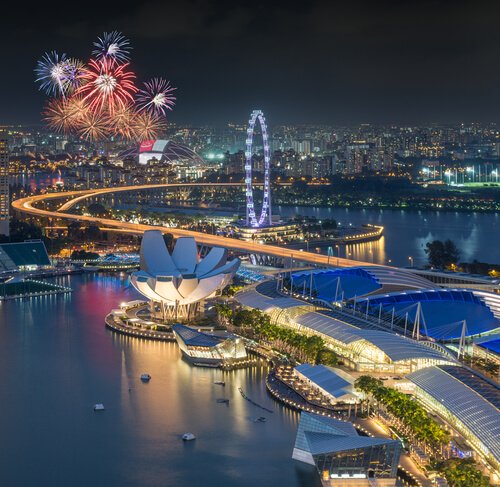 Singapore National Day Fireworks on 9 August
Where is Singapore? Singapore Map
Singapore is an island country on the Asian continent. The country is in Southeast Asia. The country's islands are located between Malaysia and Indonesia.
On the map below you can spot where Singapore is located in south eastern Asia. The country lies 137km / 85 miles north of the equator.
A flight from Singapore to Tokyo takes 8 hours, 13 hours to London/England, 12.5hours to New York/USA. 
Singapore is roughly 3.5 times as big as the city of Washington D.C. in the USA.
Singapore is also slightly smaller than the Polynesian island country of Tonga in Oceania or the Caribbean island country of Dominica.
Singapore Facts | Singapore Geography
Singapore is a city state which is connected via a bridge and a freeway to the mainland of Malaysia.
However, Singapore is not only one island! 63 islands belong to the city state and are dotted around the Singapore coastline, most of these islands are inhabited.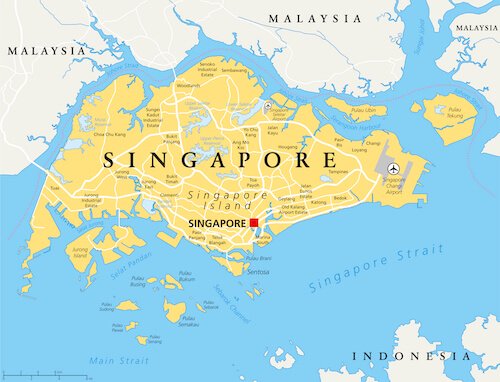 Singapore Map - Sentosa is the second largest island of the nation
The largest island (after the main island) is Sentosa in the south of the main island. Sentosa Island has many resorts and family entertainment centres such as the Universal Studios, Waterworld. The historic Fort Siloso is also on Sentosa Island. There are several lovely beaches for a fun day out or a relaxing couple of days after the hustle and bustle of the city.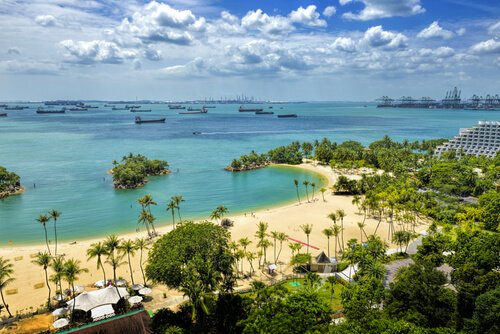 Beach on Sentosa
The highest natural point of the Singaporean island is Bukit Timah Hill with 164 metres/538 ft.
Singapore Facts 
How Singapore got its name
Singapore comes from the Sanskrit name 'Singapura' which means 'lion city'. The Merlion, the country's national symbol, has been inspired by the city's name.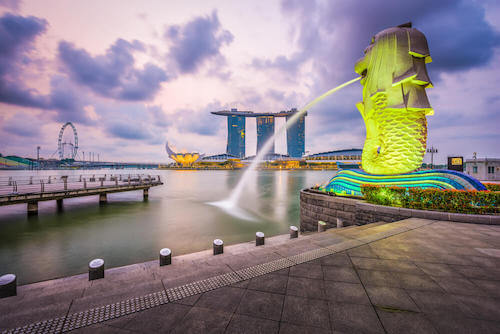 Singapore's Merlion and Marina Bay - image by Sean Pavone
Actually, the name Singapura was given to the city by a Sumatran prince who ruled in the region in the 14th century. This prince encountered a strange animal when hunting. At that time his advisors believed the prince spotted a lion. However, lions never lived in this region, but tigers! Until the 1930s, tigers could be found in the wild in Singapore, now you only can see one in the city's zoo.

Singapore Facts | Singapore Attractions
Here are our favourite Singapore attractions for kids: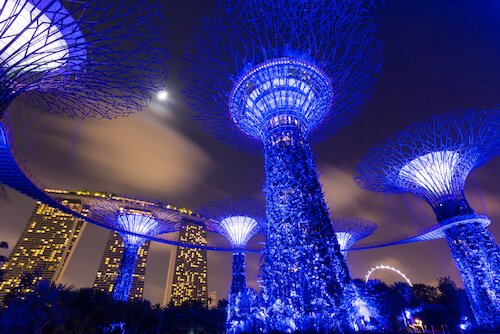 Gardens by the Bay - image by Hatchapong Palurtchaivong
Marina Bay with its Gardens on the Bay: fascination modern constructions and a huge nature park including two conservatories: the flower dome and cloud forest. And don't miss the fabulous Artscience Museum (shown below).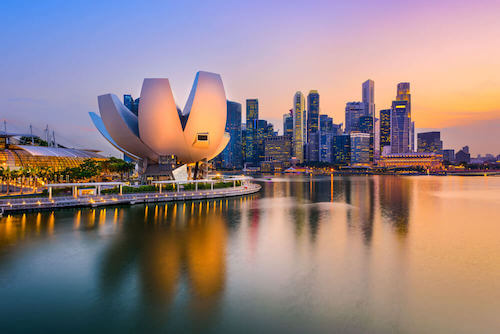 Singapore Artscience Museum - image by Sean Pavone
Jurong Bird Park: Admire the highest man-made waterfall (30 metres/ 98 ft high) and the numerous colourful birds and parrots in the huge aviary.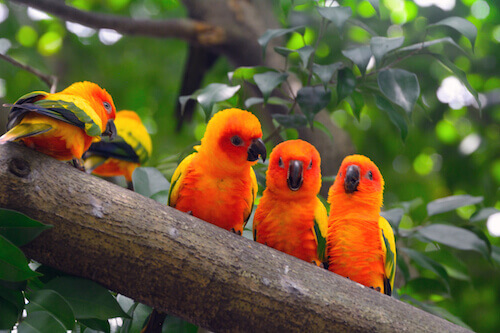 National Orchid Garden at the Botanical Garden: There are over 200 different orchid species, many are named after visitors such as Nelson Mandela, the Queen Elisabeth or even Jackie Chan!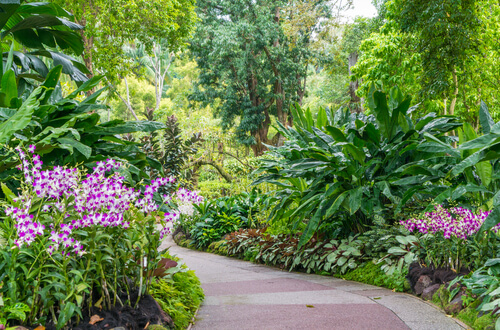 Singapore Orchid Gardens - image by Asif Islam
Singapore Zoo: Don't miss a 'night safari' or 'breakfast with an orang-utan' in the zoo. The zoo is huge and over 1,000 animals can be seen at nighttime on a train ride through the parklike setting!
Bukit Timah Reserve: go for walks in this green jungle-like reserve where you can encounter monkeys, see turtles in the lake and admire the many different tree species. Actually in this nature reserve you will find more tree species than on the entire North American continent!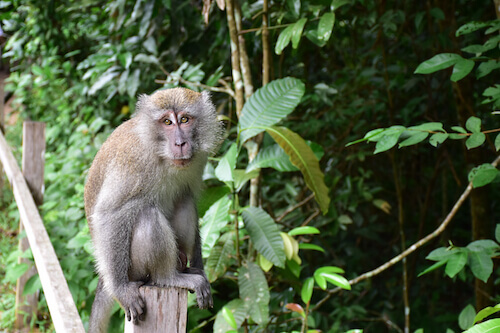 Monkey in Bukit Timah Nature Reserve
Singapore Grand Prix circuit: Singapore is famous for its F1 night races. But the races are so very loud, you have to protect your ears!
Visit the Fountain of Wealth at Suntec City. This is the largest fountain in the world! The huge towers around the fountain have been built in the form of a palm of a hand. This form is said to bring good fortune according to the traditions of Feng Shui.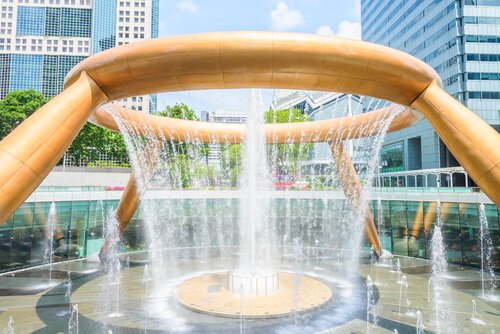 Singapore - Fountain of Wealth at Suntec City
Singapore Facts
Languages in Singapore
The official languages in Singapore are:
English
Mandarin Chinese
Tamil and
Malay.
The national anthem's lyrics (text) are written in Malay. Almost all Singaporeans are bilingual, that means they speak English and another home language such as Malay or Mandarin or a Chinese dialect such as Hokkien.
The Singaporeans speak English with a local twist: 'Singlish' adds often a 'lah' or 'leh' at the end of a word.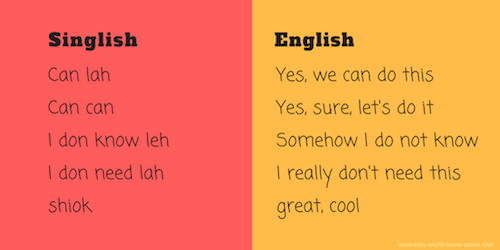 Just try it out:
'Can lah' means 'Yes, it's possible.'
'Can can' means 'Yes, of course, let's do this'.
'I don know leh' means 'Somehow I do not know'
'I don need lah' means 'I really don't need this.'
'shiok' means 'cool' or 'great'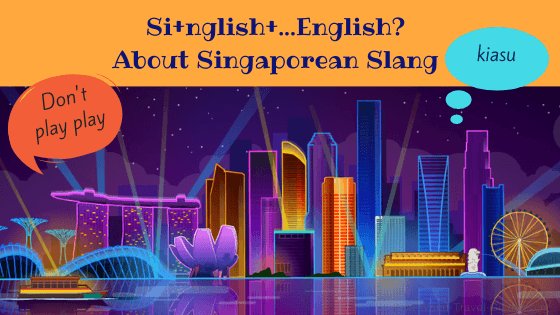 Read the award winning essay 2019 by Javier Yung
Singapore Facts |
Singapore People
Famous Singaporeans are:
Lee Kuan Yew, founding father of modern Singapore (1923 - 2015)
Ashley Islam, much celebrated fashion designer 
Dick Lee, musician and Singapore's Idol judge. Listen here to his most famous song: 'Home'
Fann Wong, hollywood actress, played in 'Shanghai Nights'
Joseph Schooling, 21 year old swimmer who won the first-ever Olympic gold medal for Singapore in the 2016 olympics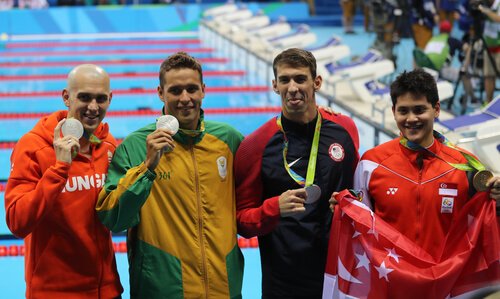 Joseph Schooling (right) with other medalists: From left: Lazlo Czech (Hungary), Chad le Clos (South Africa), Michael Phelps (USA)
Meeting friends and eating out at a food centre is a favourite past time for many Singaporeans. Singapore families like to spend their time together outdoors, skating or walking in East Coast Park or visiting any of the nature reserves of the islands.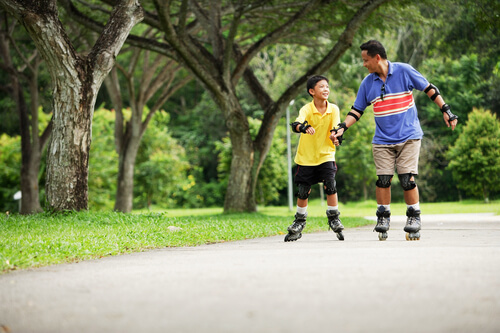 Roller skating along the East Coast
Shopping is also a favourite past time for many Singaporeans, no wonder as Singapore is famous for its huge shopping malls along Orchard Road and the Marina Bay.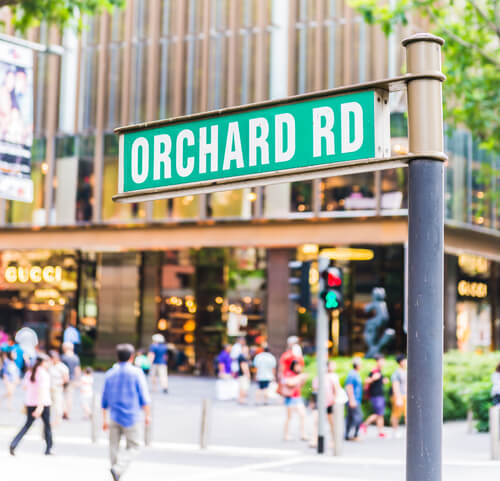 Singapore's famous shopping mile
Teenagers love going to the movies or meeting up for fun karaoke sessions. Singaporean children have to study hard. Primary school usually last until 13h30 and then most kids attend extra lessons either at school or a tutoring centre and some come home only at dinner time. 
Singaporean pupils are always involved in some kind of competition. In fact, Singaporean schools are record holders not only in having built the longest human domino chain, but many other records. The human chain was formed by 9234 students and was 4.2km/2.6 miles long! Another fabulous record was set by these students - building a 199.8 metre long coin chain spelling out these words: 
'Never give up - your desire for success should be greater than your fear of failure.'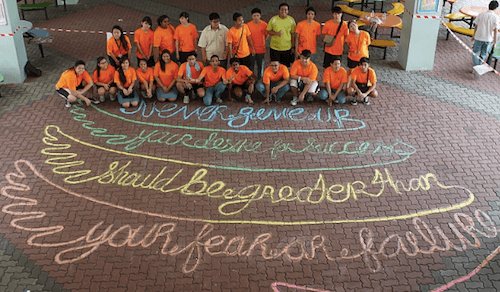 Singaporean students - coin chain world record holders
The Singaporeans love fun competitions. They also hold a world record in line dancing! 11,967 dancers participated in 2002 in this massive dance event. Read more about their fun school records here.
Singapore Festivals
Singapore Facts: The Singaporeans celebrate many festivals. Among the most popular are: Chinese New Year, Mid-autumn or Moon Festival, Christmas. For these celebrations, you will see everywhere thousands and thousands of lanterns and light decorations.
Chinese New Year is celebrated towards the end of January and in February. Here an image with typical Chinese New Year decorations in the city. In 2017, it was the 'Year of the Rooster', this is why they decorated the street crossing with this huge rooster!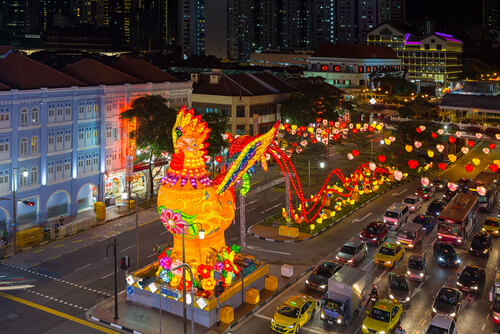 2023 is celebrated as the 'Year of the Rabbit'.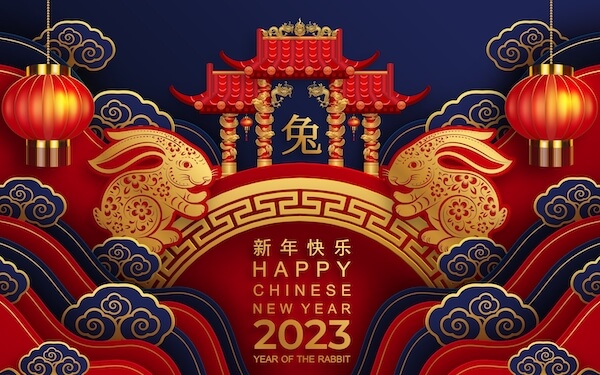 Singapore Culture Tips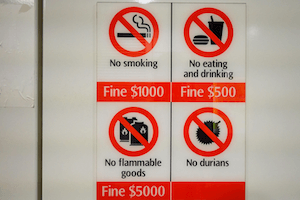 'Fine City'
Chewing gum is prohibited in Singapore. You are not allowed to bring chewing gum into the country, otherwise you might get fined at customs.
October 1 is National Children's Day. On this day, children receive presents and treats - an a day off school on the Friday of this week!
When you are given a present in Singapore, receive it with both hands. Don't open the present straight away, it is polite to wait and to only open it later.
Always hand over things, such as money, gifts, credit card or business card with both hands. It is considered impolite if only one hand is used.
Singaporeans have good luck numbers: The lucky numbers are 2 and 8. So if you choose gifts, best to hand over two - or eight! And if you give children a money present on Chinese New year, think of these numbers!
Singapore Food
Singaporeans love to eat rice and rice noodle dishes. The Singaporean staple diet does not include dairy based dishes, but you will find many dishes including coconut or rice milk products.
Singaporeans love to eat out and there are many food courts or food centres all over the city. Here people come to eat breakfast, lunch or dinner or just visit for a snack during the day. Food courts are called hawker centres and the image below shows one of the most famous hawker centres in Singapore. It is called Lau Pa Sat.
Lau Pa Sat Hawker Centre - image by Christian Heinz
Singapore Facts - Popular Singapore food:
Satay: grilled chicken or beef cubes on a stick served with peanut sauce available at many street stalls and hawker centres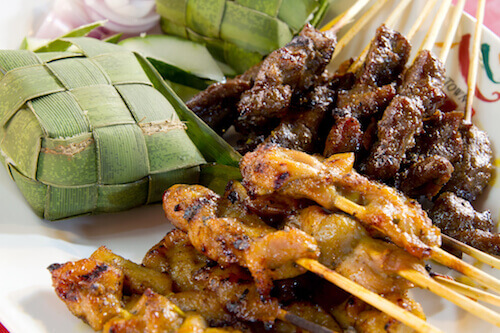 Singapore Satay
Kaya Toast: popular snack or breakfast. Toast with coconut egg jam and sweet sugary topping
Roti Prata: fried flatbread served with vegetable or meet curries
Singapore Chili Crab: crab in very spicy chilli sauce
Ice Kejang: ice with red bean dessert - delicious!
Coconut Water drinks: we loved to get our fresh coconuts from the hawker centres at the East Coast park
Yu Shen Prosperity Noodles: Singaporean traditional dish to celebrate Chinese New Year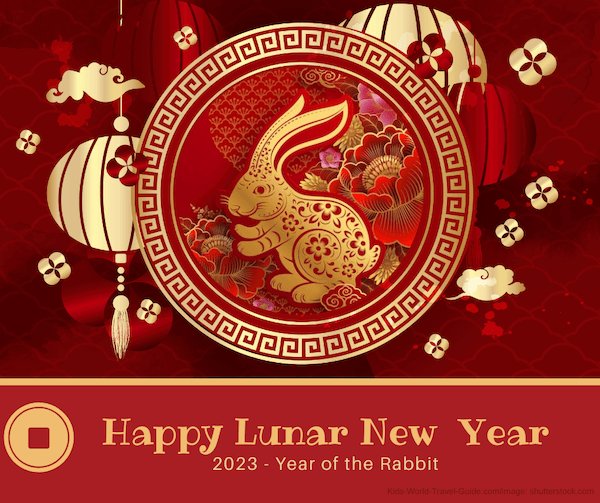 Read more about Chinese New Year celebrations in Singapore
Animals in Singapore
Although Singapore is covered by large urban areas with houses and buildings, but there are more than 24 nature reserves and 5 nature parks in this tiny island nation. Wildlife in Singapore is varied and more than 390 animal species live in the nature reserves. See some animals here.
The biggest nature park, Chestnut Park, was opened in 2017 and it is bigger than 110 soccer fields! But this park is still only ¼ of the size of Central Park in New York/USA or ½ of the size of Hyde Park in London.
However, there are many hiking and biking trails in the parks in Singapore and along the city's coastline and you can encounter many bird species and of course, monkeys. But there are also some huge flying foxes in Singapore!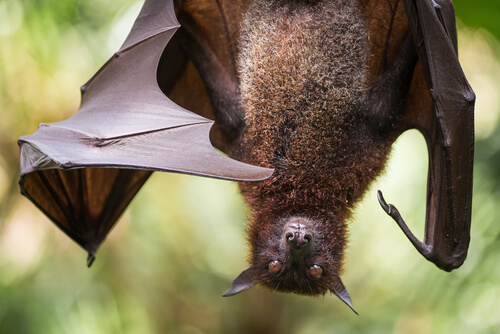 Flying fox hanging down from tree
Singapore's flying foxes are the largest bats in the world! They have a wingspan of up to 1.5 metres/ 4.9 ft. However, these bats cannot be encountered in the busy city but on Pulau Ubin, one of the small islands of the Singapore coast.
Interesting Singapore Facts
Did you know...?
... that the lyrics (text) of the Singaporean anthem is printed on the back of the a Singapore Dollar note. The tiny text snippet is printed on the S$1000 note only!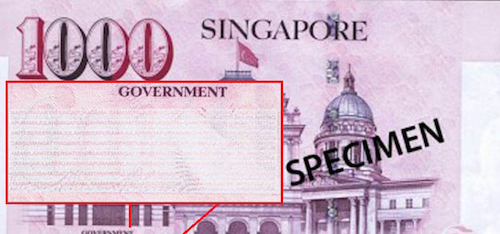 Popular Pages
Singapore Facts for Kids | Useful Resources
Find more Singapore Facts for further research here:
We hope you enjoyed reading our Singapore Facts for Kids. Make sure to bookmark this page as we continuously update and expand our pages.
Picture credits on this page: Images by Shutterstock.com, top image for Singapore facts by Sean Pavone/Shutterstock.com
Return from Singapore Facts to Kids World Travel Guide Homepage
Enter our competition NOW