Cuba Facts for Kids
Interesting Cuba Facts
Here are some interesting Cuba Facts for Kids which were choosen and reseached by kids especially for kids.
Cuba for Kids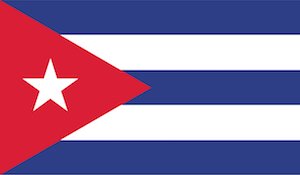 Population: 11 million people (2022)
Capital: Havana 2.1 million inhabitants 
Name: Republic of Cuba
Government: Socialist republic
Official language: Spanish
Religion: mainly Christians (65%, of these mainly Catholics)
Currency: 1 Cuban Peso (CUP)=100 centavos
National Symbols: 

Royal Palm Tree (national tree)

Cuban trogon, also called tocororo (national bird), Mariposa butterfly flower (national flower)
History:

 Cuba was a Spanish colony until the Spanish American war 1898. 

Christopher Columbus landed on Cuba on 12 October 1492 and the first Spanish settlement was founded in 1511. After the Spanish-American War, Cuba became a protectorate of the USA. On 20 May 1902, Cuba became fully independent republic. Since 1965 Cuba is under communist rule. The country was lead by Fidel Castro from 1959 until 2006 when he handed the presidency over to his brother Raúl. Since 2019, the president is 

Miguel Díaz-Canel.
Cuba Map | Where is Cuba?
Cuba is a country in the Northern Hemisphere. The country belongs to the North American continent.
Cuba is the largest country in the Caribbean. Cuba is an archipelago of more than 3,500 islands. The main island of Cuba is the largest island in North America.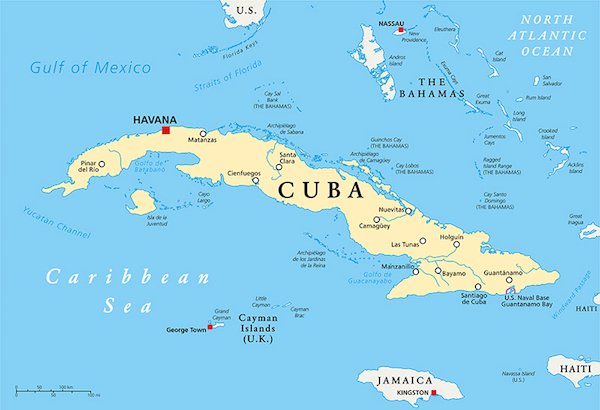 Cuba map
Cuba is an archipelago in the Atlantic Ocean, more exactly in the Caribbean Sea. The countries closest to Cuba are: The USA and the Bahamas to the north, Mexico to the west, Haiti to the east and Jamaica to the south.
Havana is only located 150km/ 90 miles south of Key West in Florida/USA.

Cuba Facts | Cuba Geography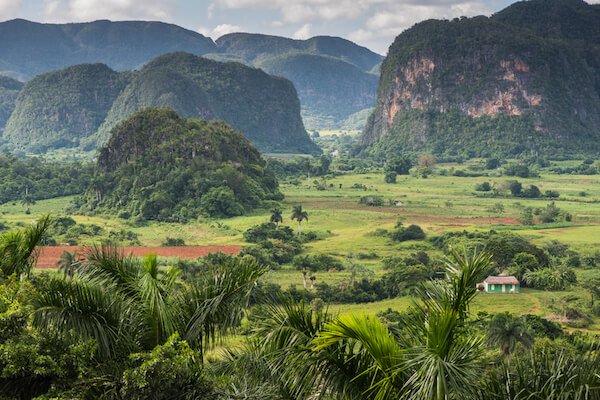 Mogotes in Cuba's Viñales Valley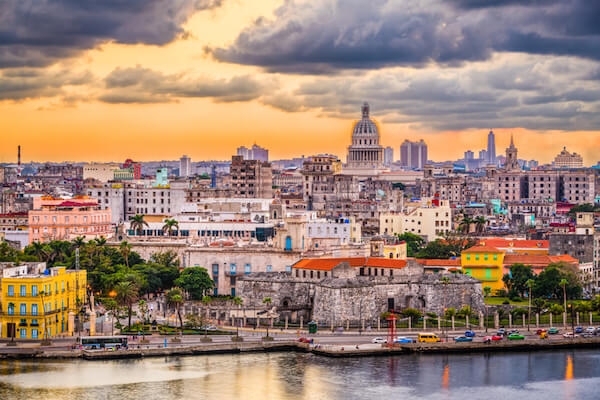 Cuba's capital city Havana
Cuba is located south of the Tropic of Cancer and has roughly same latitude as Hong Kong.

Cuba is slightly smaller than Pennsylvania/ USA or Bulgaria and slightly larger in area than Guatemala.
Cuba Facts 
Cuba Attractions for Kids
Cuba is an attractive, but often overlooked, tourist destinations in the world. There are many attractions for Cuba visitors and kids will love to explore the amazing nature and wildlife.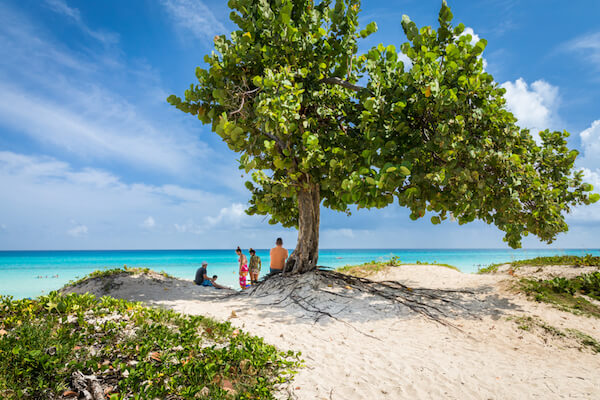 Family outing in Varadero
Cuba's historic towns and cities such as Havana have lots to offer to families travelling with kids with fascinating museums and insights about life in a country where communism is part of the constitution. There are lots of outdoor activities such as hiking, biking, swimming, sailing and exploring the more than 600 Cuban beaches.

Here are our favorite Cuba attractions for kids:

Havana: in the Northwest of the country is a wonderful introduction to the country. The capital city celebrates its 500th anniversary in 2019 and many festivities take place in the city. The Capitolio Nacional has recently been restored and its golden cupola can be seen from afar. El Capitolio is modelled after the United States Capitol in Washington D.C./USA is slightly higher and bigger than the building of the US Capitol which was constructed already a century earlier in 1800. It houses a planetarium and three museums which are worth a visit.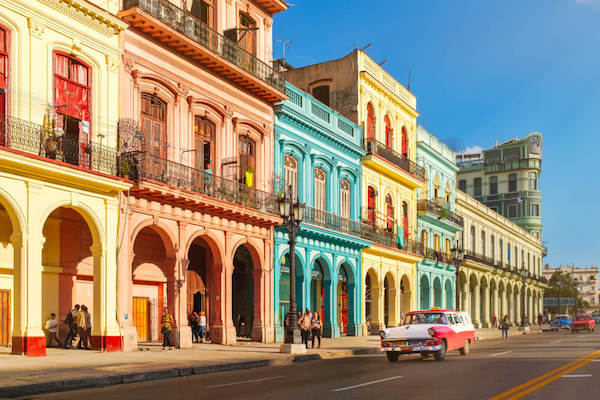 Old City Centre in Havana - image by Kamira
Santa Clara: The university town is located centrally in Cuba and is known for Marta Abreu who initiated the building of several schools, the theatre, a power plant and the train station as well as care homes for children and the elderly in this city in the 19th century. The rebel and revolutionist of the Cuban revolution Che Guevara is buried in Santa Clara.
Santiago de Cuba: The second largest city of Cuba is located in the eastern part of the island and is famous for the huge cathedral and for its historic fortress San Pedro della Roca.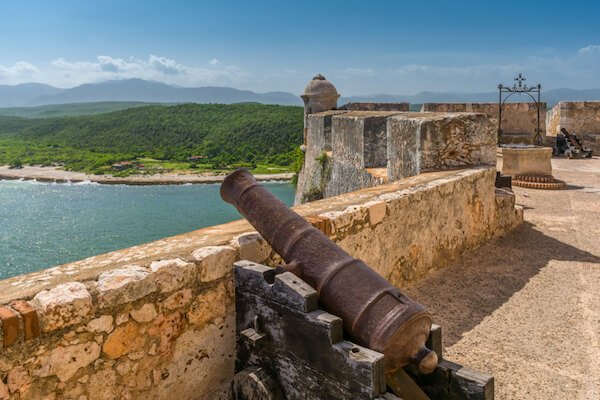 Castle in Santiago de Cuba
Trinidad: The town in the centre of Cuba was founded in the early 16th century and is known for the Spanish colonial architecture and the historic centre's pastel coloured houses. The nearby Valley de los Ingenious (meaning valley of the sugar mills) was for a long time the centre of the sugar and tobacco industry and many old sugar mills can be visited in the area.
Cayo Largo del Sur: One of the most stunning beaches in the world with white sandy beaches can be found on this resort island in the South. Playa Paraiso is a picture perfect beach just as the name tells us, Sirena beach which is also absolutely stunning is the most popular beach on Cayo Largo.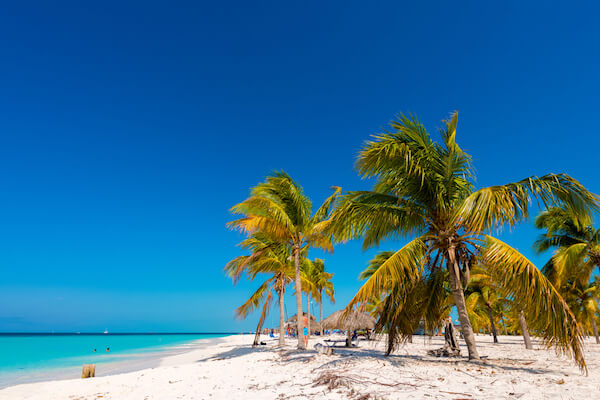 Cayo Largo del Sur: Playa Sirena in Cuba
Cuba Facts for Kids
Cuba Economy
Cuba has largely a state-planned economy. This means most companies and production centres are  state-owned and run by the government. The majority of Cubans are employed by the state. However, in recent years the private sector is expanding. 
Cuba's main industry sectors are agriculture, tourism, mining (especially nickel and cobalt) and manufacturing.
People pay for staple food and supplies with coupons from their libretto. A libretto is a ration book with coupons for monthly food supplies such as rice, sugar, meats) and basic supplies such as cooking fuels. Food and basic supplies are rationed due to economic challenges.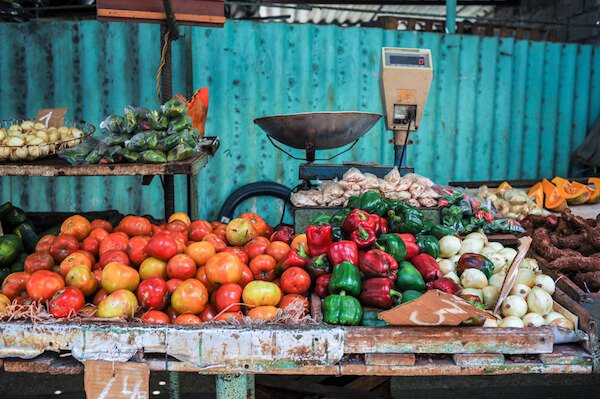 Fresh vegetables at a market stall in Havana
Cuba's main agricultural products are sugar and citrus fruits, tobacco, rice and beans. Cuba is one of the main raw sugar exporting countries.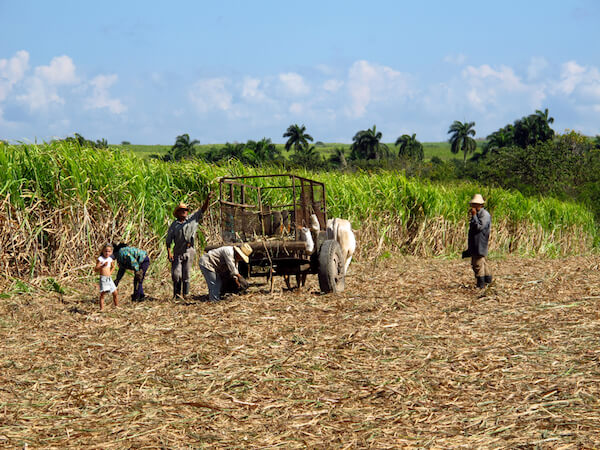 Cuba sugarcane harvest
The main export partners are Venezuela, Spain and Russia, while the main import partner for Cuba is China.
Cuba has two national currencies: The Cuban Peso which is the currency the locals pay and trade with and the Convertible Peso which tourists and visitors use and which only can be used in special shops. The Cuban convertible peso is about 25 times more valuable!
There are only few cars in Cuba. And those that can be seen driving in the streets of Havana are considered old-timers. Car buffs will love to see all the American cars from the 1950s. The import of foreign cars was banned under Fidel Castro. Today, new cars are very expensive and spare parts for the older models are not available anymore. Many Cubans simply cannot afford to buy a new car.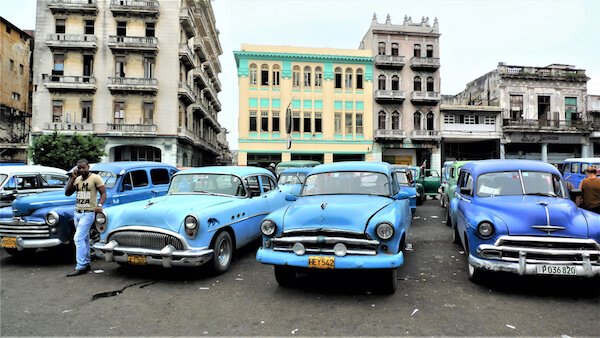 Cars used for public transport in Havana
Cuba Facts for Kids
Cuban People
Cuba belongs to Latin America as most people in Cuba speak Spanish, albeit with a Cuban dialect. Before the arrival of the Spanish colonialists , the indigenous people of the area included the Taino and the Ciboney (or Siboney) people who move there from South America. The Taino were farmers while the Ciboney people were hunter gatherers. 
The Cuban culture is influenced by the Spanish, African, Caribbean and Taino cultural traditions. Cuba is known for its unique music style and dances such as the rumba, mambo and cha-cha-cha originally were invented in Cuba.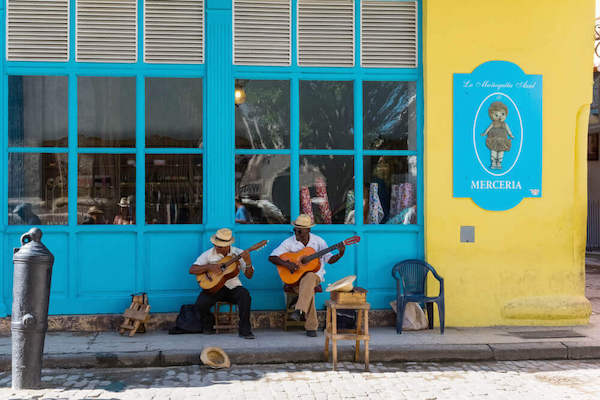 Cuban musicians
The Taino and the Ciboney people are Cuba's indigenous people
Life expectancy at birth is 78.9 years
The literacy rate is 99.8%. The educational level in Cuba is very high, education is free in Cuba.
Baseball is considered as the national sport of Cuba. Cubans also enjoy playing soccer, basketball and some are interested in boxing.
Food in Cuba | Cuban Food
Cuban food is often considered a fusion of Spanish and Caribbean cooking styles. Dishes mainly contain rice, plantains, black beans and tropical fruits. Meat is costly and not always available. Fresh green salads, fruits and vegetables, however, are used widely in the Cuban cuisine.
Among the most popular dishes is ropa vieja.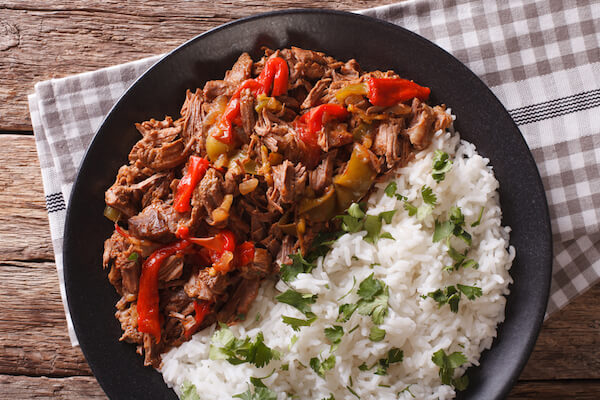 Cuban dish 'ropa vieja'
Typical Cuban dishes:
ropa vieja: this is a stew made with shredded beef, tomato sauce, bell peppers and various spices. The stew is usually accompanied by rice.
moros y cristianos: the name of this dish literally means 'Moors and Christians', and refers to the white rice and the black beans. This dish is found throughout the country and a common meal served in Cuban restaurants.
frijoles negros: the dish is made with black beans that have been cooked with garlic, onions and bell peppers and a bay leaf until the beans are tender. Black beans are eaten many Cuban dishes.
Cuba Facts | Cuban Animals
Did you know? Cuba is home to the world's smallest bird which is the Cuban bee hummingbird, also called zunzuncito. 
Cuban zunzuncito
***
We hope you enjoyed reading our Cuba Facts for Kids. Make sure to bookmark this page, as we plan to add on more information. Feel free to contact us if your school would like to work on a school project about Cuba (animals, food, people, traditions, games, sport etc.) with us.
Popular pages
Cuba Facts for Kids | Resources
Cuba Tourism Portal. "Cuba Facts - Geography of Cuba". Cuba Tourism. Last accessed 10 June 2022
Central Intelligence Agency. "Central America: Cuba". WorldFactBook. Updated 7 June 2022. Last accessed 10 June 2022
Ashley Coates. "Is this the end of the road for Cuba's classic cars?" The Independent. 9 February 2017. Last accessed 10 June 2022
Picture credits on Cuba Facts for Kids: Shutterstock.com 

Return from Cuba Facts to Kids World Travel Guide Homepage
Enter our competition NOW