Switzerland Facts
Interesting Facts for Kids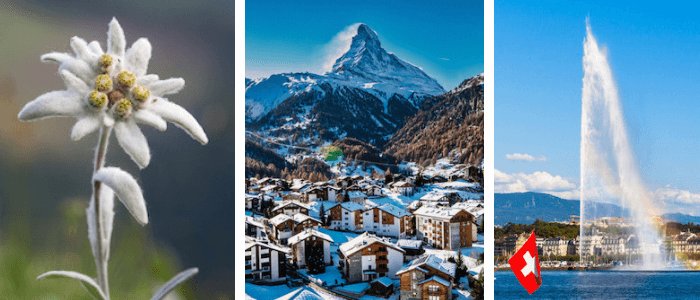 Edelweiss - Matterhorn - Geneva
Here are some interesting Switzerland Facts which were chosen and researched by kids especially for kids.

Switzerland Facts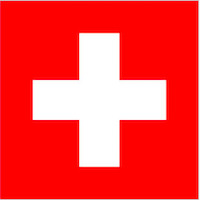 Population: 8.6 million people live in Switzerland (2021)
Capital: Bern with about 500,000 inhabitants.
Official Name: Swiss Confederation. From "Confoederatio Helvetica" in Latin, which means Swiss Confederation, thus the country code abbreviation is CH.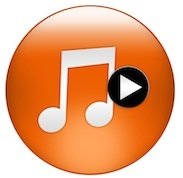 Swiss Anthem
Government: Federal republic with 26 cantons
President: Guy Parmelin (2021)
Language: German, French, Italian and Romansh
Religion: Most people are Christians (66%)
Currency: 1 Swiss franc = 100 centimes
National Day: 1 August
Swiss Flag: square flag with white cross on red background
National Anthem: Schweizerpsalm (Swiss Psalm)
National Motto: "One for all, all for one"
National Symbols: Helvetia (personification), Edelweiss (national flower)
Switzerland Facts | Geography
Switzerland is located in Europe. Switzerland is a landlocked country in Central Europe.
The country shares a land border with Germany, Austria, Liechtenstein, Italy and France.
The capital city of Switzerland is Bern. However, the largest city of Switzerland is Zürich with a population of 1.3 million inhabitants.
Switzerland is about half the size of Austria or slightly less than twice the size of New Jersey/USA. 
A flight to Switzerland's main airport in Zurich takes less than 2 hours from London/England, 7.5 hours from New York/USA.
Switzerland Facts 
10 Geo Superlatives
Here are some fascinating Switzerland facts and stunning superlatives:
1. Switzerland has the highest mountains in Europe. 48 of the mountains are over 4,000 metres/ 13,120 feet high.
The Swiss Aletsch Glacier is the longest glacier in Europe. The glacier is about 23 km/ 14 miles but shrinking every year. See here a 3D model of the shrinking Aletsch glacier.
Aletsch Glacier
3. The highest mountain summit in Switzerland is the Dufour-Spitze of Monte Rosa with a height of 4,634 m/ 15,203 ft.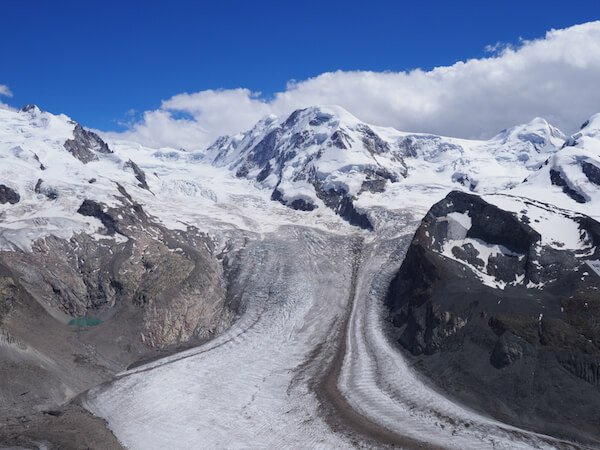 Monte Rosa and Dufourspitze
4. The steepest cog railway in the world is going up Pilatus mountain in Lucerne. The gradient of the track reaches up to 48%. Take a peek of the mountains on this webcam - official Pilatus website here.

Cog railway on Pilatus Mountain
5. Switzerland's longest river is the Rhine River with about 375 km/ 233 miles. The Rhein river's source is in the Swiss Alps. 

6. The Rhein Falls are the most powerful waterfalls in Europe. They are 23 m/ 75 ft high and 150 m/ 470 ft wide.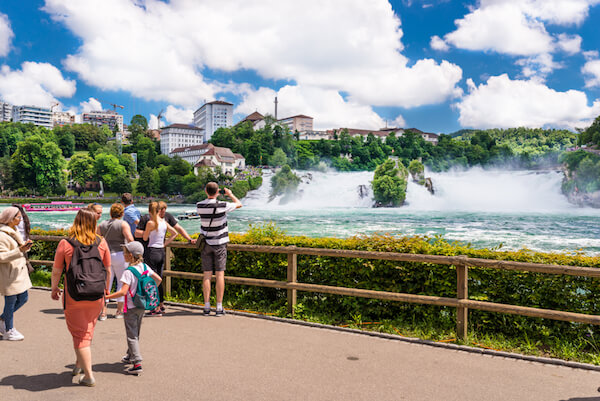 The Rhein Falls in Schaffhausen
7. The deepest lake of Switzerland is the Lago Maggiore in the southern part of Switzerland.
8. Switzerland's largest lake is called Lake Neuchâtel which is less than half the size of Lac Léman (Lake Geneva), that is shared by Switzerland and France.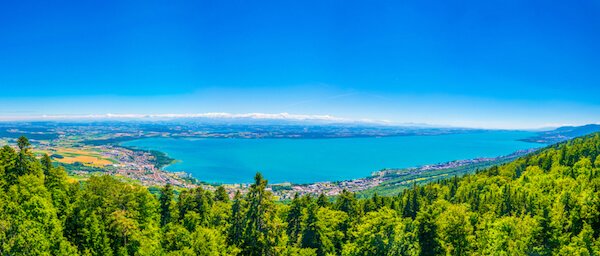 Lake Neuchâtel
9. Switzerland's Grande Dixence Dam is not only the tallest dam in Europe but the tallest gravity dam in the world. The dam wall is 285 m/ 935 ft high.
10. The world's longest and deepest rail tunnel is the Gotthard tunnel and the rail track is 57 km/ 35 miles long. 
Switzerland Facts
Five Swiss Landmarks to Know
Switzerland Facts: Switzerland's most famous landmarks are: 

Matterhorn and the village of Zermatt
The most famous Swiss mountain is the Matterhorn near Zermatt. Matterhorn is 4,478 m/ 14,692 ft. high and is located near the village of Zermatt. Did you know that since 1970 the Toblerone chocolate bar's logo depicts the Matterhorn?

Jungfraujoch also referred to as 'The Top of Europe'
The Jungfraujoch is one of the highest mountains in Switzerland with 3,454 m/11,332 ft. This mountain also spots the highest railway station in the world, a museum and an ice palace that are carved into the mountain.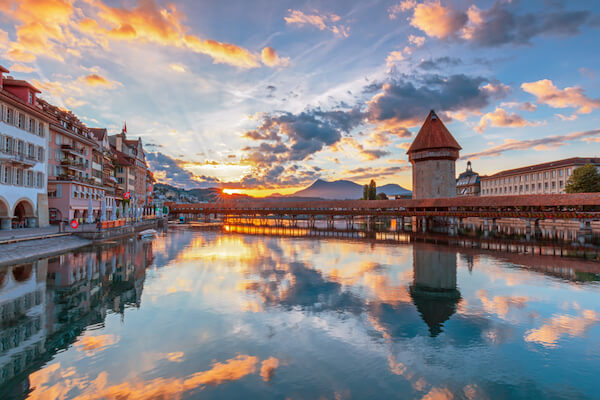 Chapel Bridge in Lucerne
This Swiss landmark, also called Kapellbrücke with the Water tower are located in Lucerne. The famous footbridge in central Switzerland is the oldest wooden covered bridge in Europe. In 1993, parts of the bridge burned down and almost two thirds of the painted panels that are affixed inside the roof were destroyed and only 30 paintings could be fully restored.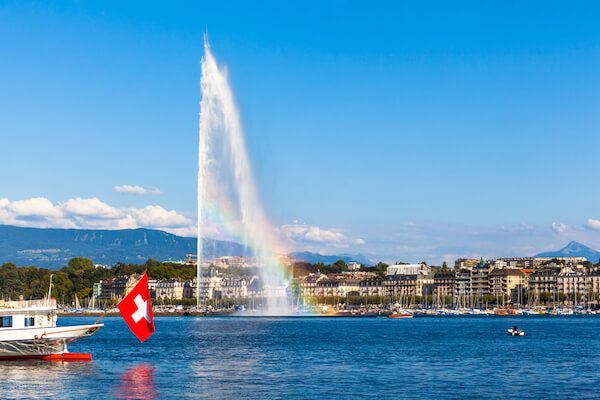 Geneva Water Fountain - image by Peter Stein
The Geneva Water Fountain, also called Jet d'eau, jets water as high as 140 m/ 460 ft. and can be seen also when flying over the lake at a hight of 10,000 m/33,000 ft.
CERN Globe in Geneva
The CERN Globe of Science is a visitor centre of the European Center for Nuclear Research. The site houses the largest particle physics laboratory in the world and six particle accelerators. The globe is huge, it is 27 m/ 89 ft high and has a diameter of 44 m/ 144 ft. 
Switzerland Facts | Family Attractions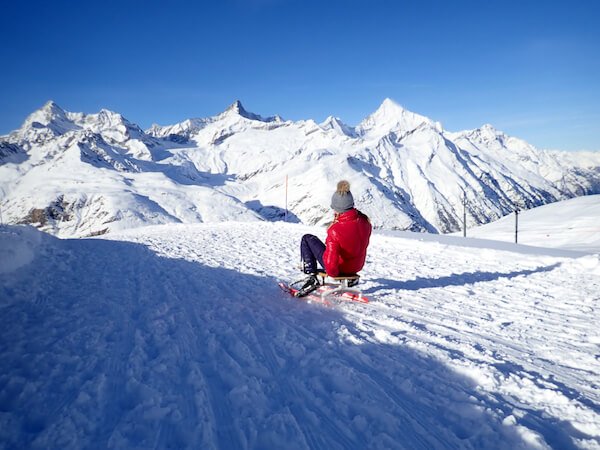 Switzerland is great for families. There are outdoor and nature barefoot trails, extensive bicycle trails throughout the country. If your family is an outdoor family, then that's the place to be. You can walk, run and there are tons of playgrounds! 

Augusta Raurica
If you like museums and middle-aged cities, then you should go to the north. There are many old fortresses and modern and historical museums, so if you're a history buff, take a quick visit to the north like the city of Basel. Nearby is the famous Augusta Raurica, which is a roman archeological site and an open-air museum. This is the site of the oldest Roman colony on the Rhine. It was founded in 44 BC.

Lago Maggiore
In the south, there are lakes and palm trees. You can swim, take boat rides and much more fun. If you want to see palm trees and take a swim, south is the place to be. The region is called Ticino (or Tessin in German) and its main language is Italian. Lake Maggiore has at least two islands and Brissago island has a botanical garden on it that can be visited.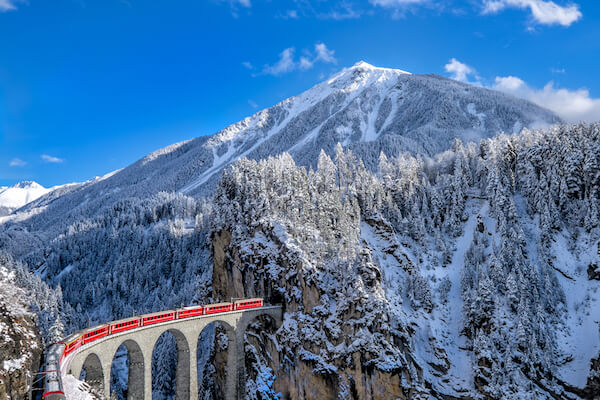 Glacier Express
Zip lining and various aerial adventure parks as well as the Glacier Express train, which runs trough scenic mountain landscape, can be accessed in the center of Switzerland.
The main attraction in the East is Heidiland, have you ever heard of the book or movie of Heidi? Well, then go to the East to see where they filmed Heidi.

Famous Swiss People
Heidi
Johanna Spyri: Author of the children's book "Heidi" which tells the adventures of a little girl that is raised by her grandfather on an alm high up in the mountains. This popular novel written in 1881 has been translated into more than 50 languages.
Henry Dunant: funder of the red cross. 

Auguste Piccard: Swiss physicist, inventor and explorer known for his record-breaking helium filled balloon flights.
Roger Federer: tennis player
Martina Hingis: tennis player 
Switzerland Facts 
People in Switzerland
The northern part of Switzerland is more populated than the southern part of the country due to the high mountains. The least populated canton is Graubünden which is located in the Alps.
The biggest cities in Switzerland are: Zurich, Geneva, Basel, Bern and Lausanne.

Zürich is Switzerland's biggest city
The Swiss people like skiing, soccer, ice hockey, tennis and basketball. Winter sports were developed in Switzerland as one of the first countries. The Swiss like to be active and one in four people belong to a sports club.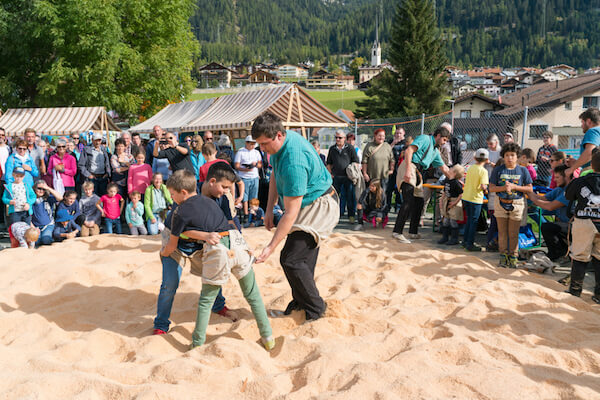 Schwingen
Some of the special sports in Switzerland are flag swinging, Summer bobsledding and Schwingen, which is a type of Swiss wrestling as you can see in the image above.

Some people also practise Alphorn blowing and participate in yodeling choirs. 
Alphorn music
Switzerland Facts | Swiss Food
Food in Switzerland is very rich in taste and they have many specialties like fondue, swiss chocolate, raclette, muesli and alplermacaroni. They say, there are over 450 different kinds of cheeses in Switzerland!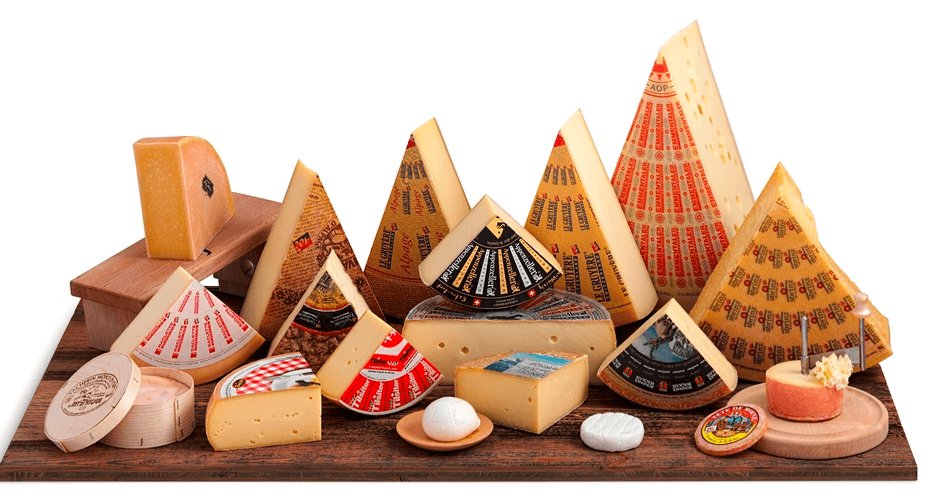 Swiss cheese
In most Swiss homes, you will find always an assortment of yogurts in the refrigerator. Bread is an important staple and is usually eaten for breakfast and dinner. The Swiss prefer artisan breads with seeds and nuts.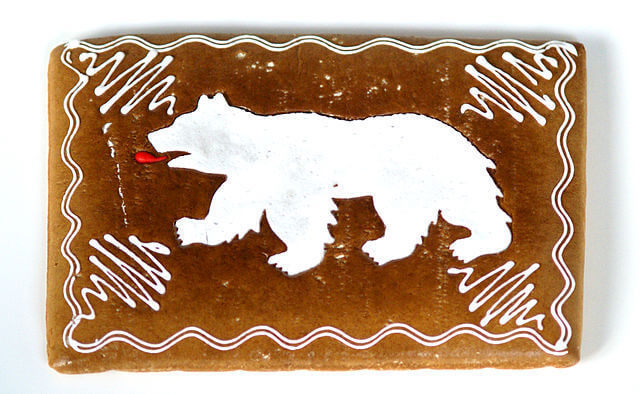 Berner Honiglebkuchen
Each region of Switzerland has its own specialty. For example, flour soup in Basel (Basler Mehlsuppe), cherry cake in Zug (Zuger Kirschtorte), spiced sausage in Neuenburg/Neuchatel (Neuenburger sausage) or honey cake in Bern (Berner Honiglebkuchen).

Popular food in Switzerland:

Cheese Fondue
Fondue: When eating a fondue, people sit around the pot of melted cheese and with a special long-handled fork dip a small piece of white bread into the cheese and then eat it.

Raclette: A half cheese round is heated and the melting cheese gets scraped onto the plate. 
Rösti: thinly grated potatoes and pan fried until crisp and golden. Rösti is the Swiss version of hash browns. Rösti is one of Switzerland's national and iconic dishes. Traditionally, farmers would eat it for breakfast.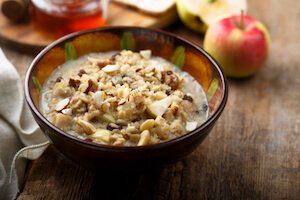 Bircher Muesli
Geschnätzlets: veal strips in creamy mushroom sauce
Spätzli: dough noodles
Bircher Müesli: soft breakfast cereal made with pre-soaked oat flakes, grated nuts and grated apple
Ricola: sweets made from a blend of 13 different herbs
And of course, there is chocolate. Chocolate in all its variations, white, brown and black chocolates. It is not uncommon to find a shelf in a grocery store with about 154 or more different chocolate products.
En guede! Enjoy your meal! Bon Appétit! 

Switzerland Facts | Animals
When you think about animals in Switzerland, you most probably will immediately come up with cows and sheep. And maybe you remember the famous St. Bernard dogs as well. The Alpine Mountain Dogs that are still popular working dogs on many farms in the Swiss Alps.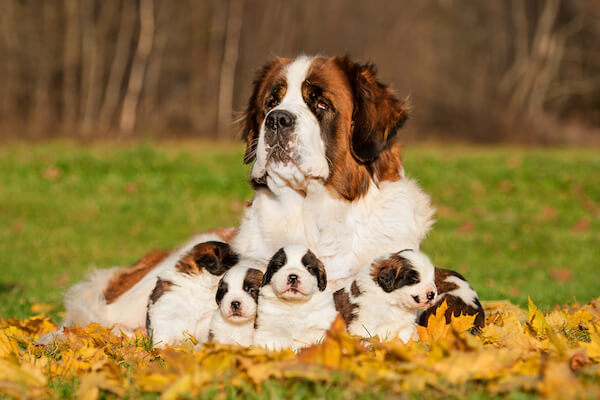 St Bernard Dog and Puppies
In the Alpine regions you will most certainly encounter marmots. Marmots live in groups of up to 15 family members and these cute mammals can be seen regularly when hiking in the Alps. They whistle and quickly hide when people get to near to them or they feel threatened.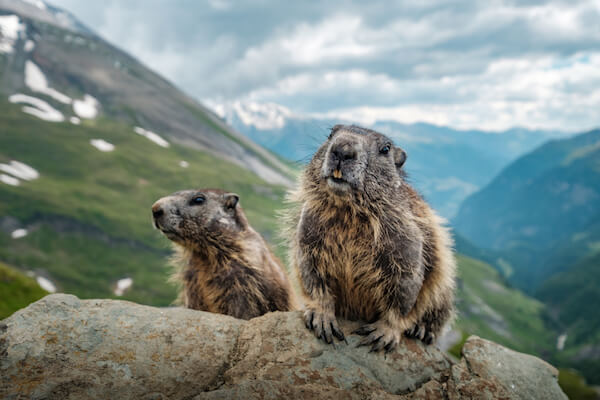 Marmots
In Switzerland's forests, there are squirrels and deer, rabbits and foxes. And if you are around Zermatt, you might see the domesticated Valais Blacknose sheep.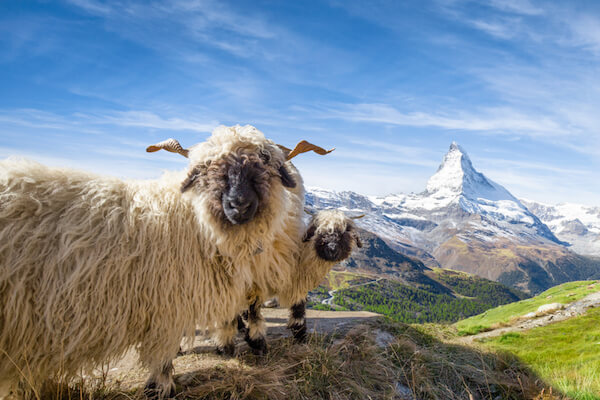 Black Nose Sheep near Zermatt
Golden eagles are among the biggest birds of prey in Switzerland. They can grow up to 2 m/ 7 ft.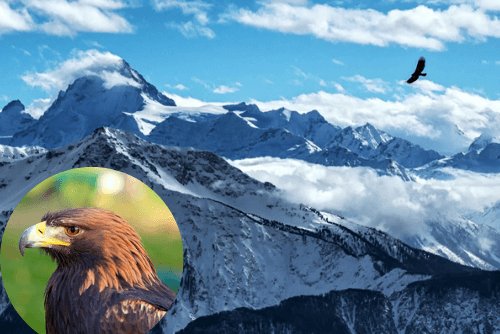 Golden eagle flying over the Swiss mountains
More Switzerland Facts? - Yes, please!
If you want to learn more interesting facts about Switzerland, go to our second page with great facts about Swiss inventions, special Swiss traditions and celebrations in Switzerland. Click here or on the image below.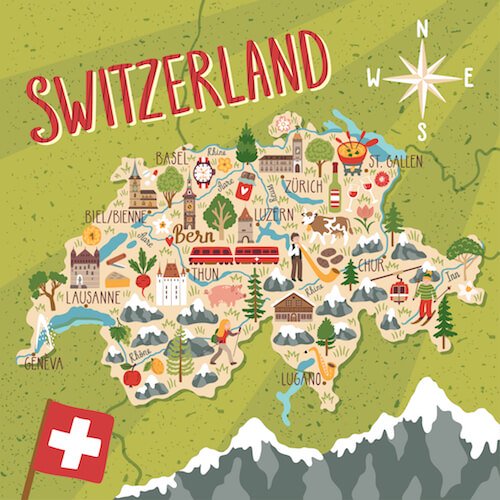 Click here for more facts about Switzerland
Popular Pages
Switzerland Facts | Resources
United States Central Intelligence Agency. "Europe: Switzerland." World Fact Book. Updated 16 February 2021. Last accessed 19 February 2021
Switzerland Tourism. "UNESCO World Heritage Swiss Alps Jungfrau Aletsch." My Switzerland. Accessed 11 February 2021
Mondelez. "Toblerone - Geschichte." (German and French only) Toblerone.ch. Accessed 11 February 2021
The Local. "Watch: 3D Models Show How Climate Change Could Shrink Swiss Aletsch Glacier." @TheLocalSwitzer. 12 September 2019. Accessed 11 February 2021
Switzerland Tourism. "Recipe for Rösti" Switzerland Tourism. Accessed 11 February 2021
Many thanks to Layla and Salome Affhalter who created this page and contributed their insights on this page about Switzerland. Your support of our project is very much appreciated!

Return from Switzerland Facts to KidsWorldTravelGuide Homepage

Enter our competition NOW