Austria Facts
Interesting Facts for Kids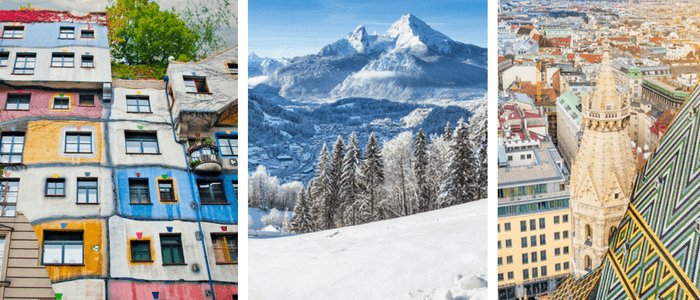 Austria: Hundertwasser Haus - Alps - Vienna
Here are some interesting Austria facts that were chosen and researched by kids especially for kids.
Flag of Austria
Population: 9 million people live in Austria (2023)
Capital: Vienna (Wien) with 2 million inhabitants
Name: Republik Österreich (Republic of Austria)
Government: Democracy, Republic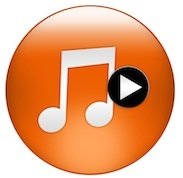 Anthem
Language: German
Literacy: More than 99% can read and write.
Religion: mainly Christians (Roman Catholics 74%)
Currency: 1 Euro = 100 cents; before 2002: Austrian Schilling (notes) and Groschen (coins)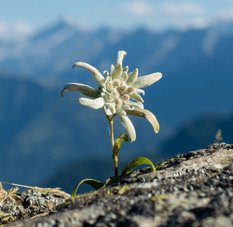 Edelweiss
National anthem: Bundeshymne (federal hymn) "Land der Berge" ("Land of mountains")
National symbols: Sea eagle (national bird), Edelweiss (national flowers), red and white (national colours)
National Day: 26 October
Austria Facts

Where is Austria? Austria is a landlocked country in Central Europe. Austria shares borders with eight countries: Germany, Czech Republic, Slovakia, Hungary, Slovenia, Italy, Liechtenstein, Switzerland (see them on the map - clockwise from the top/north). 
The longest border is shared with Germany and is about 801 km/ 497 miles in length.
Austria is one of the few landlocked countries in central Europe - together with Switzerland and Luxembourg.
Austria is a mostly mountainous country with the Alps covering the western and the southern parts and mostly gentle hills in the eastern and northern parts. 
Austria Map
Austria can be compared in size with the state of South Carolina in the USA. 
The country has nine federated states, called Bundesländer: Vienna (Wien), Lower Austria (Niederösterreich), Upper Austria (Oberösterreich), Styria (Steiermark), Tyrol (Tirol), Corinthia (Kärnten), Salzburg, Vorarlberg and Burgenland. The largest of these is Vienna where also the capital city is located.
Austria Facts | Geo Superlatives
View from St Stephen's Cathedral over Vienna
Austria's capital city is Vienna (called Wien in German). Vienna is also the biggest city in Austria.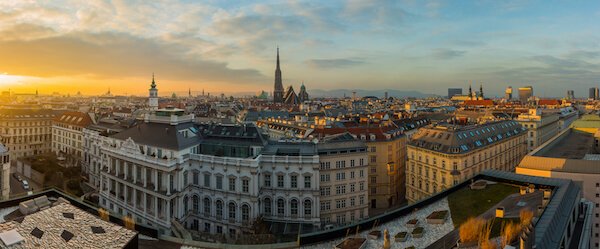 Vienna is Austria's capital city
The longest river in Austria is the Danube (called Donau

in German

). The Danube is Europe's second longest river. On its way to the Black Sea, the river passes Austria over 349 km/216 miles. The biggest Danube ports in Austria are Vienna and Linz.
The Danube and the Nibelungen Bridge in Linz
The highest mountain in Austria is the 'Grossglockner' with 3798 metres/12460 ft. The Grossglockner high alpine road criss-crossing the Austrian Alps is famous for all hairpin-curves and panoramic views of Austria's highest mountains. The scenic route is closed usually from end of October to the beginning of May - depending on snow and weather conditions.
Grossglockner alpine road with hairpin curves
The largest lake in Austria is Lake Neusiedl (in German called Neusiedler See). Lake Neusiedl is shared by Austria and Hungary and Europe's largest lake with a limited drainage basin that does not flow out into any river or ocean. The lake is popular with watersports enthusiasts and surfers.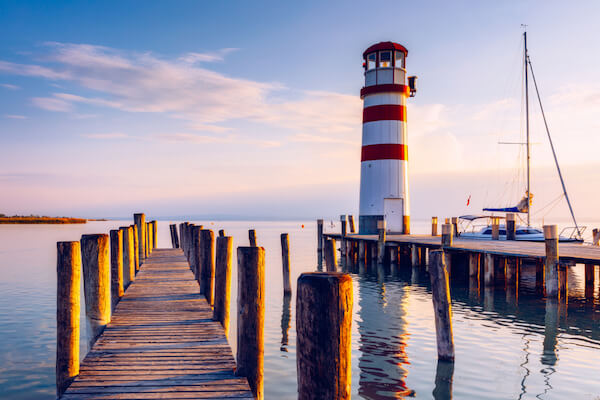 Neusiedler See
The world's largest and longest ice cave system is found in the Ice Giants World, Eisriesenwelt, in the Hochkogel mountain near Salzburg. The cave system is 42 km/ 26 miles long.
Austria Facts
Attractions for Kids
Vienna/Wien: visit the Vienna Prater amusement park and take a ride on the historic ferris wheel. When exploring the city, be amazed at the multicoloured glass-tiled roof of the Stephansdom (St Stephen's Cathedral) and visit one of the coffee shops and taste some delicious Austrian cakes and specialties.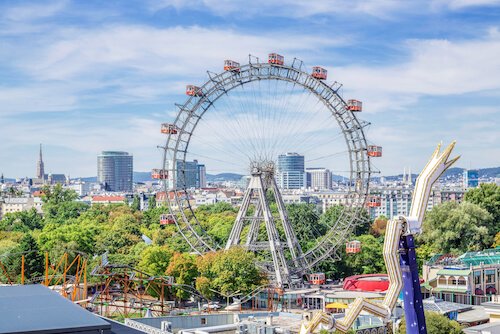 Austria Facts: Vienna Prater
Danube Valley: Cycle from Passau to Vienna along the flat dedicated cycle paths along the river Danube ('Donau' in German). The Danube cycle path is roughly 300 km/ 186 miles long and leads from the German-Austrian border city of Passau through Upper Austria to the Austrian capital city of Vienna.
Cycle along the Danube
Salzburg: visit the Mozart museum in the home town of composer and musical genius Wolfgang Amadeus Mozart and taste the delicious 'Mozartkugeln', which are delicious chocolate sweets
Salzburg Panorama
Lakes Region: Swim in the waters of a crystal clear lake in the 'Salzburger Land' which is one of the most popular holiday destinations or hike in the mountains in summer. In winter you will find some of the most famous ski resorts such as Saalbach-Hinterglemm in this region too!
Saalbach is a popular with tourists in summer and in winter
Innsbruck: visit the Alpine Zoo, see the famous ski jump arena and admire the golden tiles of the famous golden roof 'Goldenes Dachl' in Innsbruck.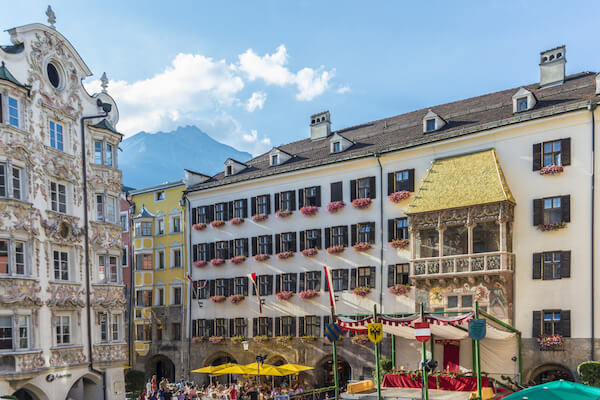 Innsbruck's famous 'Goldenes Dachl' (golden roof)
Tyrol: Experience true mountain hiking or skiing on a glacier in Tyrollean Alps. In southern Austria you can also visit the magical settings in the Swarovski Kristallwelten (Swarovski Crystal Worlds) in Wattens.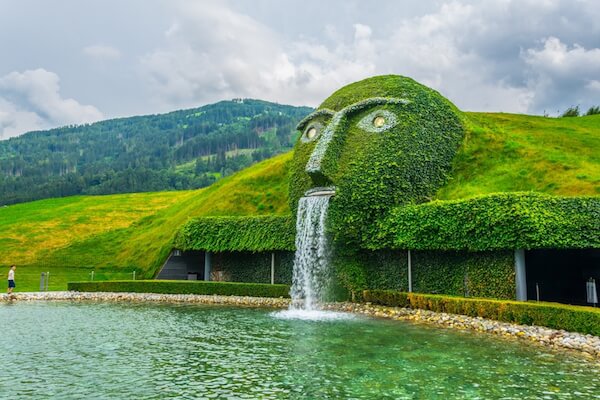 Kristallwelten Fountain
Austria Facts | Austrian People
Two thirds of all Austrians live in urban centres. Austria's biggest cities are Graz, Innsbruck  and Salzburg. The northern and eastern parts of Austria are more densely populated.
Austrian traditional culture and customs are influenced by the Catholic religion which is followed by the majority of the people. Traditional folk songs and dances are popular and it is becoming more and more popular with young people to wear traditional dress such as the typical 'Dirndl' (traditional women's dress) or 'Lederhosen' (leather shorts) for community celebrations or festivals. 

Young men wearing 'Lederhosen' during folk dance performance
Austrians love the outdoors and many children learn to ski or snowboard at a young age due to the location and the climate which provides usually lots of snow in the higher lying regions in winter.

Austrians are active in sports and there are many sports clubs such as soccer, tennis and gymnastics. In schools, the most popular sports activities are soccer, volleyball, basketball, ballet and dancing. Wintersports such as skiing or snowboarding are popular with young and old.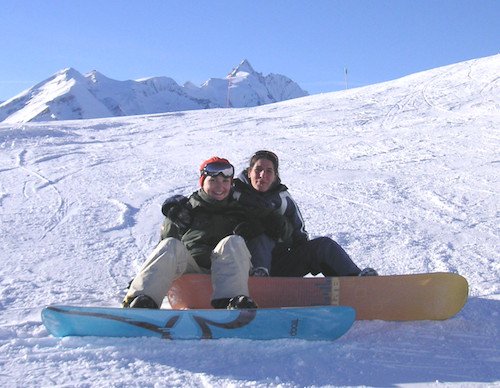 Snowboarding on Grossglockner
Many immigrants especially from the eastern European countries live, work and study in Austria. In the recent years, refugees from Syria, Irak and various African countries found a new home in Austria but in recent years, Austrian politics has become more restrictive in regards to immigration.

Austria Facts | Language
Austrians speak German which is the official language of the country. However, there are some strong Austrian German dialects and some words are used in Austria, but not in Germany.

Among these words are: Paradeiser (in German: Tomaten) - means in English 'tomatoes' or Palatschinken (in German: Pfannkuchen) - means in English 'pancakes'.
The typical greeting in Austria is "Servus" which means "Hello".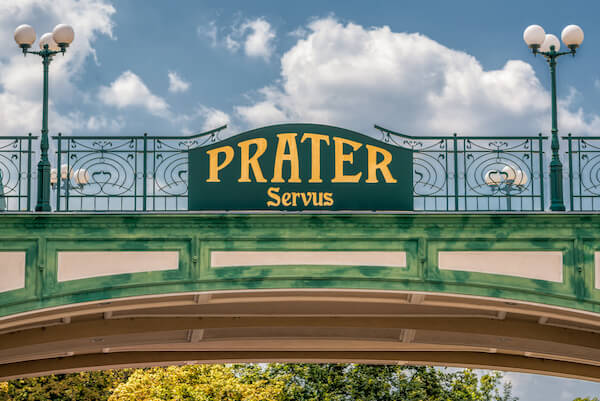 Welcome to the Prater in Vienna
Viennese is considered as the typical Austrian-German.

Austria Facts | Famous Austrians
Austria is well known for great musicians and composers, such as Wolfgang Amadeus Mozart (you see him in the pictured above in the painting by Tischbein), Joseph Haydn and Johann Strauss.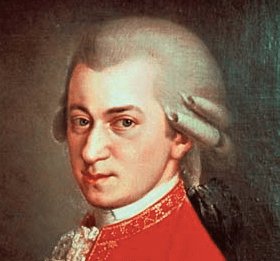 Wolfgang Amadeus Mozart
Wolfgang Amadeus Mozart 

(1756 - 1791) is known as one of the greatest composers of all times with musical pieces such as 'Die Zauberflöte' (The Magical Flute)

Johann Strauß - Father (1804 - 1849) was an Austrian Romantic composer and was famed for his waltzes. He is the composer of the famous Vienna Waltz. Listen to the 'Blue Danube' waltz music here

. 



Joseph Haydn (1732 - 1809) is considered by many as the father of the Viennese Classic.
Many famous artists and painters, such as Friedenreich Hundertwasser or Gustav Klimt are also from Austria.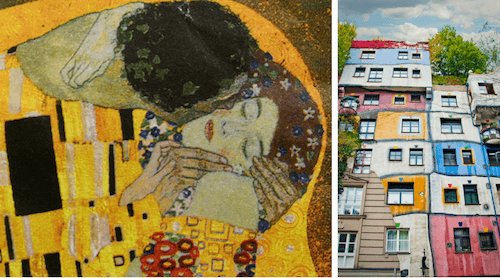 Gustav Klimt 'The Kiss' and Hundertwasser house
Gustav Klimt (1862 - 1918) was a painter and is considered the main figure of Austria's Art Nouveau. One of his famous paintings is 'The Kiss'

Friedensreich Hundertwasser (1928 - 2000) was one of Austria's most famous avant-garde artists and known for his colourful murals and buildings.
There are many other famous Austrians that you might know. Did you know that Arnold Schwarzenegger, former state governor of California was born and raised in Austria where he started his career as a prominent bodybuilder?
Todays most popular Austrian sports idols include:
Nicki Lauda, former formula 1 driver and owner of the airline 'Lauda Air'

Felix Baumgarnter, skydiver

Anna Gasser, snowboarder

Vincent Kriechmayr, ski racer who won the Super G and Downhill was double world champion in 2021
Going back in history, famous Austrians include Empress Sissi (Elisabeth of Austria), Archduke Franz Ferdinand, Sigmund Freud and the infamous Adolf Hitler.
Austria Facts | Austria Economy
Austria is a highly developed industrialised country. The country has a highly developed tourism sector, but only limited natural resources such as oil, coal and timber.
The country is also famous for its high quality arts and crafts, jewellery, ceramics and glassware.
Austria is strong in organic farming. Organic farming is established on over 22% of the country's farm land. Grains, potatoes, wine and fruits are the main agricultural products. Dairy products, beef and timber are also important products.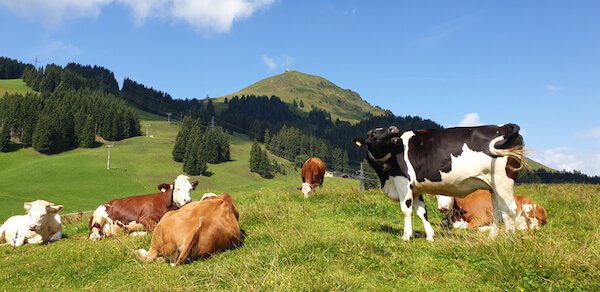 Cows on mountain pasture in Austria
Two thirds of the farms in Austria are located in alpine mountains. Mountain farming is done mainly in the western parts of the country while arable farming is done in eastern Austria.

The main trading partners of Austria are Germany, Switzerland, Italy and the USA.

Austria Facts | Austrian Food
Austrian food is influenced by the neighbouring countries Hungaria, German and Italian food traditions due to common many cultural traditions. 
The main dishes contain either meats, such as pork, beef and veal as well as root vegetables such as potatoes, onions, beetroots or carrots and green vegetables such as spinach or beans.
Wiener Schnitzel is considered by many the national dish of Austria.

Popular Austrian food specialties:
Wiener Schnitzel: 'Vienna Schnitzel' is a tenderised flattened piece of veal meat coated in flour, egg and breadcrumbs and deep fried. In Austria Schnitzel are so big, they pretty much cover your plate!
Typical Austrian Schnitzel - Best Vienna Schnitzel
Semmelknödel: Dumplings made with breadcrumbs, potatoes or also with mixed flour and cottage cheese are popularly served in either savoury or sweet dishes. 
Austrian bread dumplings
Sachertorte: in English: Sacher cake, this is chocolate cake filled with orange marmalade and covered with a dark chocolate icing - famously prepared by Hotel Sacher in Vienna
Strudel: thin filo pastry roll usually filled with diced apples or cottage cheese and served with ice-cream or vanilla sauce
Austrian Apfelstrudel - Applestrudel is traditionally served with ice-cream, whipped cream or vanilla sauce.
Popularly eaten are also potatoes, either sliced and fried as 'Pommes Frites' or 'Bratkartoffeln', pan fried potatoes. Bread and bread rolls made of white and wholemeal flour as well as muesli is eaten at breakfast. Austrians are famous for their sweet dessert and cakes too!
And did you know that Red Bull, the energy drink, was invented by an Austrian - Dietrich Mateschitz?
Austria Facts | Austria Animals
Austria is home to some wild animals especially in the mountainous regions. Here one might still encounter red deer, mountain goats (alpine ibexes), wild pigs, lynxes or marmots.
Marmot in Austria
Resources for Austria Facts
Central Intelligence Agency. "Austria." WorldFactBook. Last update 9 Mai 2023. Last accessed 11 May 2023

Austria Official Tourism Portal. "Cities in Austria." Austria.info. Last accessed 11 May 2023
Austria Official Tourism Portal. "Famous Austrians." Austria info. Last accessed 11 May 2023
Tourismus Salzburg GmbH. "Top 10 Tourist Attractions." Salzburg.info Last accessed 11 May 2023
Living and Working in Austria. "Languages, Culture and Religion." Migration.gov.at. Last accessed 11 May 2023
"The World Atlas" by Millennium House. Published in 2014
Popular Pages
Return from Austria Facts to Kids World Travel Guide Homepage
Enter our competition NOW