Austria Facts
Interesting Facts for Kids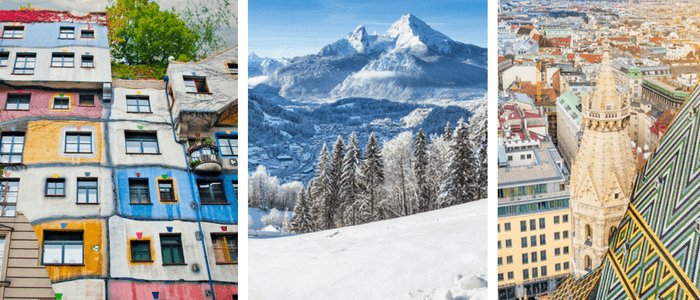 Austria: Hundertwasser Haus - Alps - Vienna
Here are some interesting Austria facts that were chosen and researched by kids especially for kids.
Flag of Austria
Population: 8.7 million people live in Austria (2016). The majority of the people live in cities and towns.
Capital: Vienna (Wien) with 1.8 million inhabitants is not only Austria's capital city but also the biggest city.
Name: Republik Österreich (Republic of Austria)
Government: Democracy, Republic
Language: German
Literacy: More than 99% can read and write.
Religion: mainly Christians (Roman Catholics 74%)
Currency: 1 Euro=100 cents, before 2002 Austrian Schilling (notes) and Groschen (coins)
Flag colors: red and white stripes
Where is Austria? - Austria Map
Austria lies in central Europe and shares borders with 8 countries: Germany, Czech Republic, Slovakia, Hungary, Slovenia, Italy, Liechtenstein, Switzerland (clockwise from the top/north). 
The longest border is shared with Germany and is about 800km/497miles in length. Austria is one of the few landlocked countries in central Europe - together with Switzerland and Luxembourg. Austria can be compared in size with South Carolina in the USA. 
The mayor river is the Danube (or Donau), Europe's second longest river. On its way to the Black Sea, it passes Austria over 349 km/216 miles. The biggest Danube ports in Austria are Vienna and Linz.
Austria is a mostly mountainous country with the Alps in the west and to the southern parts and mostly gentle hills in the eastern and northern parts. The country has a highly developed tourism sector, but only limited natural resources such as oil, coal and timber.
Saalbach is a popular with tourists
The highest mountain in Austria is the 'Grossglockner' with 3.798 metres/12.460 ft. Another one of Austria's most famous mountains is sharing its peak with Germany: The 'Zugspitze' is Germany's highest peak (2.963m/10.000ft) shares the summit with Austria and access via gondola and cable car to the top is possible from both countries. See the amazing panorama images via live camera broadcast on our Germany Facts page here.

Austria Facts:
Attractions for Kids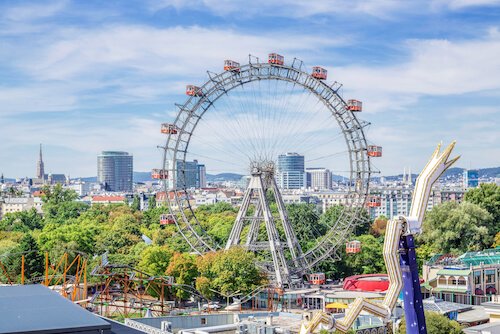 Austria Facts: Vienna Prater
Wolfgang Amadeus Mozart
Austria is well known for great musicians and composers, such as Wolfgang Amadeus Mozart (you see him in the pictured above in the painting by Tischbein), Joseph Haydn, Franz Schubert and Johann Strauss, who is the composer of the famous Vienna Waltz. Listen to the 'Blue Danube' waltz music. And the video takes you on a journey along the Danube:-)
Artists and painters, such as Friedenreich Hundertwasser or Gustav Klimt ('The kiss') are from Austria.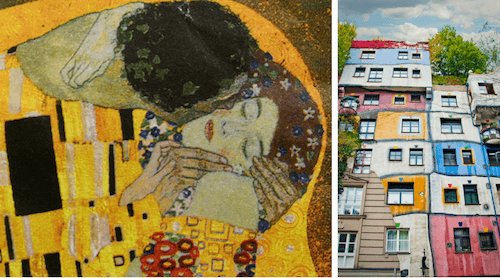 Gustav Klimt 'The Kiss' and Hundertwasser house
More Austria Facts about Austrian People
Austrians love the outdoors and many children learn to ski or snowboard at a young age due to the location and the climate which provides usually lots of snow in the higher lying regions in winter.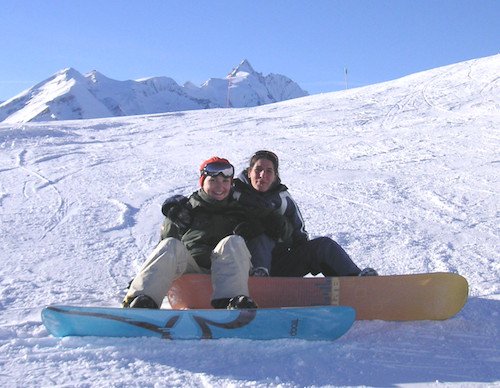 Snowboarding on Grossglockner
Austrians are active in sports and there are many sports clubs such as soccer, tennis, gymnastics or wintersports centres and clubs. In schools, the most popular sports activities are soccer, volleyball, basketball, ballet and dancing.

Did you know that Arnold Schwarzenegger, former state governor of California was born and raised in Austria and started his career as a prominent bodybuilder?
Todays most popular Austrian sports idols include Nicki Lauda, former formula 1 driver and owner of the airline 'Lauda Air', Felix Baumgarnter, skydiver, Anna Gasser, snowboarderin, Anna Fenninger, skier.
Many immigrants especially from the eastern European countries live, work and study in Austria. In the recent years, refugees from Syria, Irak and various African countries found a new home in Austria. 

Austrian Food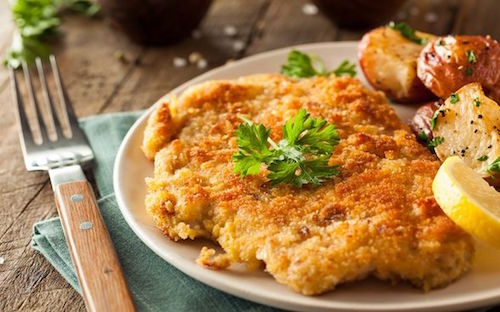 Typical Austrian Schnitzel - Best Vienna Schnitzel
Austrian food is influenced by Hungaria, German and Italian food traditions. The main dishes contain either meats, such as pork, beef and veal. The Wiener Schnitzel 'Vienna Schnitzel' is a tenderised flattened piece of veal meat coated in flour, egg and breadcrumbs and deep fried. In Austria they are so big, the cover your plate! Popularly eaten are also potatoes, either sliced and fried as 'Pommes Frites' or 'Bratkartoffeln', pan fried potatoes. Potato and floury dumplings are served in either savoury or sweet dishes. Bread and bread rolls made of white and wholemeal flour as well as muesli is eaten at breakfast.
Austrians are famous for their sweet dessert and cakes such as the 'Sachertorte', which is a chocolate cake or 'Strudel' which is a thin pastry roll filled with apples or cottage cheese. 
Austrian Apfelstrudel - Applestrudel is traditionally served with ice-cream, whipped cream or vanilla sauce.
Info Resources for Austria Facts page: The World Atlas - Millennium House 2014
The CIA World Fact Book - Austria Country Profile - accessed September 2016
Austria Tourism: www.austria.info
Return from Austria Facts to Kids World Travel Guide Homepage