Thailand Facts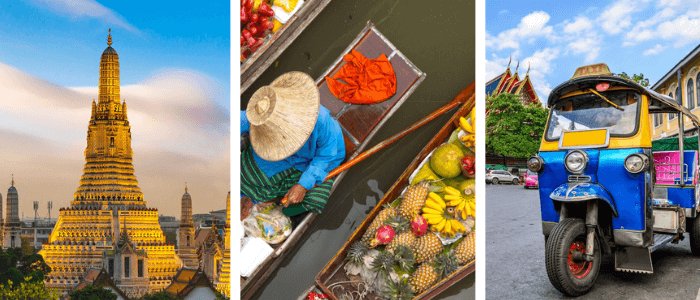 Thailand Facts: Wat Arun | Floating Market | Tuk Tuk
Interesting Thailand Facts for Kids
Here are our Thailand Facts which were chosen and researched by kids especially for kids.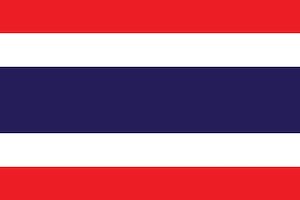 Population: 70 million people live in Thailand (2023)
Capital: Bangkok with over 11 million inhabitants 
Name: Kingdom of Thailand (former Siam)
Government: Constitutional Monarchy. The Thai chief of state is King Vajiralongkorn.
Official Language: Thai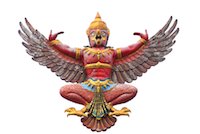 Garuda - Emblem of Thailand
Religion: Buddhism (95%)
Life expectancy: 76 years
Literacy rate: 93% (population over 15 years who can read and write)
Currency: 1 Baht = 100 Satangs
National Anthem: "Phleng Chat Thai" 
National Symbol: Garuda (mythical figure that is half bird and half man)
National animal: elephant
National colours: red, white and blue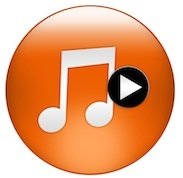 Listen to the Anthem
National Day: 2 July - Birthday of King Vajiralongkorn, who was born in 1952
History: Thailand's first people are the Mon and Khmer and later came the Tai, who migrated from southern China to Vietnam and then into Laos and northern Thailand. The first Thai kingdom was established in the 14th century. The country was known as Siam until 1939. 
Thailand Geography | Map
Where is Thailand?
Thailand is a country on the Asian continent. The country is located in a region referred to as Southeast Asia. The Southeast Asian country shares borders with four countries: Myanmar, Laos, Cambodia and Malaysia. 
The capital city is called Bangkok.
Thailand's shape is said to resemble the shape on an axe as you can see on the map.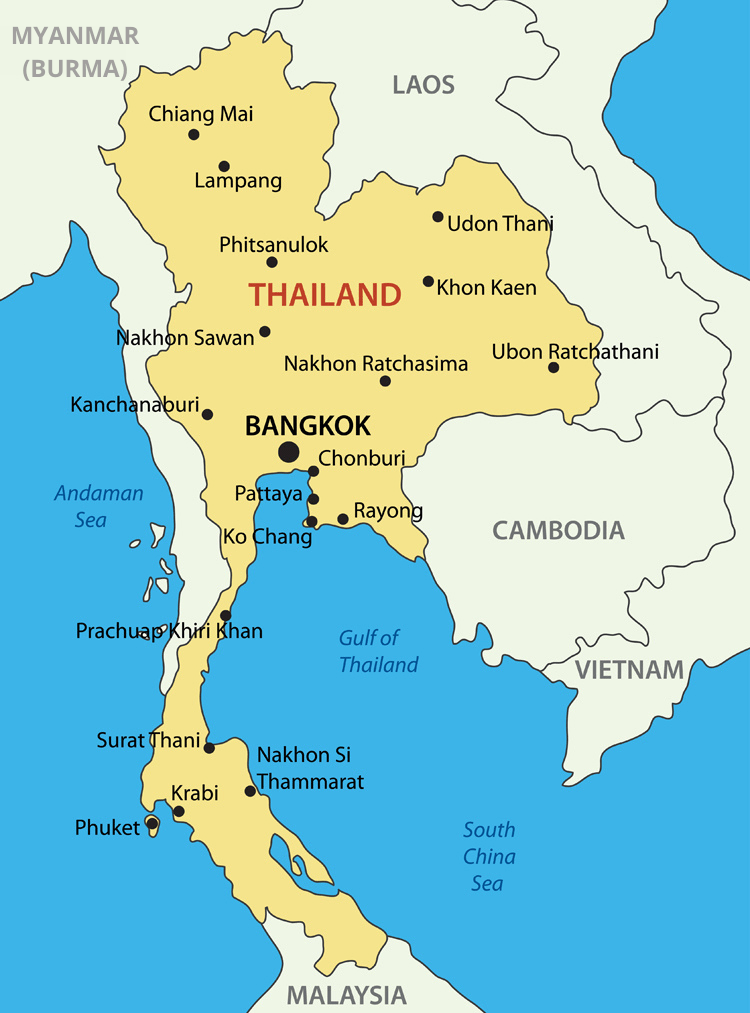 Map of Thailand
The Gulf of Thailand is to the Southeast of the country and the Andaman Sea to the West. Thailand has 1430 islands, of which the largest is Phuket. The island of Phuket is located in southwestern Thailand in the Andaman Sea.
The tallest mountain in Thailand is Doi Inthanon which is located in Chiang Mai. Thailand's highest mountain is 2,565 m/ 8,415 ft high.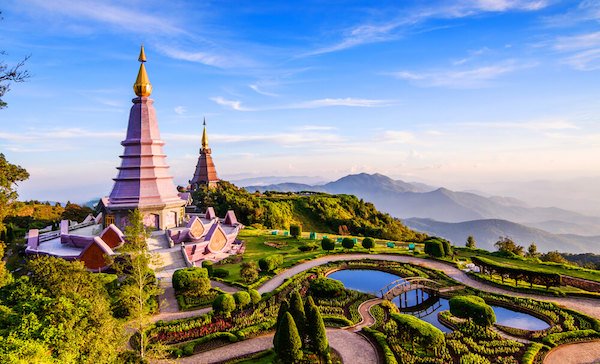 Doi Inthanon's twin pagodas are not far from the summit
The longest river in Thailand is the Mekong River with 4,350 km/ 2,703 miles. 
Thailand is home to some of the oldest dinosaur fossils that were ever found in Southeast Asia!

Thailand is known for its colourful and vibrant cultural heritage and festivals and its stunning beaches such as Maya Bay on Phi Phi island.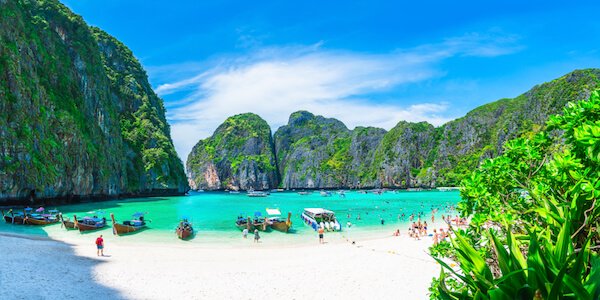 Maya Bay Beach on Phi Phi island in Thailand
Thailand is slightly larger than Spain, about a quarter bigger and longer than Italy, or about three times the size of Florida in the USA.
A flight to Bangkok takes about 12.5 hours from  London/England and 17.5 hours from New York/USA. 

Thailand Attractions
Here are the most popular Thailand landmarks and attractions for kids: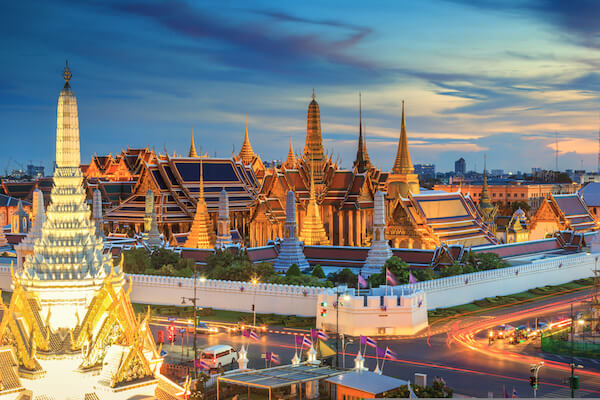 Grand Palace of Thailand
Bangkok: Visit the Grand Palace and temples, experience the floating markets on the canals or drive out to Khao Yai National Park for a wildlife safari. Khao Yai National Park was Thailand's first national park. 
Chiang Mai: The main city in Thailand's northern region is known for traditional life and crafts as well as for its rescue and rehab centre for elephants.
Phuket: Thailand's largest island is known for its stunning beaches, lively market and colourful shophouses. Phuket is home to a big Chinese community, so you will see many Chinese shrines and Chinese restaurants and shops around Phuket City. The Nine Emperor Gods Festival, or Phuket Vegetarian Festival is held there every year. This year the festival will take place from 13 - 22 October 2023.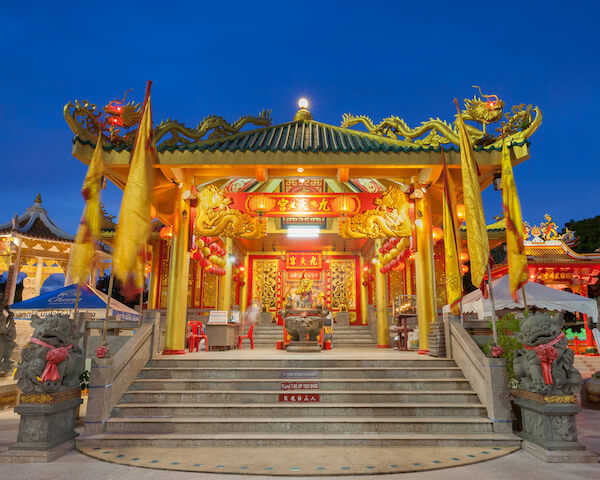 Decorated Chinese temple during the Phuket Vegetarian Festival
Ko Samui: On this island you will find popular Chaweng beach in the island's north. There are many temples and night markets.

Krabi: Railay Beach is one of the most awesome beaches in Thailand. The beach can only be reached by boat. Here you can snorkel in clear waters and admire the limestone cliffs.

Railay Beach in Krabi
Thailand Facts | Thai People
Thailand is the country with most buddhists among the country's population. About 95% of the Thai are Buddhists.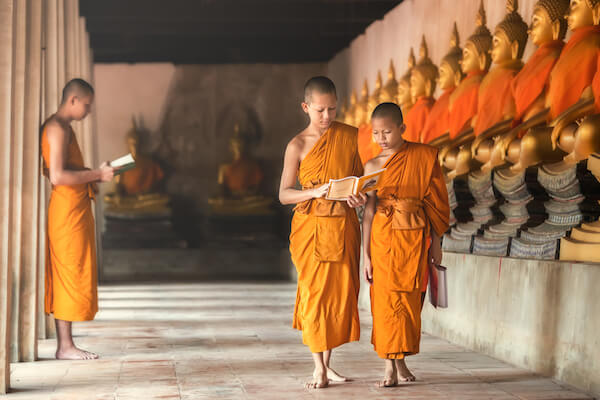 Buddhism is the main religion in Thailand
There are over 35,000 temples in Thailand! Among the most well known temples are Wat Rong Khun, the White Temple and Wat Pho, the temple of the reclining Buddha as well as Wat Arun, the temple on the banks of the Chao Phraya River that runs through Bangkok.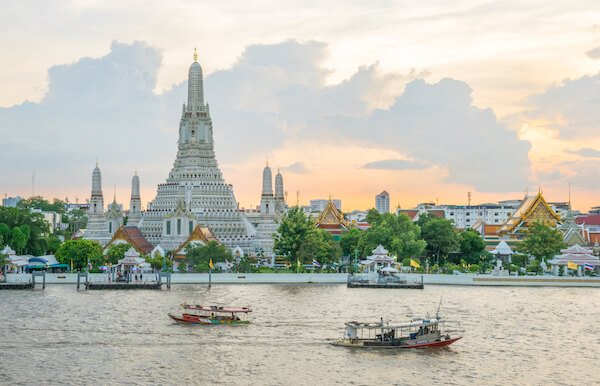 Wat Arun in Bangkok is a famous landmark
Over half of the population live in and around in urban areas. The biggest cities in Thailand are Bangkok, Chon Buri, Samut Prakan and Chiang Mai. Bangkok is the only city in Thailand with more than two million inhabitants.
The most popular sports in Thailand are soccer, volleyball and rugby. Thailand is also known for the Thai Boxing style called Muay Thai. 
The rivers in Thailand always were and still are the place where people went to shop for food and goods. Floating markets are not only a tourist attraction but part of Thai daily life. If you want to see how Thai people shop for groceries, you must rise early in the morning to not miss out on a wonderful experience!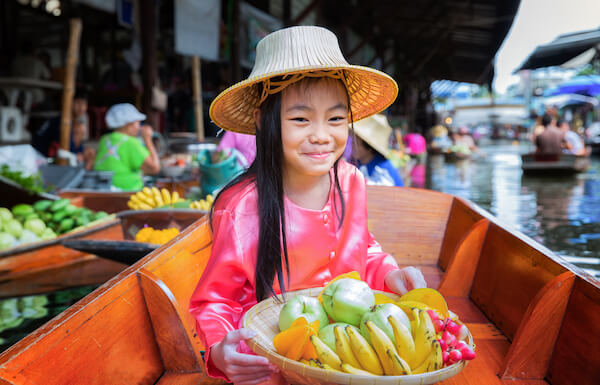 Typical floating market in Thailand
Good to know: In Thailand the head is considered a sacred body part, so don't touch other people's head! Don't point with your feet and don't show the soles of your feet as these are considered the lowest part of your body.
Thailand Facts | Thai Language
The official language in Thailand is Thai. The written Thai language uses symbols.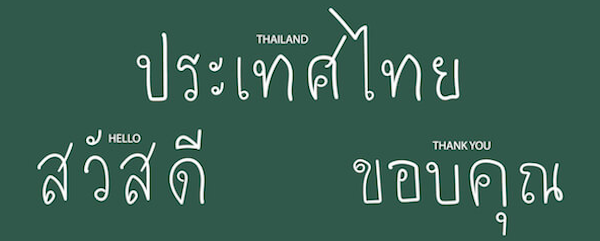 The Thai alphabet has 44 symbols for consonants and 16 symbols for vowels. The Thai language has five tones and thus is a called a 'tonal language' similar to the Chinese and Vietnamese languages.
More than 60 languages are spoken in Thailand. English is a mandatory school subject.

The traditional Thai greeting style is called 'wai'. Younger people greet older people first to show respect.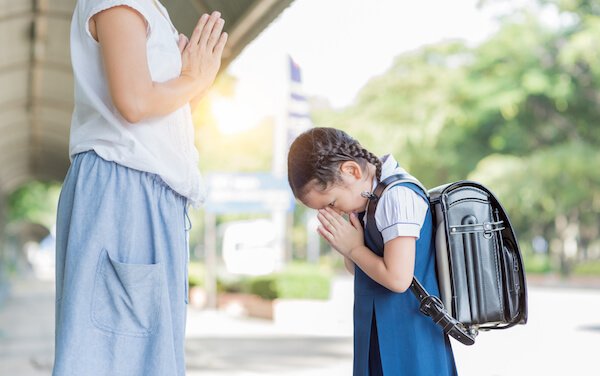 Thai child greeting the mother before going to school
Male speakers say "sawatdi khrap" and female speakers say "sawatdi kah". These words are accompanied by a gesture. Hands are pressed together. The fingertips pointing upwards while the head is bowed and the head touches the fingertips. 

Thailand Facts | Thai festivals
Many festivals are celebrated in Thailand throughout the year such as Loi Krathong which is celebrated this year on 27 November 2023.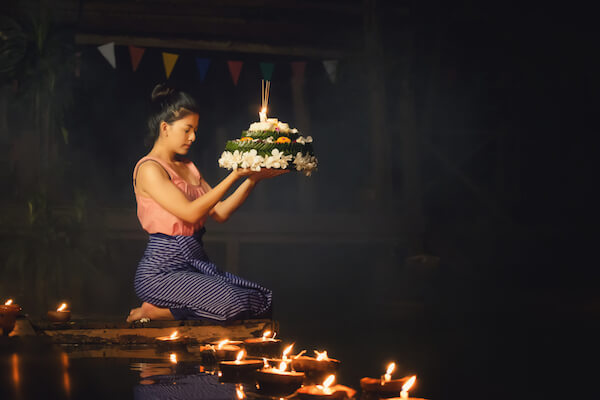 During the Loi Krathong festival flower floats are used
Thai festivals are usually related to the Buddhist religion. At Loi Krathong the people ask for forgiveness from the Mother of River.
Then the people also celebrate the Candle Festival or the Flower Alms Offering Festival. Some other festivals originated from traditional beliefs to ask for favors from the God of Rain. Popular are also Rice Blessing Ceremonies and long boat racing festivals.
Thailand Facts | Thai Food
Among the Thai staple food is rice (khao), noodles, vegetables, sprouts, seafood and pork. Common foods sold at food stalls include chicken rice, stewed or barbequed pork, and noodles.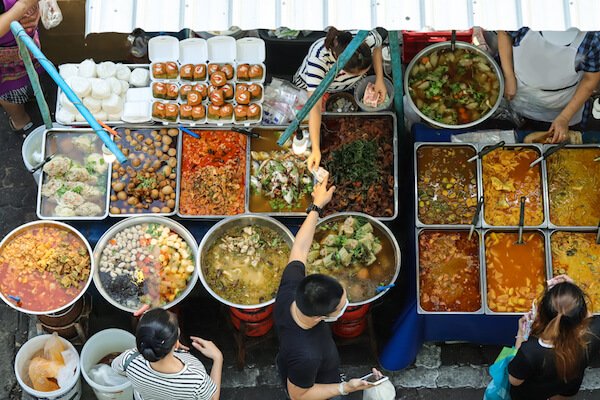 Street food stall in Thailand
The Thai cuisine includes lots of fresh spices such as garlic, galangal, lemon grass, lime juice, hot chillies, peppers, coriander as well as palm sugar. Many dishes are prepared with clear fish sauce (nam pla) and shrimp paste. 
Thailand grows a large variety of exotic fruits such as mango, papaya, jackfruits, durian or langsat, which looks similar to a larger lychee, but has a sweet sour taste.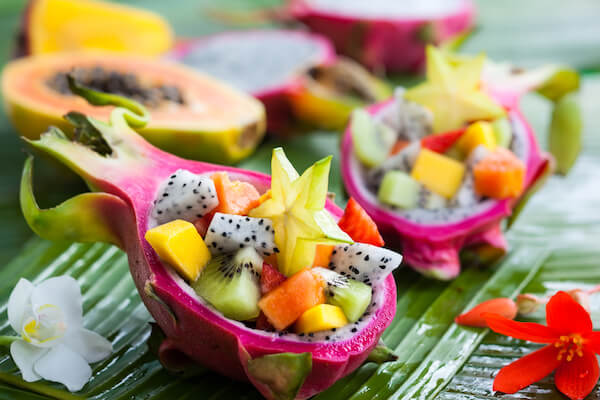 Which fruits do you recognise?
Popular Thai dishes are:
Pad Thai: These Thai-style stir fried noodles are usually prepared with soy sauce, beansprouts, chicken and fried egg.
Tom Kha Gai: This is a spicy coconut soup with chicken and lemongrass.
Khao Pad: This Thai-syle fried rice is usually not too spicy and will also be enjoyed by children.
Khao Neaow Mamuang: This dish is called also 'mango rice'. In this dish, the rice is cooked in coconut milk and served with fresh mango slices.
Tod Mun Pla: These Thai fried fish cakes are made with fish paste, curry and beans served with a sweet sour sauce and rice.
Thai dishes are mainly eaten with cutlery, spoon, fork and knife. Only Chinese-style dishes are eaten in Thailand with chopsticks.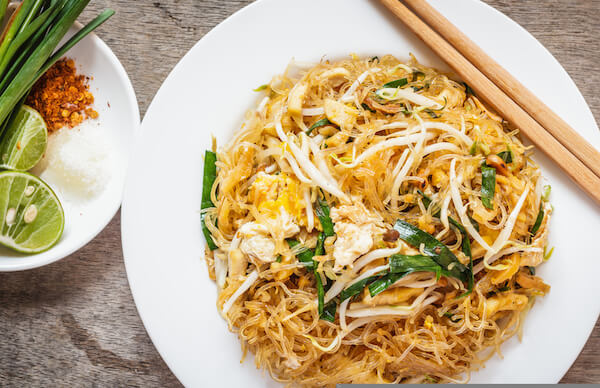 Pad Thai - typical Thai dish
The Thai cuisine is also known for stunning fruit and vegetable carvings.

Thailand Facts | Thailand Economy
Thailand is the second biggest economy in South East Asia - after Indonesia.
Thailand is the biggest producer and exporter of cut orchids in the world. In 2018 Thailand exported more than 50,000 tonnes of orchids. Did you know that there are about 1,300 orchid species grown in Thailand's orchid farms?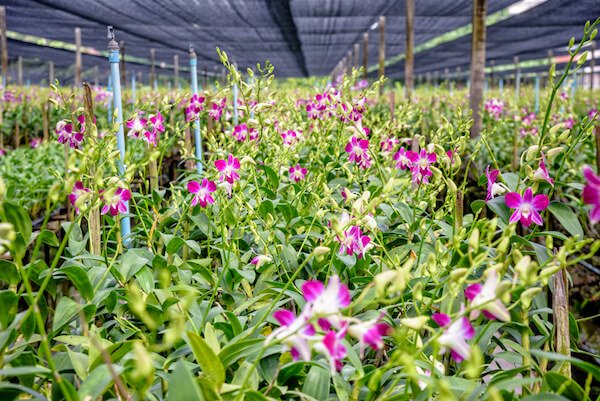 Orchid farm in Thailand
The main trading partners of Thailand are China, Japan and the USA. The main export products of Thailand are automobiles, computers, jewellery, gold and precious stones, rubber products and rice and processed food products. 

Thailand Facts | Animals in Thailand
Elephants are the official national animals of Thailand. At the Elephant Nature Park near Chang Mai one can experience these majestic animals in their natural habitat. This elephant park is Thailand's largest elephant sanctuary. Here the rangers look after the elephants - and of course there are no elephant rides as elephant rides are a big no-go!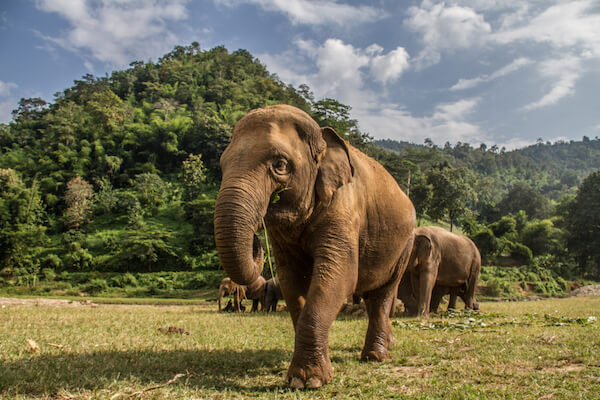 Elephants in Thailand Nature Park in Chiang Mai
Did you know that Asian elephants have smaller ears than African elephants?
Thailand is home to rhinos, tapirs and whale sharks. These species are among the world's endangered species. Monitor lizards and other lizard species are common native animals.
Thailand Facts for Kids | Resources
Find more Thailand Facts for further research here:
Popular Pages
We hope you enjoyed reading our Thailand Facts for Kids. Make sure to bookmark this page, as we plan to add on more information to make this page even more interesting, not only for children:-)
Picture credits on this Thailand Facts page: Images by Shutterstock.com, top image for Thailand facts by Sean Pavone/Shutterstock.com
Back from Thailand Facts to Kids World Travel Guide Homepage
Competition 2023 closed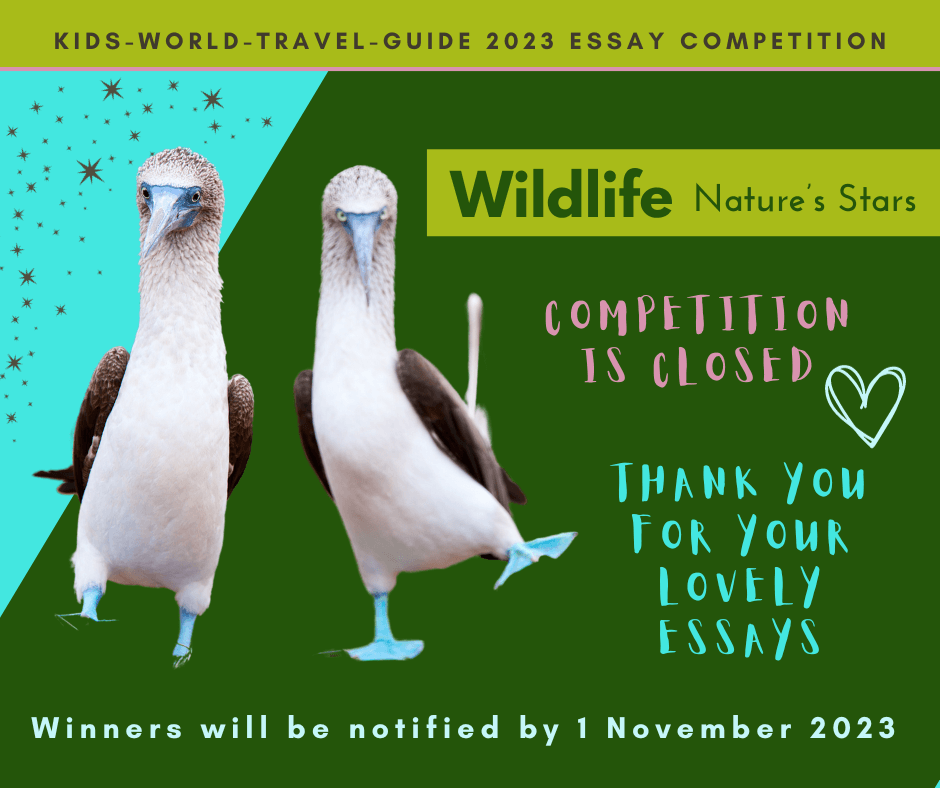 Watch this space
Competition 2024 will be announced in February