Costa Rica Facts for Kids
Interesting Costa Rica Facts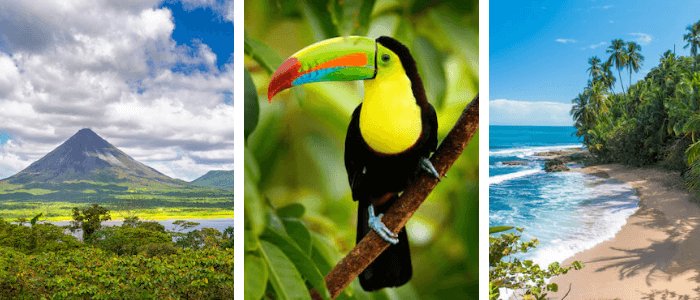 Here are some interesting Costa Rica Facts for Kids which were choosen and reseached by kids especially for kids.
Costa Rica for Kids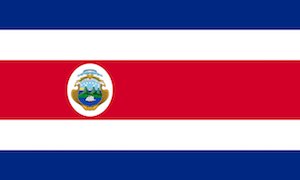 Population: 5.2 million people (2023)
Capital: San José with 1.4 million people
Name: Republic of Costa Rica
Official Language: Spanish
Religion: Most Costa Ricans are Christians (87% )
Currency: 1 colón, the symbol is (

₡)

 and the smallest coin is 10 colones
National colours: blue, white and red
National bird: yiguirro, which is a clay coloured robin
History: Indigenous settlements in the region date back to 10,000 BC. Stone tools were found from the early settlements in the Cartago Province of Costa Rica. Farming and agricultural activities in the area were already conducted about 5,000 years ago, however, the country was then only sparsely inhabited. Christopher Columbus reached the Costa Rican shores in 1502. Costa Rica was a Spanish colony until 1821. Costa Rica gained independence from Spain on 15 September 1821. The country has no army since 1948. Since 2022, the president of Costa Rica is Rodrigo Chaves
Costa Rica Map 
Where is Costa Rica?
Costa Rica is a country on the North American continent and is one of the countries in the region called Central America.
Central America includes seven countries: Costa Rica, Belize, El Salvador, Guatemala, Honduras, Nicaragua and Panama.
Costa Rica shares a Pacific Ocean and an Atlantic Ocean coastline. 
Map of Costa Rica
Costa Rica borders two countries: Nicaragua in the north and Panama in the south of the country. The border to Panama is slightly longer than the border to Nicaragua.
The name Costa Rica originates from the Spanish words for "rich coast". Costa Rica is often considered as the safest country in Central America.
Costa Rica is slightly smaller than West Virginia/USA or slightly larger than Slovakia.

Costa Rica Facts | Costa Rica Geography
The landscape is tropical and the country has an extremely rich wildlife.
There are over 100 volcanos in Costa Rica, some of them active. The highlands of Costa Rica are known for its pristine cloud forests. The lush vegetation in the high mountain range is called cloud forest because the clouds stay within the tree canopies of the forest throughout the day. In the misty jungle setting you can admire the many plants, birds, reptile and insect species.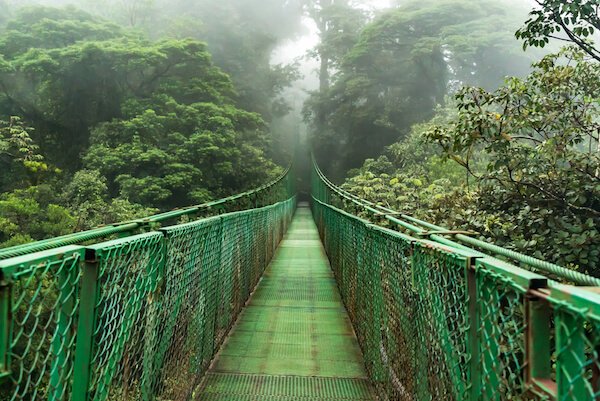 Monteverde Cloud Forest
Costa Rica houses 5 percent of the existing biodiversity in the entire world. Costa Rica is the only megadiverse country in Central America.
Deforestation due to cattle farming and expanding agriculture, as well as marine pollution are some of the big challenges the megadiverse country is facing.
Costa Rica Geo Superlatives
Costa Rica is one of the seventeen megadiverse countries. Although the country is very small, it has a rich biodiversity and houses about 5% of the world's animal and plant species.
The highest mountain peak is the Cerro Chirripó at 3,819 m/ 12,529 ft. The name "Chirripó" actually means "land of eternal waters"
The highest volcano of Costa Rica is the Volcán Irazú. It last erupted in 1965.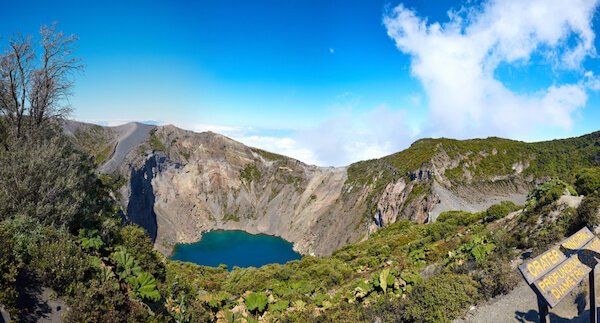 Volcán Irazú
Costa Rica's longest mountain range is the Cordillera de Talamanca, with 320 km/ 199 miles.
The longest river of Costa Rica is the San Juan River along the border to Nicaragua.
The largest island of Costa Rica is the Isla Calero at the border to Nicaragua.
The largest lake is Lake Arenal which is located at the base of the volcano Arenal.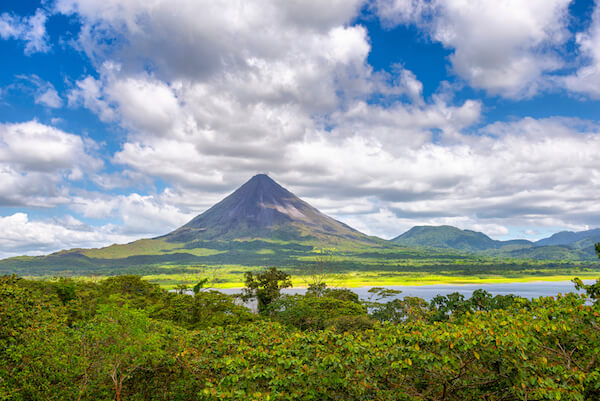 Lake Arenal and Volcano Arenal
Costa Rica Facts 
Costa Rica Attractions for Kids
Costa Rica is known as an ecotourism paradise. The country has many attractions to entice the whole family. There are plenty of outdoor activities such as hiking, zip lining, kayaking, cycling, walking over hanging bridges, watersports and relaxing at the fantastic Costa Rican beaches.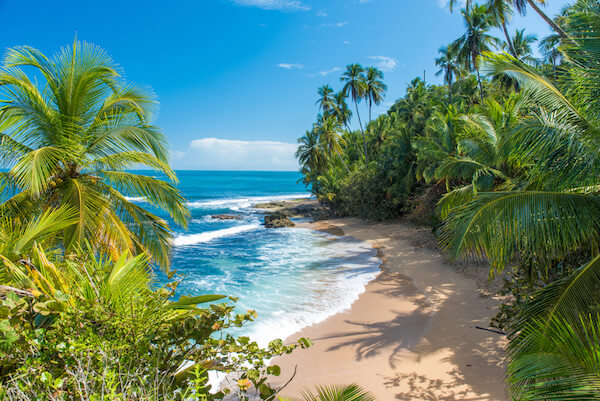 Manzanillo beach
Here are some of our favourite Costa Rica attractions for kids:

San José is Costa Rica's largest city housing about 20% of the country's population. There are fascinating museums in the city such as the Jade Museum and the National Museum. Exploring the country can start right here as four volcanoes are situated near the capital city, one of them is the volcano called Irazú, the highest volcano of the country.
San José
Cartago, formerly the capital city of Costa Rica until 1829, is also known as Ancient Metropolí. Every year at the beginning of August, millions of people visit the city as part of their pilgrimage to the "Our Lady of the Angels" Basilica. The basilica is located in the center of Cartago.
Basilica of Cartago
Arenal: In the Mistico Hanging Bridges Park you can have fascinating walks over 16 hanging bridges suspended high up in the tree canopies. Here you can do some serious bird watching and enjoy great jungle views.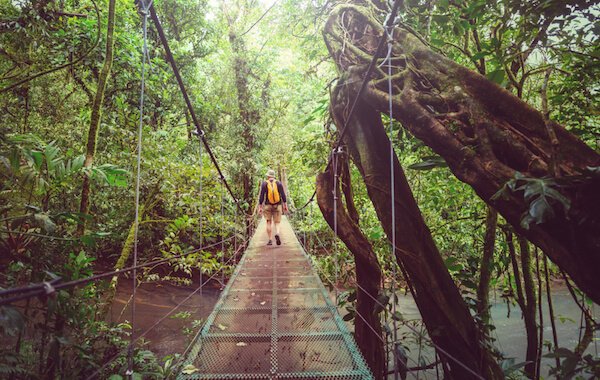 Hanging Bridges
Ballena National Marine Park: The national park along the Pacific Ocean coastline is popular for watching humpback whales and dolphin swim by when they visit the area for breeding. Ballena is the Spanish word for "whale". Whales usually can be seen here from July to October.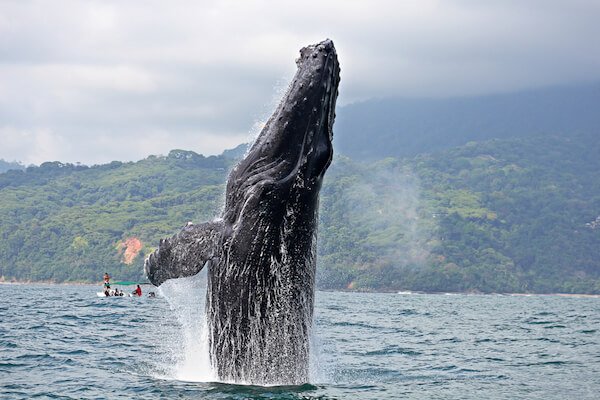 Whale
Corcovado: The national park has one of the most unique ecosystems. Here one can experience Costa Rica's rich fauna and flora. There are about 500 tree species and over 360 species of birds as well as over 250 species of mammals, amphibians and reptiles. Costa Rica is home to four monkey species, all can be found here and even big cats and tapirs can be seen in this biodiversity hotspot.
Corcovado National Park
Tamarindo: Costa Rica has some of the most stunning beaches. The Pacific Ocean beaches of Tamarindo are known for amazing surfing conditions. There are plenty of stunning beaches to choose for all kinds of watersports. Nearby Conchal beach is a popular beach for snorkelling and diving. And Playa Grande just north of Tamarindo is home to huge leatherback sea turtles that can be encountered between October and March.
Tamarindo Beach by Max Herman
Chirripó National Park: For all who love hiking, this national park is a must. The scenic mountainside includes the country's highest peak. The mountain face is one of the most prominent landmarks of Costa Rica.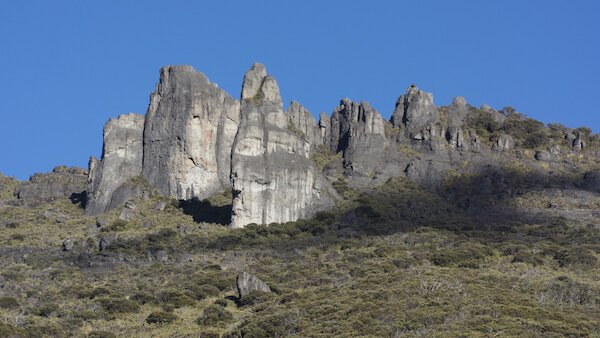 Chirripó National Park
Cocos Island: The island called 'Isla de Cocos' in Spanish is located in the Pacific Ocean, about 550 km/ 342 miles off the coast of Costa Rica. One of the larger islands of Costa Rica, Cocos Island is a national park and not inhabited. This island is considered the Southernmost point of the North American continent.
Cocos island
Costa Rica Facts for Kids | People
Costa Ricans 
More than half of the Costa Ricans live in urban areas.
Most people live in and around the capital city San Jose. Costa Ricans, also referred to as "Ticos", are known as very happy and welcoming people.
The motto of the Ticos is "Pura Vida" in English means "pure life" and refers to the relaxed feeling of enjoying life. Often people also greet and wish each other "Pura Vida" when meeting in the street.
Costa Rican children dancing on Independence Day - image by Wollertz/shutterstock.com
Independence Day in September is celebrated with traditional dances and community parades.
Soccer and basketball are the most popular sports in Costa Rica.
Costa Rica Facts for Kids
Costa Rica Economy
The main agricultural products in Costa Rica are sugar cane, coffee, pineapples, bananas and other fruits.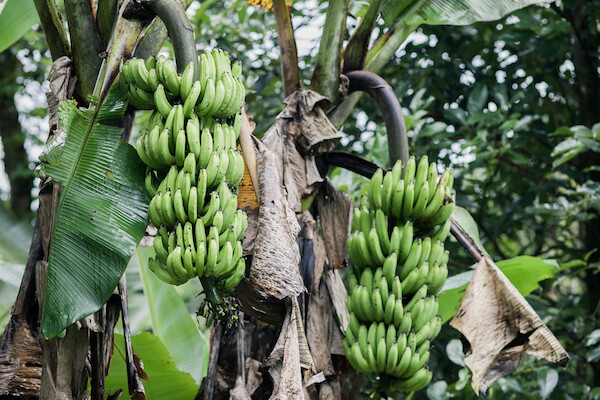 Banana trees in a Costa Rican plantation
The main trading partners are the USA, China, Mexico, Belgium and Panama.
The main ports of Costa Rica are Puerto Limon and Caldera.
Food in Costa Rica
In Costa Rica, a large variety of fresh fruits and vegetables are sold at the markets.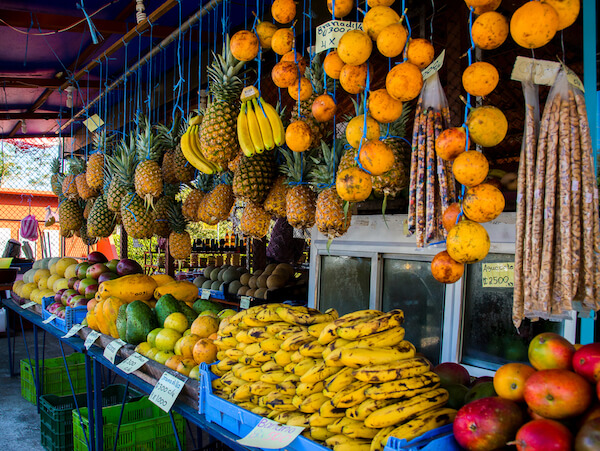 Costa Rica market stall
Costa Rican cuisine is varied and the traditional dishes are usually not too spicy. Most dishes contain rice or black beans which are staple foods in the country. 
Corn products such as tamales, which are filled wraps made of cornmeal, are served mainly at festive events.
Chifrijo
Typical Costa Rican dishes:
Chifrijo: popular street food or snack, containing a bowl of beans, rice and pork cubes, often served with tortilla chips and avocado dip. Chi refers to pieces of fried pork (chicharrón) while frijo refers to the Spanish term frijoles which means beans.
Casado

: The popular dish includes fried plantains, salad and tortillas as well as meat such as chicken, pork or beef and sometimes fish

Gallo Pinto

: traditional breakfast of Costa Rica made of rice and black beans, served with sour cream,

 tortilla and fried plantain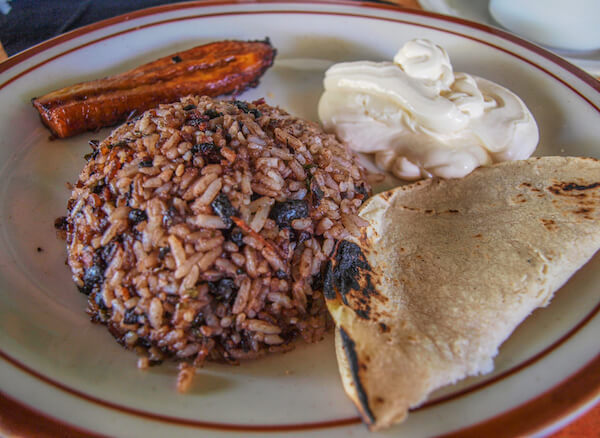 Gallo Pinto - traditional Costa Rican dish
Patacones: deep fried flattened plantain rounds, often served with spicy bean sauce or avocado dip
Yuka frita: fried cassava (often referred to as yuka)
Arroz con leche: sticky milky rice dessert made with sugar, cinnamon and lemon
Tres Leches Cake: soft sponge cake made with three types of cream and milk. Leche is the Spanish term for milk.
Costa Rica Facts | Animals in Costa Rica
The manatee is considered the national animal of Costa Rica, as it is represents Costa Rica's precious marine wildlife.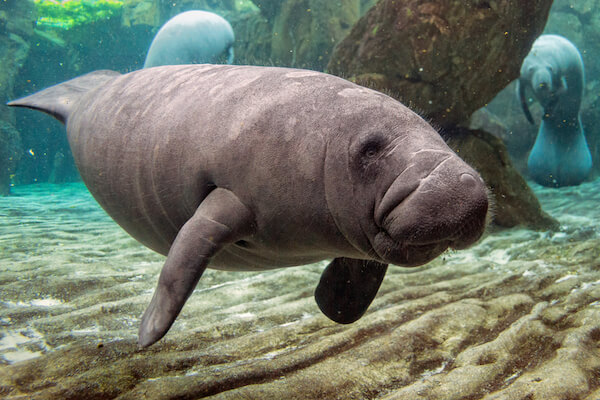 Manatee
The marine animals are also referred to as sea cows and live in marshy coastal waters. Manatees grow up to 3 m/ 9 ft long and weigh around 500 kg/ 1100 lb. Did you know that baby manatees weigh up to 30 kg/ 66 lb.? This is as big as a nine-year-old child!
There are over 500,000 animal species in Costa Rica. There are almost 900 species of birds. Costa Rica houses thus more bird species than the USA and Canada combined! One of the endemic species are the colourful toucans that live in Costa Rica and neighbouring Panama only.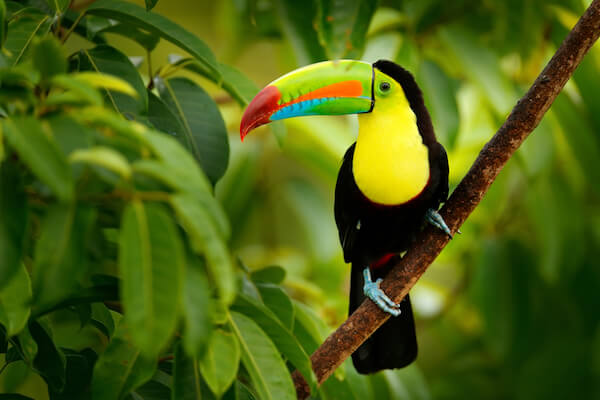 Toucan
Costa Rica also is home to the world's first sanctuary for sloths. Two of the world's six sloth species are home in Costa Rica.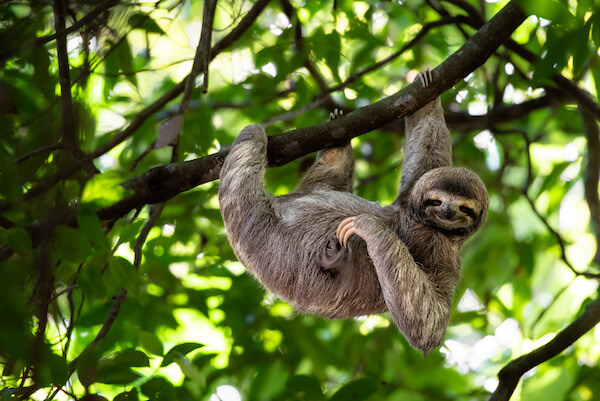 Sloth
***
We hope you enjoyed reading our Costa Rica Facts for Kids. Make sure to bookmark this page, as we plan to add on more information. Feel free to contact us if your school would like to work on a school project about Costa Rica (animals, food, people, traditions, games, sport etc.) with us.
Popular pages
Costa Rica Facts for Kids | Resources
Central Intelligence Agency. "Costa Rica." WorldFactBook. Last updated 25 September 2023. Last accessed 17 October 2023
Essential Costa Rica. "About Costa Rica." VisitCostaRica. Last accessed 17 October 2023
Costa Rica Tourism. "Ballena National Marine Park." VisitCostaRica. Last accessed 17 October 2023
Sarah Mayo. "The Complete Guide to Sloths in Costa Rica." CostaRicaExperts. 22 August 2023. Last accessed 17 October 2023
Picture credits on Costa Rica Facts for Kids: Shutterstock.com; Dancing children by Wollertz/shutterstock.com

Return from Costa Rica Facts to Kids World Travel Guide Homepage
Competition 2023 closed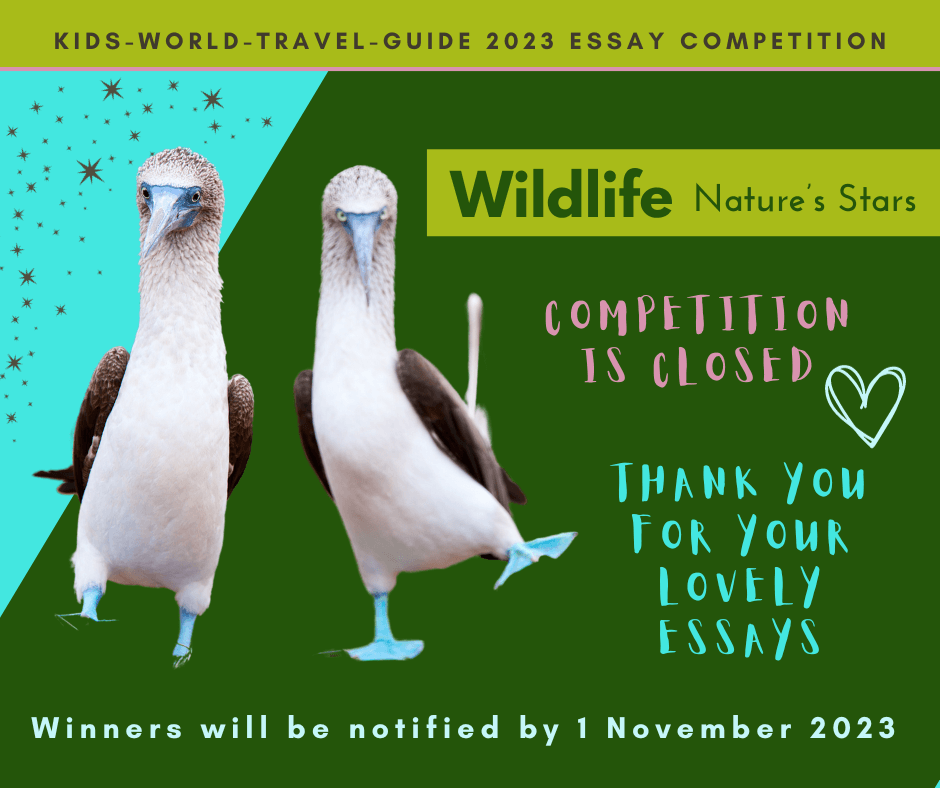 Watch this space
Competition 2024 will be announced in February