Norway Facts
Interesting Norway Facts for Kids

Here are some interesting Norway Facts which were chosen and researched by kids especially for kids.

Population: Over 5.2 million people live in Norway (2017)
Capital: Oslo, which is the third biggest city in Scandinavia (after Stockholm/Sweden and Copenhagen/Denmark), with over 660,000 inhabitants.
Name: Kingdom of Norway, short: Norway, in Norwegian: Norge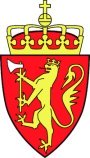 Government: Constitutional Monarchy
Language: Norwegian
Religion: mainly Christians (more than 70% are Evangelical Lutheran)
Life expectancy: 79 years
Currency: 1 Norwegian Krone (NOK)=100 ore
National Symbol: Lion
National Day: 17 May (Constitution Day)
Norway Geography:
Where is Norway? - Norway Map
Norway lies in northern Europe, in Scandinavia, and lies above the Arctic circle. A trip to Oslo takes a 2-hours flight from London/England, 6-hours flight from New York/USA. 
On the map below you can spot where Norway is located in northern Europe. It is part of Scandinavia with neighbouring countries Sweden, Finland and Denmark.
Norway in Northern Europe
Norway is a fjord country with many great fjords to visit, like the Sognefjord, which is the biggest fjord in Norway with its 180km long finger. 
Sognefjord in Norway
The most spectacular fjord is often said to be the Geiranger fjord, which you can see on the picture below. This fjord which is surrounded by snow capped mountains and many waterfalls is a UNESCO world heritage site.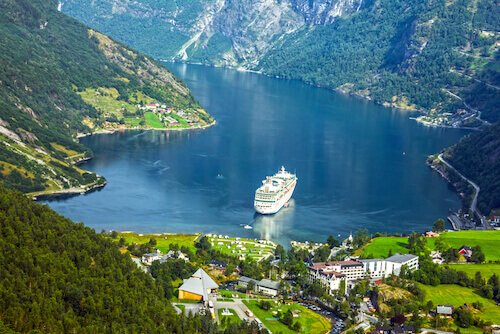 Norway Attractions
Here are our favourite Norway attractions for kids:

Reine, Lofoten Islands
Lofoten Islands: visit the Trollfjord and join nature safaris or see the northern lights
Lillehammer: Go skiing or snowboarding in one of the oldest ski resorts in Norway
Visit any of the fjord such as the popular Geirangerfjord, Hardangerfjord or Sognefjord
Oslo: The Viking Ship Museum exhibits two of the best preserved Viking ships from the 9th century or explore Norwegian culture in the world's oldest open-air museum
Viking Ship Museum
Norway People
Norway has a king and a queen. They are very popular with the Norwegian population. King Harald V and Queen Sonia have two a son, Crowne Prince Haakon, who is married to Crown Princess Mette-Marit, and a daughter, Princess Märtha Louise. The royal palace is in Oslo and this is the main residence of the Royal Family.

National Day Celebrations at Oslo Royal Palace
Norwegians speak the Norwegian language which is a Germanic language. This language is very similar to the Swedish and Danish languages. Almost all Norwegians can speak English, which is taught in schools as a second language.

In the northern parts of Norway, some indigenous people also speak the Sami language. The Sami people or Laplanders, also called Laps, live in the northern parts of Norway and bordering Sweden as well as Finland. They are the indigenous people of the arctic circle.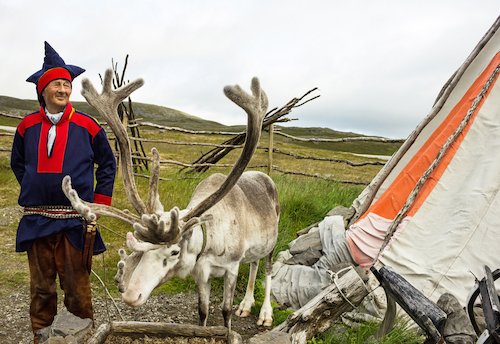 Reindeer herder in typical Sami clothing
Norwegians celebrate the Midsummerfest on 24 June (St. John's Day) with a bonfire. There is daylight almost 24 hours during this time in northern Norway, in the south it is only dark for about eight hours.
'The Scream'
Famous Norwegians are:
Erik the Red, explorer (1000 BCE)
Edvard Munch, painter (1863-1944). Most famous for the painting 'The Scream'
Henrik Ibsen, author and playwright (1828-1906)
Liv Ulmann, actress (born 1938)
Norway Animals
Reindeer in Norway
In Norway, you will find reindeers. These animals are also called caribou. These animals which only live in the northern hemisphere above the Arctic circle, travel far to get food. They have antlers, which they use for scraping the snow away from the ground to find food. The caribou have four toes. It is interesting to know, that reindeer are the only mammals that can see ultraviolet light!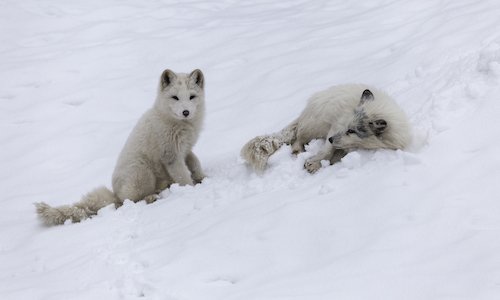 Arctic Foxes playing in snow
In Norway lives also the Arctic fox whose coat changes with the seasons. In winter his fur is mainly grey and white, while in summer it changes to a light brown.

Interesting Norway Facts
Did you know...?
... that the Nobel Peace Prize is awarded in Oslo annually since 1901 for outstanding work in making or keeping peace. The Norwegian King Harald V is also present at the award ceremony in Oslo. 
The Nobel Prize awards are given for these sciences: physics, chemistry, physiology or medicine and literature and for peace. The prizes are presented either in Stockholm/Sweden or in Oslo (Nobel Peace Prize). By the way, Alfred Nobel was Swedish, that is why the other Nobel Prizes are awarded at ceremonies in Stockholm.
Norway Facts for Kids: Useful Resources
We hope you enjoyed reading our Norway Facts for Kids. Make sure to bookmark this page, as we plan to add on more information to make this page even more interesting, not only for children:-)
Picture credits on this page: Images by SXC.hu and Shutterstock.com, Geiranger Fjord by emanuela (arancia.org) at sxc.hu; Caribou by Garrisonphoto.org;
Return from Norway Facts to Kids World Travel Guide Homepage