Uruguay Facts
Interesting Facts for Kids
Here are some interesting Uruguay Facts which were chosen and researched by kids especially for kids.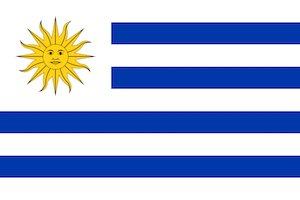 Population: 3.4 million people live in Uruguay (2021)

Capital: Montevideo, with 1.7 million inhabitants is the country's largest city. 
Name: Oriental Republic of Uruguay, short: Uruguay
Government: Presidential Republic
Language: Spanish
Literacy: almost 99% of the people over 15 years of age can read and write.
Religion: mainly Christians (Roman Catholics 47%)
Currency: Uruguayan peso 
National symbols: Sun of May (sun with a face), national colours: blue, white and yellow
National anthem: "Himno Nacional" - the national anthem of Uruguay is the world's longest anthem with 105 musical bars and is about four to six minutes long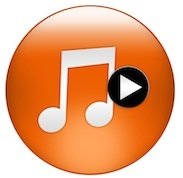 Uruguay anthem
History: Uruguay gained independence from Brazil on 25 August 1825.
National Holiday: 25 August (Independence Day)
Uruguay Facts | Geography
Where is Uruguay?
Uruguay is located on the South American continent. The Latin American country borders the South Atlantic Ocean. 
Below see a map of Uruguay with the neighbouring countries and you will find Uruguay's capital city Montevideo at the southern coastline.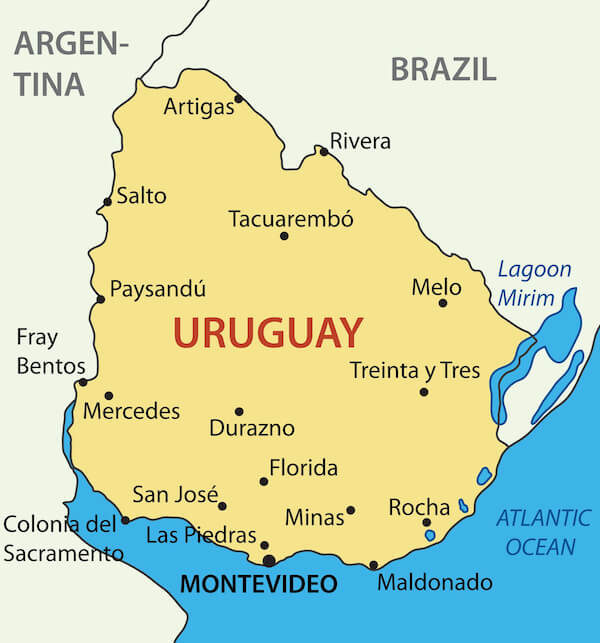 Map of Uruguay
The second smallest South American country shares borders with two South American countries: Argentina and Brazil. The longer border is shared with Brazil and is 1,050 km/ 2,113 miles long and about double the length than the border with Argentina.
Uruguay is slightly smaller than the state of Washington in the USA. Germany is about twice the size of Uruguay.
A flight to Montevideo takes roughly 11.5 hours from London/UK and 9.5 hours from New York/USA.

Uruguay for Kids | More Geo Facts about Uruguay
The capital city Montevideo is located at the Rio de lo Plata, river that separates Uruguay from Argentina. 
The Rambla is a waterfront promenade that leads over 22 km/ 14 miles along the river. There are also 18 beaches nearby with life guards that also host activities such as fútbol (soccer) or volleyball matches.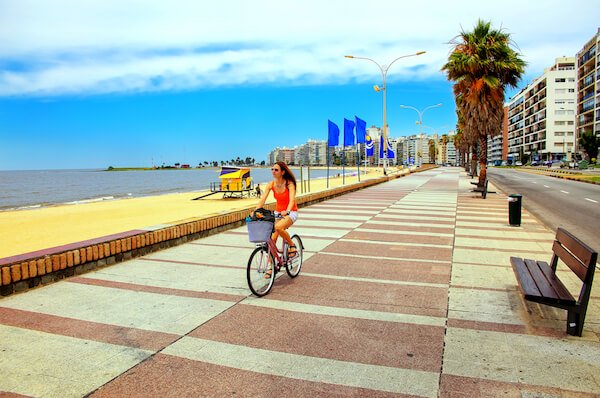 Rambla in Montevideo
The country has about 660 km/ 4,660 miles of coastline and is known for its many great beaches such as Playa Brava in the resort city of Punta del Este.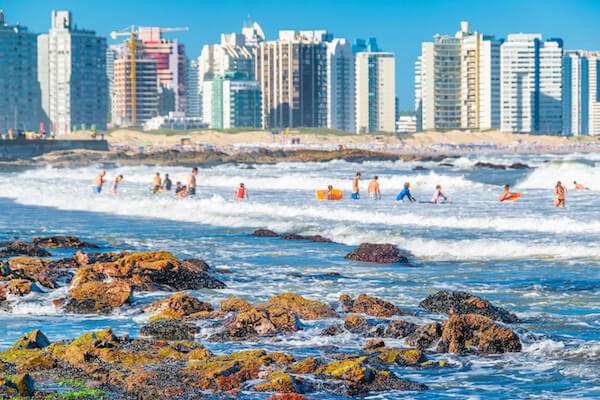 Playa Brava
The country is mainly flat with rolling hills. The south has fertile coastlands and the north is dominated by some low mountains in the Sierra de las Ánimas.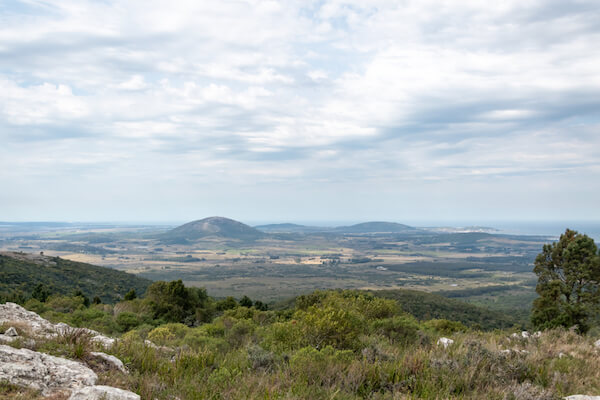 Sierra de las Animas
The Uruguay River is the second longest river in Uruguay, forming the border to Argentina, while the Rio Negro flows though Uruguay dividing the country in a northern part and southern part.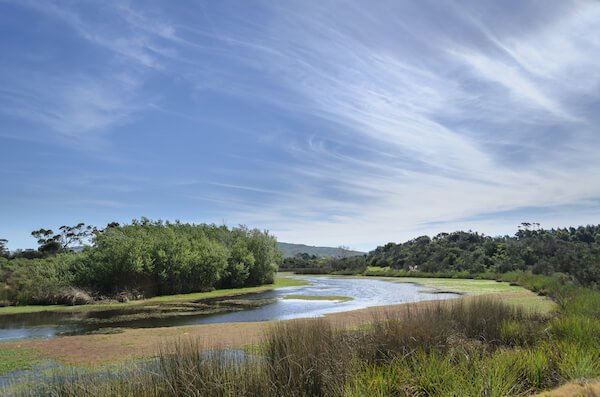 Maldonado stream in southern Uruguay
The climate in Uruguay is mild and humid with warm summers and rainfall throughout the year. There are four distinct seasons and differences between the warmer north east and the fresher and milder Atlantic coast.
Uruguay Geo Superlatives
The capital city of Uruguay, Montevideo, is the southernmost capital city in South America.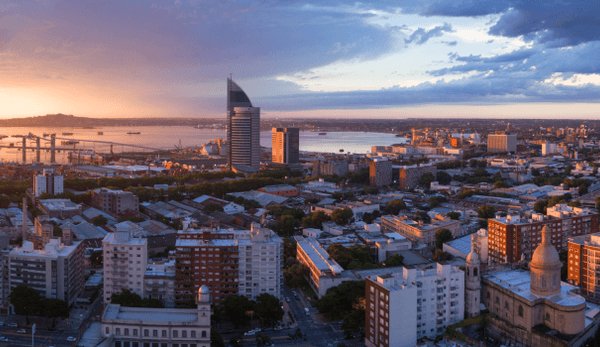 Montevideo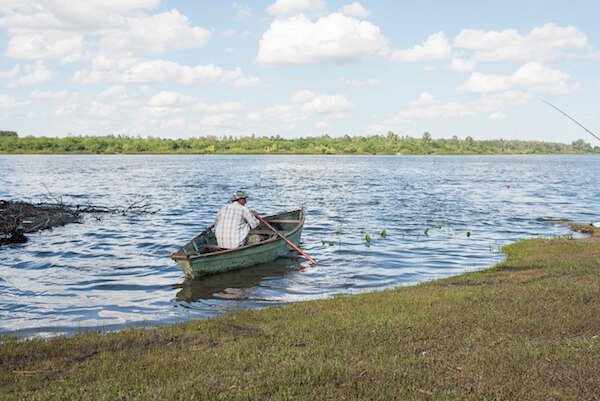 Rio Negro - image by Carolina Jaramillo
The Rincón de Bonete lake, also referred to as Rio Negro Reservoir is the largest freshwater reservoir in Uruguay. This is an artificial lake in the centre of the country.
Uruguay is the only country in the world located entirely south of the Tropic of Capricorn.
Uruguay Landmarks for Kids
Montevideo's old town (ciudad vieja in Spanish) has many colonial buildings around the Plaza Independencia which was once home to the Spanish citadel. Here are many famous landmarks such as the monument of General Jose Artigas and the Artigas Mausoleum, the tomb of Artigas, who is revered as the "father of Uruguayan nationhood". Palacio Salvo is one of the main building on Plaza Independencia.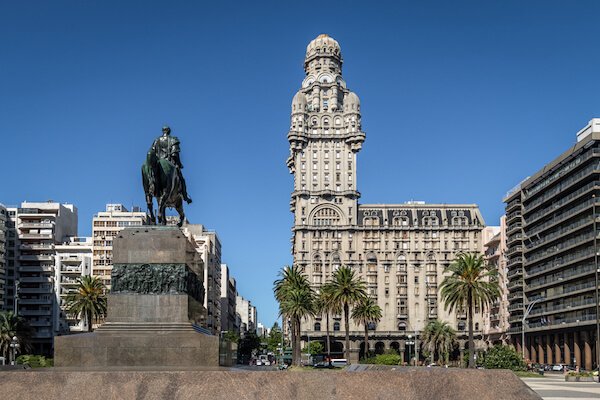 Palacio Salvo
When the building was finished in 1928 it was the tallest building in South America with a height of 95 m/ 213 ft. Today, Torre Antel is the highest building in Montevideo and Uruguay.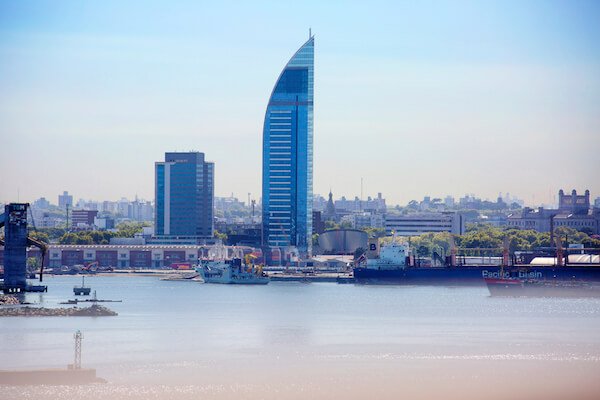 Torre Antel - image by Galina Savina
Los Dedos Sculpture: The sculpture named 'Los Dedos' which mean 'The Fingers' in English, is one of the main landmarks and attraction in Punta del Este. The port city is also known for the mix of colonial and modern buildings.
Los Dedos in Punta del Este
Fortaleza Santa Teresa, the fortress of Santa Teresa, is a historic landmark about 300 km/ 180 miles to the northeast of Montevideo. The hilltop fortress from the 17th century is located in Santa Teresa National Park, one of ten national parks in the country.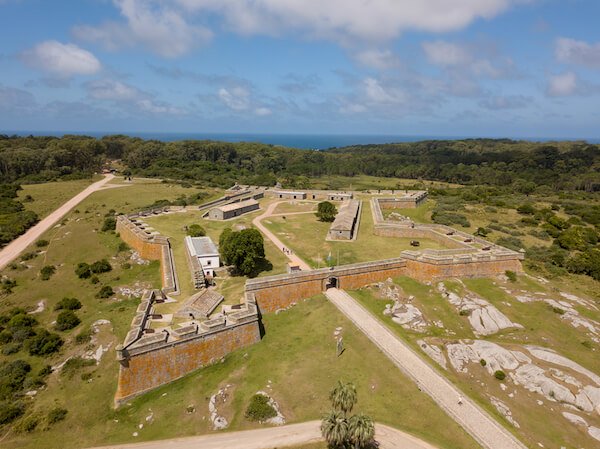 Santa Teresa Fortress
Colonia del Sacramento, or short: Colonia, is the second oldest city in Uruguay. The city centre is a UNESCO world heritage site due to the many colonial buildings. Wander through cobblestone streets and admire the colonial buildings including the city gate with its wooden drawbridge. 
Colonia's city gate and drawbridge
Lunarejo Valley in northern Uruguay is known for its narrow valleys, beautiful waterfalls and gorges. The national park is near Rivera at the border to Brazil.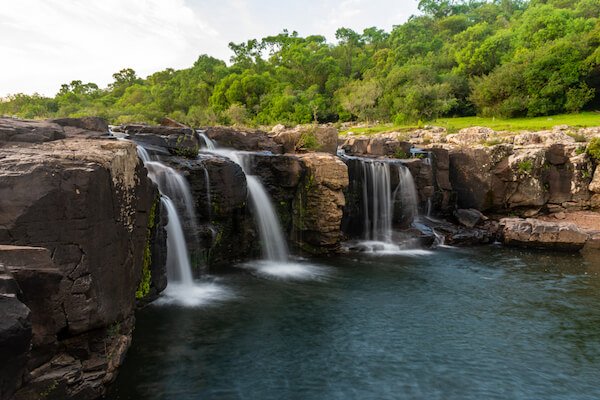 Waterfalls in Lunarejo Valley
Uruguay Facts | People in Uruguay
Uruguay is a rather small country with a population of only 3.4 million people. Most of the Uruguayans live in urban centres in the southern part of the country.
About half of the population live in and around the capital city Montevideo and around the southern city of Punta del Este.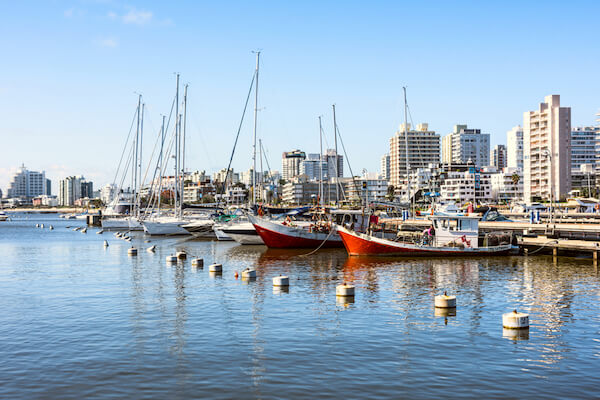 Punta del Este - image by Ksenia Ragozina
The biggest cities in Uruguay are Montevideo and Salto in northern Uruguay. Salto is the second largest city with about 105,000 inhabitants.
Uruguay is considered the wealthiest and safest South American country. The Uruguayan average salary is the highest in South America.
Most people work in the services sector, while about 14% work in the agricultural sector and less than 10% of the population are unemployed. Especially in the northern region the gaucho lifestyle is still very present.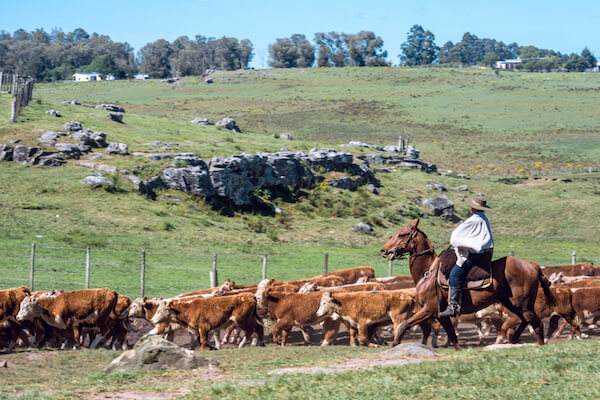 Gaucho
Uruguayan people are known as friendly and welcoming. Up to 96% of the Uruguayans have family roots in Italy, Spain, Portugal, France or Germany. Most European immigrants arrived in the country in the 19th century. Only a very small number of people in Uruguay are nowadays of indigenous descent. 
About 20% of the Amerindians in Uruguaya live in the northern parts of the country and in there are about 300,000 Uruguayans of African descent.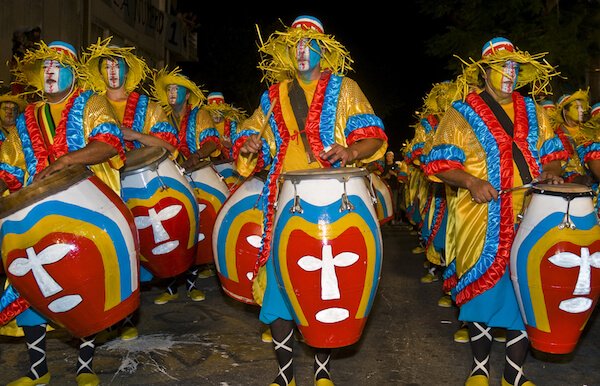 Candombe drumming event
Carnival is celebrated over forty days and celebrations start with a huge street parade in Montevideo.
Drumming features greatly in the celebrations and at one special event, during the Desfile de Llamadas which means the 'Call of the Drums' over 2,000 participating drums can be heard playing at once!
Uruguay Facts | Language in Uruguay
The official language in Uruguay is Spanish.

Uruguay is the smallest Spanish speaking country on the South American continent. Remember that the population in the smallest independent South American country Suriname speak mainly Dutch (official language) and English.

Portuñol is a mix of Spanish and Portuguese that is spoken close to the Brazilian border.
Uruguay Facts | Uruguay Economy 
Uruguay has one of the strongest economies in South America. The country is known for its stable economy and often dubbed as the Switzerland of South America in the 1970s due to its democratic system offers many social benefits for its citizen and a stable economy.
The main agricultural products of Uruguay include beef, soybeans, wine and rice. Uruguay is one of the leading nations regarding renewable energy - ranking fourth after Luxembourg, Denmark and Germany.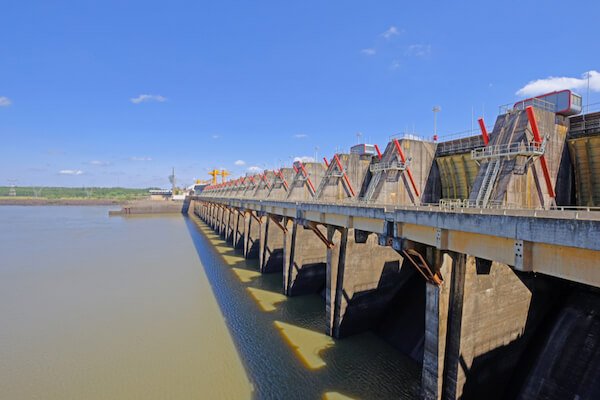 Hydroelectric Power Plant at Salto
In the last ten years, Uruguay has cut down massively the carbon footprint and shifted to renewable energy sources such as wind and solar power and water (hydroelectric power). Almost half of the country's installed capacity is carried by renewable energy sources.
About 87% of Uruguay is agricultural land, with the majority of this being permanent pastures and grassland which are used as grazing land for cattle and sheep herds. In Uruguay there are three times more cattle than people! 
The largest trading partners of Uruguay are China, Brazil, the USA and Argentina.
Uruguay Facts | Animals in Uruguay
In Uruguay there many different animal species. You will find armadillos and capybara, flamingos and greater rheas. Coatis can be found mainly in northern Uruguay.
Coatis are mammals that grow up to 69 cm/ 27 inches tall, they have strong limbs and can walk on their feet as human do but have racoon-like paws. The long snout is very flexible and so can rotate when they need to push objects or look for food. Coatis are omnivores.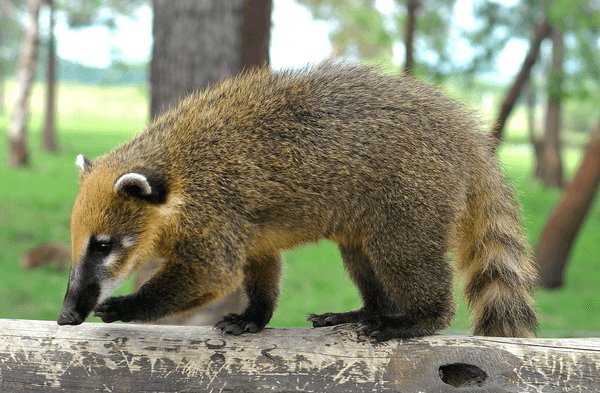 Coati
Uruguay Facts | Food in Uruguay
The cuisine in Uruguay is a fusion from many different cuisines due to the melting pot of the population. As in other Latin and South European cultures, the days start and end later, and meal times thus are slightly different to the American or English meal times. Dinner is usually eaten around 9pm while merienda is between 5 and 7pm
The parilla or grill is one of the dining traditions in Uruguay. Different meats are grilled and offered on an iron grill, the parilla.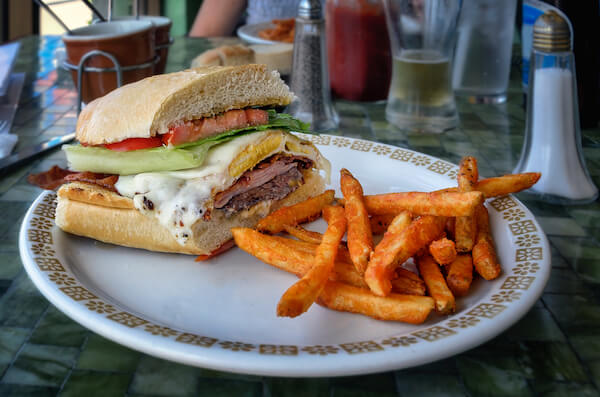 Uruguay Chivito
Uruguay Facts: Typical Uruguayan food and drinks:

chivito sandwich: huge sandwich stack with steak, ham, bacon, mozzarella cheese, lettuce, onion, tomato, fried or hard boiled sliced egg and fries
asado: barbecue or grilled meats
garrapiñada: sweet roasted peanuts
richardito: ice-cream filled chocolate cone on a waffle base
alfajores: cookie sandwich filled with dulce de leche, a caramel-like sweet cream made with sweetened milk
chaiá: layered sponge cake with dulce de leche, peaches and cream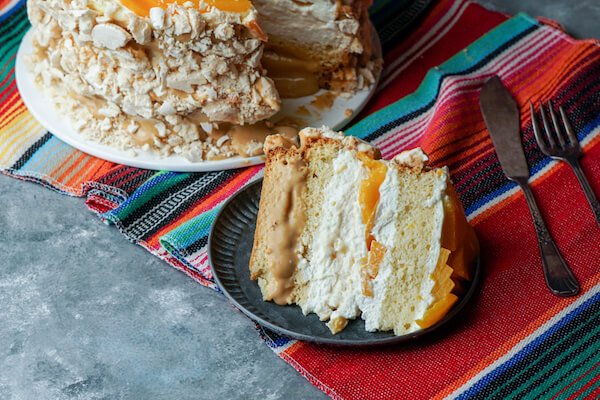 Chaiá peach cream sponge cake
mate tea: herbal infusion of shredded and dried yerba mate leaves. Traditionally Uruguayans use a thermos instead of a kettle to prepare the typical Uruguayan drink.
tereré: cold mate infusion mixed with fruit juice
Resources for Uruguay Facts
Central Intelligence Agency. "Uruguay" CIA World Factbook. Updated 16 April 2021. Last Accessed 29 April 2021.
Bridget Gleeson. "20 Things to Know before you go to Montevideo." Roads and Kingdoms. Last accessed 29 April 2021
Matero. "What is a Gaucho." Yerbamatero. Last accessed 30 April 2021
Uruguay Ministerio de Turismo. "Valle del Lunarejo." Uruguay Natural. Last accessed 29 April 2021
Images for Uruguay Facts: Punta del Este by Ksenia Ragozina; Gaucho by Ksenia Ragozina; Antel Tower by Galina Savina; Rio Negro by Carolina Jaramilo; Cadombe by Kobby Dagan; Playa Brava by DFLC Prints; Hydroelectric Power Plant by Reisegraf.ch/all shutterstock.com
Popular Pages
More Uruguay facts will be added soon! Please let us know if you also have Uruguay facts to share, we gladly will expand this section. Just contact us for taking part in our schools project. Looking forward to hearing from you.
Return from Uruguay Facts to Kids World Travel Guide Homepage
Enter our competition NOW