Morocco Facts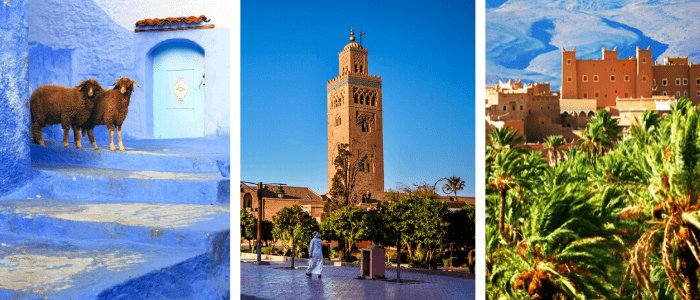 Morocco Facts for Kids
Here are some interesting Morocco facts which were chosen and researched by kids especially for kids.
Morocco Flag
Population: 38 million people (2022)
Capital: Rabat with 1.8 million inhabitants
Name: Kingdom of Morocco
Government: Parliamentary Monarchy
Language: Arabic and Tamazight (Berber) are official languages, while French is often spoken
Religion: Muslim 99% (Sunni)
Currency: 1 Moroccan Dirham = 100 Centimes
National Day: 30 July (Throne Day remembers the ascension of King Mohammed VI)

National Animal: lion, pentacle (five pointed star which is also known as Solomon's seal)
National Colours: red and green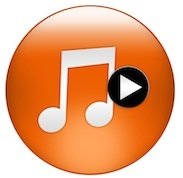 Anthem
National Anthem: The Cherifian Anthem - listen here
Chief of State: King Mohammed VI (since 1999)
History: Morocco gained independence from France in 1956.
Morocco Facts | Morocco Map
Morocco is located on the African continent. The North African country borders the Atlantic Ocean and the Mediterranean Sea.
Morocco borders three countries: Algeria and Spain via the two Spanish enclaves Ceuta and Melilla as well as Western Sahara.

On the map you can see the neighbouring countries and the location of the country's capital city Rabat.
Map of Morocco
Spain lies across the Straits of Gibraltar to the North of the country.
Please see further info about Western Sahara and this map under Page Resources below.
A flight to Morocco takes about 4-hours flight from the UK and it takes about 15-hours to fly from New York/USA. 

Morocco Geography
Morocco is slightly bigger than California/USA or a bit smaller than twice the size of the UK.
The fertile coastal regions are bordered by the high Rif mountains in the North and the Atlas mountains that are separating the western coastal region from the Sahara desert. 
Moroccan Kasbah in the Atlas Mountains
Morocco Facts:
Tourist Attractions in Morocco
The 'Red City' of Marrakech in Morocco
Jamaa el Fnaa - Market in Marrakech
Rabat: Morocco's capital is a quirky seaside city with many modern buildings as well as French colonial buildings. Here you will also find the picturesque Kasbah of the Udayas which was built in the 11th century.
Rabat - the capital city of Morocco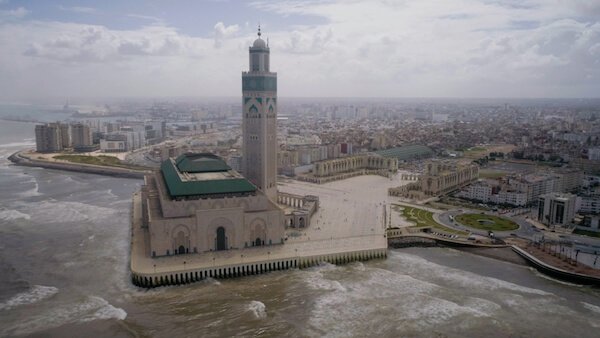 Morocco's Hassan II Mosque in Casablanca
Fez:

Formerly the country's capital, this city is known for its huge ancient medina, medieval streets and numerous leather tanning factories. A medina is the walled-in city centre which includes markets, shops, eateries and housing.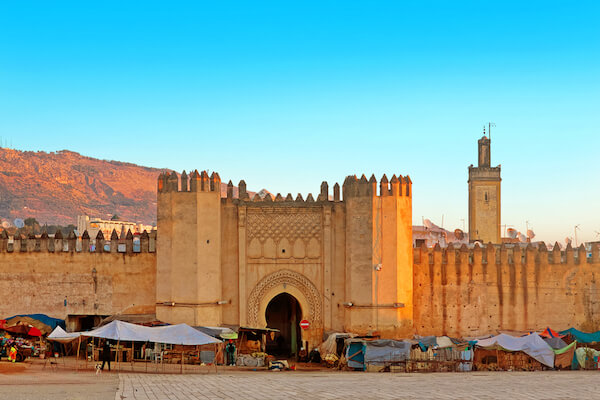 Medina of Fez in Morocco
Chefchaouen is known as the 'Blue City' and has a lovely relaxed feel with blue and whitewashed houses and the Atlas mountains as a backdrop.
Chefchaouen is known as the Blue City in Morocco
Sahara desert dunes: A desert safari is a great way to experience the impressive sand dunes and marvel at the clear starry skies at night.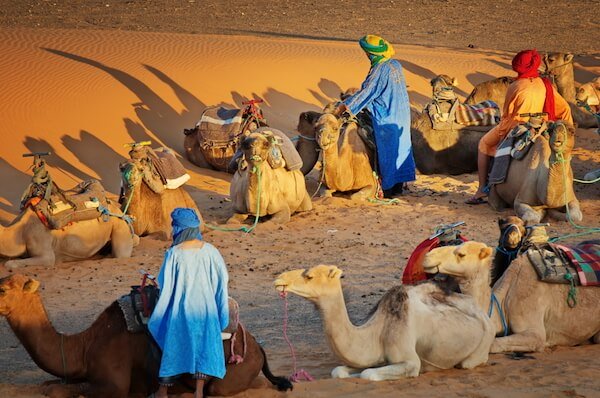 Sahara trekking with Berbers in Morocco
Morocco Economy | Morocco Facts
The economy in Morocco is mainly driven by agriculture, mining, the tourism and textiles industries.

Morocco fabric market
Mining plays an important role in Morocco. The main resources are phosphates, iron ore and zinc.
Argan oil is a plant oil that is extracted from the seeds of the Argan tree that grow abundantly in Morocco. Argan oil is used as a beauty oil in skincare and haircare and is also used in food.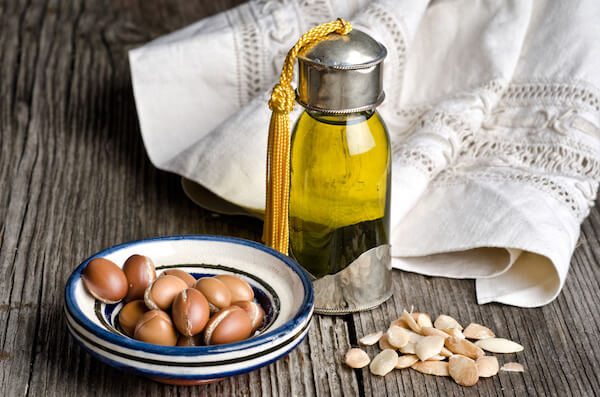 Moroccan Argan oil
The main trading partners of Morocco are Spain and France.
The major cities in Morocco are Casablanca, Rabat, Fez, Tangiers and Marrakech.

Moroccan People 
Two out of three Moroccans live in urban areas, such as the capital city or in larger towns. The eastern parts of the country are only very sparsely populated.
Fruit vendors in the Fez medina - image by Dino Geromella
In rural areas, many people are poor, unemployed and some older people are illiterate. Literacy rates constantly improved vastly over the last decade and today, about 75% of the adult population can read and write properly.
Children go to primary school for six years, then they move on to middle school and high school. Nine years of basic education for children from 6 - 15 years are free and compulsory. Drop out rates from middle and high school are still high, especially in rural areas.
The most popular sports in Morocco are soccer (football) and athletics.
Languages in Morocco
Morocco Facts
Moroccan Arabic is the main working language in Morocco, the official languages are Arabic and Berber.
Tamazight, Tarifit and Tashehit are the most widely used Berber languages. Standard Arabic and French is taught as first foreign language in schools.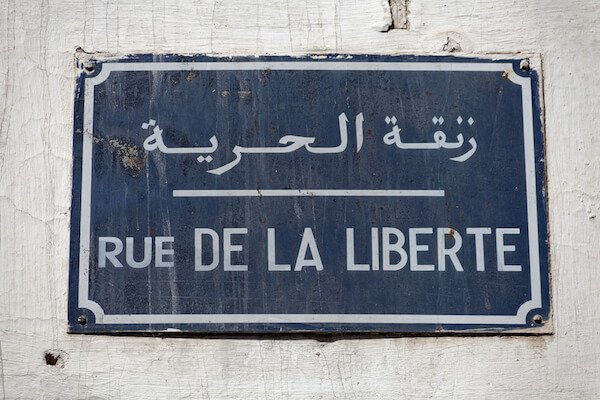 Street signage in Morocco in Arabic and French
The Arabic spoken in Morocco is a Moroccan Arabic that is slightly different to the Standard Arabic. However, French and Standard Arabic are spoken by many people in Morocco.
English can be understood and spoken mainly by young people who learn the language in school or privately.
Food in Morocco | Facts about Morocco

A wide variety of nuts and pulses such as lentils, split peas, fava beans or chickpeas are popularly used in many dishes as are lamb and chicken. Spices, dried fruits and flower buds that are used in many dishes can also be sourced at the local markets.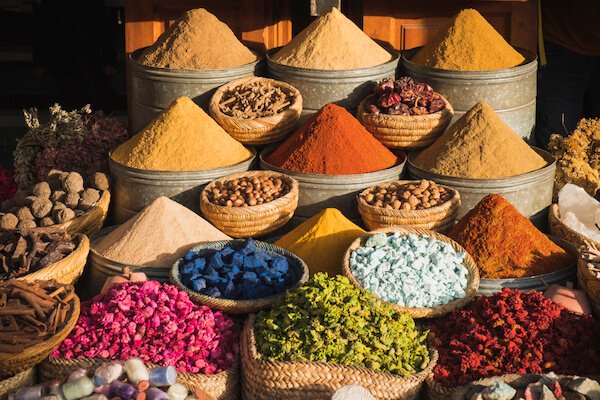 Variety of spices at a market stall in Morocco
Olives, citrus fruits and mediterranean vegetables such as tomatoes,  as well as honey and dates are heavily used in the Moroccan cuisine.

Here are some typical Moroccan food and dishes:

Couscous: wheat semolina is cooked and usually served with stews or tagines
Tagine: also called 'Tajine', is a kind of stew prepared with mixed meat, vegetables and spices that are combined and then cooked without stirring in special clay pot that is covered with a conical hat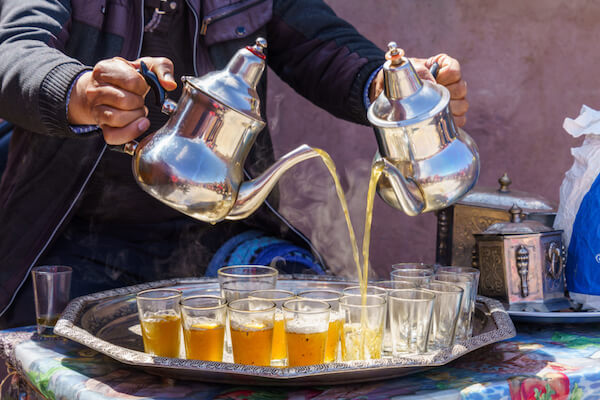 Mint tea ceremony in Morocco
Mechoui: roast lamb dish
Harira: soup made with vegetables, lentils or chickpeas
Mint tea: very popular sweet tea which is served almost anywhere and anytime
Read some great Moroccan food info here
Morocco Animals
The national animal of Morocco is the Barbary lion. These big lions once roamed the areas around the Atlas mountains but unfortunately they are now extinct in the wild. Only a small number of descendants of the Barbary lions still live in European zoos.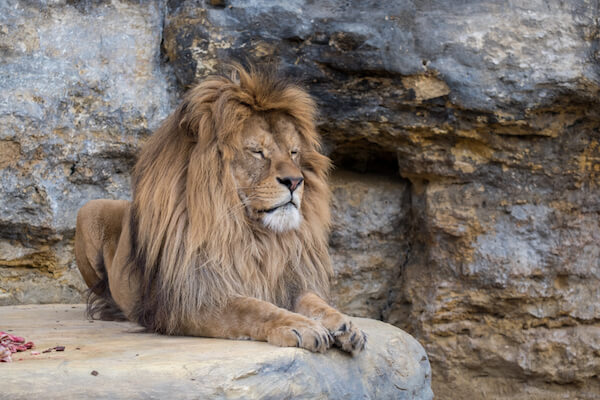 Barbary lion
There is a wide variety of wildlife in Morocco. On the coast you can spot dolphins and sea birds as well as porpoises. 
A very special sight in Morocco are also the goats climbing Argan trees! These cleverly climbing animals can be best spotted in the region around Essaouira and Agadir. There they try to nick the fruits and happily chomp away before the fruit's harvest season in early summer.
Goats climbing in Argan trees
Morocco Facts | Resources
Sources for Morocco Facts page:
Image Credits on Morocco Facts: photo stock from shutterstock and wikicommons, if not otherwise stated.
Please note: The territory of Western Sahara, to the south of Morocco (see map) is a disputed territory and partly occupied and annexed by Morocco since 1979.
The Sahrawi Arab Democratic Republic as Western Sahara is referred to as well is recognised by 45 countries as an independent country and by most countries is seen as an territory occupied by Morocco. This is considered illegal under international law and the UN is trying hard to find a solution. The USA recognised Western Sahara as part of Morocco in 2020 under President Trump, thus we do not use the map provided by the CIA World Fact Book.
We hope you enjoyed reading our Morocco Facts. Please bookmark this page and spread the word. We will add more information in the near future as we still have to sort through our images and stories from our recent travels.
Popular Pages
Go from Morocco Facts to Africa Continent Facts
Back from Morocco Facts to Kids-World-Travel-Guide
Competition 2023 closed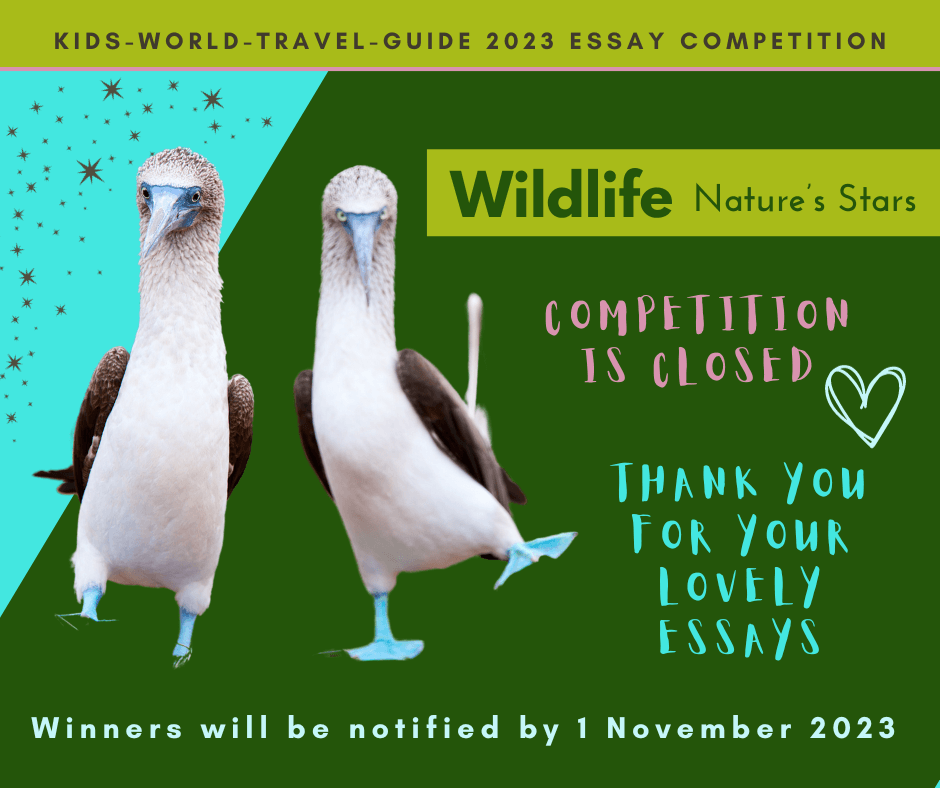 Watch this space
Competition 2024 will be announced in February