If a Wild Animal Could Speak
Essay Writing Competition 2023
Category: 8 - 11 years
- Runner-up -
The essay "If a wild animal could speak" written by Elisa Maisara Syahril Syafeez was chosen as a runner-up in the Junior category.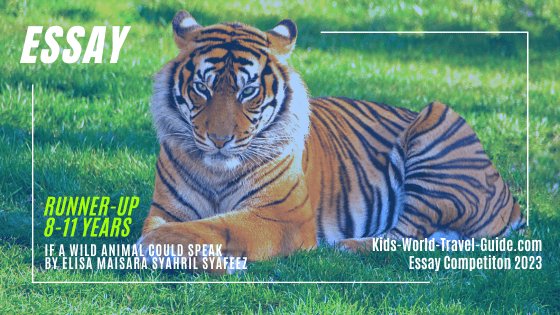 If a wild animal could speak
Hey fellow humans, my name is Tora. I'm a Malayan tiger.
I have a stunning pair of green yellow-ish eyes, beautiful orange fur and my black stripes are drop-dead gorgeous. I'm the smallest tiger species in the Southeast Asia. I was born blind and I live in the Malaysian Rainforest.
I am grouchy when I'm hungry. I enjoy eating sambar deer, barking deer, wild boar, Bornean bearded pigs and serow. I can also eat a whole elephant because my stomach is very big. I'm an excellent swimmer and I love water because it helps me keep myself cool from the tropical heat.
Do you know I can camouflage better than ninjas!? I live in a ginormous and dark cave. I chose this cave because the cave is very big and wide. If it is tight, I wouldn't live there because I hate tight spaces! I put claw marks around the cave to let my tiger friends know that it's taken. I decorated my comfy home with meats and bones of my prey.
Do you know who my number one enemy is? HUMANS! I dislike them because they are destroying the beautiful green forests and killing animals for their body parts, I kill animals too but the humans are overdoing it!
During the day, I sit at my comfortable habitat, then I just sleep and relax because I sometimes feel very lazy or I go swimming in rivers and streams.
During the night, I like going hunting for food alone when it's dark outside. I use my camouflaging skills to stalk my prey from behind the trees or bushes, then I will wait until the right moment to jump out. With my powerful muscles and agility, I can jump 33 feet in just one remarkable leap. I always use my big paws as weapon, I just put my paw around my prey's neck to suffocate it.
Other than that, I'm also considered as a powerful, glamorous and fearsome king in the Malaysian rainforest and humans chose me as Malaysia's national symbol. Even their national football team is named after me – Harimau Malaya.
These are the reasons why I'm so special and remarkable. I am also a big dreamer. My dream for the future is not wanting me and my fellow Malayan tigers to extinct. Sadly, they are only 150 Malayan tigers left in Malaysia's forest. I don't want to die! We, the Malayan tigers help humans keep a balance in the ecosystem.
So please, help me and stop poaching my friends for our body parts! I hope that my "cries" are heard and HUMANS will help stop the Malayan tigers from being endangered. OUR ROARS ARE OUR PLEAD TO BE SAVED!
---
In the Age category 8 - 11 years, Elisa Maisara's lovely essay was chosen as a runner-up. 
Well done, Elisa Maisara! Thank you very much for your wonderful story about the Malayan tiger! Congratulations! 
Elisa Maisara attends SJKC Serdang Baru 2 in Seri Kembangan/Selangor in Malaysia. Her home language is Malay, English is her second language.
Competition Winners 2023
| | |
| --- | --- |
| Malaysia | South Korea |
| | |
| --- | --- |
| Turkey | Sri Lanka |
Competition Winners 2022
Competition 2021 Essays
Popular Pages
Country Facts for Kids
Christmas Special Pages
Back from 'If a wild animal could speak' to Essay Competition Winners Listing
Return to Kids-World-Travel-Guide Homepage
Competition 2023 closed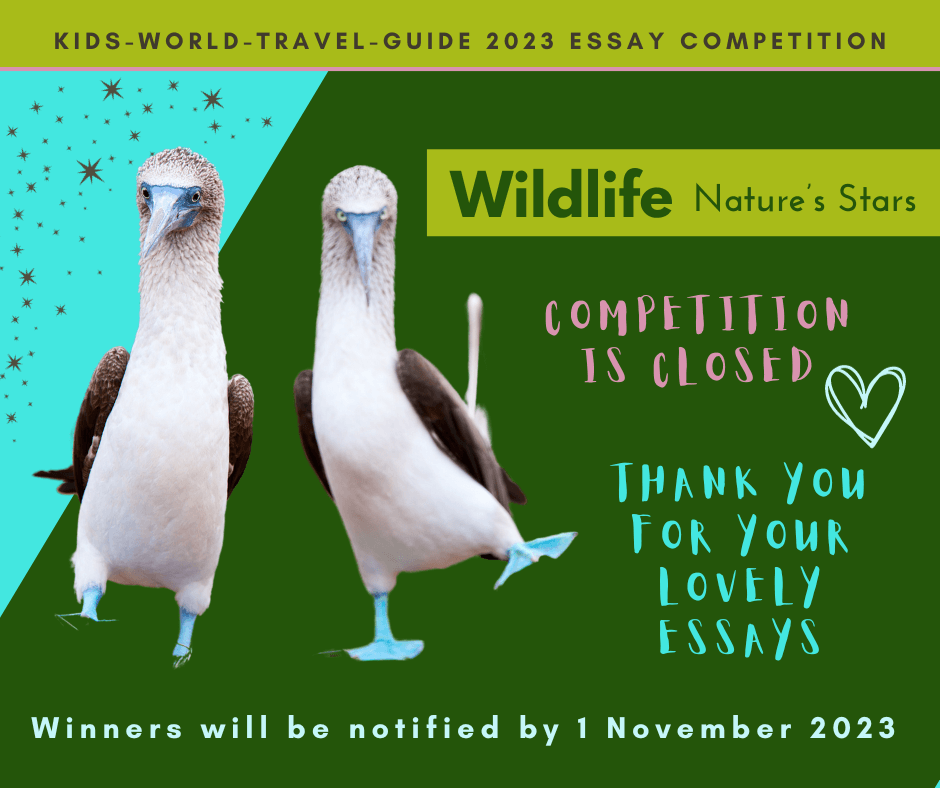 Watch this space
Competition 2024 will be announced in February