Bhutan Facts
Interesting Facts for Kids
Here are some interesting Bhutan Facts which were chosen and researched by kids especially for kids.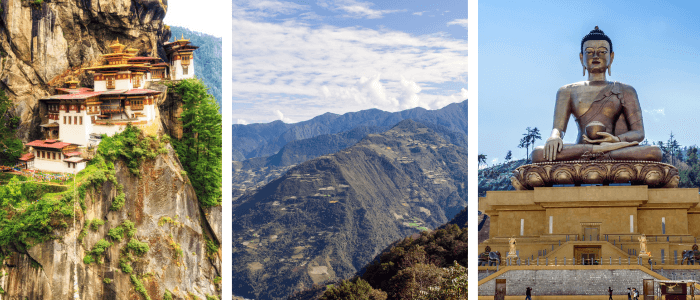 Tiger's Nest Monastery - Himalayas - Dordenma Buddha
Bhutan Facts for Kids
Population: 876,000 inhabitants (2023). The majority of the people live in the capital city.
Capital City: Thimphu with 203,000 inhabitants
Name: 'Kingdom of Bhutan'. The Bhutanese name is  Druk Gyal Khap, which means the 'Land of the Thunder Dragon'
Government: Parliamentary monarchy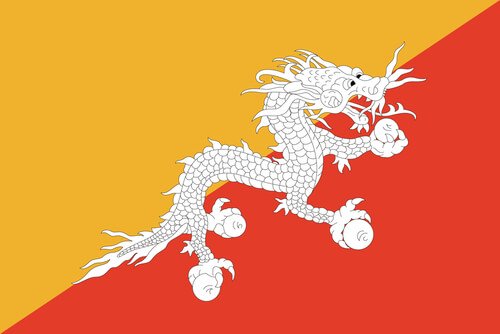 Bhutan Flag
Official Language: Dzongkha (Bhutanese)
Literacy: 71% of all Bhutanese aged 15 and older can read and write
Religion: Buddhism (75%), Hinduism (22%)
Currency: 1 ngultrum equals 100 chhertum
National day: 17 December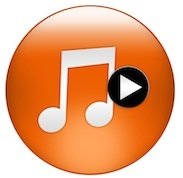 Listen to the anthem
National symbols: the takin (national animal) and the blue poppy (national flower), the raven (national bird)
National anthem: 'Druk Tsendhen'
History: Bhutan became a democracy in 2008 after the first democratic elections were held in the country. The King of Bhutan is the Head of State. 
King of Bhutan: Bhutan's king is called Jigme Khesar Namgyel Wangchuck (born 1980). The 'Dragon King' is the fifth king of Bhutan. He is married and has one son.
Where is Bhutan? - Bhutan Map
Bhutan is located on the Asian continent and is a landlocked country in the Himalayan mountains.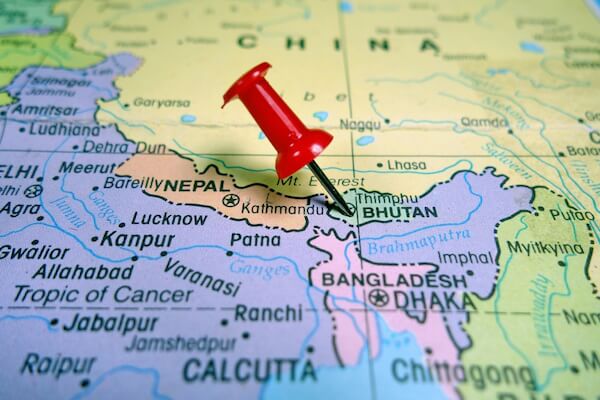 Bhutan map
Bhutan borders only two countries: India and Tibet, an autonomous region of China. The capital city is called Thimphu and is located in the country's eastern part.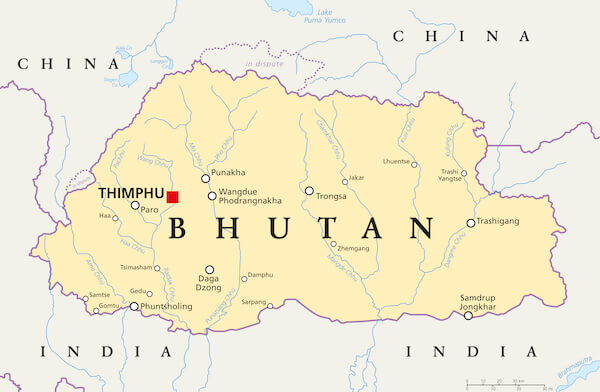 Thimphu is the capital city of Bhutan
This South Asian country is twice the size of Maryland/ USA and Bhutan is about as big as Switzerland.
Bhutan for Kids
Bhutan Geography
Bhutan is a small mountain kingdom in Southern Asia. The country is nestled between India and China and is a landlocked country. Mountains and valleys dominate the landscape of Bhutan.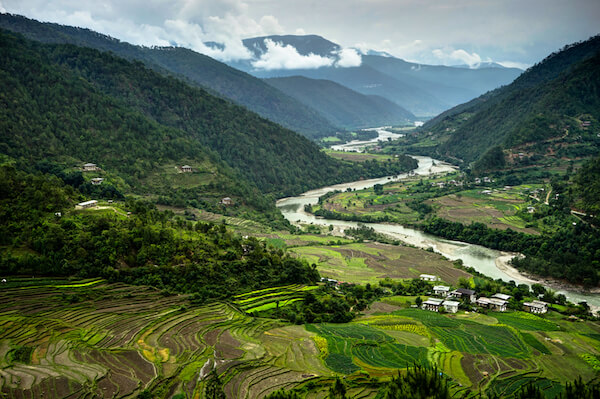 The mountainous country has a huge variation in the climate zones ranging from subtropic climate in the south to a polar climate in the north, where there is snow all year round in the highlying areas.
Bhutan is sparsely populated and most of the people in Bhutan live in rural areas. Bhutan is one of the least developed countries in the world. 

Bhutan Superlatives
Bhutan is one of the least populous countries in the world.
The biggest city of Bhutan is the capital city Thimphu.
Bhutan's highest mountain

is Gangkhar Puensum 

with 7,570 m/ 24,836 ft. This mountain is the highest unclimbed mountain in the world.
The longest glacier in Bhutan is the Wachey Glacier with 20 km/ 12 miles.
The longest river in Bhutan is the Manas River with over 376 km/ 234 miles in length. 
Bhutan does not have one single traffic light! A policeman is directing traffic in the capital city. Traffic at a main crossing in Thimphu is controlled by an officer.
"Human traffic light" in Thimphu - image by Nutkerdphoksap
Bhutan has more than 2,700 lakes, most of them are glacial lakes.
Bhutan Facts
Attractions for Kids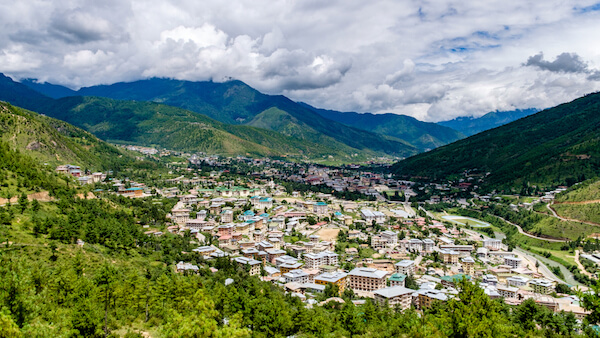 Thimphu - capital city of Bhutan
Thimphu: The capital city's fortress, called Tashichho Dzong, is one of the city's main attractions. This site includes the royal palace and a monastery and is also the seat of the government.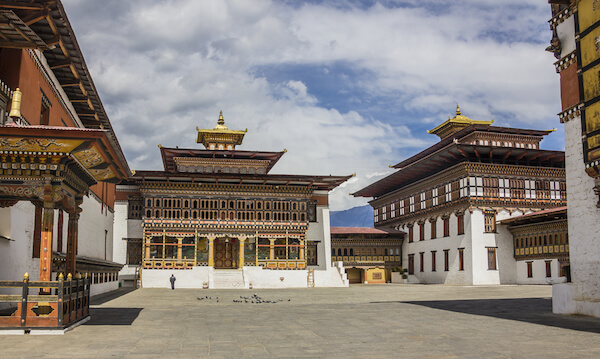 Thimphu fortress
Paro Taktsang: This famous monastery in the Himalayas is known also as the 'Tiger's Nest'. This is a sacred Buddhist temple complex. The cliffside monastery consists of four temples and eight caves.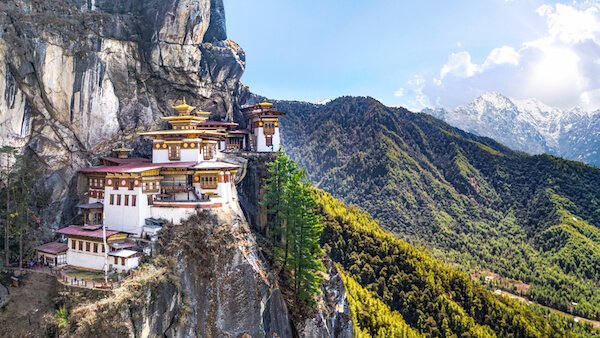 Paro Taktsang in the Himalayan mountains.
Buddha Dordenma:

This huge statue is 54 m/ 177 ft high and is one of the largest Buddha statues in the world. It sits on top of a hill overlooking the Thimphu valley. The statue is made of bronze and gold.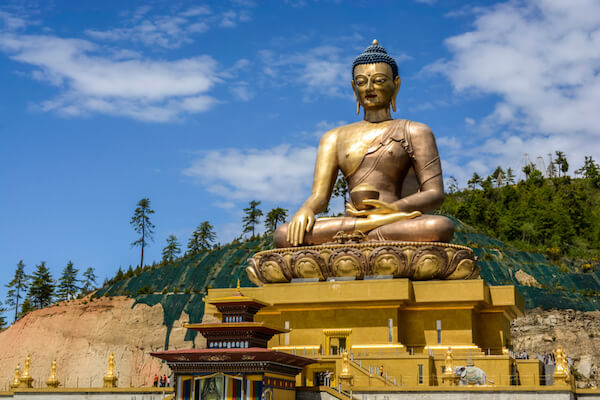 Buddha Dordenma
Dochula Pass: This mountain pass to the north of Thimphu is located at 3,100 m/ 10,200 ft. On this pass, 108 chortens (memorial temples) were built to commemorate Bhutanese soldiers who died in 2003. The Druk Wangyal Lhakhang temple was finished in 2008. It was built to celebrate 100 years of the kingdom of Bhutan.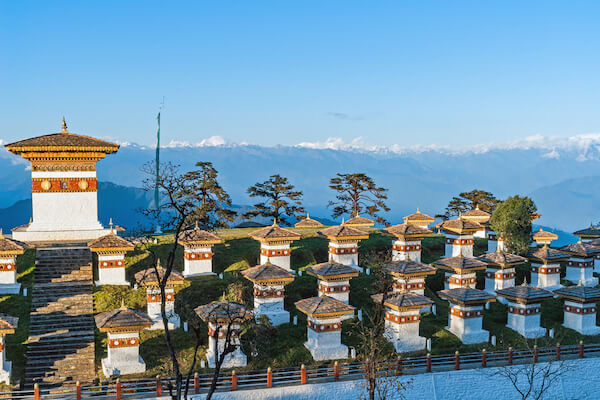 Memorial Chortens at Dochula Pass
Punakha Dzong: Also referred to as 'Palace of Great Happiness', this fortress in Punakha was constructed in 1637. It is known for its impressive paintings and woodcarvings. Punakha was the capital of Bhutan until 1955.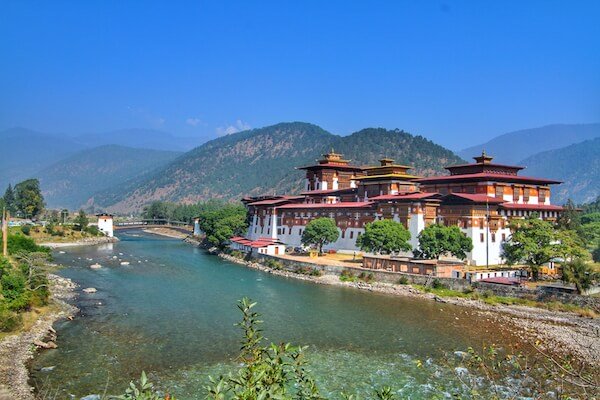 Punakha Dzong: Palace of Great Happiness
Bhutan Facts | Bhutanese People
Bhutan is one of the least developed and poor countries in the world, however, Bhutan is often referred to as one of the happiest countries in the world. Well, is this so?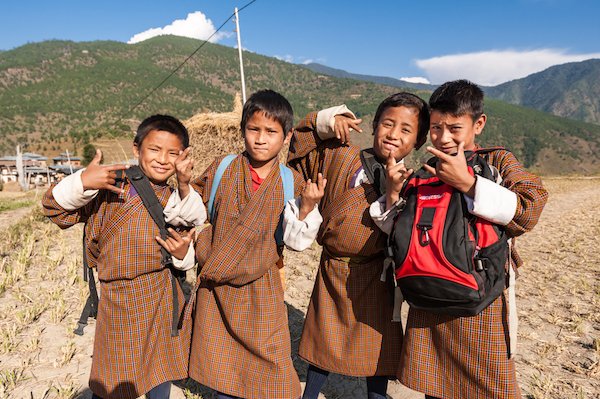 Happy Bhutanese children - image by Gnohz
Bhutan's government includes a Ministry of Happiness. Wellbeing and happiness of the Bhutanese citizen are said to be amongst the main aims of the Bhutanese government. Regular surveys are conducted in Bhutan to measure the happiness of the people.

However, especially young people, do not want to live anymore only according to traditions, but also embrace the modern lifestyle. And youth unemployment is high in Bhutan. Almost 19% of all young people are without work.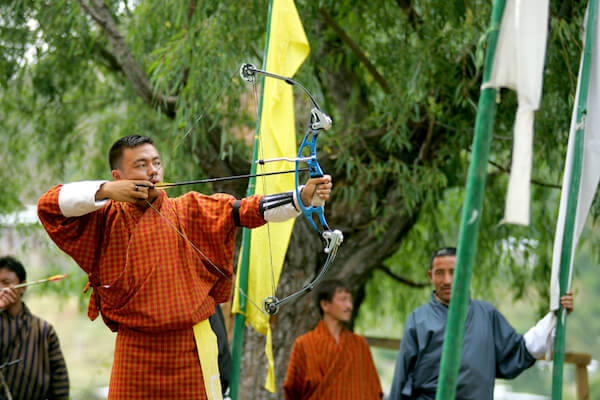 Bhutanese archery games - image by Oksana Perkins
Archery is considered the national sport of Bhutan. Archery, basketball and cricket are the most popular sports in Bhutan.
The Bhutanese take part in the Summer Olympics with a national archery team. Bhutan has never participated in any winter sports events in any of the Winter Olympics games.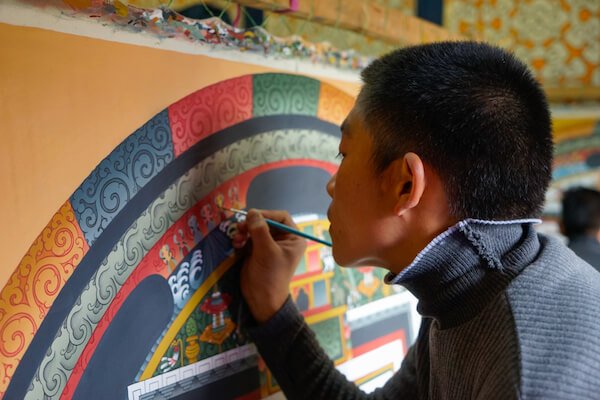 Young man refreshes the paint in a Bhutanese temple
Buddhism is the official religion of Bhutan. More than 75% of the people practise this religion.
Language of Bhutan
The Bhutanese language is called Dzongkha. 


Numbers in Dzongkha
The term Dzongkha means 'language of the palace', as it combines the words 'palace' dzong and 'language' kha. The Bhutanese language belongs to the Sino-Tibetan language family. There are 19 different languages and dialects spoken by the Bhutanese people. Dzongkha is learnt in all schools and the official language since 1971.
The Bhutanese writing uses the Tibetan Alphabet. The alphabet consists of 35 basic letters, including five vowels and 30 consonants.

Many people speak English and most street signs are written in English and the national language Dzongkha. Children learn English in school where English is the language of instruction. 
Bhutan Facts | Bhutan Food
The traditional diet in Bhutan includes rice, vegetables and dairy products as well as meats such as chicken, pork and beef. 
You should know that Bhutanese dishes can be very spicy, as many dishes include green or red chilies. Sweet milk tea is very popular.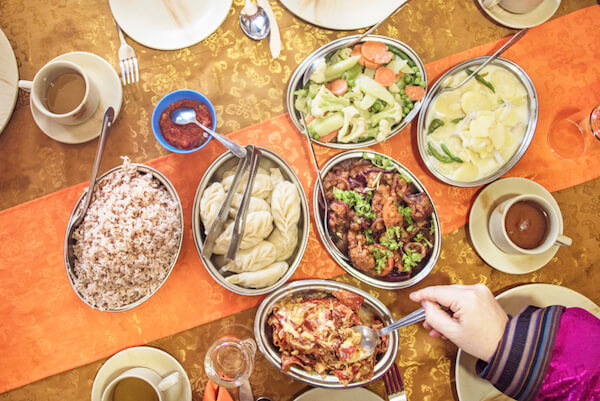 Food in Bhutan
Here are some typical Bhutanese dishes:
Ema Datshi: This is considered the national dish of Bhutan. It is very spicy as it consists cheese and lots of chilis. Rice is usually eaten with this dish.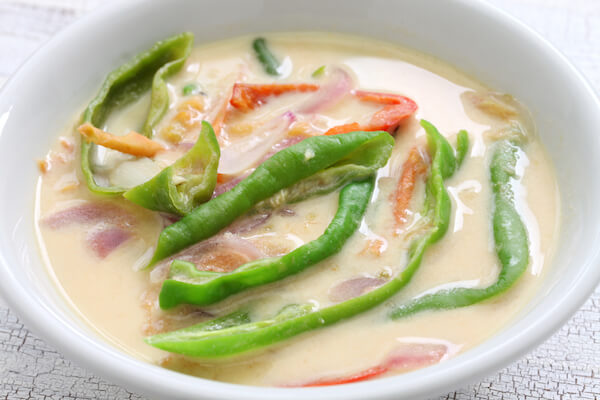 Red rice: This nutritious rice variety looks pink when cooked and is used in many dishes.
Momos: These Bhutanese dumplings are filled with minced meat, cheese and cabbage.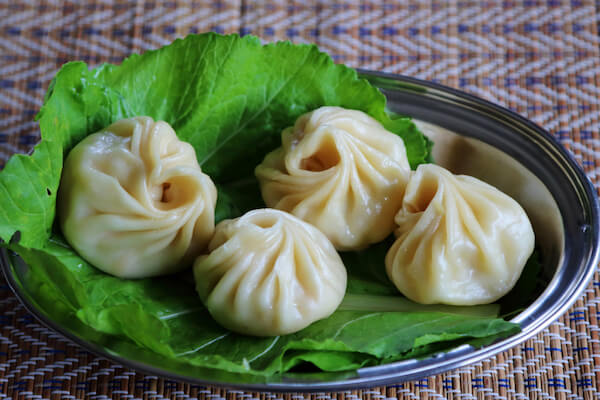 Bhutanese momos
Bhutan Facts | Bhutan Animals
The national animal of Bhutan is the takin.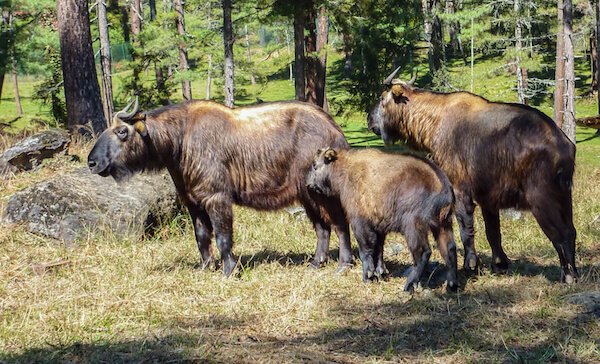 Family of takin
The takin is also referred to as gnu goat. Takin have short legs, a long nose, horns and a brown shaggy coat. 

Bhutan is also home to antelopes, snow leopards, blue sheep and red pandas.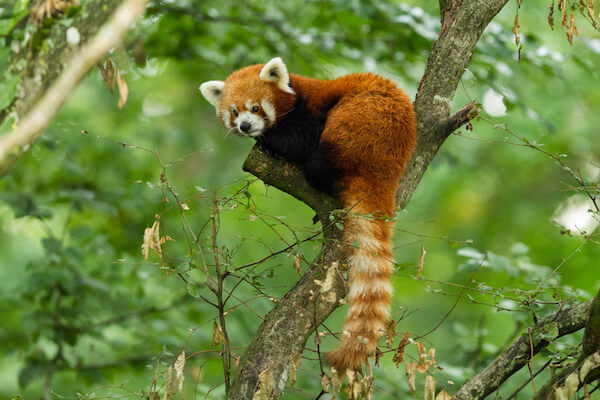 Red panda
Elephants, water buffalos and deer can be spotted in the tropical forests in the country's south, while wild pigs, musk deer and marmots are common in the higher lying areas.

Bhutan Economy
Bhutan is a small country in the Himalayas, but controls several mountain passes to India and China. 
As the landscape is dominated by mountains, glaciers, valleys and rivers, only about 2% of the country can be used for agriculture.
The main agricultural products of Bhutan are rice, root vegetables or fruits and spices such as cardamon. Although only less than one fifth of the country's income stems from agriculture more than half of the population work in the agricultural sector.
The most important agricultural product grown in Bhutan is rice. Rice is grown up to an elevation of 2,700 m/ 8858 ft.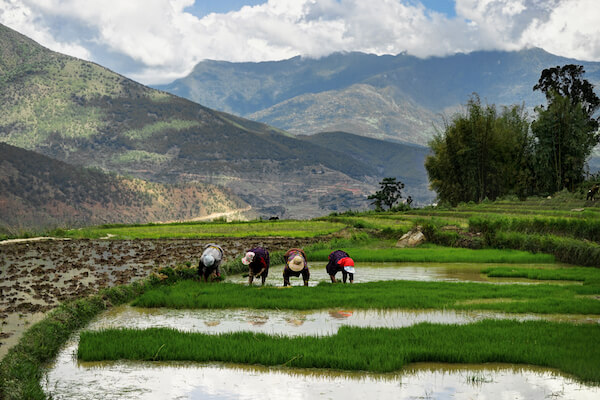 Women working on a rice field - image by Mathias Rhode
The main export and import partner is India. Hydropower is the main source of income. 
Other trade partners are Bangladesh, Italy, Nepal and Japan. Cement, electricity and mineral resources such as gypsum, dolomite or calcium carbide are the main export goods.
Bhutan Facts for Kids | Resources
Little Bhutan. "National symbols". Little Bhutan.com. Accessed 14 September 2023
Central Intelligence Agency. "South Asia: Bhutan". CIA WorldFactBook. 7 September 2023. Accessed 14 September 2023
Tourism Council of Bhutan. "Food". Bhutan.travel Accessed 14 September 2023
"Bhutan Culture". Bhutan.com. Accessed 14 September 2023
Neave Barker. "What it means to be happy in the 'happiest country'". AlJazeera.

31 October 2018

. Accessed 14 September 2023
Popular Pages
Please bookmark our page if you are interested in Geography for Kids pages, as our guide is updated regularly. Feel free to contact us if you or your school would like to join in our schools project. Looking forward to hearing from you!
Picture credits in main text and on Bhutan Facts: own or shutterstock.com, canva.com or wikimedia creativecommons.


Return from Bhutan Facts to Kids-World-Travel-Guide Homepage
Enter our competition NOW