Chinese New Year
Interesting Facts for Kids
Here are some interesting Chinese New Year Facts which were chosen and researched by kids especially for kids.
This new year celebration is also called Lunar New Year and celebrated also as Spring Festival. It is celebrated in January or February in many countries around the world.
This year, the first month of the new lunar year starts according to the Chinese calendar on 5 February 2019.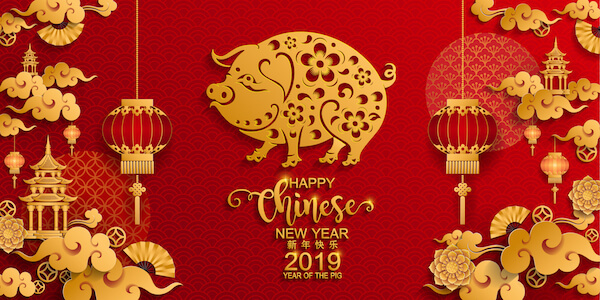 Happy Chinese New Year - 2019 - Year of the Pig
Many countries celebrate the new year according to the Chinese Calendar and not only to our calendar which is the Gregorian calendar starting on the 1st of January.
Lunar New Year is an important public holiday for many countries including China, South Korea, Vietnam, Singapore, Malaysia, Indonesia and Taiwan. In many countries, Chinese communities celebrate in the city's 'Chinatown' districts.

What is Chinese New Year?
This important date on the Chinese calendar has been celebrated for many centuries. During the festivities ancestors are honoured and traditional ceremonies are held where people get together and welcome the new year with customs that shall bring good luck, good fortune, wealth, prosperity and happiness.
The spring festival festivities for the new year take 15 days in most countries. The new year is often celebrated with dragon dances, lion dances, gift exchanging and fireworks. It ends typically with lantern festivals on the 15th day of the first calendar month. See below an image from the Pingxi Sky Festival which is celebrated in Taiwan every year to end the new year's festivities.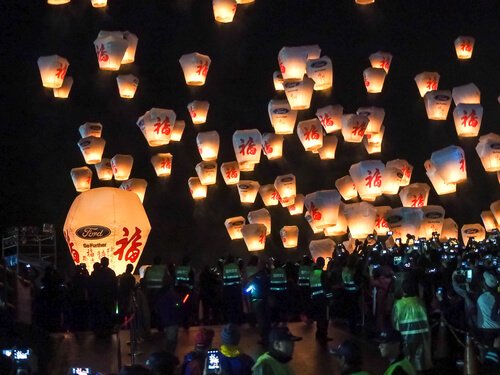 Lantern Festival in Taiwan
The Chinese Calendar
The Chinese calendar is about one month behind our (so called Gregorian) calendar as it has between 30 and 50 more days per year. And the Chinese zodiac calendar has a cycle of 12 years. The calendar was started on astronomical observations of the moon's phases.
Each year a Chinese zodiac animal is the symbol for the year.
The 12 Chinese zodiac animals are: rat, ox, tiger, rabbit, dragon, snake, horse, goat, monkey, rooster, dog, and pig.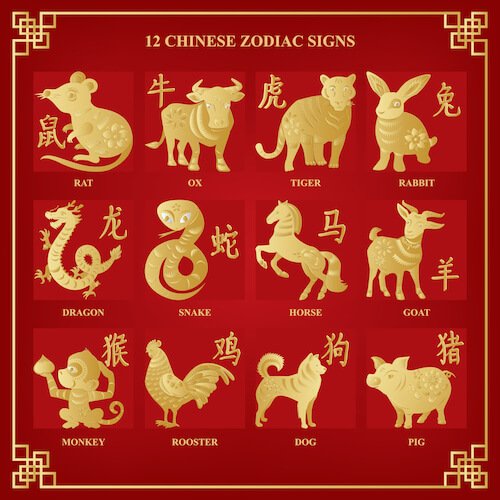 Look again at the listing of animals! They always come in the same order, so 2018 was the year of the dog, 2019 is the year of the pig and 2020 will be the year of the rat. Which year will it be in 2021? (We share the answer at the bottom of the page under 'Resources')
Lunar New Year Wishes
People wish each other good luck, happiness and wealth for the new year. The words used most in good wishes are: happiness, wealth, prosperity, prosperous, auspicious
'Gong Xi Fa Cai' means 'Have a prosperous new year'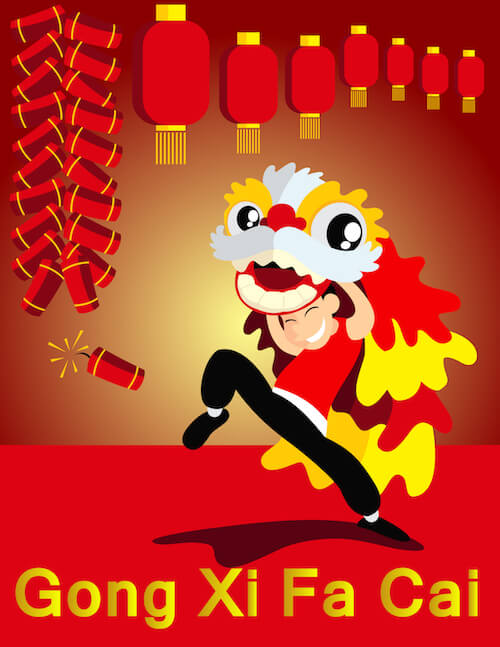 Most common are the Mandarin words: Gong Xi Fa Cai (try to pronounce it as Gong-she-faa-tsai) and the Cantonese: Gong Hey Fat Choy (pronounce it as: Gong Hee Faat Choy). Both wishes mean: Wishing you a prosperous new year. 

Chinese New Year Food
People eat 'auspicious food' during the new year period. For many, this means fish dishes. A fish is a symbol of good luck, wealth and healthy life.
Dumplings are traditionally eaten during the festivities. These little round rice flour balls are often filled with vegetables. Mandarin oranges, dried fruit and even sweets are seen as lucky food. Candy boxes and little round shaped biscuits symbolising gold or fortune are served everywhere.
And make sure your plate is never empty, as this would be seen as your luck has run out. Food is often prepared up to a week before, so one must not use a knife or fire for cooking on New Years day, as cutting with a knife for many would symbolise ill luck.
A popular food are long noodles that symbolise good fortune as well as a long life.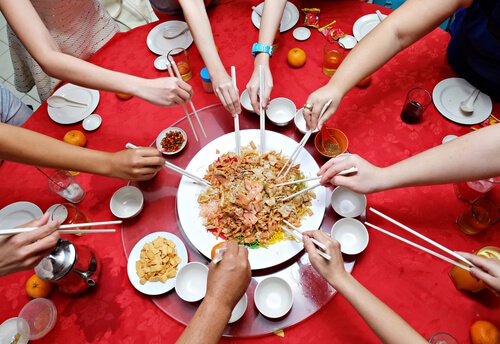 Typical 'good luck dish' Yusheng
A typical new year's dish is Yusheng. This raw fish salad with rice or long noodles is eaten during by many during the festive period.
Many eat Yusheng on the seventh day of the new year. The dish is a symbol for wealth and longevity, this fish salad is usually served in a huge dish in the middle of a table, where family members and friends toss the noodles in the big bowl together and then eat.
Lunar New Year Traditions
Dragon dances and lion dance festivals will usher in the new year in many cities. Some families may even invite a dance troupe into their homes as well.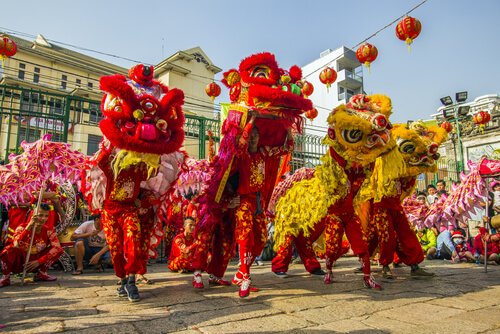 Lunar New Year Dragon Dance in Vietnam
Firecrackers are lit as these shall bring good luck and fortune. However, due to security reasons, firecrackers are banned in many areas nowadays and official fireworks displays are held instead.

On the second day of the new year, families will visit each other and hand over little gifts. And sometimes the family dog gets a gift too!
Gifts are handed money or little tokens in red packets or envelopes as these symbolise prosperity and happiness. Married family members hand red envelopes (called hongbao in Mandarin) with money to others to show their goodwill and give blessings for the new year to the other family members.
Children sometimes get oranges, sweets or coins. Always make sure to give an even number of gifts or in the amount of money. So always at least two mandarins, two packets or two coins. And the number eight is considered an especially lucky or auspicious number.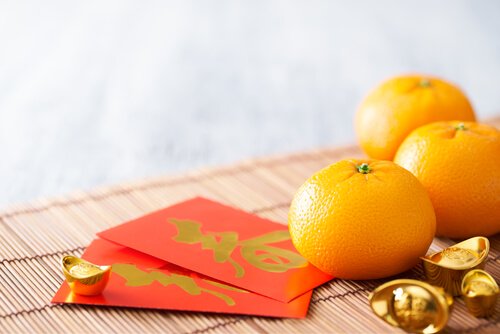 Typical Lunar New Year gifts
The bright colours and especially red colours are seen as a lucky symbol. Red decorations, lanterns and colourful symbols can be seen everywhere. These shall attract luck and prosperity for the year to come.
Many people dress mainly in red coloured clothing for the festivities. Often people also buy new clothes to show that a fresh beginning is celebrated with the new year. In the Mandarin language, the word for 'red' has the same sound as the word for 'prosperous'.
Chinese New Year Customs: What not to do
There are some rules when observing Chinese New Year. For example, scissors and brooms are banned to stay in the cupboards on the first day of Lunar New Year. These tools are considered to create bad luck for the year to come and brush away the good luck. So better keep them out of sight and out of action on this day!
Do not wash or cut your hair on the first days of the Lunar New Year. This would be seen as a sign of washing and cutting away good luck.
Do not clean your house with a broom on the first day of Lunar New Year. Cleaning is a sign of swiping away good luck - so if one has to clean something away, then it must be done after dark.
Do not do laundry on Chinese New Year. Doing laundry means washing away of good luck and wealth.
Don't give gifts which are black or white in colour. Also do not give clocks or watches or shoes. Watches would mean that time is running out and shoes would mean that one could walk away from the friendship or relationship.
Don't give gifts in uneven numbers. Always give gifts in pairs such as two oranges or two coins.
Don't dress in white, black or dark blue during this time. Wear colourful clothing, especially red, orange, and yellow colours are appreciated.
Chinese Zodiac Signs
The Chinese distinguish between five types of each animal species in their zodiac according to the elements: fire, earth, metal, wood and water.


The Chinese zodiac signs will be combined with the five elements. There are five different specific animals such as the fire rooster (2017) or the earth ox (2009) or metal/gold tiger (2010). For 2019 we should say: 2019 is the Year of the earth pig. 

People are assigned a zodiac sign according to their year of their birth. And zodiac signs are said to show certain characteristics. 'Pig' characteristics would apply then for people born in the 'year of the pig': These people are considered as energetic, enthusiastic, tolerant and hard working but sometimes a bit overconfident and very busy.
Are you or anybody in your family born in the year of the dog? The last 'pig' years were: 2007, 1995, 1983, 1971 or 1959.
Chinese New Year - Resources
---
Chinese New Year - Answer to question in section titled 'Chinese Calendar': 2021 will be the year of the ox.
---
Feel free to contact us if you or your school would like to join in our schools project. Looking forward to hearing from you!
And enjoy learning more great China Facts on our country facts page here.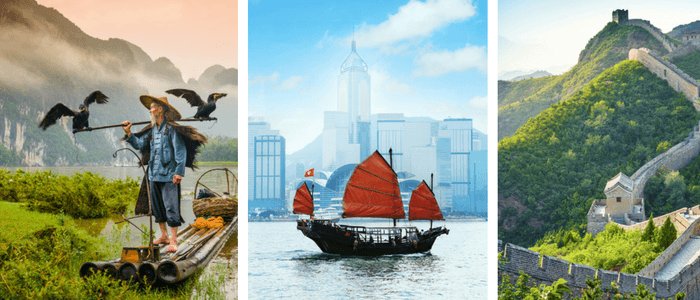 Picture credits in main text: own or shutterstock.com


Return from Chinese New Year Facts to Kids-World-Travel-Guide Homepage