Poland Facts for Kids
Interesting Facts for Kids
Here are some interesting Poland Facts which were chosen and researched by kids especially for kids.

Poland Facts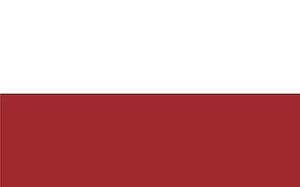 Poland flag
Population: 38 million people live in Poland (2021)
Capital: Warsaw, with 1.7 million inhabitants.
Name: Republic of Poland
Government: democracy, republic
Official Language: Polish
Literacy: More than 99% can read and write.
Religion: mainly Christians (Roman Catholics 92%)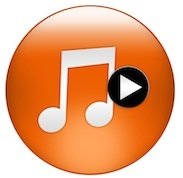 Click to listen to the anthem
Currency: 1 Polish złoty = 100 groszy
National Symbols: National flag, coat of arms, anthem and the white eagle (national animal), red and white (colours). 
National anthem: Mazurek Dąbrowskiego (Poland is not yet lost)
National Day: 11 November 
Where is Poland? - Poland Map
Poland is located in Central Europe and borders the Baltic Sea.
The country borders seven countries: Germany, the Czech Republic, Slovakia, Ukraine, Belarus, Lithuania and Russia (enclave of Kaliningrad). The longest border is shared with the Czech Republic.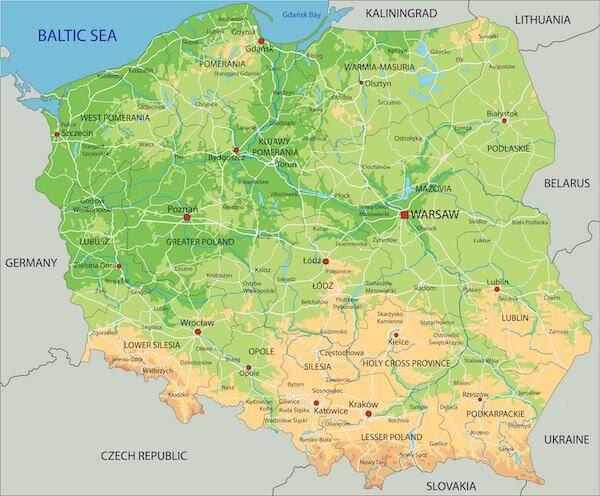 Poland map
Poland is the fifth most populous member state of the European Union. Read here our EU facts.

Poland is slightly smaller than the size of the state of New Mexico/ USA. Poland is slightly larger in land area than Oman.
A flight to Warsaw takes roughly 3 hours from London/England or 10 hours from New York/USA.

Poland Facts | Geography
Poland borders six countries to the east, south and west and the Russian enclave Kaliningrad and the Baltic Sea of the Atlantic Ocean to the north.  
One island in the Baltic Sea belongs completely to Poland, the island is called Wolin. The land area of Usedom island is shared with Germany. Only the eastern part of the island Usedom belongs to Poland.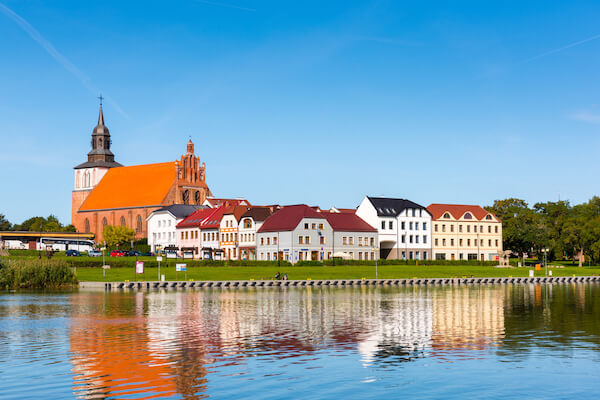 Wolin - Polish island in the Baltic Sea
Most of Poland's countryside is flat and there are only low rolling hills. Only in the southern part there are high mountains, the Tatras. There over 70 mountains in Poland that are higher than 2,000 m/ 6,600 ft.
The climate in Poland is largely temperate with 4 seasons. Winter can be quite cold, especially in the northern part of the country. 
Poland Facts | 10 Poland Geo Superlatives
1. Longest river: Vistula with 1,047 km/ 651 miles
2. Highest mountain range in Poland: The Tatras
3. Highest mountain of Poland: Mount Rysy with 2,501 m/ 8,205 ft. 
4. Largest island: Wolin 

5. Largest city: Warsaw with 1.7 million inhabitants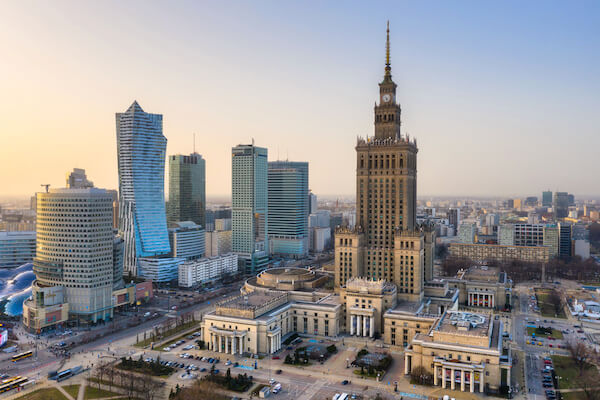 Palace of Culture in Warsaw
6. Largest lake in Poland: Śniardwy in Masuria
7. Westernmost point of Poland: Oder River near Osinow Dolny bordering Germany.
8. Largest cities in Poland: Warsaw, Krakow and Lodz 
9. Coastline of Poland: 770 km or 478 miles along the Baltic Sea
10. Largest forest: Lower Silesian Forest
Poland Landmarks
Attractions for Kids
Warsaw: Poland's capital city and largest city Warsaw is known for the old Town, the royal castle and the many historical palaces. There is a wide range of museums to visit such as the Copernicus science centre or the Chopin museum.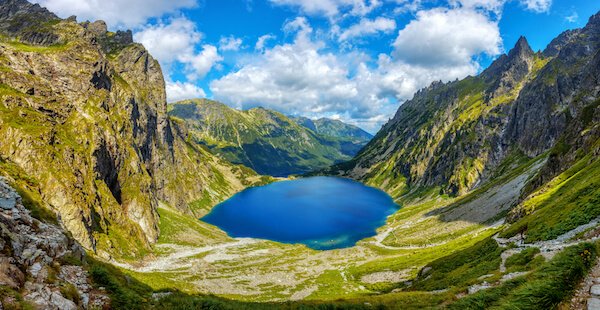 Tatra Mountains - click to see other famous attractions in Poland
Family holiday in Poland - which part to visit?
The climate in Poland is largely temperate with 4 seasons: spring, summer, autumn and winter. The climate in the northern part of the country is marine which means that it rains a lot and the days are much colder even in summer. Things to pack: a raincoat, an umbrella and wellies. 
If you prefer the mountains, then go to the south of Poland and visit the Tatra Mountains or the Carpatian Mountains. The views are so amazing that it is a good thing to take your camera with you. Comfortable hiking shoes will be also a real asset.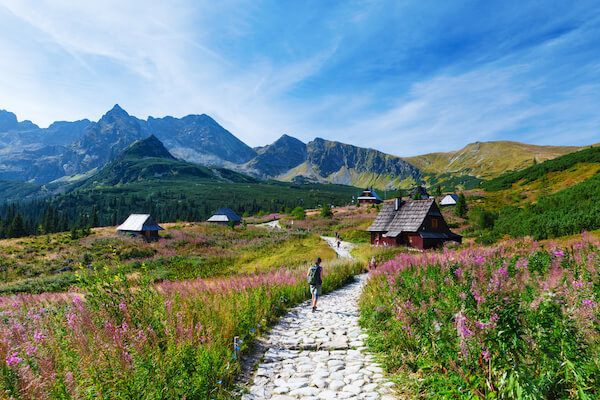 Hiking in the Tatra mountains in Poland
If you plan to go to the mountains in winter to see the snow, you won't be disappointed. There are some years that the mountains are the only place in Poland to see this white miracle.
If you are crazy about the countryside with lots of greenery and wildlife or you plan to escape the buzz of the cities, you should go to the east of Poland and discover our backwoods. If you are lucky enough, you can meet wolves or bisons which are one of the most impressive animals in the country. Equipment advice: binoculars.

If you can't live without sailing and mosquitos, you shouldn't go anywhere but the Lake District called Mazuria. There are many wonderful lakes there and we are sure that you will return home with unforgettable memories. Don't forget to take a repellent with you.
Poland Facts
Famous Polish People
Among the most well known Polish people are:
Marie Curie ((1867-1934): scientist and first woman Nobel prize winner
Nicolaus Copernicus (1473-1543): mathematician and scientist, was the first to recognise that the sun is the centre of our solar system
Frederic Chopin (1810-1849): pianist and composer
Check out our special page about Famous Polish people here.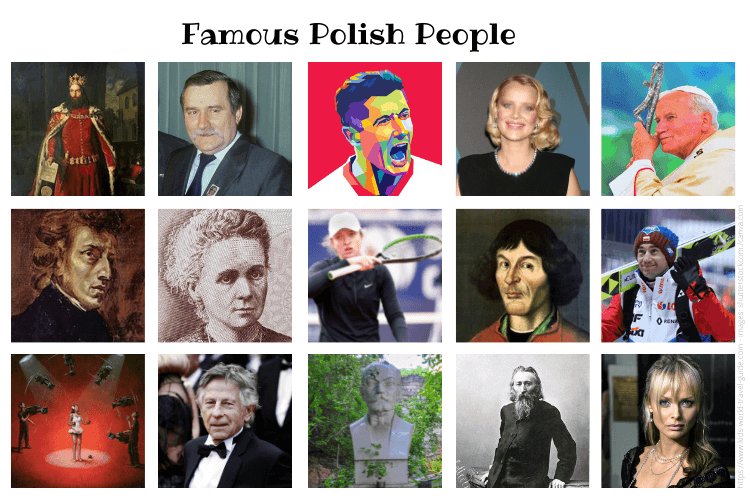 Poland Facts | Polish Language
In Poland people speak Polish, however, there are also some indigenous dialects spoken such as Silesian or Kashubian.
Poland Facts |Animals in Poland
In Poland there are over 100 different species of mammals. Among these are storks and roe deer, foxes, wolves and rabbits. 
In Poland, you will also find Europe's largest population of European bison.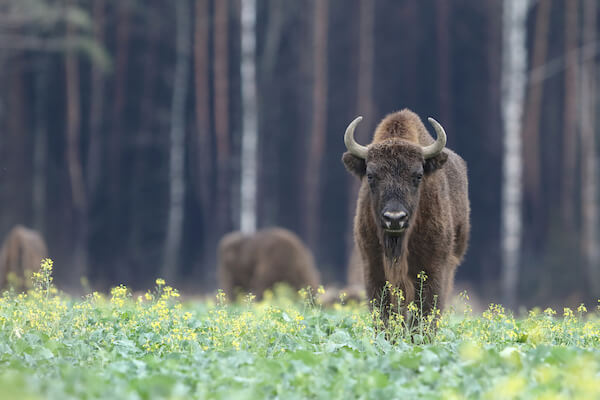 Bison
Poland has large forested areas and the Bialowieza National Park is one of the last primeval forests in Europe. A primeval forest is a forest which exists over centuries and has large very old trees, both still living trees and dead logs. 
Poland Economy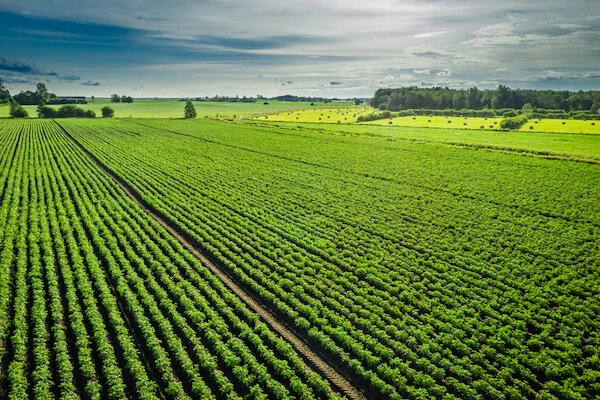 Large Potatofield in Poland
Poland is Europe's largest producer and exporter of potatoes and rye as well as a main producer of sugar beets, barley and oats. 
Poland Facts | Poland Food
Here are some typical Polish dishes:
Faworki: also known as Angel Wings are delicious sweet pastry ribbons
Pierogi: half-moon shaped dumplings can be filled with a variety of sweet or savoury fillings
Gołabki: savoury cabbage rolls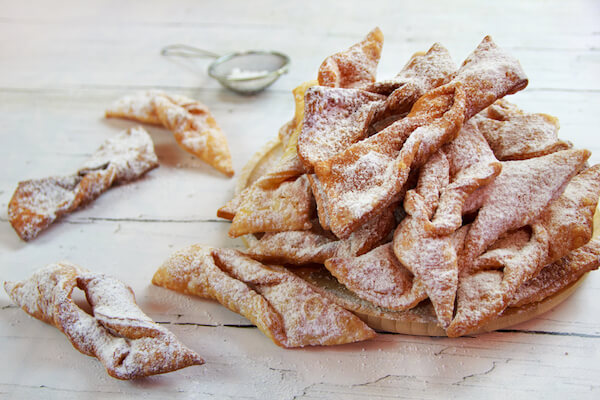 Faworki or Angel Wings
Find more typical and traditional food of Poland on our special page here: Food in Poland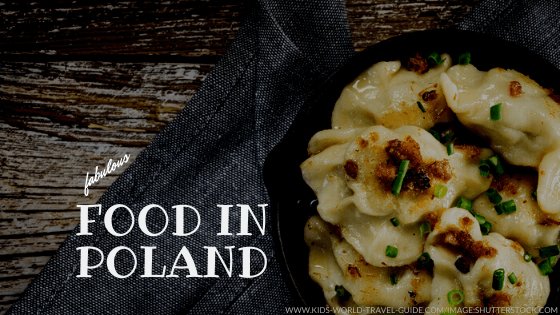 Poland Facts for Kids | Resources
Central Intelligence Agency. "Poland". World Factbook. Last updated 25 May 2022. Last accessed 27 May 2022
Polish Tourism Organisation. "Unesco Sites". Poland Travel. Last accessed 27 May 2022
"The Children's Visual World Atlas". Fog City Press. Sydney 2004
Images on Poland Facts for Kids: shutterstock, sxc.hu, wikicommons and own images.
Much of the content on this page was submitted by Justyna Kiedos from the English Language Studio in Opole/ Poland. The information on this page was collected by the students and teachers of the English Language Studio. Thanks so much for sharing all your insights on all these fantastic places to visit! We trust our readers will enjoy reading your favourite attractions for families visiting Poland. Great work!

Please continue to share your info and expand this Poland Facts for Kids section. Your support is much appreciated. Contact us here for any collaborations, additions or corrections.
Enjoy learning more great Poland Facts soon!


Return from Poland Facts to KidsWorldTravelGuide Homepage
Competition 2023 closed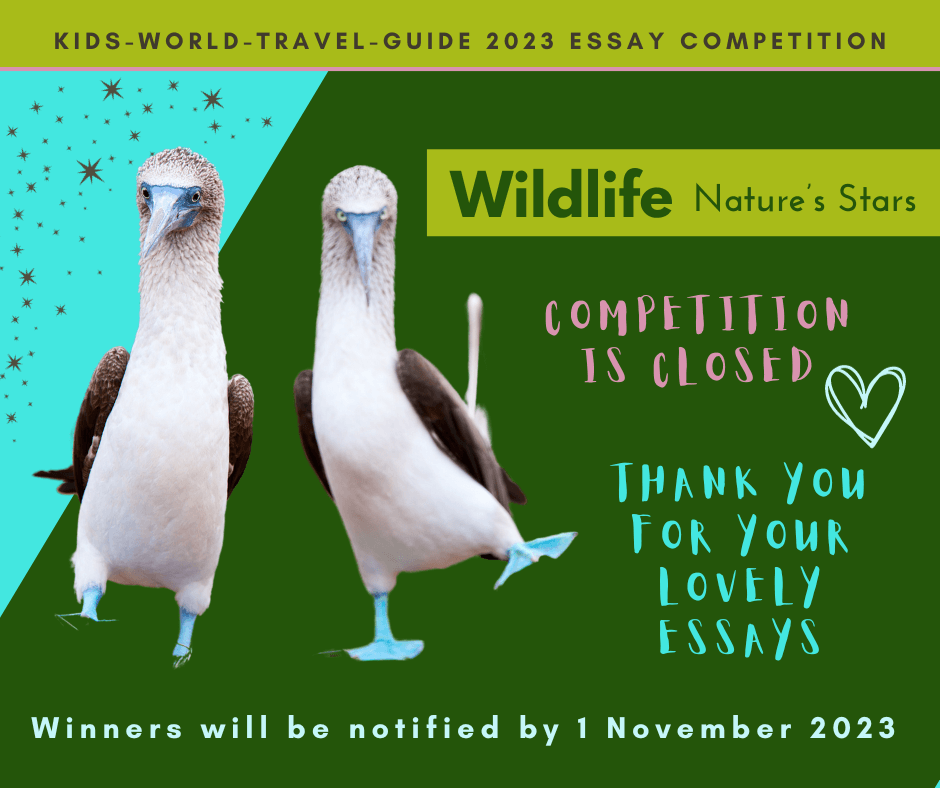 Watch this space
Competition 2024 will be announced in February