Tanzania Facts
Tanzania for Kids
Here are some interesting Tanzania facts which were chosen and researched by kids especially for kids.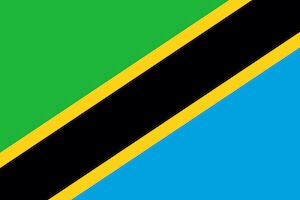 Flag of Tanzania
Population: 62 million people live in Tanzania (2022)
Capital: Dodoma with 420,000 inhabitants
Name: United Republic of Tanzania
Government: Presidential republic
Languages: Swahili and English 
Literacy: About 80% of the population aged 15 years and over can read and write
Religion: Christian 63%, Muslims 34 %
Currency: 1 Tanzanian shilling = 100 senti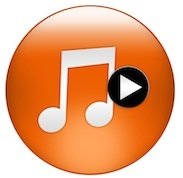 Listen to the anthem
National Day: 26 April (Union Day) and 9 December (Independence Day)

National Symbols: giraffe (national animal), African clove (national flower), Uhuru (freedom torch)
National Colours: green, yellow, blue and black
National Anthem: "Mungu Ibariki Afrika" ("God Bless Africa") has the same tune as the South African anthem
History: Tanzania is considered as one of the oldest continuously inhabited places on our planet. Prehistoric stone tools have been found in Olduvai Gorge in northern Tanzania. Among the indigenous people of the region are the Hadza and Sandawe people, who were hunter-gatherers that settled in the region. Persian explorers and merchants are said to have settled in Tanzania already in 800 BCE. In the 18th century Tanzania and especially Zanzibar became centres of the slavery trade when up to 90% of the Zanzibar residents became enslaved. From 1804 until 1856 the Sultan of Oman ruled over Zanzibar. In 1890 slavery was abolished. 1891 Germany established Tanzania as a German colony, as part of German East Africa until 1919. The region was then governed by the British after World War I. Tanzania became independent from the United Kingdom in 1961 (Tanganyika) and 1963 (Zanzibar). In 1964 these two merged to form the United Republic of Tanzania.
President: Samia Suluhu Hassan (since 2021)
Tanzania Geography | Tanzania Map
Where is Tanzania? Tanzania is a large country in eastern Africa and borders the Indian Ocean.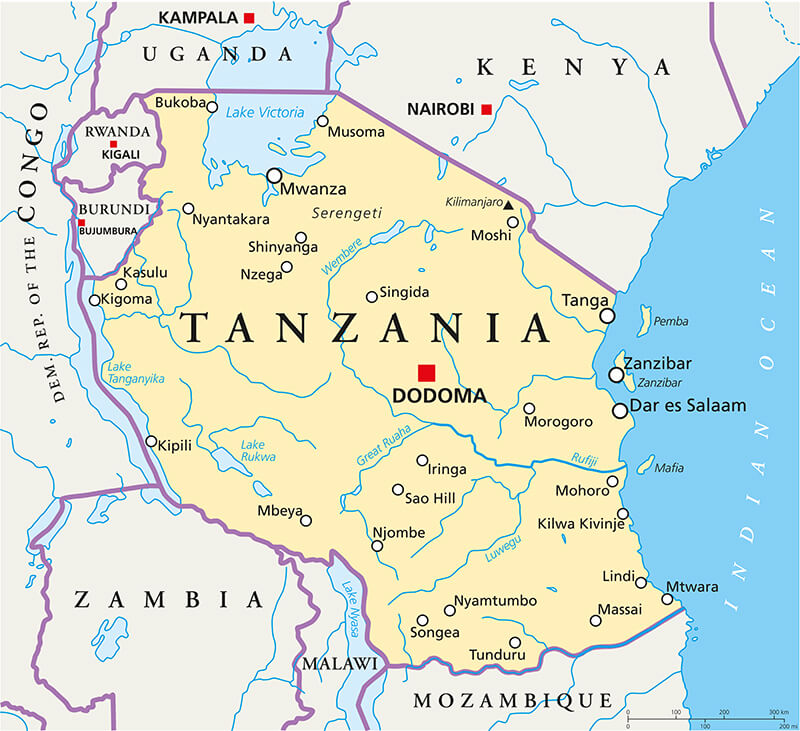 Map of Tanzania
The country shares borders with eight countries in East Africa: Mozambique, Kenya, Uganda, Malawi, Rwanda, Burundi, Democratic Republic of Congo and Zambia.
Tanzania is more than twice the size of the state of California/ USA or three times the size of Poland. Tanzania is about the same size as Nigeria in West Africa.
The name Tanzania comes from the names of the two states Tanganyika and Zanzibar. These two states merged in 1964 to form the country as it is today.
The capital city of Tanzania is called Dodoma and the government was fully relocated there from the economic hub Dar es Salaam in 2019. Dodoma's move was first announced and designated in 1973 by former president Nyerere to have a more central location for the administration and government.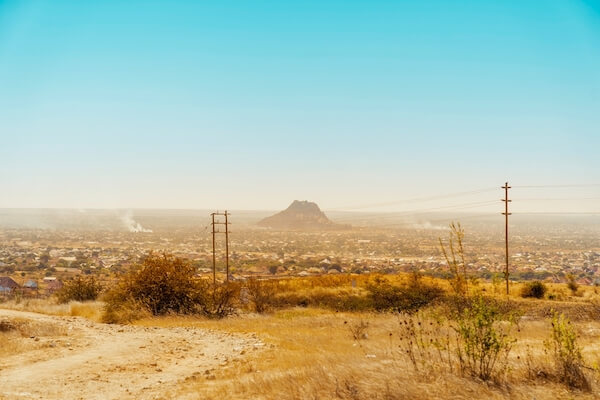 Dodoma
The once small market town Dodoma was founded by the German colonists in 1907 and is still quite rural. It is located about 450 km/ 280 miles west of the former capital and economic hub Dar es Salaam. The Dodoma region is know for its agricultural produce such as nuts, coffee and tea and as one of Africa's largest wine regions.
Although Dodoma is the official capital in 1996, still many embassies are still located in Dar es Salaam, where also the main international airport is located.
Tanzania has a tropical climate along the coast and in the coastal plains and a more temperate climate on the plateau and in the highlands.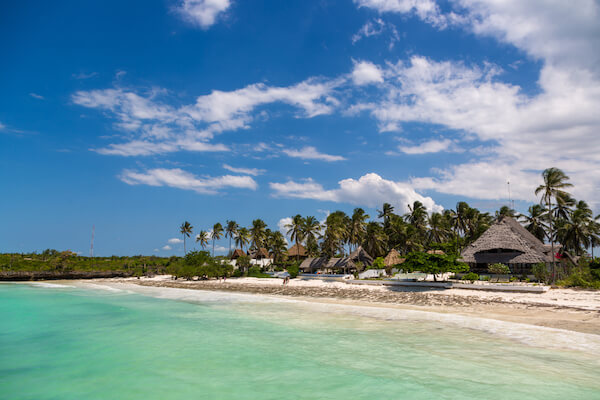 Zanzibar beach
It take a 12-hours flight from London/UK or 12-hours flight from New York/USA to reach Dar es Salaam. 
Tanzania Facts | Geography
10 Tanzania Superlatives
Tanzania is the largest country in Eastern Africa. 
Tanzania is also the most populous country in Eastern Africa housing about 62 million people. 
The largest city of the country is Dar es-Salaam with almost seven million people living in the metropolitan area. 
The three largest cities in Tanzania are Dar es Salaam, Mwanza and Stone Town.
Rufiji River is the largest and longest river that is entirely located in Tanzania. The river is about 600 km/ 370 miles long and navigable for about 100 km/ 60 miles. The Nile also flows through Tanzania. The Nile is the longest river in the world. 
Tanzania shares the shoreline of Lake Victoria with Uganda and Kenya. Lake Victoria is the largest lake in Africa and the second largest freshwater lake in the world.
Tanzanite is a gemstone that is only found in Tanzania. These deep blue precious stones were first discovered in 1967 near Arusha.
The highest mountain in Tanzania is Mount Kilimanjaro with 5,895 m/ 19,340 ft. This is also the highest mountain in Africa.
The longest border of Tanzania is shared with Mozambique over 840 km/ 522 miles.
The largest island of Tanzania is Unguja. The island is commonly referred to in English as Zanzibar.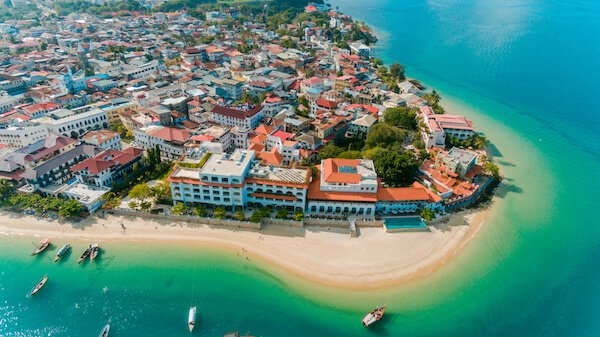 Stone Town in Zanzibar
Tanzania Facts | Tanzania Landmarks
Mount Kilimanjaro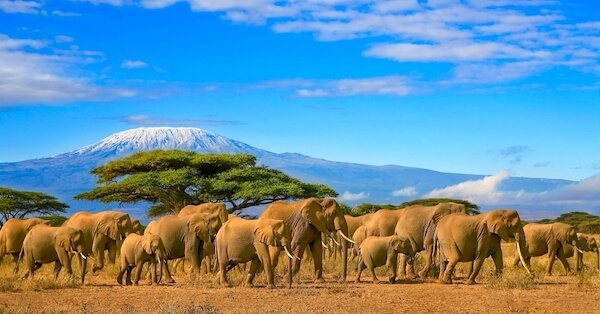 Elephant herd with Mount Kilimanjaro in background
Mount Kilimanjaro is a dormant volcano. It last erupted over 360,000 years ago. Africa's highest mountain is also the tallest single free-standing mountain in the world. Hiking up Mount Kilimanjaro on one of the eight routes can be done by anybody well trained and healthy. Most hiking tours takes about seven to nine days and accept children over the age of 10 years. 
Dar es Salaam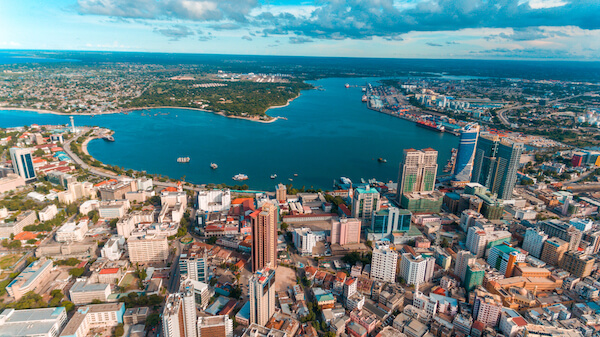 Dar es Salaam
Dar es Salaam is the largest city in Tanzania is home to many famous landmarks and attractions. Dar es Salaam mean 'home of peace' in the Swahili language. 
Dar es Salaam is located at the Indian Ocean coast and is the main business hub of the country. The sprawling city has a natural harbour and is also the main port of the country handling about 90% of all the cargo arriving by sea into the country.
The city is home to about 7 million inhabitants, however, 7 out of ten people live in informal settlements or shanty towns of the city.
Ngorongoro Crater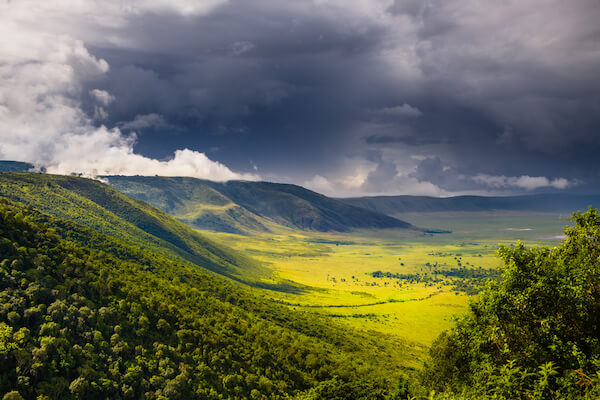 Ngorongoro Crater
The Ngorongoro Crater area is populated by Maasai people. The crater is a UNESCO world heritage site as it is the world's largest intact caldera (cauldron-like hollow that was formed by an volcanic eruption)
Arusha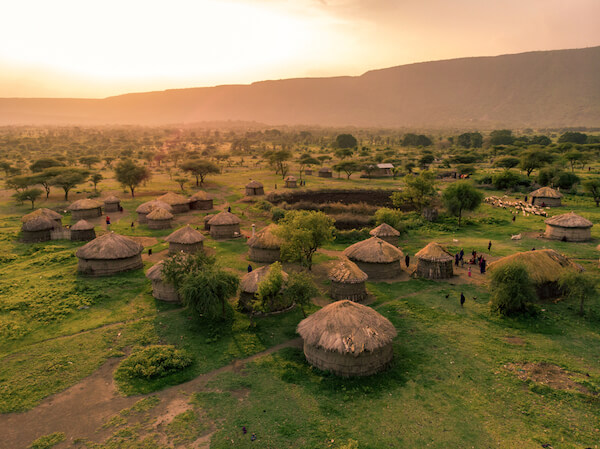 Maasai village near Arusha
Arusha is a small town at the base of Mount Meru, Tanzania's second highest mountain. The town is often used as a base for hikes up Mount Kilimanjaro and known as the safari capital of Tanzania.
It is in northern Tanzania, around Arusha, where you can see Maasai culture and traditions alive. The Maasai huts are called 'manyatta' and are built with wood, cow dung, mud. Several huts belong to a boma, which is a small community. People in these huts live without electricity, gas or piped water.
Stone Town: The Indian Ocean island is often referred to as 'spice island' as many spices such as black pepper, cloves, cinnamon or nutmeg are grown on the island. There is an old fort to visit and the old palace buildings which are among the main tourist attractions. And there is an old fishermen's hut that has been converted to one of the most scenic restaurants as it stand on a rock in the middle of the ocean and is freely accessible as here on the image only on low tide.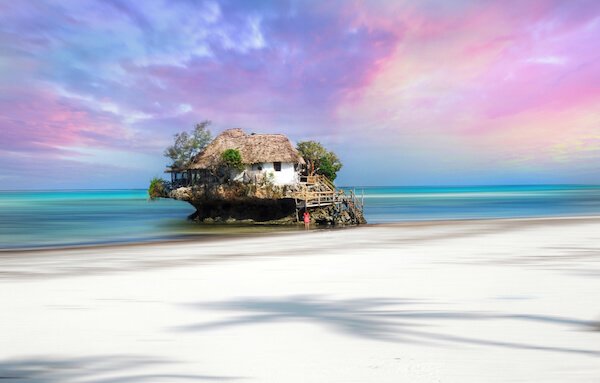 Zanzibar The Rock
Tanzania Facts | Tanzania People
Tanzania is the most populous country in Eastern Africa and Dar es Salaam is among the fastest growing cities worldwide.
Most Tanzanians live in the fertile hills in the country's north and south and along the coastline. About 65% of the population work in the agricultural sector.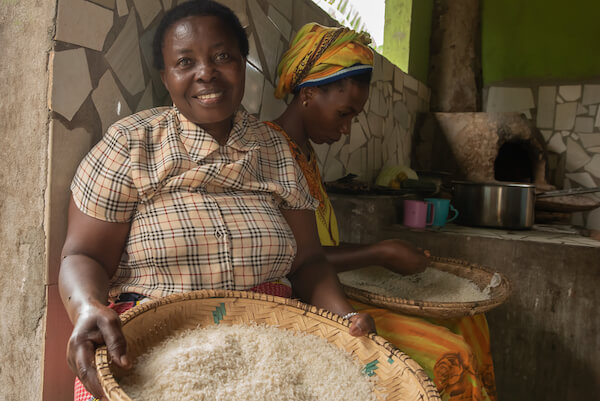 Tanzanian women - image by Gonzalo Bell
Women earn on average 63 percent less than men. And less women can read and write than men (73% versus 83%). Tanzania has a youthful population. Almost half of the Tanzanian people are under 15 years of age.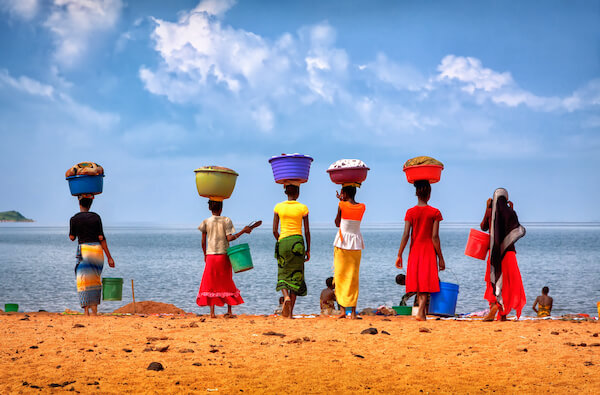 Tanzanian Women - image by Yuri Birukov
Tanzania is a predominantly Christian country, while the islands of Zanzibar and Lamu are mainly inhabited by Muslims. 
Languages in Tanzania 

Tanzania Facts
Swahili and English are the official languages in Tanzania. However, over 120 languages are spoken in the country. Sukuma, Makonde and Haya are the most spoken languages after Swahili and English.

Swahili greetings
Swahili, also referred to as Kiswahili, includes many Arabic and English words. Kiswahili language is the lingua franca in eastern Africa which means that it is the main language that is used in communication amongst different peoples in East Africa.
Kiunguja is the language spoken on the island of Zanzibar. Kiunguja is the local name for Swahili as the people call the dialect on the island. In Zanzibar, Arabic and Kiunguja/ Swahili are the most spoken languages.
Tanzania Facts | Tanzania Economy
Tanzania is a country that is largely relying on agriculture. Maize, sweet potatoes, beans, cassava, coffee, tea and bananas are among the main agricultural products.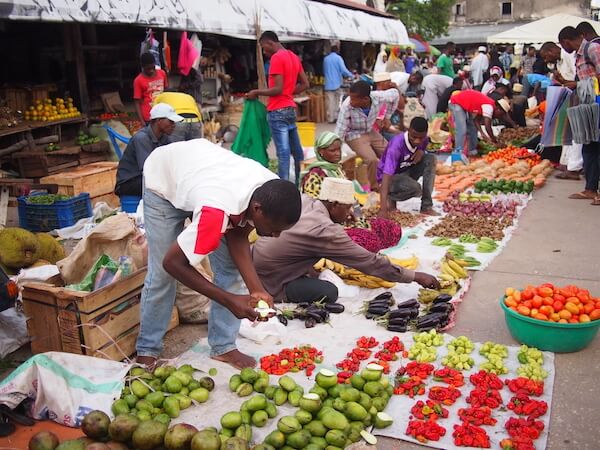 Fruits and vegetables - image by Michael Sheridan
The main trading partners of Tanzania are China, India and the United Arab Emirates.

The main export products of Tanzania are coffee, tea, tobacco, gold, cashews and sesame seeds and sisal. Sisal is a plant product or fibre that is used to make strong ropes or is woven into mats and carpets.
Tanzania is also known for the precious stone that is only found here: Tanzanite.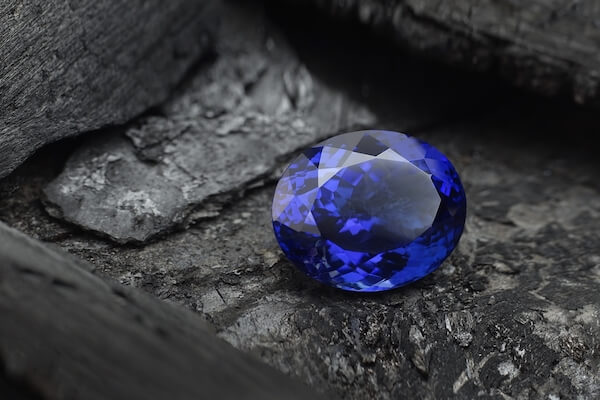 Tanzanite
These precious stones are very rare and thus also very expensive. The stones are made of zoisite, a natural mineral. The Tanzanite is transparent and blue in colour. Tanzanites are only found in a tiny area at the foothills of Mount Kilimanjaro near Arusha town. This area's size is only 2 km by 8 km/ 1.2 miles by 5 miles! Thus the Tanzanites are said to be more than one thousand times rarer than diamonds!
Tanzanite is the official birthstone for December.
Food in Tanzania | Tanzania Facts
The Tanzanian cuisine mainly uses vegetables and fruits such as courgettes (zucchini), tomatoes, beans, okra or aubergines (brinjal/ eggplant) and dates. Dishes are cooked with a variety of spices such as cinnamon, coriander, cloves or cumin. Coconut milk is also used in many dishes.
Vegetarian dishes are common in the country as vegetables, fruits, rice, beans and various grains are commonly grown in the country. Fish is also eaten as well as beef, mutton or lamb.
Here are some typical Tanzanian dishes:
Wali na wazi: as rice is a staple food, fragrant rice cooked in coconut milk is a popular dish
Mandazi: Fried fluffy bread that is eaten as snack or as dipping bread. Similar to an unfrosted and unsweetened donut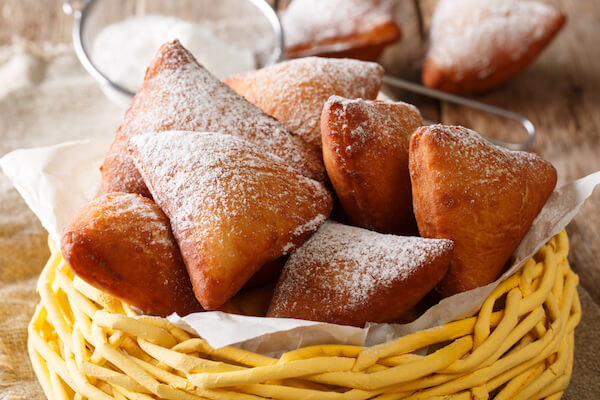 Tanzanian food Mandazi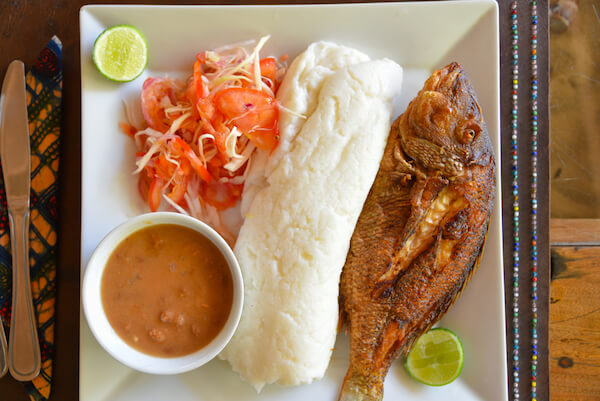 Ugali and Fish
Tanzania Animals
In Tanzania, many mammals are at home. There are elephants and lions, cheetahs and rhinos, giraffes and wildebeest.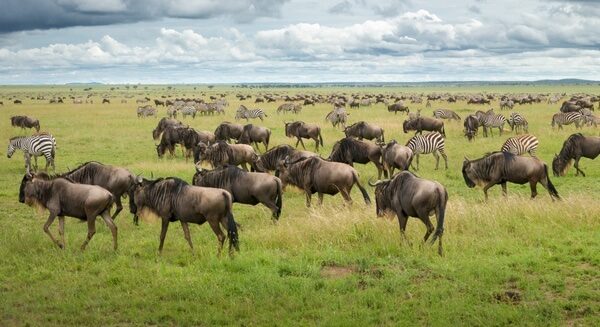 Tanzania Wildebeest
The Serengeti National Park in northern Tanzania is home to some of the largest zebra and wildebeest populations in Africa. The annual migration of these species is the largest in the world as it includes over 1.5 million wildebeest and 250,000 zebra.
Tanzania has over 40 national parks and reserves. The oldest lion project, which exists for almost half a century, is located in the Serengeti Nationalpark as well.
A safari in Tanzania is certainly a great experience for the whole family. Tanzanians are very child-friendly, but keep in mind that many safari lodges and tour operators only accept children from age 6 and upwards on safari drives.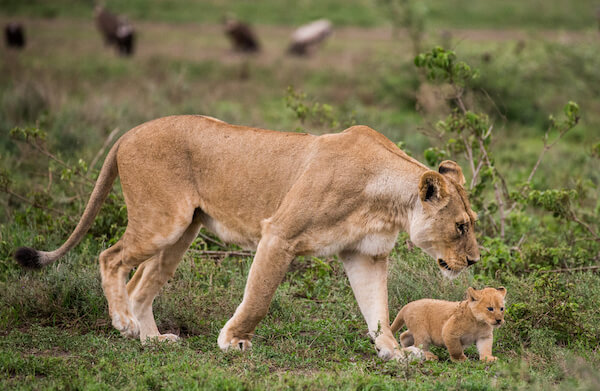 Tanzania lion and cub
Also many marine animals such as whales and dolphins live in the Indian Ocean waters off the coast.
Related pages
Tanzania Facts | Resources
Sources and useful Reading for Tanzania Facts page:
Image Credits on Tanzania Facts: /shutterstock.com, various others from shutterstock.com, Tanzanian women by Yuri Birukov/shutterstock.com; Tanzanian women - image by Gonzalo Bell/shutterstock.com; UNESCO world heritage centre and wikicommons, if not otherwise stated.
We hope you enjoyed reading our Tanzania Facts. Please bookmark this page and spread the word. 
Go from Tanzania Facts to Africa Continent Facts
Back from Tanzania Facts to Kids-World-Travel-Guide
Enter our competition NOW