My First Home
Essay Writing Competition 2020
Category: 12 - 15 years
- Winner -
Essay Contest Winner is "My First Home" written by Tram Dang.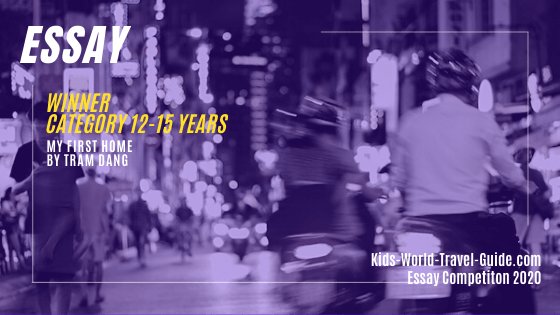 My First Home
Vietnam
My life started on a slip of a country called Vietnam.
When I think of Vietnam, my grandparents five floor house was the root from which the tree holding numerous memories of that place springs from. When I say five floors I'm guessing you'd imagine something very grand. In Vietnam, five floors is enough to fit two small rooms on each floor, a narrow stairwell and three miniscule bathrooms. All in all comfortable but not extravagant.
I remember how just dragging my feet up from the ground floor was enough to leave this young healthy body of mine toppling onto any viable flat surface around me while gasping desperately for breath like a fish out of water.
Eventually my body would will itself upwards and walk itself towards the balcony where my eyes laid onto the quaint view of Hanoi. A disorderly array of colourful roofs and verandas made up the understory of the forest of the city. Meanwhile tall and grey business buildings emblazoned with corporation names jutted out from the canopy, judging the people milling about below it with an air of haughtiness and indifference. Nighttime cast a spell on the city. Suddenly the city lit up with a thousand fairy lights and a warm lively rhythm buzzed through the streets. Stream of people on motorcycles flow rapidly through the alleyways while the melody of conversation and karaoke machines filled the atmosphere. Witnessing all this while the cool sensation of the clay veranda floor tickled my feet and the soft wind gently played with my hair however simple, is a memory worth holding onto.
Every traveler that has ever visited Vietnam comes back home with a vivid memory of "the noise". It is the cacophony of sellers and customers bargaining, the fire crackling as a hot bowl of congee or pho is being cooked up and people talking and laughing while running errands or eating all blending together in the marketplace. I remember this sound being the signal for my body to snap itself out of dreams lift itself out of bed. Every morning I would pass through the marketplace to go to kindergarten. This place was a spectacular maze of tarps, plastic chairs and baskets. From live crabs to fake Louie Viton bags to delicious fried street food, this place sold everything. It was also a place where friends old and young sat on rickety wooden stools while guffawing and chattering entire afternoons away. In this way the marketplace was like an organ pumping life into the surrounding neighbourhoods.
In Vietnam there is no Halloween, no Christmas nor a Valentines Day. The one and only Lunar New Year remains the undeniable champion of all holidays when it comes to the scale of festivities. During the two weeks of the holiday our tabletop never once sees the daylight. Plates of fat spring rolls, succulent roasted chicken, vivid red rice, juicy sausages and the scrumptious showstopper banh trung, a mixture of meat and bean wrapped inside a creamy layer of sticky rice, were slatted from end to end of the table. Adult and children alike gorged themselves on the food while toasting to a happy New Year every few second. Meanwhile outside, the streets are doused in reds and yellow. Dancers wearing meticulously embroidered crimsom and yellow garments moved their feet to the rhythm of ear-deafeningly loud music. Red lanterns dripped down from light poles and awnings. A golden dragon a manoeuvres through the crowds in explosive motions. There was nothing quite like now the festivities took our minds away from the chilly cold air beginning to take over the atmosphere. The joyous celebration served as a way of ripping as away from the mundanity and gloom of everyday life and filling our hearts with the medicine of hope and excitement for a new year. Just like that two the best weeks of the year slips by.
If Vietnam was more than a view of the city on top of a balcony, the hustling and bustling of the marketplace, unforgettably delicious and filling food or the exhilarating air of Lunar New Year festivities I wouldn't know it. The innocence of childhood is a magical and dangerous filter that sifts through all things unpleasant and inconvenient only leaving you with the beautiful and wonderful sensations.
I left the place when I was five. Had I been older the sight of rubbish and grime on the curb of the streets and the endless stream of noise pollution could've clouded all the fun and joy of living Hanoi. It would only take a few years after that before the irritation of constantly having neighbours noses poking into my business, the constriction of not being able to articulate my opinions under the Soviet government or the exposure to outdated Confucianist ideas of children and women's proper place in the world would shut out all positive feelings I had left towards the country. Privileged is an understatement to the fact that I left Vietnam so early.
If not all the lovely mental pictures of the bowl of congee I had in a booth in the marketplace, the dining table set for Lunar New Year and the night sky in Hanoi I've had in my mind for all these years would've been ripped up and tossed away by now.
---
In the Age category 12 - 15 years, Tram's essay "My First Home" was chosen the winning essay. This essay captures readers from the beginning with its detail and easy flow. Tram describes 'the first home' without only falling back on magic memories and the essay allows us to relate and reflect while it shares a compelling story of Vietnam. Although the essay is longer than was expected, it provides such a strong picture and the sophisticated writing style stood out in this age group.
Well done, Tram! Thank you very much for your heartwarming story "My First Home"! Congratulations!
Tram attends Kagamino Junior High School in Okayama/Japan.
Competition 2020 Essays
Popular Pages
Christmas Special Pages
Back from My First Home Vietnam to Essay Competition Winners Listing
Return from My Frist Home to Kids-World-Travel-Guide Homepage
Sep 20, 23 11:47 AM

20 Top facts about Serbia for Kids: landmarks and people, language, food, animals, economy and so much more

Sep 19, 23 04:42 AM

The most important Croatia facts: Croatian people and culture, famous attractions, yummy Croatian food, wildlife, economy and so much more.

Sep 15, 23 09:07 AM

Our Germany Travel Guide will tell you about Germany's top attractions, when and where to travel, what to see, what does it cost and what to know before you go.
Enter our competition NOW