Malaysia
My Beloved Country

Essay Writing Competition 2020
Category: 8 - 11 years
- Winner -
Winner is "Malaysia My Beloved Country" written by Xin Yee Lim.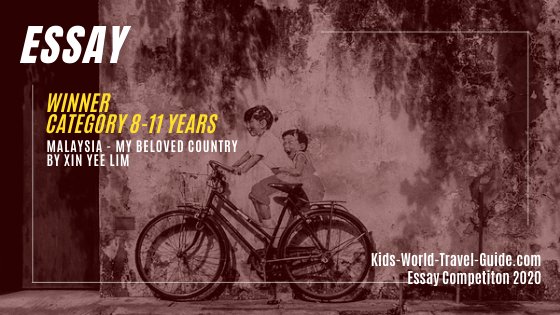 Malaysia
My Beloved Country
I rarely knew our next door neighbour, Makcik Siti and the one opposite us, Aunty Meena. Even Mom seldom talks to them. Then, on 20th March 2020, two days after we were all told to stay home to stay safe, due to Covid-19 pandemic, Makcik Siti rang our door bell. I rushed, peeped and even hesitated to open the door for her. "Mom, guess it's our neighbour". Mom hesitated too and replied that she would attend to the door herself.
Standing beside Mom, the moment our door was opened, sweet fragrance of kuih (local term for sweet cake) activated my salivary glands. "Mrs Lim, Bingka Jagung for you and family", said Makcik Siti as she greeted Mom with smiles that automatically replicated on me too.
Almost six months now from that ice-breaker of Bingka Jagung (local corn sweet cake), Mom, Grandma and I have been frequently patronizing Makcik Siti's home learning to make sweet treats for our high tea sessions that takes place either at our home or at Aunty Meena's home. It took the horrifying, monstrous Covid-19 pandemic to beat the five long years of staying together under one same roof at our apartments' block with less than 2 metres walk away to greet our neighbours. Covid-19 witnessed the unity of multiracial communities coming together in healing, supporting and encouraging each other in Malaysia's amazing ways.
In my eight years of living with grandma, never had I spend so much great times watching, discussing and interpreting news with my grandma. As devilish Covid-19 can be with recently new mutated versions, I could only thank Covid-19 when Aunty Meena helped to buy things for Grandma during the absence of my parents and Makcik Siti's daughter helped me with my Malay language studies conducted over Google classroom. Festive seasons of different races came and passed as all sacrificed celebrations observing social distancing and reduced travelling.
Then, I saw many promotions of unknown tourist attractions in Malaysia that I was unaware as I spent time browsing newspapers with my father. Luxury Banjaran Hotel in midst of a cave, highly powered theme parks at Genting Highlands, serene paddy fields at Agong Village in Penang and many more UNESCO heritage tourist attractions. Beaches with mesmerizing under sea treasures of corals and lives in Pulau Redang, Lang Tengah and many more were healed during tourist absence and now welcoming humans once more offering its flattering, attractive holiday experience. Many working adults are together in television's commercials reminding new norms' practices, appreciating front liners despite any race or origins and only call themselves; MALAYSIAN and not as respective ethnicity.
My classmate, a lovely Indian girl; Nagasri gave me a hand sewn Batik (local art of fabric print) mask and constantly reminds me to wear it during school.
Uniqueness of MALAYSIA is invaluable rooting from laughs we share with our neighbours, exchanging each other recipes in cooking, growing into serving each other despite of any background or race and ends sweetly with us calling ourselves a MALAYSIAN. 
---
In the Age category 8 - 11 years, Xin Yee's essay was chosen as the winning entry. The compelling essay 'Malaysia My Beloved Country' shares with a powerful story about togetherness and community. It opens the eyes to the common values we share in our community whichever background or race we come from. The essay tells an unique and inspirational story which not only gave us a glimpse into the life under Covid-19 in Malaysia, but also shows the generosity and sense of community among the Malaysian people.  
Well done, Xin Yee! Thank you very much for your heartwarming story 'Malaysia My Beloved Country'! Congratulations!
Xin Yee attends Chung Hwa One Chinese Primary School in Butterworth/Penang in Malaysia. 
Another wonderful essay about Covid-19 in Malaysia with a wonderful message was sent through by her sister Xin Yong Lim. We decided to give her work some space on our website as well. Her essay contains motivational words, that shall be a guide to all of us. You can her essay on a separate page here.
Competition 2020 Essays
Popular Pages
Christmas Special Pages
Sep 20, 23 11:47 AM

20 Top facts about Serbia for Kids: landmarks and people, language, food, animals, economy and so much more

Sep 19, 23 04:42 AM

The most important Croatia facts: Croatian people and culture, famous attractions, yummy Croatian food, wildlife, economy and so much more.

Sep 15, 23 09:07 AM

Our Germany Travel Guide will tell you about Germany's top attractions, when and where to travel, what to see, what does it cost and what to know before you go.
Back from Malaysia My Beloved Country to Essay Competition Winners Listing
Return to Kids-World-Travel-Guide Homepage
Enter our competition NOW