Christmas Food

Christmas Food Around the World
Our Christmas Food Facts will show you lots of interesting fun facts on Christmas traditions and food from around the world. On this page we will tell you about amazing and delicious Christmas dishes that are enjoyed in the different countries.
Have fun learning what people eat on Christmas and what are traditional Christmas meals in 12 different countries!

Christmas Food facts
Christmas Food Facts for Kids
Italy
Christmas eve usually is a day of fasting for Italian Christians. Though sometimes fish and seafood is served on Christmas Eve.
Lunch on Natale, Christmas Day, is a big family affair and a big feast with an abundance of dishes. Many family members cook together and prepare not only delicious antipasti, pre-dinner snacks, but also a large variety of dishes including lasagna or ravioli pasta, baked chicken, braised beef, stuffed veal rolls or roast pork. And then don't forget the delicious desserts.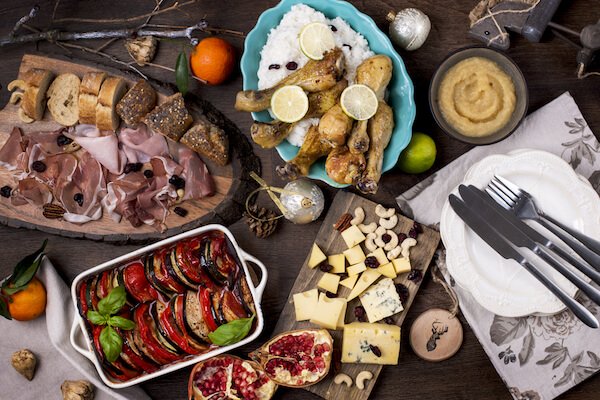 Italian Christmas antipasti
Italian panettone is a fluffy sweet treat! The sweet bread or yeast cake is traditionally enjoyed already from the last few weeks leading up to Christmas. There are several kinds of panettone, some are made with raisins and dried fruits while others are plain. And some are even filled with chocolate!

Panettone
Panettone is a round dome shaped cake or bread which originally comes from Milan, a major city in northern Italy. Pane is the Italian word for bread and panettone means literally 'big loaf of bread'. Read more about Christmas in Italy here.
Germany
The Christmas holiday celebrations start in Germany on Christmas Eve, when the families traditionally gather around the Christmas tree, exchange gifts and unwrap the presents. Many families also sing Christmas carols and younger Children sometimes recite Christmas poems they learned in kindergarten or school. Find a selection of popular poems (in English) here.
After the first social part of the festivities comes a simple dinner. Many families traditionally eat simple dishes such as sausages and potato salad on Christmas Eve.

Vienna sausages and potato salad
German Christmas desserts include Stollen, a yeast cake log with raisins as well as Christmas biscuits such as the Zimtsterne (cinnamon star biscuits) shown in the image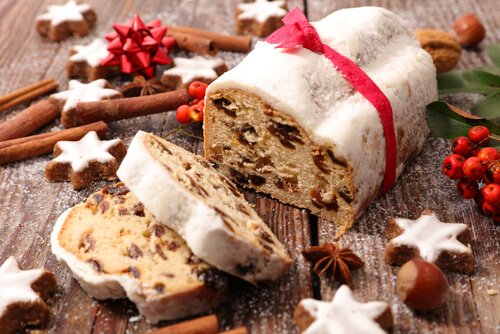 German Christmas stollen
On 25 December, Christmas Day, families gather again for lunch which often includes Ente (roast duck) or sometimes game meat. The meat is most often are served with Rotkraut (braised red cabbage) and Knödel (potato dumplings). Read more about Christmas in Germany here.
Finland
The traditional Christmas dinner in Finland is eaten on the 24 December, Christmas Eve.
The Finnish Christmas meal includes beetroot salad and Christmas ham, salmon and herring and a variety of vegetable casseroles.
Finnish Christmas food
Traditionally, pipari (gingerbread cookies), rice pudding, a kind of porridge, and joulutorttu (star-shaped plum tarts) are served as sweet treats.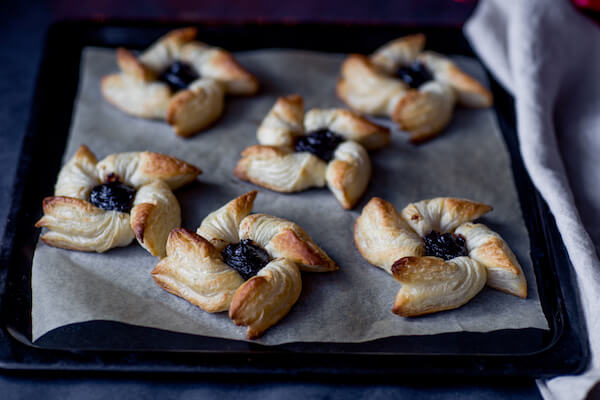 Finnish Joulutorttu
Poland
The Christmas Eve Supper is called Wigilia in Poland. This day is a day of fasting that ends when the supper is served in the evening. Traditionally, first opłatek, a wafer, is broken and shared amongst the family members. After dinner families usually sing Christmas carols.
The Christmas Eve Supper includes the traditional 12 dishes. However, meat is not included in any of the dishes. Among the most popular dishes are Kutia (grain dish), jellied fish, carp, barszcz (a deep red beetroot soup),  gołabki (stuffed cabbage rolls) and pierogi (filled dumplings).
Polish Pierogi dumplings
Pierogi are dumplings which often are filled with poppy seeds or plums. These dumplings can also be served with savoury fillings such as mushrooms or cabbage.
Austria
Austrians often eat a light traditional soup or sausages with Sauerkraut and roast potatoes on Christmas Eve.  On December 25 Austrians enjoy fish, especially carp, or roasted duck or goose as Christmas lunch.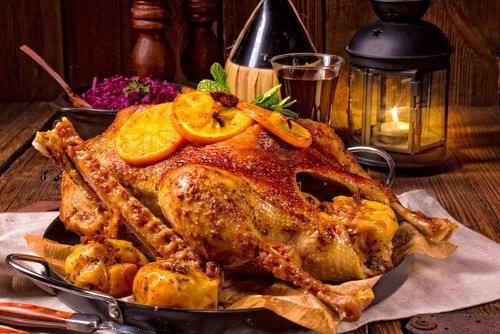 Austrian Christmas Roast
Vanillekipferl are a delicious Christmas time treat. The little crescent shaped almond cookies are dusted with vanilla sugar. These shortbread cookies are a proper melt-in-your-mouth treat.
Vanillekipferl
UK
In the United Kingdom, Christmas is celebrated on 25 December with a special elaborate meal. The family gets together for Christmas lunch or a special 'Christmas dinner' which is held in the early afternoon.
Traditional Christmas food includes stuffed turkey, roast potatoes, brussels sprouts, cranberry sauce and gammon, which is cured pork meat.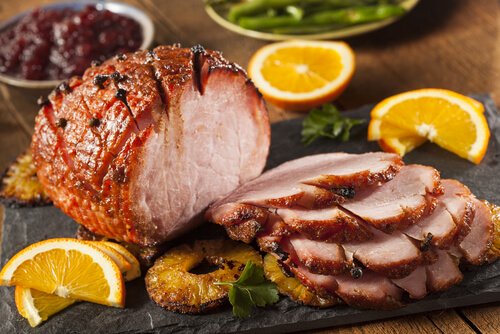 Glazed gammon
For those with a sweet tooth, mince pies and Christmas pudding are a special treat.

Mince pies
The English Christmas pudding is a steamed fruitcake that has been prepared already a month before Christmas. Originally it was called 'plum pudding' as only plums were used in the traditional recipes, but today, the Christmas pudding is mainly made with dried fruits, raisins and nuts. 
France
The bûche de Noël, the Christmas log, is a special Christmas treat the whole family looks out for. This soft sponge cake is folded like a role and filled with whipped cream or chocolate cream and often decorated with Christmas ornaments. 
Bûche de Noël
The Réveillon de Noël is a special midnight meal on Christmas Eve or early Christmas morning. Many of the French families enjoy special treat of oysters, smoked salmon, various cheeses, which often includes goats cheeses and foie gras, which is goose liver pate.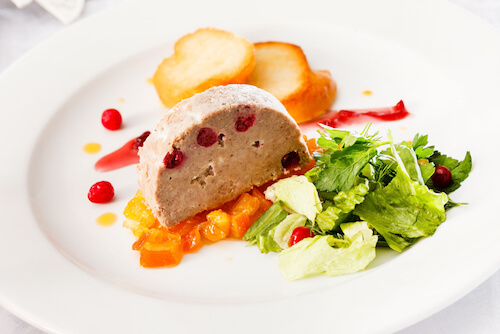 Christmas fois gras
The family Christmas dinner often includes roast turkey, a beef roast or venison and vegetables as well.
Spain
The main Spanish Christmas meal is eaten on Christmas Eve. Many families attend the Christmas midnight mass at church. Gifts are not exchanged on Christmas, as this is done only on 6 January.
The Christmas dinner is shared with family and friends and commonly includes stuffed turkey or roast chicken as well as root vegetables and mashed potatoes. Other popular dishes includes fish and seafood.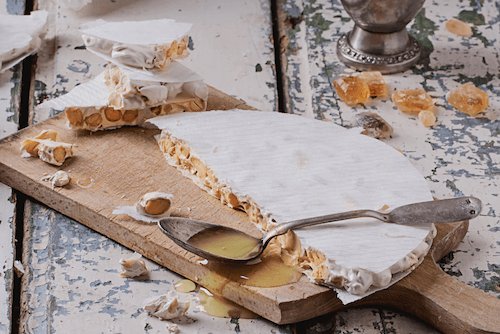 Turrón
A very unique Christmas dessert is the Spanish Turrón. This nougat type cake includes whole toasted almonds. Turrón comes in hard and soft forms and is made with honey, sugar and almonds. Another treat are mazapan, marzipan, which is also made with almonds and sugar and crafted in shape of fruits or figures.

Mexico
Among the Mexican traditional Christmas food is bacalao. This dish is a cold dish and includes cooked or fried fish mixed with vegetables and olives. The meal is eaten together with other traditional Christmas food such as ham or turkey on Christmas eve - after attending the Christmas mass.
Bacalao
South Africa
In South Africa, Christmas is during summer time, so the traditional Christmas meal is shared as lunch with families and friends while having a braai, which means barbecue! There is also some common Christmas foods as ham. Pomegranates are ripe at Christmas and what better way to decorate a delicious meal with these tasty red pomegranate kernels.
Glazed ham and pomegranates
Food shared with family and friends on Christmas Day is a fun and relaxed affair. Delicacies include crayfish (South African lobster), seafood or mussels, roast beef, lamb, fresh salads and fruits.
Depending on the family's heritage also roast pork, lamb, smoked salmon or even curries are served. Mince pies and steamed sweet malva pudding are very popular too. Pavlova is the most common dessert.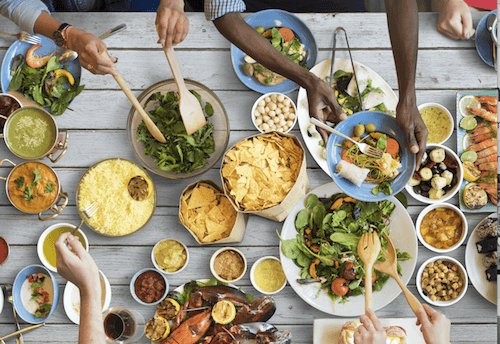 Open air and shared meals on Christmas in South Africa
Ukraine
The main Christmas meal is eaten on Christmas Eve, which is 6 January. Yes, the Orthodox Christmas is not celebrated in December but on 7 January!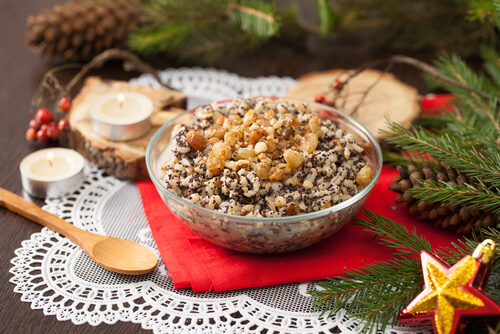 Kutya
The traditional Christmas eve dish in the Ukraine is called Kutya. In Russia this popular dish is called Sochivo, in Poland they call it Kutia. The dish is similar to porridge but more crumbly due to the use of wheat kernels. It is prepared well in advance and contains also walnuts, poppy seeds, honey and spices.
Russia
In many Russian homes, the dinner on Christmas Eve is still meatless as this day falls during fasting period of the Orthodox Christians.
Often a dish called Sochivo is eaten. This dish includes wheat kernels, honey, poppy seeds and nuts or dried berries. This dish is similar to the Ukrainian dish Kutya and the Polish dish Kutia.
Some Russians eat a fish jelly, called aspic, and those who eat meat enjoy roasted or stuffed goose or pork. 
Jelly fish
Pyraniki are sweet spice or honey bread cookies that are usually made in shape of small mounds. The cookies are decorated with sugar or chocolate icing and sometimes decorated with citrus peel or filled with jam.

Pryaniki - Russian gingerbread biscuits
Remember that Orthodox Russians do not eat meat on Christmas eve as it is still part of the fasting time. Christmas is celebrated by the Orthodox Christians only on 7 January.
More about Christmas
Christmas Food Facts for Kids - Further Resources
Images on Christmas Food Facts for Kids: Shutterstock.com 
Go back from Christmas Food Facts to Christmas around the World
Return to Kids-World-Travel-Guide Homepage
Competition 2023 closed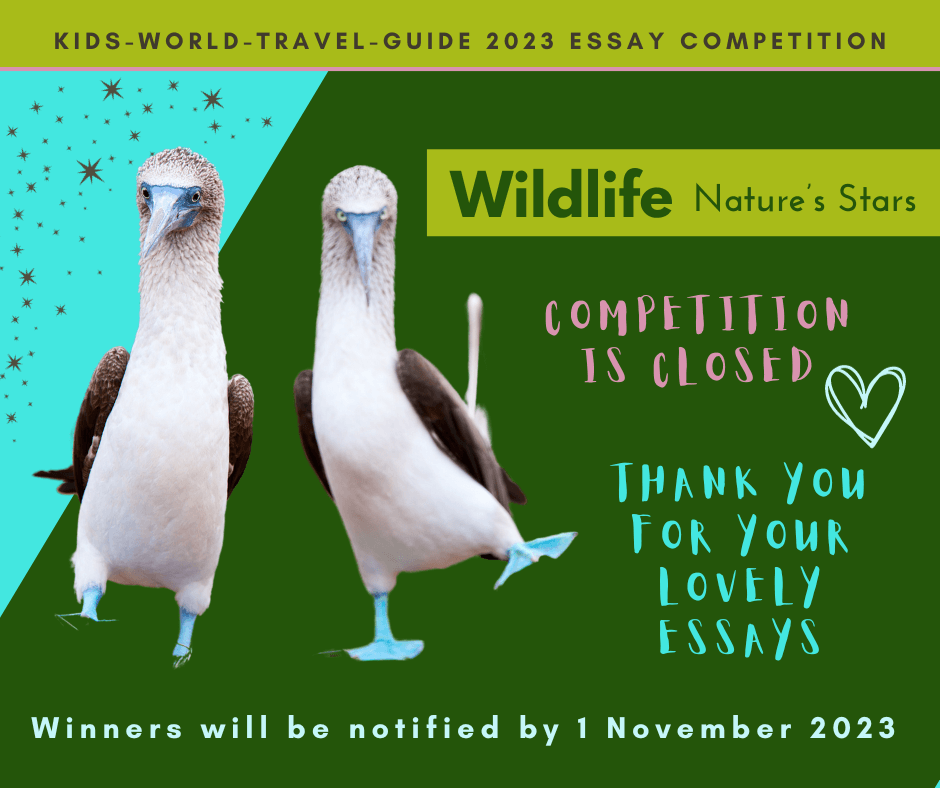 Watch this space
Competition 2024 will be announced in February