Singapore Attractions
Top 15 Must-See Places in Singapore
Here are our favourite Singapore attractions and landmarks so you know what to visit in this ultra-modern Southeast Asian country once we all can travel again.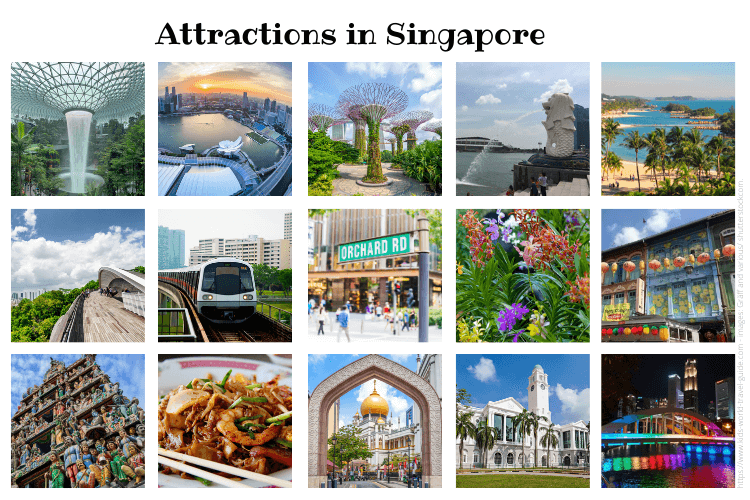 15 Top Attractions in Singapore
Although many think Singapore is very young city, the city state celebrated its biennial in 2019. Sir Stamford Raffles is the founder of the first British colonial settlement in Singapore. In 1819 Sir Stamford Raffles landed at the Singapore River. 

To give you an insiders view we met up with our Singaporean friends who gave us a tour on their best loved sights and attractions too and shared their insights about what it is like to live in this fascinating city! So here they are our absolute favourite places to go in Singapore.
1. Changi Airport

Singapore Attractions
Let's start with the airport. An airport as an attraction you might ask? Yes, arriving at Changi International airport is already such an eye-opener! Walking though flower walls as well as picking up your luggage from a belt next to a green and leafy wall with waterfalls, is just something very different and amazing! Where else can you experience this?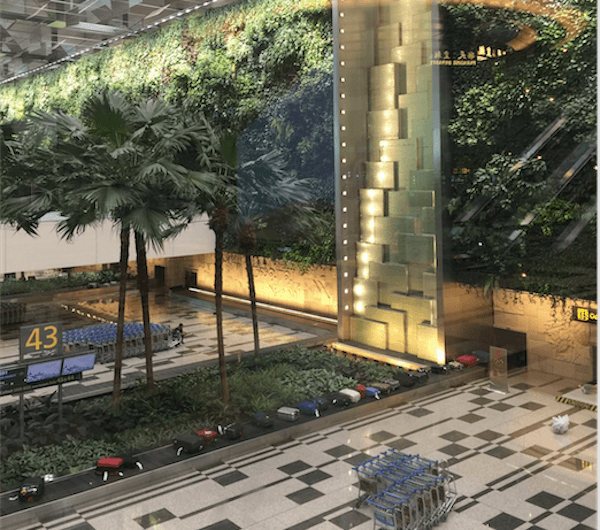 Luggage Belt at Changi Airport
The airport feels like a big city and a museum combined, with shopping galleries and entertainment options such as a butterfly park, canopy walk, bouncing net, discovery slides, mirror maze as well as big sculptures and various arts displays and innovative design installations. And there is also the world's largest indoor waterfalls, the Juwel's Rain Vortex.
Singapore Jewel with Rain Vortex
We learnt that Singaporean families actually visit the airport during weekends as there are so many attractions to explore for families with kids! 

2. Marina Bay

Singapore Attractions
Marina Bay is probably the most well known attraction in this fast-paced and innovative city. Everybody just loves to point out the land reclamation and green image of the megacity.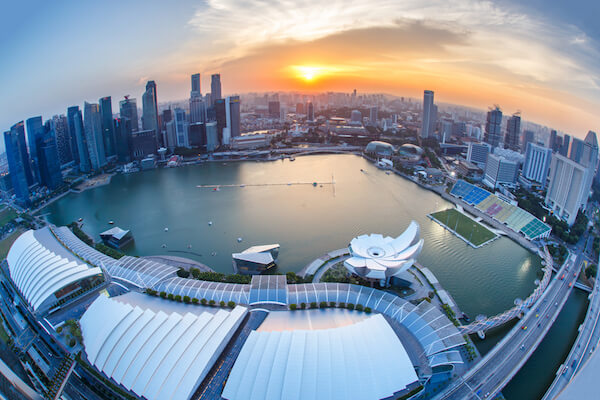 Singapore's Marina Bay at Sunset
And it is really hard to miss the reclaimed newer parts of the city with gardens, dam and super trees as well as the futuristic Marina Bay Sands 'spaceship' building that seems to tower over the city's coastline.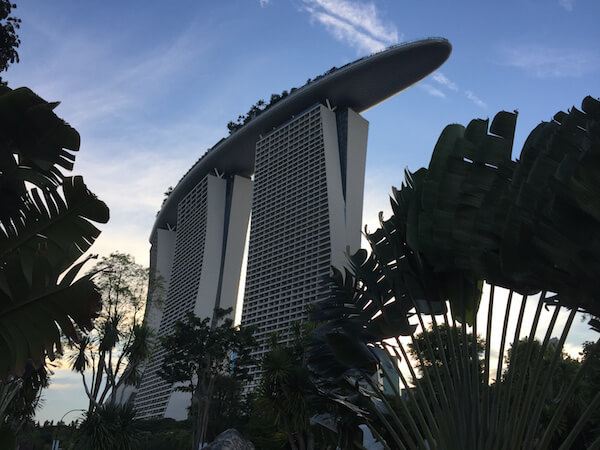 Marina Bay Sands
The Marina Bay Sands Building with the three iconic towers houses not only a five-star-hotel and luxury shopping centre, with lots of entertainment facilities such as theatres, boat rides in the shopping centre's canals, restaurants, bars and coffee shops. 
Marina Bay Sands Shopping Centre
At the Marina Bay Sands you will also find the world's largest rooftop pool and the Sky Park which is the highest viewing platform in Singapore. 

Skypark on top of the iconic Marina Bay Sands Building
From the skybar you can take in all the glorious views over town while sipping on a cold juice and get better value for this special outlook than having to pay the steep entrance fee to the skypark!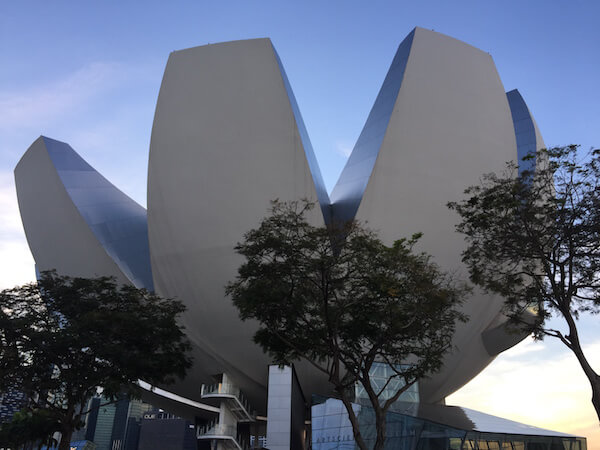 Art Science Museum
And there are the Art Science museum in form of a gigantic lotus flower and the Red Dot Design museum along the boardwalk.

Promenade at Marina Bay
This 3.5 km/ 2.1 mi long waterfront promenade is always busy with people, joggers, cyclists and skaters and we enjoyed the atmosphere especially in the late afternoons mingling with locals and tourists and taking in the wonderful views of the business district across the lagoon, admiring the street artists as well as watching the light shows over Marina Bay which take place daily in front of Marina Square.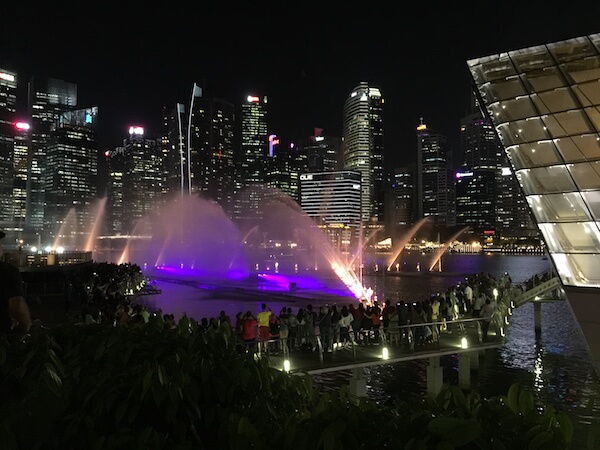 Singapore Fountain with Lightshow in Marina Bay
And then of course, do not miss the fountain light show that's on every night.

3. Gardens by the Bay

Singapore Attractions
A visit to the Gardens on the Bay is highly recommended although it is a quite pricey experience if you visit the Conservatories and the Super Tree Grove. 
Supertrees in Gardens By The Bay
If you come during a holiday period it is advised to book your tickets in advance as the queues to the attractions can get very long. 

Gardens By The Bay
We visited the Flower Dome and Cloud Forest which were amazing! The Flower Dome conservatory is like a massive indoor botanic gardens with sections displaying different plant biomes from the Mediterranean and semi-arid regions. This conservatory is the world's largest colomnless glass greenhouse! 
The Cloud Forest displays the biodiversity of the humid and tropical regions. This is also a huge glass dome with a mountain built inside and the Cloud Forest as big as 60 Olympic sized swimming pools. It houses the world's second largest indoor waterfalls - after the Rain Vortex at Changi airport!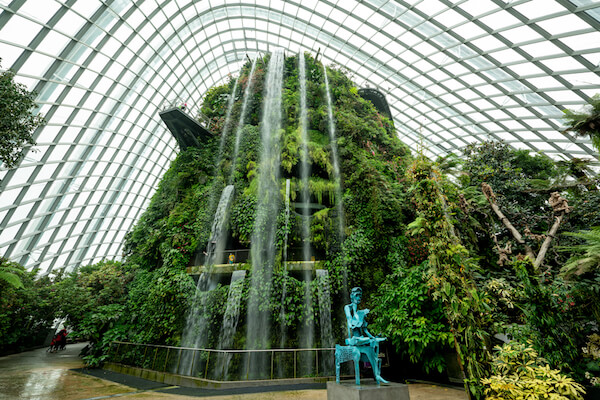 Cloud Forest at Gardens By The Bay
You will walk and drive up on elevators to the top of the indoor "mountain" and then walk down to the ground level via bridges and treetop walks amidst the super tall trees. 
4. Merlion

Singapore Attractions
Singapore's Merlion is one of iconic landmarks you cannot miss. The statue is situated along the Marina Bay close to the Fullerton Hotel and Esplanade Bridge.
The Merlion is 8.6 m/ 28ft. tall. The official mascot of Singapore displays the head of a lion on the body of a fish.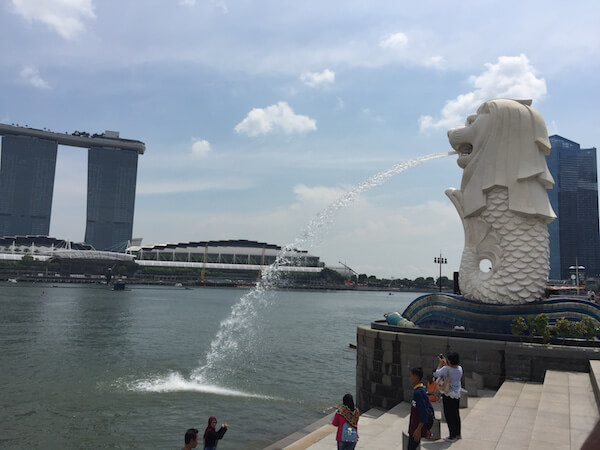 Singapore's Merlion
The Merlion was created in 1964 as the symbol for Singapore tourism. There are, however, several Merlion statues now placed around Singapore.
Two smaller Merlions referred to as Merlion cubs can be seen close to the original statue in Merlion park, and another Merlion statue is located in Mount Faber Park.
5. Sentosa

Singapore Attractions
Sentosa is a must visit if you want to be at the southernmost point in South East Asia! Well, so the tourism authorities claim, but Sentosa is not really part of the mainland anymore. The small resort island lays about half a kilometre/quarter of a mile off the Singapore mainland coast. And there are some lovely family beaches.
Sentosa Island beaches
The trip on the monorail with fantastic views over the city and the lagoon is quite rewarding. Simply take the MRT to Vivo City, which is Singapore's biggest shopping centre, and from there hop onto the Singapore Express monorail which has three stops on the island.

The Sentosa Resorts World includes Universal Studios, S.E.A. Aquarium, Madame Toussauds wax cabinet, the Mega Adventure Park with zipline rides, free fall simulator and huge climbing wall and many more.
There are nightly light and laser shows on Sentosa too. Really there is something for everyone visiting Sentosa!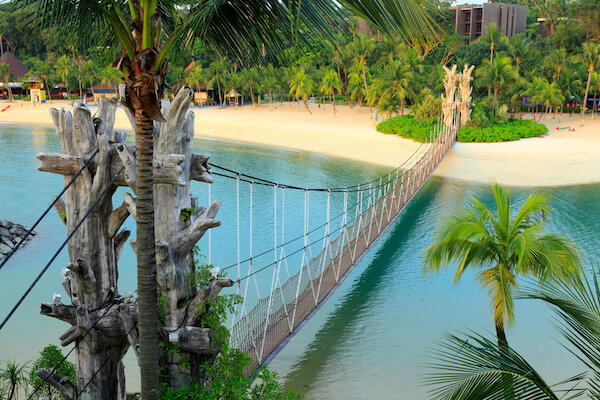 Sentosa - Fun for the whole family
If you want to explore several attractions, plan your visit for weekdays as the island, the shopping centre and the transport system is very busy with people on weekends and public holidays! Or plan a short stay in one of the resort island's hotels, there are plenty of options to choose from. 
13. Henderson Waves Bridge

Singapore Attractions
The Henderson Waves is a 36 m/ 118 ft high pedestrian walkway in a twisting curving shape that links the peaks of the Southern Ridges Walk.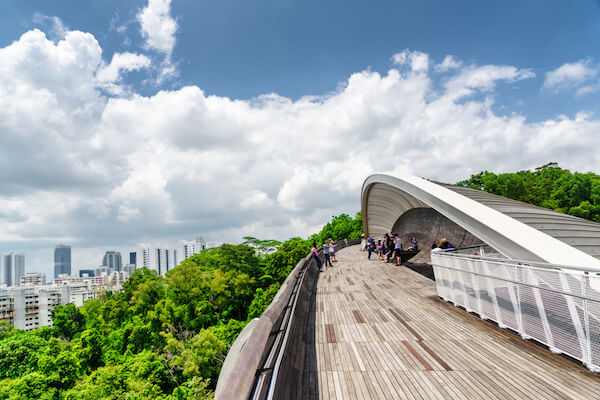 Henderson Waves Bridge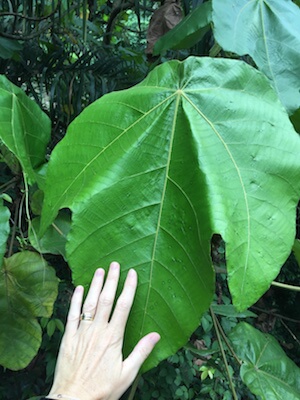 Here you have stunning views over Singapore and the children will love walking high up in the tree. And the trees here are very tall and have huge leaves as you can see on our photo!
The last time we started our walk from Mount Faber and went over to Kent Ridge Park. But you can also take the cable car up from Harbourfront which will give you a wonder ride up the hill with fantastic panoramic views!

Southern Ridges Walkway
6. MRT

Singapore Attractions
Let's quickly add in the Singaporean MRT (Mass Rapid Transport). For us it was a major Singapore attraction!

Singapore Mass Rapid Transport connects the whole city
The Singaporean MRT system really is something very special especially if your kids have not grown up in a city with a functioning public transport system and lots of long underground walkways and elevators!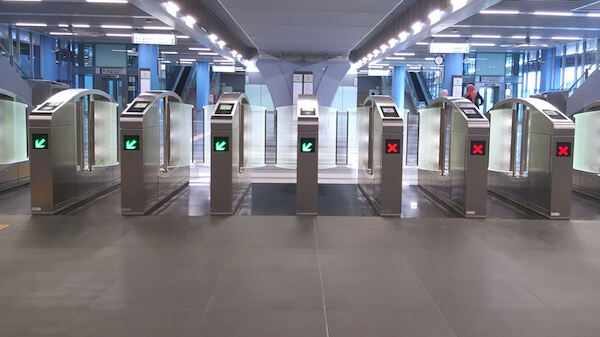 Singapore Subway entry
How fascinating to experience a modern and fast subway system where order and efficiency are a set standard. The trains link to pretty much all Singapore attractions and it is easy to get around by MRT. Click to enlarge the MRT map.

Simply buy multi-trip tickets or tourist cards, the officers at the MRT stations are friendly and will advise.

Get a ez-Link-Card or MRT Day passes
Any MRT 'single trip' card, can actually be reused for five more trips when you upload it on your next trip, at any station and simply swipe when entering and exiting the system - just hold on to the ticket, do not loose or bend the ticket - otherwise you get stuck at the exit. 
7. Orchard Road

Singapore Attractions
Orchard Road is one of the main attractions not only for tourists but for Singaporeans as well. Singaporeans love shopping, even if this means window shopping and dreaming of becoming a millionaire!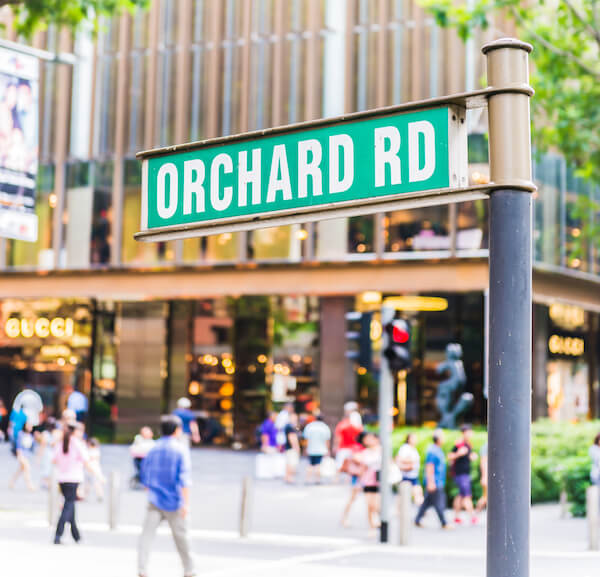 Singapore's Orchard Road Shopping Mile
As we were in Singapore in December and January, the city was festively decorated with lights and illuminations everywhere, but Orchard Road decorations topped it all.
The Orchard Road experience is overwhelming and fascinating, whether you like shopping or not! 
All these many shops, not only the multi-storey shopping centres above ground but also the underground shopping alleys connecting both sides of the Orchard Road and often linking from one MRT (subway) station to the next. 
You can walk for miles along shop stands and displays of everything you can think of! From luxury cars and designer handbags to air-conditioning systems and futuristic gadgets to simple cake or fruit stalls. 

8. National Botanic Gardens

Singapore Attractions
Botanic Gardens....hm... again? We have been to the flower conservatories already, but the Singaporean National Botanic Gardens which is only a short walk from Orchard Road is very different to the artificial environment at Gardens By The Bay.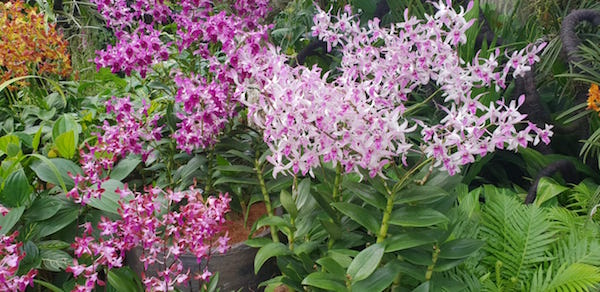 There are usual water features and a lake setting, creepy little bush walks and play parks in Singapore's National Botanical Gardens.
Singaporean wildlife can also be admired, like the monitor lizards that can be spotted there and even the smallest kids will enjoy walking along the paths along the many kinds of colourful orchids in the National Orchid Garden. Did you know that the Vanda Miss Joaquin Orchids, that are the national flower of Singapore, grow over 1 m/ 3 ft tall?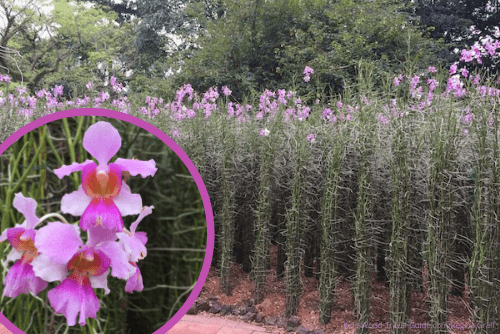 Vanda Miss Joaquin Orchids
The National Botanic Gardens is huge, so plan in some time for leisurely and slow strolls, take some water along and a picnic or visit one of the coffee shops, as the heavy humidity in this green oasis can be quite tiring. 

9. Chinatown

Singapore Attractions
Chinatown cannot be missed and remains a firm favourite place to visit in Singapore. The colourful restored shophouses and the little cake shops are fascinating.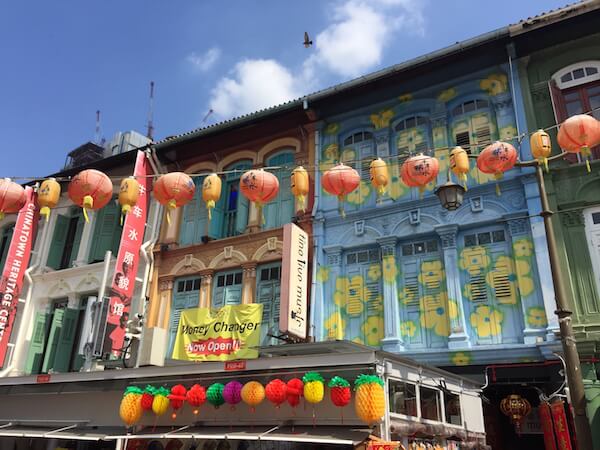 Chinatown's colourful shophouses
When in Chinatown you must visit the fresh food market and see the wares on display and watch the stall keepers in action. Just make sure to wear closed shoes and tread carefully, this is a wet market, that means that traders must wash the floor regularly, so every tile is dripping wet and there are puddles if the floors just have been washed.

Sri Mariamman Temple in Singapore's China Town
Sites to visit in Chinatown include Singapore's oldest Hindu temple, the Sri Mariamman Temple and also the Buddha Tooth Relic temple.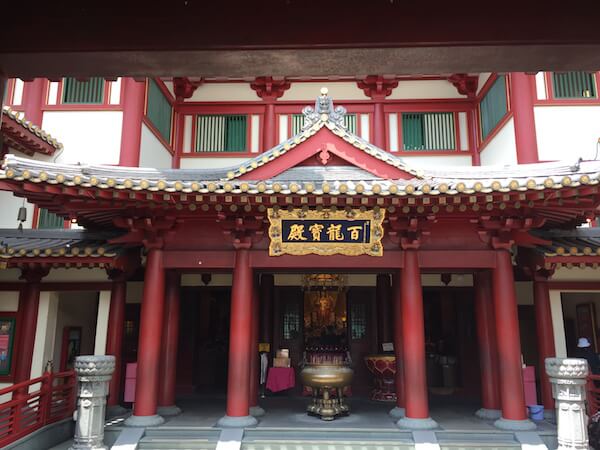 Singapore Buddha Tooth Relic Temple
In Chinatown, also head to Ann Siang Hill, a quaint hillside quarter which is home to fancy bars, boutiques and coffee shops.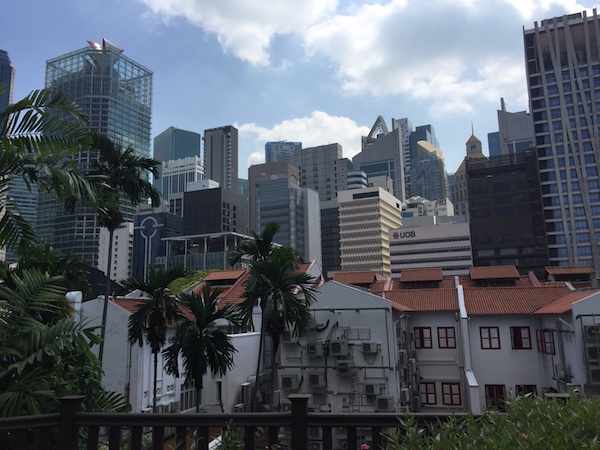 Old meets new Views from Ann Siang Hill
Make sure to head to a place called "Coconut Club", a tiny but very friendly restaurant in one of the restored shophouses. Their signature dish is nasi lemak, a traditional Singaporean chicken and rice dish cooked in coconut milk and pandas leaf and topped with a fried egg. And don't miss their tasty Calamansi (citrus fruit) juice.

Nasi Lemak
10. Little India 

Singapore Attractions
One of Singapore's most vibrant districts, Little India amazes us with the busy Serangoon Road and all the tiny jewellers and perfume shops. 
Little India
Then another must visit is the 24-hour-shopping centre called 'Mustafa Centre' which is not only buzzing with people but offering more than 300,000 items and in a variety that made us dizzy! Whether you want to buy the latest electronics, most fashionable sari, golden jewellery or groceries, you can be sure to find it there.

Imagine a six storey supermarket with two aisles of chilli spice powders, three aisles alone for dairy and non-dairy milk products... goats milk, almond milk, macadamia milk, hazelnut milk, soy milk. Or if you look for chocolate biscuits, you will find there not just one aisle, but pretty much a full storey of chocolates and biscuits from all over the world! 

Little India's Tekka Centre, the largest Singaporean indoor wet market is another great place to experience and the Sri Veeramakaliamman temple where you can join in ceremonies, if you enter barefoot and wear appropriate clothing covering your shoulders, upper arms and knees.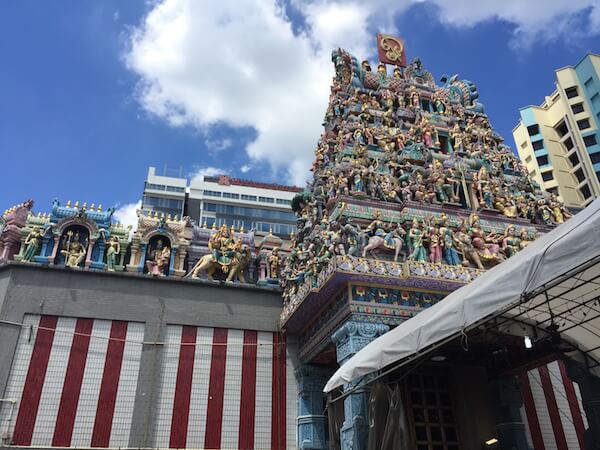 Sri Veeramakaliamman Temple in Little India
And when in Singapore's Little India, you must try some typical Indian rotis at one of the little food stalls. So yummy!

11. Hawker Centres

Singapore Attractions
Hawker centres are a Singaporean institution - although other countries might object! However, Singapore managed to become one of the listed sites of intangible culture as part of the UNESCO world heritage sites in 2019.

Typical Hawker Centre in Singapore
There are over 100 Hawker Centres across town, all of them checked and rated regularly. The many purpose-built hawker centres are worth the visits as they will help to stick to your travel budget.

Eating out in Singapore can be very expensive if you only go for fine dining or hotel restaurant options. The large variety of traditional Singaporean dishes at the Hawker Centres will cost only a fraction of the price you spend otherwise, and the food is usually delicious. Try one of the local dishes such as Chicken Rice or Mee Goreng or Char Kway Teow, your kids will love those! 
Yummy Noodles - Char Kway Teow
And enjoy mingling and chatting with the locals. Remember if you see a packet of tissues on a table or bench, the seats are reserved! 

12. Kampong Glam

Singapore Attractions
Kampong Glam is Singapore's muslim quarter. Here you will find the Sultan mosque with the huge golden dome. This mosque, also referred to as Masjid Sultan is one of the most prominent religious building in Singapore.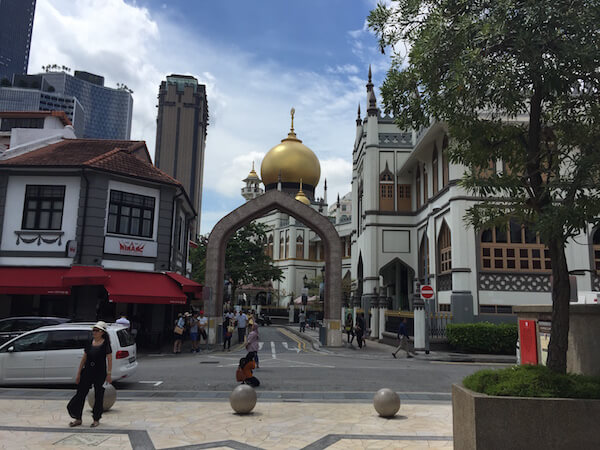 Masjid Sultan in Singapore's Kampong Glam
The mosque was built in 1824 for the first sultan of Singapore and is today an important centre for the Muslim community of the region. The Malay Heritage Centre houses a community centre and a museum of which two exhibition rooms are free of entry.
The name of the quarter Kampong Glam is easily explained. The term kampong stems from the Malay word for 'village' and glam comes from the word gleam meaning paper bark tree which were once used for making medicine or spices and for boat building. The area once had many of these trees, which are now quite rare but some can still be seen in the gardens of the Malay Heritage Centre. 
The quarter's popular Arab Street and Haji Lane are especially busy in late afternoon and in the evening, as there are lots of little coffee shops, quirky boutiques and restaurants and lots of colourful murals and street art.
We actually spent a full morning wandering around the district exploring the goods on offer from traditional clothing and basket ware to fabrics, perfumes and spices.

14. Singapore's Civic District

Singapore Attractions
Walking along the Singapore's civic district let's you revisit the history of the city. 

View of the Singapore River and the historic district
The historic centre's cultural precinct attracts with the fabulous Singapore Civilisations museum, which was one of our boys' favourites for all the artefacts and history displays.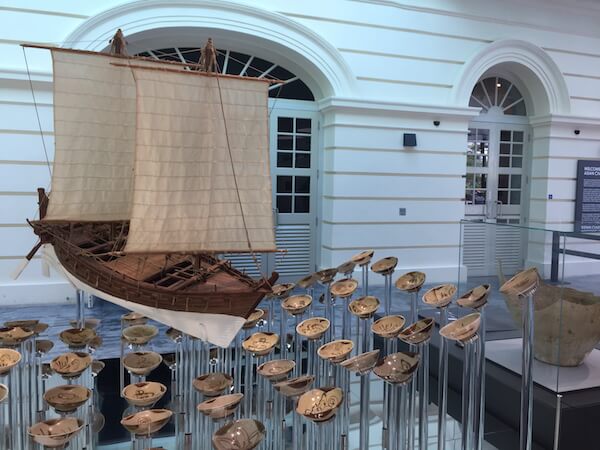 Inside the Asian Civilisations Museum
Then there are the Singapore Parliament and the National Art Gallery among the other historic sites and buildings such as the St. Andrew's cathedral, Chimes, Victoria Theatre or the royal cricket field. 

Singapore Victoria Theatre
Along the riverwalk, there are sculptures and bronze statues depicting the country's historic events and important global leaders that had a vast influence on Singapore's history and people.

15. Singapore Quays

Singapore Attractions
Singapore Attractions: On our last day, we decided to explore the Singapore Quays a bit further. The daily rains set in early, but that did not dampen our spirit. Singapore is a great place - whatever the weather!
Clarke Quay
We took an early evening stroll along the Singapore River and the buzzing restaurants is always fun. There are so many different food options in the area's restaurants, it is hard to choose. We visited the 'Violet Oon' Restaurant for some very tasty satays and enjoyed watching the chefs and grill masters preparing our food.
The awesome colourfully lit skyscrapers are always such a fascinating sight!

Elgin Bridge
The promenade along Boat Quay, Clark Quay and Robertson Quay are filled with locals and tourists. Then when the sun was down we walked for a last stroll along the quay and decided to have a fabulous dinner at one of our favourite restaurants.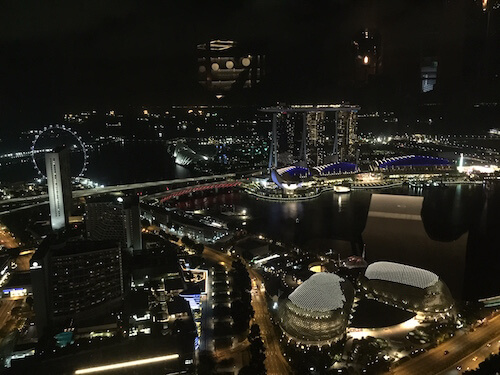 Wonderful views over Singapore
For more painful good-byes, we enjoyed the glorious night views across town from the wonderful SKAI restaurant situated on the 70th floor of the Swissotel The Stamford Hotel.
We are sure we will come back soon... hopefully!
Marina Bay Singapore - A Dream!
There are so many other great attractions such as the East Coast Park, the Bukit Timah Hill, McRitchie Reservoir - we will add some more soon here too :-) So keep this page bookmarked.

Popular Pages
Resources | Singapore Attractions

Resources for further information:
Disclaimer: Above named are the official websites, please consult those for further information on the listed Singapore Attractions. However, we do not take responsibility for the content of any links.
Images: Own images and shutterstock.com. Hawker Centre by Hit1912/shutterstock.com

KidsWorldTravels is located in Cape Town/South Africa
Back from Singapore Attractions to Singapore Facts