South African Food
On this page you will find information on South African food for Kids. Often we are asked which food children will love to try when visiting South Africa or which traditional South African food is really popular also with kids.
So here we share our information on typical Food in South Africa. Food in South Africa is oh sooooo lekker. Enjoy! 
Traditional South African Food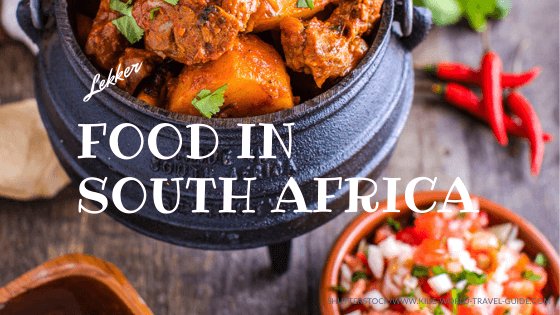 South Africans love to meet over a good braai or barbecue. So be prepared that South Africans will invite you to their homes. A typical braai is a relaxed meeting and guests usually bring some food and drink along but the hosts will start the fire so all can enjoy and share their favourite dishes. Kids also love to roast their braaibroodjie  which is yeasty dough wrapped around wooden sticks over the hot coals.
South Africans often are big meat-eaters, so be prepared for meat-heavy meals. But there is something for every taste, and the many delicious sweet treats definitely should not be missed!
Biltong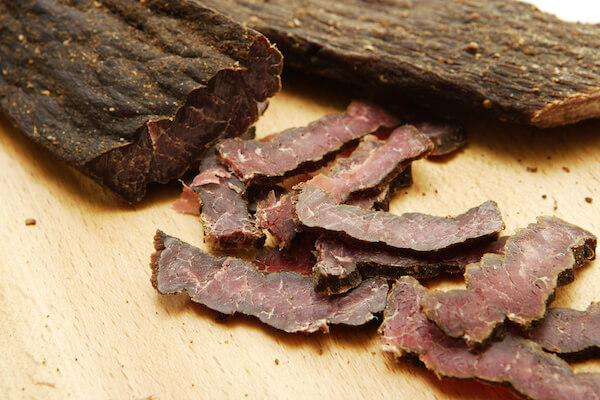 Biltong
This snack food is very popular in South Africa. Children take it to school for break time too. Biltong is dried and spiced cured meat, made mainly from beef and game and can be bought in supermarkets and biltong stalls.
Boerewors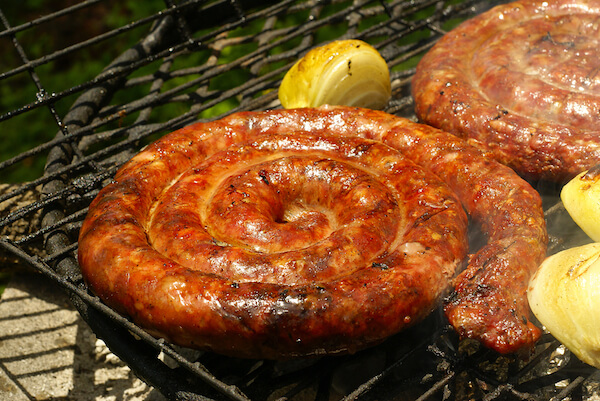 Boerewors
South African boerewors is a farmer's sausage, mainly made with ground beef mixed with spices and herbs and is often served with mieliepap. 
Mieliepap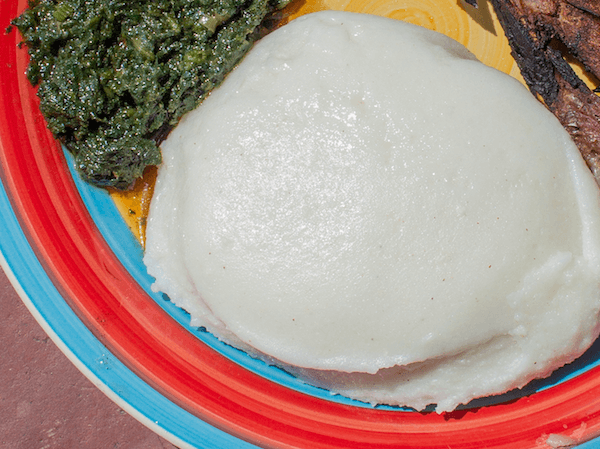 Mieliepap
Mieliepap is cooked cornmeal porridge made with sweetcorn flakes. Mieliepap often served with braai meats or stews. Mielie is the Afrikaans term for corn.
Chakalaka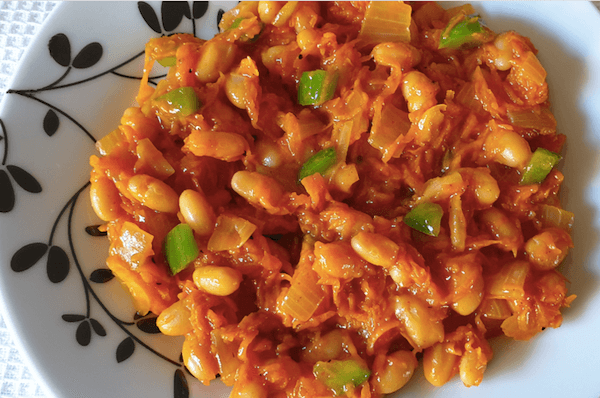 Chakalaka
Chakalaka is a spicy sauce made with bell peppers, onions and beans. It is often served with mieliepap.
Bobotie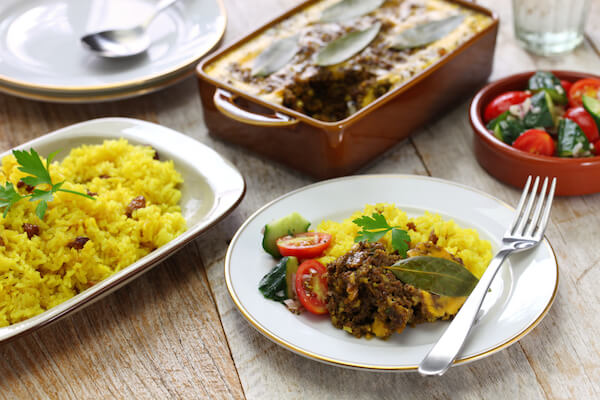 Bobotie with yellow rice
Bobotie is a classic South African dish and made with layered ground lamb or beef, rice, raisins as well as a coconut milk and egg custard topping. Find our delicious bobotie recipe here.
Koeksisters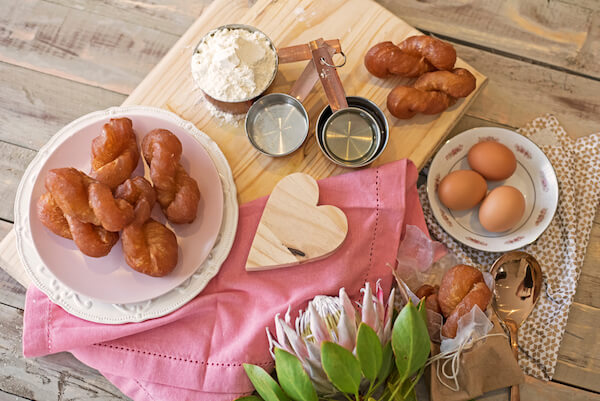 Koeksisters
This syrupy sweet treat is made of twisted donut strips that look like girls braids. There are actually two types of koeksister desserts in South Africa. The one looking like braids as above is popular with the Afrikaans population while the Cape Malays prefer to form them as dumplings.
Cape Malay Koeksisters
Cape Malay Koeksisters
Here is the Cape Malay version of the Koeksisters. They are more spiced and softer, but as delicious!
South African Food | Melktert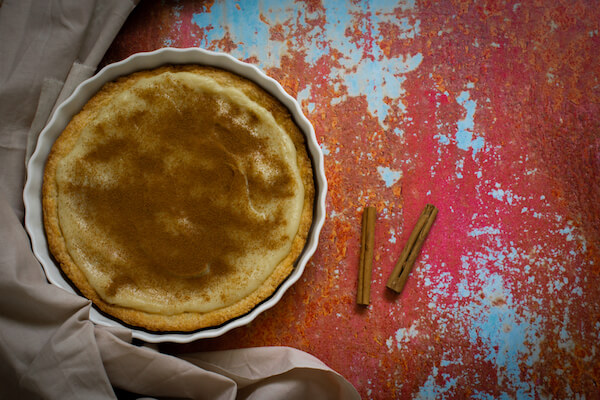 Melktert
Melktert means milktart in English and is a sweet milk flavoured cake sprinkled with cinnamon - very similar to a custard tart on a thin pastry base.
Malva Pudding
Malva pudding
This sweet apricot flavored sponge cake is often served warm and topped with custard and sticky sweet syrup.
Food in South Africa | Samosas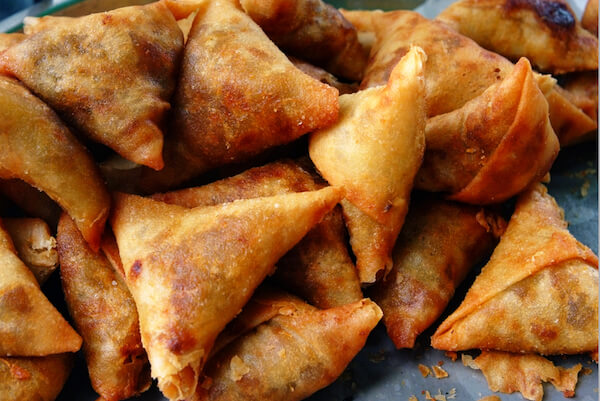 South African samosas
These stuffed fried pastry parcels are filled with meat and vegetables. Samosas are very popular and sold as snacks in most supermarkets and food stalls in town centres.
South African Food | Bunny Chow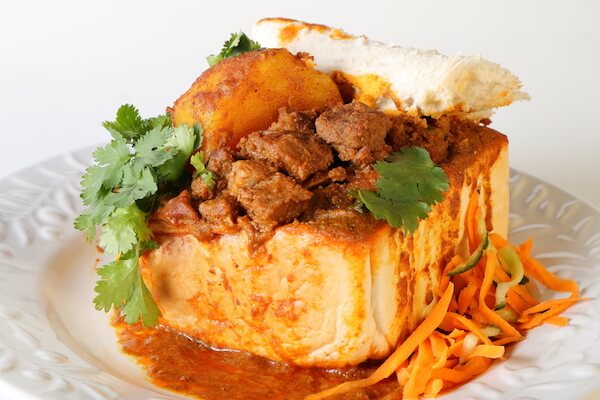 Bunny chow
Bunny chow is a typical Durban specialty. The hollowed-out bread loaf has a hot and spicy curry filling. Delicious and fun even if a challenge for eating neatly.
South African Food | Gatsby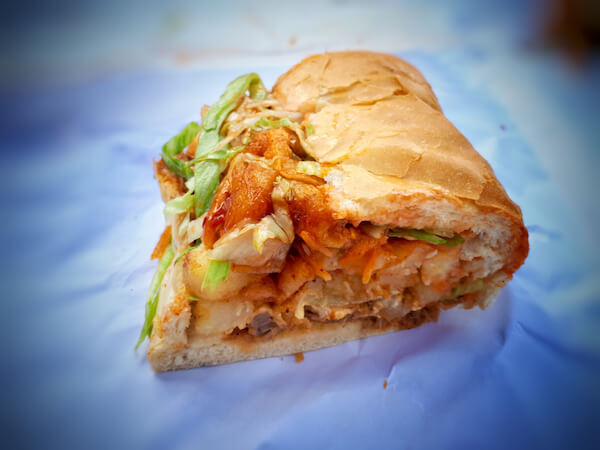 Cape Town Gatsby
A South African gatsby is a bread roll filled with Cape Malay curry or steak and lots of spicy sauce. The roll is usually served with slap chips, which are chips that are thick and crispy on the outside but soft inside. 
Potjekos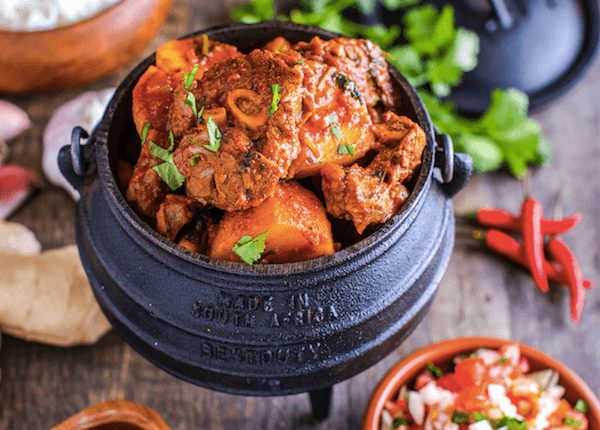 Potjiekos is a meat stew cooked for several hours over open fire with a variety of vegetables and usually includes also mielies, corn. This traditional stew is cooked in a potjie, which is usually a black cast-iron pot with three legs.
South African Food | Resources
Find more information on South African food on these excellent websites:
Eat Out. "The ultimate guide to South Africa's most iconic food." eatout. Last updated 20 December 2018. Last accessed 2 June 2021
Pamela McOnie. "Cape Town Eats Food Directory" CapeTownEats. Last accessed 2 June 2021
More Popular Pages
Image Credits on South African Food: shutterstock.com and own images
Back from South African Food to Kids World Travel Guide Homepage