Food in Sweden
On this page you will find information on food in Sweden for Kids. Here we show you which Swedish dishes are really popular with kids - and with adults as well.
Typical Food in Sweden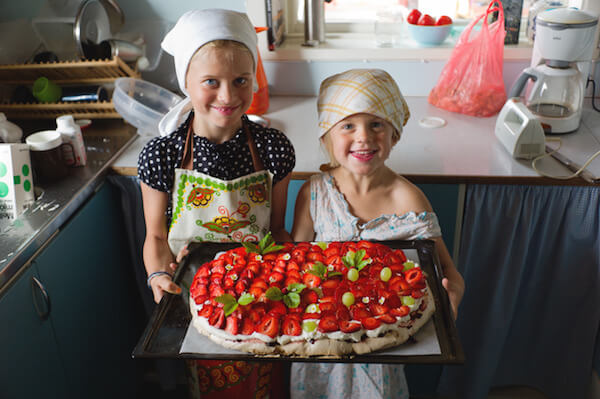 Who doesn't like Swedish Strawberry Cake?
You will learn about typical Food in Sweden and which delicious Swedish food you simply must try when you travel to Sweden. Enjoy the meal! Or as the Swedish say: Smaklig måltid!

Swedish Meatballs | Köttbullar 
Let's start with a typical Swedish meal, that many of us will have heard about or tasted already. Swedish meatballs are staple food in many Swedish families and served in everyday-home-cooking as well as on traditional holidays. 

Köttbullar - Swedish meatballs
Köttbullar, as the Swedes call them, are usually served with creamy gravy, potatoes, lingonberries and pickled gherkins or cucumber slices.
By the way, lingonberries are small dark red sweet berries that are served with many savoury meals in Sweden - mainly in form of lingonberry jam.
Cinnamon Buns 
| Kanelbullar
Cinnamon buns
Swedish cinnamon buns are made with wheat flour and filled with cinnamon, sugar and butter. Kanelbullar can be found in most bakeries and cafés.
Cinnamon buns are also popular with any 'fika'. 'Fika' is the name for small coffee break for example when meeting a friend for a drink and a sweet pastry.
Did you know, that the Day of the Cinnamon Bun that is celebrated in Sweden on 4 October every year?
Potato Pancakes | Raggmunk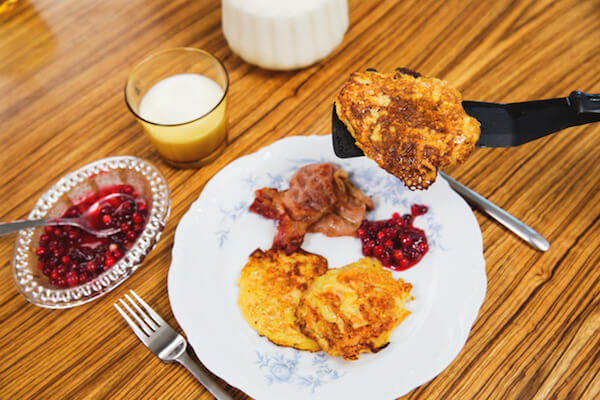 Potato Pancakes - Raggmunk
Potato pancakes are called 'raggmunk' in Swedish. They are a typical school lunch food. In Sweden, all elementary school pupils receive school lunch food for free. 
Often served for lunch, raggmunk is usually accompanied by the traditional lingonberry jam and bacon.
Chocolate Cake | Kladdkaka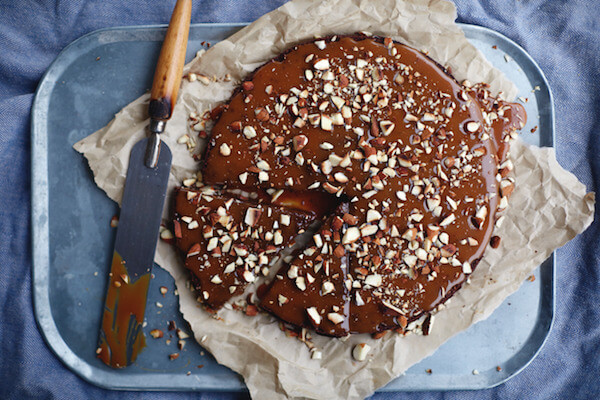 Kladdkaka
Swedish chocolate cake is soft, sticky and gooey, similar to a chocolate brownie. A truly delicious treat!
The traditional Swedish kladdkaka is a chocolate mud cake that is rich in flavour but easy to bake. There is even a chocolate cake day celebrated on 7 November! 
Crisp Bread | Knäckebröd
Knäckebröd - Crispbread
Swedish Crispbread is a special flat bread that can be topped with anything. This typical Swedish bread is often topped with ham and cheese, boiled eggs or salmon. Knäckebröd with cream cheese and pickled herring are considered a typical Swedish delicacy.
Crisp bread is also served with butter with pretty much any meal.
Cured Salmon | Gravlax
Gravlax
Gravlax is dill-cured salmon and served at almost all traditional holidays in Sweden including Easter, Midsummer and Christmas.
In Sweden, salmon is served either cured, smoked or grilled. Gravlax is salmon that has been preserved with fragrant dill as the main herb used in the curing process. Gravlax is considered a delicacy and also often available at lavish buffets.
Cream Buns | Semlor
Swedish Semlor
The cream buns called 'semlor' are typically eaten on Shrove Tuesday, but the soft sweet buns are popular in Sweden all year round. Historically, the 'semla' was the last festive food before Lent but then it was also eaten plain but dunked in milk.
Nowadays, semlor are available from around Christmas in most bakeries in Sweden. The typical Swedish semlor buns are filled with sweet cream and almond paste, but there are so many new creations that you can also enjoy a semla filled with Nutella or a fried semla - and this all year round.
Fried Herring
| Stekt Strömming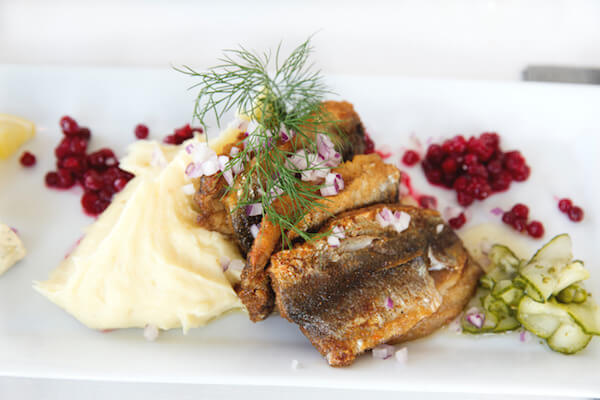 Fried herring
Herring is a typical fish used in the Swedish cuisine. Sometimes the Swedes also eat fermented herring, but this is a quite smelly dish.
However, herring is served in a variety of forms from smoked herring to fried herring with lingonberry and mashed potatoes which you can see in the image.
Food in Sweden: Waffles | Våfflor 
Waffles
Waffles are very popular in Sweden and there is even a day dedicated to the sweet treat: March 25 is Waffle Day in Sweden. 
Traditionally waffles are eaten with fresh cream and berries. 
Food in Sweden: StrawberryCake Jordgubbstårta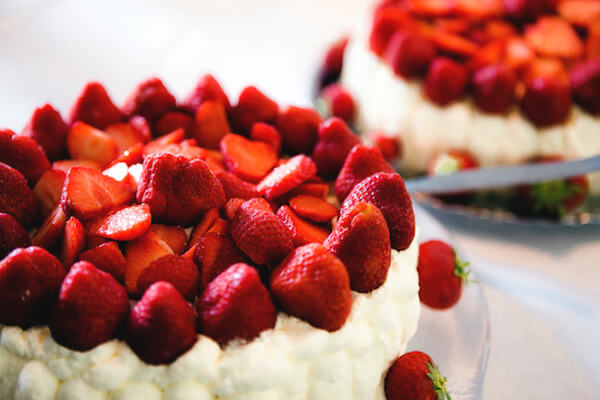 Strawberry & cream cake
Most Swedish children love strawberries and thus it's no wonder that strawberry cake is a popular cake enjoyed in summer in Sweden.
The traditional Swedish strawberry cake consists of multiple layers of sponge cake filled with fresh mashed strawberries or strawberry jam and whipped cream. The cake is often decorated with fresh strawberries too.
 Princess Cake | Prinsesstårta
Princess cake
Princess Cake is one of the most popular cakes and consists of various cake layers combined with whipped cream and vanilla cream.
The globe-shaped cake is then covered with green marzipan and icing. This cake is enjoyed in Sweden since 1929 when it was first mentioned in a Swedish cook book. Then it was simply called a "green cake". Today, the cake is also served with red marzipan cover instead for a Christmas treat or is decorated with an orange marzipan and icing for Halloween.
Sandwich Cake | Smörgåstårta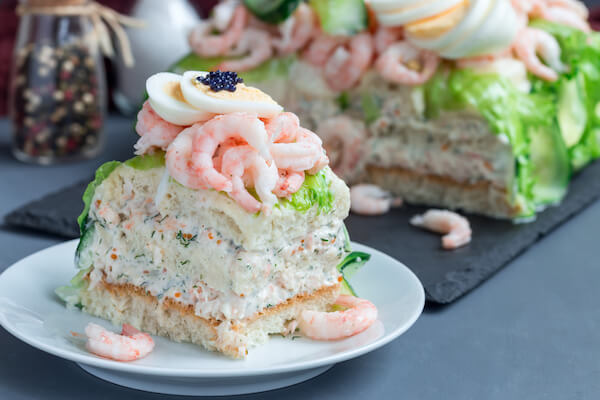 Sandwich cake
Last but not least, this is a very special kind of cake! The sandwich cake may even look like a dessert cake, but this cake is served at special events and festivities with other savoury treats.
The savoury cake consists of bread and a cream filling that has usually been made with mayonnaise, soured cream or crème fraiche, as well as seafood, salmon or meat. Often the cake is garnished with cucumbers or radishes. Seems a bit strange but you should not miss this delicious savoury cake on any buffet.
Food in Sweden | Useful resources
Find more information on Sweden's food on the VisitSweden travel website of the Swedish Tourism Board
Lola Akinmade Åkerström. "10 Things to Know about Swedish Food." Sweden.se. Last updated 14 October 2020. Last accessed 12 April 2021
Sweden's Official Travel and Tourism Website. "Classic Strawberry and Cream Cake Recipe." VisitSweden. Last updated 24 February 2021. Last accessed 12 April 2021
Visit Sweden. "Swedish Kitchen: Fika like a Swede." VisitSweden. 26 March 2021. Last accessed 12 April 2021
More Popular Pages
Image Credits on Food in Sweden: shutterstock.com, freeimages.com and Image Bank Sweden/Visit Sweden.
Food in Sweden: Children holding strawberry cake - Credits: Johan Willner/imagebank.sweden.se; Swedish Meatballs - Credits: Lieselotte van der Meijs/imagebank.sweden.se; Cinnamon Rolls: Credits: Tina Stafrén/imagebank.sweden.se; Swedish Potato Pancakes - Credits: Susanne Walström/imagebank.sweden.se; Swedish Chocolate Cake - Kladdkaka - Credits: Magnus Carlsson/imagebank.sweden.se; Swedish crisp bread - Credits: Pernilla Ahlsén/imagebank.sweden.se; Swedish gravlax: cured salmon - Credits: Magnus Carlsson/imagebank.sweden.se; Semlor - Credits: Susanne Walström/imagebank.sweden.se; Fried Herring - Credits: Miriam Preis/imagebank.sweden.se; Waffles in Sweden: Credits: Mikaela Vázquez Rico/imagebank.sweden.se; Swedish Strawberry Cake: Credits: Alexander Hall/imagebank.sweden.se; Swedish Food: Princess Cake - Credits: Magnus Carlsson/imagebank.sweden.se; Traditional Sandwich Cake: juliia_n/shutterstock.com

Back from Food in Sweden to Kids World Travel Guide Homepage