Italian Food

On this page you will find information on Italian food for kids. Often we are asked which food to try when in Italy or which food is really popular also with kids in the Italian cuisine. Here we share information on typical food and traditional food in Italy.
Food In Italy For Kids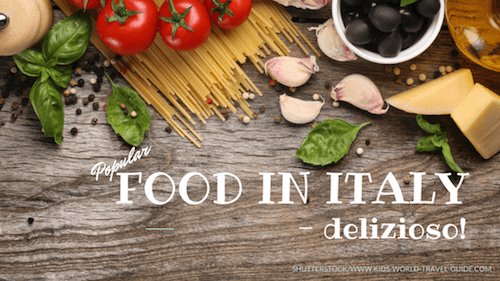 Italians create such delicious food! Many will agree that pizza is not only Italy's national food but also very popular all around the world. But it's not only pizza many people think off when they crave Italian food.
In Italy, people enjoy leisurely meals, taking time for cooking, eating and telling stories when sharing food with family and friends. On this page we share images and descriptions of Italian food that we all love and that are popular food in Italy - but not only in Italy! Buon appetito! 
Pizza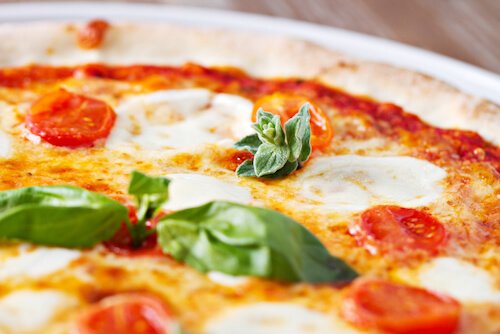 Pizza Margherita
The kind of Pizza that we eat today and think of as Italian staple food originally comes from Naples in southern Italy.
The probably most popular Pizza type that ever was created, originates from 1889 when a Napolitan pizza maker created a pizza in the colours of the Italian flag for the Queen Margherita. Tomatoes stand for the red colour in the Italian flag, Mozzarella cheese for the white and basil for the green colour.
And have you heard of calzone? Calzone is a special type of pizza. It actually is a pizza folded in half and folded into a pocket and filled with cheese and salami or ham, olives or mushrooms. Delizioso! as the Italians say - delicious!
Spaghetti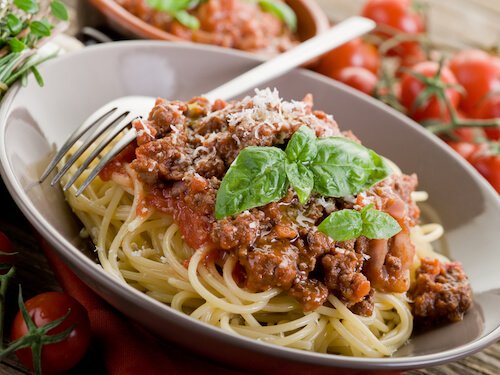 Spaghetti Bolognese
This most popular Italian pasta dish which is enjoyed all over the world with many different sauces, however it is also widely accepted that Spaghetti originated in China and that the great explorer Marco Polo discovered the noodles there and brought them to Italy. Spaghetti are only one form of pasta. Pasta means noodles in Italian.
Pasta comes in many different types, shapes, tastes and colours and is usually made from wheat flour. Spaghetti Bolognese or Spaghetti con Ragu as the Italian call them, originally come from Bologna, a city in northern Italy. They are the typical Italian Spaghetti dish with tomato and mince-meat sauce, which is loved by many children all around the world.
Lasagne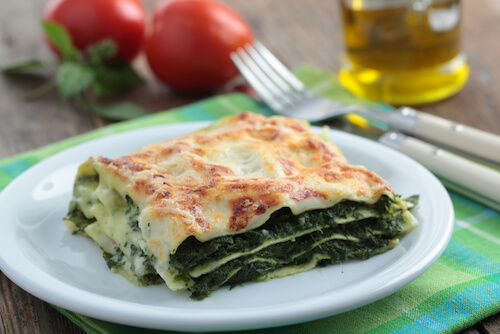 Lasagne made with Spinach
Lasagne is another typical pasta dish, which also originates from Naples. Lasagne is made with layers of sauce and flat and square shaped pasta sheets and probably the oldest type of pasta. Sometimes the pasta comes with green coloured Lasagne sheets as well, then pasta sheets are made with spinach that gives the green colour to the dough. 
The way Lasagne is prepared varies from region to region but it is mostly made with Mozzarella, Ricotta (a soft cheese) and tomato sauce containing either minced meats or vegetables such as spinach or aubergines (eggplants). 
Polenta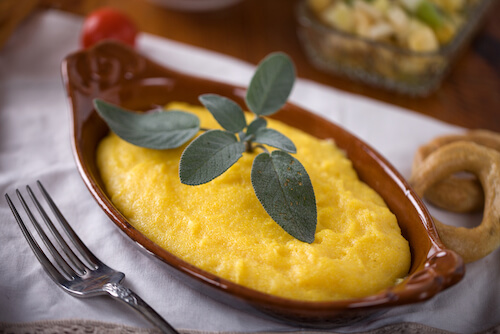 Italian Polenta
This traditional Italian food dish is mostly made of maize and corn. It originated from northern Italy and was known as the food for the poor.
In Roman times Polenta was one of the most common meals for the Roman Legions.
Pesto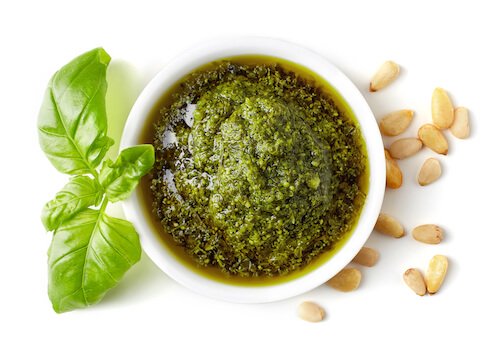 Italian Pesto is made with Basil and Pinenuts
Pesto is a green sauce made with olive oil, crushed basil leaves, garlic, pine nuts and finely grated parmesan cheese.
Pesto is often eaten with simple pasta dishes or as dip.
Parmigiano or Parmesan Cheese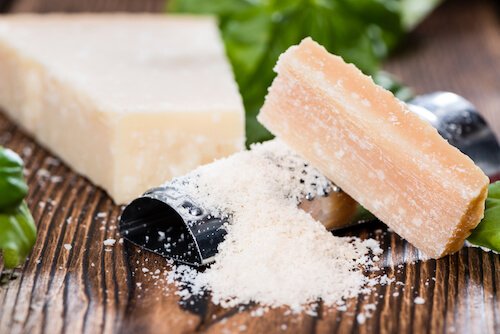 Italian Parmesan Cheese
Parmesan cheese is an Italian hard cheese coming from the Parmigiano-Reggiano region in central Italy.
Parmesan is also often called the 'King of Italian Cheese' and is enjoyed mainly grated over Pasta or salads or can just be eaten pure as a special treat after dinner.
Mozzarella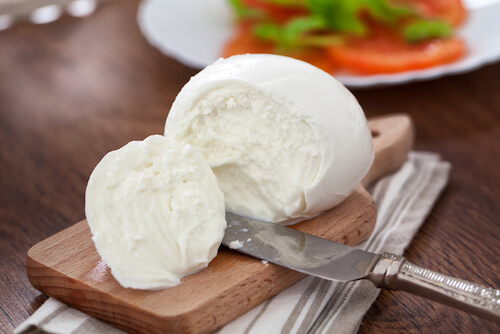 Mozzarella Cheese
Another popular Italian cheese is Mozzarella, which in Italy typically is made of water buffalo milk, but also sold made with cow's milk. The white soft cheese is cut and formed into balls which are then stored in a salt water brine to keep them soft and so that they do not dry out.
Mozzarella cheese is used as topping on pizza and lasagne, but also eaten cut in slices with tomatoes and basil, which is then called 'Caprese salad'.
Bruschetta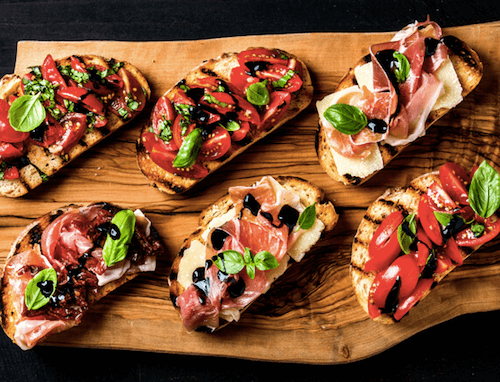 Bruschetta - a typical Italian Antipasto
Italian food: Bruschetta is a slice of bread that has been grilled in the oven. The slices are first rubbed with garlic and oil, then shortly grilled and then usually topped with tomatoes and basil or ham or salami or olives or mozzarella - you name it, they add it.
Bruschetta is often eaten as an 'antipasti', as starter dish or snack.
Parma Ham or Prosciutto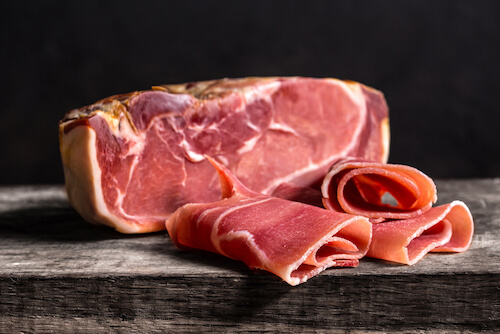 Italian Prosciutto
Prosciutto is dry cured ham which is made from pork and is usually carved very thinly. It is eaten as an antipasti, starter dish, normally with melon slices or grissini, which are breadsticks.
Grissini are available on the set tables in many Italian restaurants to munch on while waiting for the ordered meals!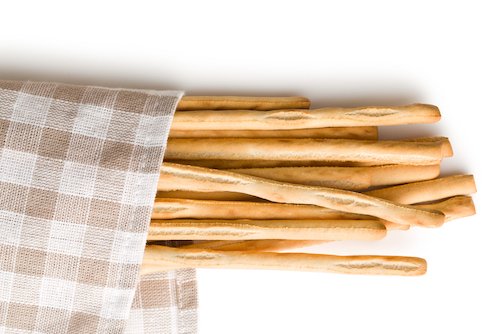 Grissini
Gelato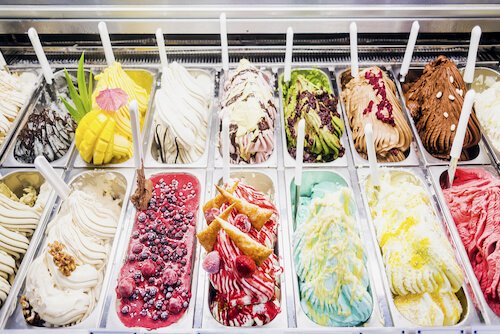 Different Flavours of Gelato
In Italian Gelato means frozen and this typical Italian ice-cream comes in all colours and flavours and is usually served as balls in a wafer cone or cup. Chocolate flavour is probably the most popular gelato of all, but we like 'Stracciatella' best, which is vanilla ice-cream sprinkled with chocolate pieces. So yummy!
Gelato is known to have its roots in the Dolomites mountains in northern Italy, however, also in Sicily in southern Italy, ice cream desserts have a long tradition. The desserts are preferred and prepared in different ways in different regions, with more fatty ice-cream with more milk and cream eaten in the colder mountain regions while in hot South of Italy, the dessert is made as a sorbet which includes fruit juice instead of milk. Make sure to know the world for 'Ice Cream Parlour' in Italian, which is 'Gelateria'!
Cannoli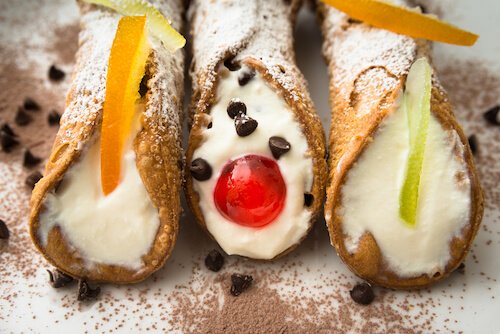 Italian Cannoli
Typical Sicilian dessert made with wafer rolls that are filled with sweet cream. Cannoli are often topped with either a fruit topping or chocolate sauce.
Tiramisu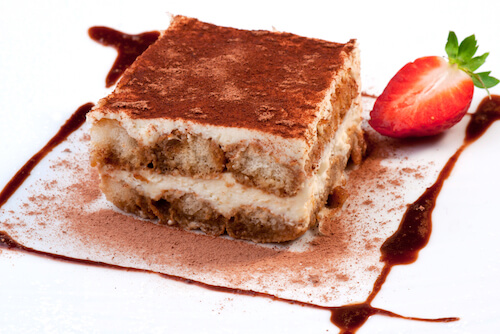 Tiramisu
Our favorite Italian dessert is made with ladyfinger biscuits, that have been soaked in Espresso coffee and then topped with Mascarpone (cream cheese) and lots of cacao.
This is a very popular dessert dish in Italy, but you will find various types in restaurants around the world. Did you know that Tiramisu means 'Lift me up' in Italian?
Italian Food
Good resources for research
Find more information on Italian food on these excellent websites:
Great Italian Chefs. "Traditional Italian Recipes." Great Italian Chefs.  Last accessed 7 May 2020 
Academia Barilla. "Regional Cuisines". Barilla Group. Last accessed 7 May 2020
Rosemary Molloy. "Easy Tiramisu Recipe for Kids." An Italian In My Kitchen. 4 June 2019. Last accessed 7 May 2020
Popular pages
Image Credits on Food in Italy: shutterstock.com and own