Food in Chile
On this page you will find information on food in Chile for Kids. Often we are asked which food to try when in Chile or which Chilean food is really popular also with kids. So here we share information on typical Food in Chile.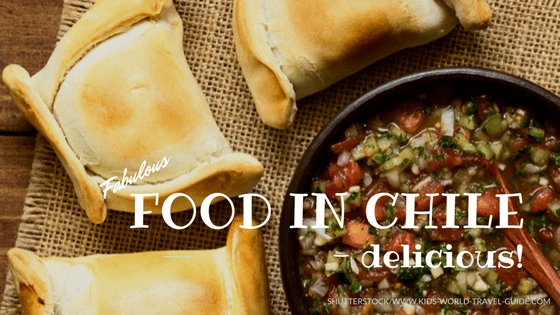 Chile has lots of different foods. Did you know that empanadas are Chile's national food? In Chile we also enjoy eating meat, here meat is really popular. Some examples of food that have meat are Choripan, Costillar, Cazuela and Empanadas de Pino which are empanadas that contain ground beef, olives and onions.
Sopaipilla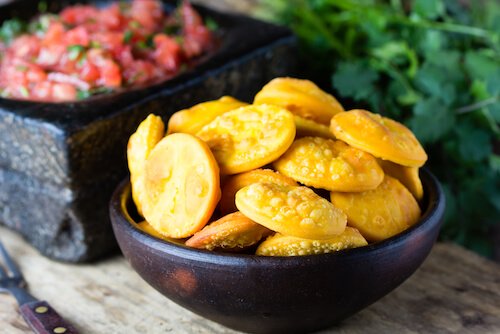 Food in Chile - Sopaipilla
Sopaipilla are a typical Chilean snack. This crispy pastry is sometimes topped with sugar, marshmallows or chancaca, a sweet sugarcane sauce or a savoury sauce such as pebre. Sopaipillas are traditionally made with pumpkin (squash) and are deep fried. They are really easy to make: Take 1 cup of cooked squash, mash it, add 2 cups of flour, 2 tablespoons of butter and shape the dough into circles, then fry them until they have a brownish colour. That's all!

Pebre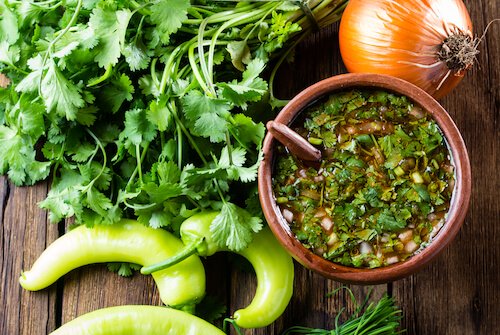 Pebre
Food in Chile: Pebre is a very spicy sauce. This pebre sauce is made of tomatoes, onions, garlic, olive oil herbs and peppers and lots of cilantro (coriander).

Empanada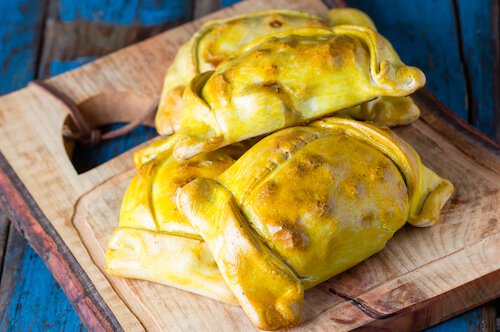 Empanadas
Empanadas are a popular snack in Latin American countries. They are one of the most typical food in Chile. an Empanada is a fried bread dough which filled with cheese and olives or cheese and ham or meat and hard-boiled egg or many other fillings.
Choripan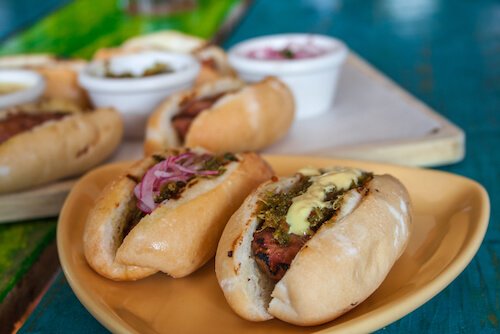 Chilean 'hot dog': Choripan
Choripan is similar to a hot dog and as such a piece of bread or roll filled with a chorizo (sausage). It is common street food in Chile. You can put pebble or avocado on top. The name comes from the two Spanish words chorizo and pan (crusty bread).
Marraqueta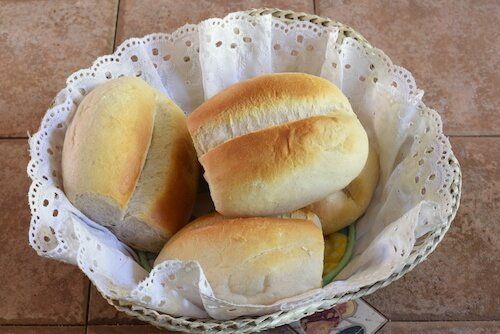 The Chilean crispy bread rolls are toasted and spread with avocado or with pebre, a hot spicy sauce. Marraqueta are soft rolls made with wheat flour, water and yeast.

Cazuela
Cazuela
This is a typical homemade stew made with beef or chicken or lamb and also includes potatoes, pumpkin and corn on the cob. Often there are also bell peppers and carrots in the stew and lots of cilantro (which is coriander or as we call it in South Africa dhania)
Pastel de Choclo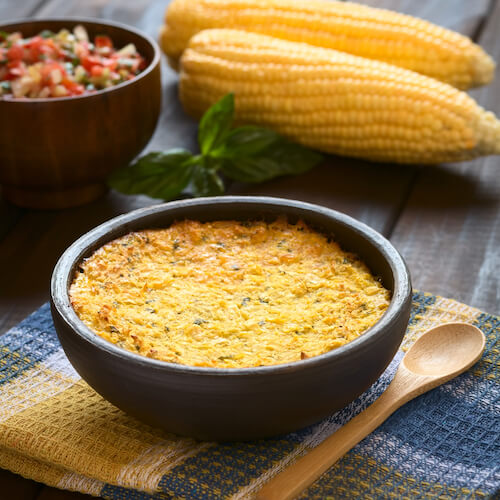 Pastel de Choclo
Pastel de choclo is a typical Chilean casserole made with corn and meat, beef or bacon, and is traditionally baked in a clay pot. Did you know that corn is referred to as choclo in Chile!

Dulce de Leche or Manjar
Dulce de Leche
This caramel cream is such a treat! Not only children love dulce de leche spread on their breakfast rolls. This tasty cream is also used in many desserts and baked goodies such as alfajores, see below.

Alfajores
Alfajores
Dainty little coconut treats are always welcome! Alfajores are sandwich cookies with dried coconut flakes and dulce de leche filling. And another sweet delicacy is cuchufli, which are caramel cream filled tubes with waffle-textured crusts. Mmmmmhhh!
Mote con huesillo
Mote con Huesillo
Mote con huesillo is a syrupy drink made from peach juice, honey and husked wheat or other grains and seeds. Often the fruit nectar is quite thick, so one can use a dessert spoon to eat the sweet and delicious soaked wheat. By the way, a huesillo is a sun-dried peach, so the drink's name simply means 'peach with wheat'. 
Food in Chile:
Good resources for research
Find more information on French food on these excellent websites:
Image Credits on Food in Chile: shutterstock.com and own
Text source on Chile facts page. This info was researched and collected by the Grade 4 students of the International school in Santiago/Chile 'Nido de Aguilas'. Many thanks to the students and the 4th Grade teaching team for the comprehensive and insightful 'Chile travel guides' which were shared with us to be included here on our Kids-World-Travel-Guide.com. More pages from their guides will be added here soon. So keep this site bookmarked and click here to learn more about the International School Nido de Aguilas, where the authors of the Chile travel guide go to school.