Famous French People
If you think of famous French people, Napoleon Bonaparte, Louis the Great or "Sun King" and Joan of Arc are often the first to come to mind. The history of the French Revolution is explained in schools all over the world. 
However, there are so many other great French people you really should know.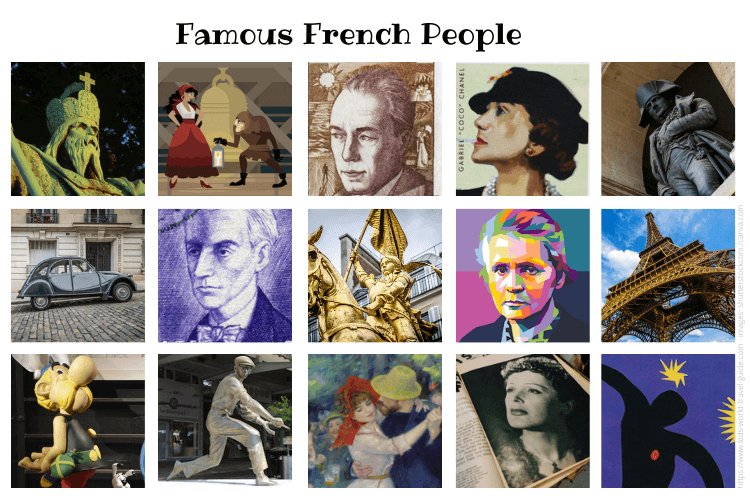 On this page, we want to show you some French geniuses, inventors and explorers and you will not be surprised that their work is still treasured all over the world.

Famous French Artists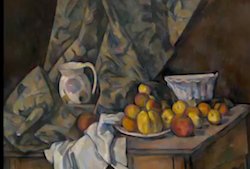 'Basket of Apples' by Cézanne
Paul Cézanne (1839-1906), painter is known for his paintings of landscapes and portraits and still life such as the Basket of Apples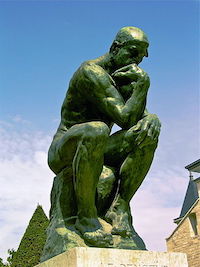 "The Thinker" by Auguste Rodin
Auguste Rodin (1840-1917) is known for his sculptures. 'The Thinker', the bronze sculpture you can see here, is one of his most famous work. The statue stands in Paris.
Claude Monet (1840-1926), is considered the founder of the French impressionist painting style. He was born in Paris in 1840. He painted mainly landscapes and was amazed by the change in the countryside and the effects of light. His most famous paintings include the waterlily pond in Giverny, where he lived until his death in 1926.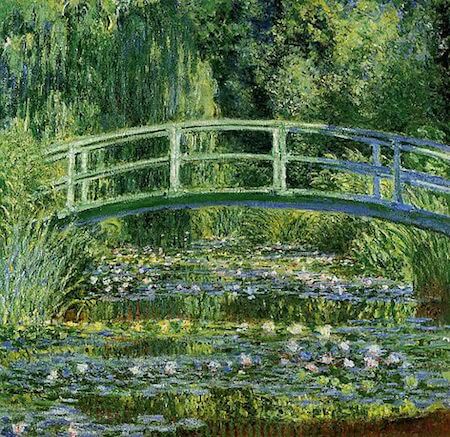 Monet's "Garden at Giverny"
Pierre-Auguste Renoir (1841-1919) is known for the use of pastel nevertheless vibrant colours and use of light. His paintings depict snapshots of real life such as the scenes in the parks, by the river Seine, in gardens and at dances.
Henri Matisse (1869-1954) was a painter, sculptor and illustrator and is famous for his "painting with scissors" which are colourful artworks made with cut-outs.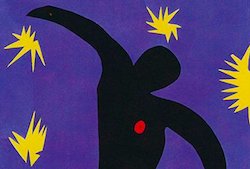 Matisse's "Icarus"
'Dance at Bougival' by Renoir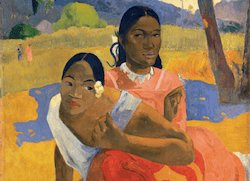 "Nafea faa ipoipo" by Gaugin
Paul Gaugin, French painter and ceramics artist, is known for his colourful paintings. His work was influenced by his many travels to exotic places such as Martinique, Panama and Tahiti. He was a friend of Vincent van Gogh, the Dutch painter. One of his paintings is considered the most expensive artwork in the world as it was sold for $300million in 2015!

Famous French People in History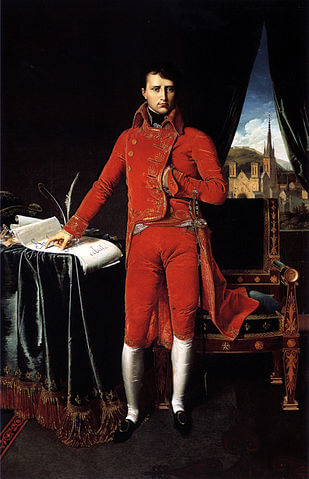 Napoleon
Napoleon Bonaparte (1769 - 1821) was the military leader during the French Revolution. He proclaimed himself the first 'Emperor of the French' in 1804 and led France through many battles and wars which are also referred to as 'Napoleonic Wars'. Napoleon was sent on exile to the Italian island of Elba in 1814 where he escaped soon after to take control over France again. He led another war and lost in the Battle of Waterloo. In 1815, Napoleon was sent on the remote Atlantic Ocean island of St Helena, where he died in 1821.

King Louis XIV (1643 – 1715), Louis Quatorze (French for 14th) or Louis the fourteenth, was also called the 'Sun King' (le roi soleil). The ruler of France reigned over 72 years and is considered to be the longest ruling monarch in European history. During his time, France was the leading power on the European continent and three major wars took place during his rule and most French protestants fled the country during his reign.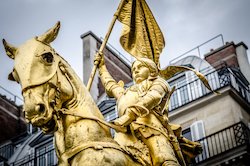 Jeanne d'Arc
Jeanne d'Arc (Joan of Arc) (1412 - 1431) is considered the heroine of France for her role in the Hundred Years War between France and England. The 'Maid of Orleans' led the French to the first major victory against the British in the battle of Orleans. Joan of Arc had dressed in military armour to lead the battle and also showed support of the poor people distributing food to them. She was burnt at the stake in 1431 and is considered a saint by the Roman Catholic church. 
Charles de Gaulle (1890-1970), politician and statesman and former president of France. He led France against Germany in the Second World War and is known for establishing democracy in France. He rewrote the French constitution and was elected French president from 1959-1969. The airport in Paris is renamed after him.
Charlemagne
Charlemagne or Charles the Great (747-814) is known as the King of the Franks, a people that lived then in huge area that reached from Thuringia (in today's Germany) to the Atlantic coast in France. He was the Emperor of Rome from 800 and united large parts of Western and Central Europe and thus is often referred to as the "Father of Europe". His imperial residence was in Aachen/ Germany, where his tomb is located in the cathedral.

French French Inventors 
Pierre de Coubertin (1863 - 1937), is considered the 'father' and initiator of the modern Olympic Games. Read more about the Olympics here.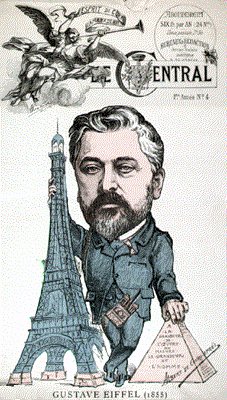 Gustave Eiffel
Gustave Eiffel (1832 - 1922) the French architect and engineer, designed the Eiffel tower for the world expo in Paris. He also helped with the construction of the Statue of Liberty in New York.
Jacques Cartier (1491 - 1557) was a navigator and explorer. On his way to explore the Western passage to Asia, he set sail from France and arrived in Newfoundland in 1534, still thinking after his return to France that he had stepped on Asian land! He is the first person who mapped the St Lawrence River in eastern Canada/Northern America. 
Montgolfier Brother's balloon
Joseph-Michel Montgolfier (1740-1810) and Jacques-Étienne Montgolfier (1745-1799), the "Montgolfier Brothers", were the first to develop and fly a hot-balloon over Paris in 1783.
Louis Braille (1809-1852), the inventor of "Braille Code", the writing and reading system used by blind or sight impaired people. The code consists of little dots representing letters. As a young boy Braille had lost his eyesight, he experimented and improved his writing system and later became a teacher, musician and researcher.

Alphabet in Braille code
Louis Pasteur (1822-1895), famous French microbiologist and chemist, was the inventor of the Rabies vaccine. He is often referred to as the "founder of microbiology" and the invention of treating milk with mild heat to prevent the growth of bacteria. This process is called pasteurisation.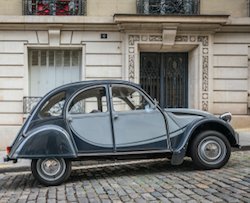 2CV Citroën car
André Citroën (1878-1935), founder of the Citroën car factory and inventor of the herringbone gears that are used heavy machinery.
Coco Chanel (1883-1971) is regarded as one of the foremost fashion designers. She is known for the feminine yet comfortable dresses and costumes and created a perfume, called Chanel No 5.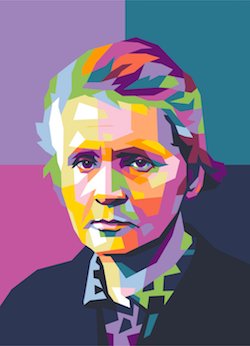 Marie Curie
Pierre Curie (1859-1906), physicist, won the Nobel Prize in Physics together with his wife Marie Curie (1867-1934) and Henri Becquerel in 1903. They provided evidence for radiation. The unit for radioactivity is named after Henri Becquerel (1852-1908). Although many refer to Marie Curie as one of the most famous French scientists, she was Polish by birth and naturalised in France later in life. Her full maiden name is Maria Salome Skłodowska. Even when becoming a citizen of France, she still kept her Polish citizenship. Marie Curie is the first woman who ever received a Nobel Prize! She is also one of the few Nobel Prize winners who received a second Nobel Prize, this one in 1911 in Chemistry.

Famous French Authors, Writers and Thinkers
Jules Verne (1828-1905), a poet, author and playwright, is known for his adventure stories "Around the World in 80 days" or "20,000 Leagues under the Seas".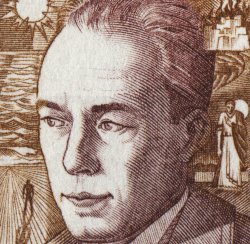 Albert Camus
Albert Camus (1913-1960), received the Nobel prize for Literature in 1957. The writer and philosopher is the second youngest to have received this Nobel Prize - at the age of 44 years.
Simone de Beauvoir (1908-1986), writer and novelist. The feminist won many literary prizes and was the life partner of famous French philosopher and author Jean Paul Sartre (1905-1980) who won the Nobel Prize for Literature in 1964, but declined the prize.
Esther Duflo (born 1972) is a renowned economist and writer who is a university professor and researches development and received the Nobel Prize in Economics in 2019 for her works in research to combat global poverty.
Famous French Sportspeople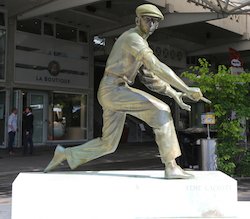 René Lacoste
René Lacoste (1904-1996), nicknamed "Crocodile" or "Tennis-machine" was a famous tennis player. He started aged 15 years with tennis and trained very hard while also keeping daily notes of his opponent's strength and weaknesses. He is also known as the creator of the polo short with the embossed crocodile (or alligator) on the chest.
Bernard Hinault (born 1954), one of the most famous French cyclists who five times took part in the Tour de France. He was strong in athletics as a child, and only got his first own bike when he turned 15 years old.
Amélie Mauresmo (born 1979), former tennis player was No 1 several times. She started at the tender age of 4 years, after she saw her sports idol Yannick Noah (born 1960) winning the French Open in 1983. Yannick Noah is father of Joakim Noah (1985), formerly also a famous NBA Basketball player.
Evan Fournier (born 1992) is one of the most famous NBA basket ball players, currently playing for the Boston Celtics. He won various medals with the French national basket ball team in the previous Olympics.
Clarisse Agbegnenou (born 1992), French judoka was one of the French flag bearers at the Tokyo Olympics. The daughter of Togolese parents, she is five times World Champion in Judo and just won a gold medal at the Tokyo Olympics.
Famous French Composers and Musicians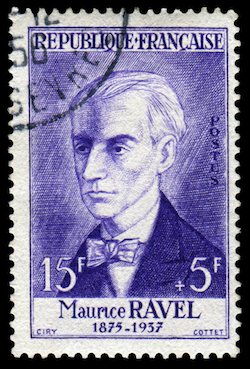 Maurice Ravel
Maurice Ravel (1875 - 1937), another famous French composer and pianist of the famous 'Bolero'. Listen to this wonderful piece here.
Hector Berlioz (1803 - 1869), composer and conductor of the Romantic Period is known for his symphonies and his opera 'The Trojans'.
Claude Debussy (1862 - 1918), French composer, was very interested in musical approaches which were 'non-Western', he liked Indonesian gamelan music which includes gongs and met allophones. One of his most famous works is the 'Mazurka'.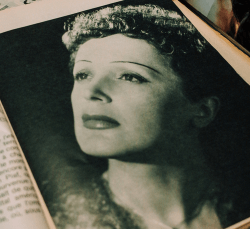 Edith Piaf
Édith Piaf (1915-1963), French singer and songwriter, grew up in poorest circumstances and was lovingly nicknamed "Little Sparrow" due to her short height of 142 cm/ 4 ft 8 in. She is known for her melancholic ballads and chansons such as "La vie en rose" ("Life in pink")or "Non, je ne regrette bien" ("I don't regret anything")
David Guetta (born in 1968), famous French DJ, has sold over 30 million singles worldwide! His song 'This one's for you' was the official song for the UEFA 2016 (European Soccer Championship). Listen to the song here.
Jean Jacque Goldman (born 1951 in Paris), French singer and songwriter, son of a Polish father and German mother, is known for his own songs as well as the album he produced for Canadian singer Celine Dion. The album 'D'eux' is still the best selling French album in history!
Famous French Characters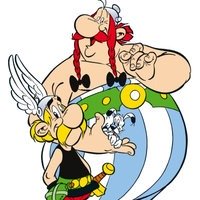 Asterix and Obelix
Asterix and Obelix, the stories of the famous Gaules fighting the Romans are read by people all over the world. The characters were created and designed in 1959 by the two French artists René Goscinny (1926-1977) and Albert Uderzo (1927-2020).
Le Petit Nicholas, the stories of the 'Little Nicholas' by Jean-Jacques Sempé (born 1932) and René Goscinny were published in 1959 and tell about the typical childhood stories of those times. 

The Little Prince, in French 'Le Petit Prince' by Auguste de Saint-Exupery (1900-1944), is a famous children's story about a pilot who meets a prince fallen from onto earth. The little prince observes and comments his experiences in this heartwarming story. The most famous words are: 'One sees clearly only with the heart. What is essential is invisible to the eyes.'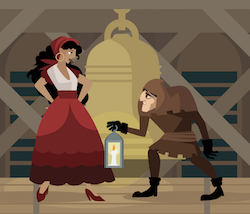 Hunchback of Notre Dame
The Hunchback of Notre-Dame, the famous animated film by Walt Disney, is based on the original classic story by Victor Hugo (1802-1885). The main characters are Quasimodo, a kind but isolated young man with an overly curved deformed spine who lives inside the cathedral.
The Three Musketeers, are a famous adventure story written by French author Alexandre Dumas (1802-1870) in 1844. French D'Artagnan meets the three musketeers Athos, Aramis and Porthos during his travels from Gascony to Paris.
Popular Pages
Resources for Famous French People
Images for the Famous French People Collage: From shutterstock.com: Charlemagne by raymond tercafs; Hunchback of Notre Dame by delcarmat; Albert Camus by wantanddo; Coco Chanel by spatuletail; Napoleon by Matthew Leigh; Citroën 2CV by StevenK; Maurice Ravel by Wantanddo; Joan of Arc by BlackMat; Marie Curie by Roseed Abbas; Eiffeltower by Gurgen Bakhshetyan; Asterix by Rene Lacoste by LeonardZhukovsky; Auguste Renoir (artwork); Edith Piaf by Julie Mayfeng; Matisse (artwork)
Here are some Youtube Videos that are worth watching with your students as they explain some French artists for children:
Competition 2023 closed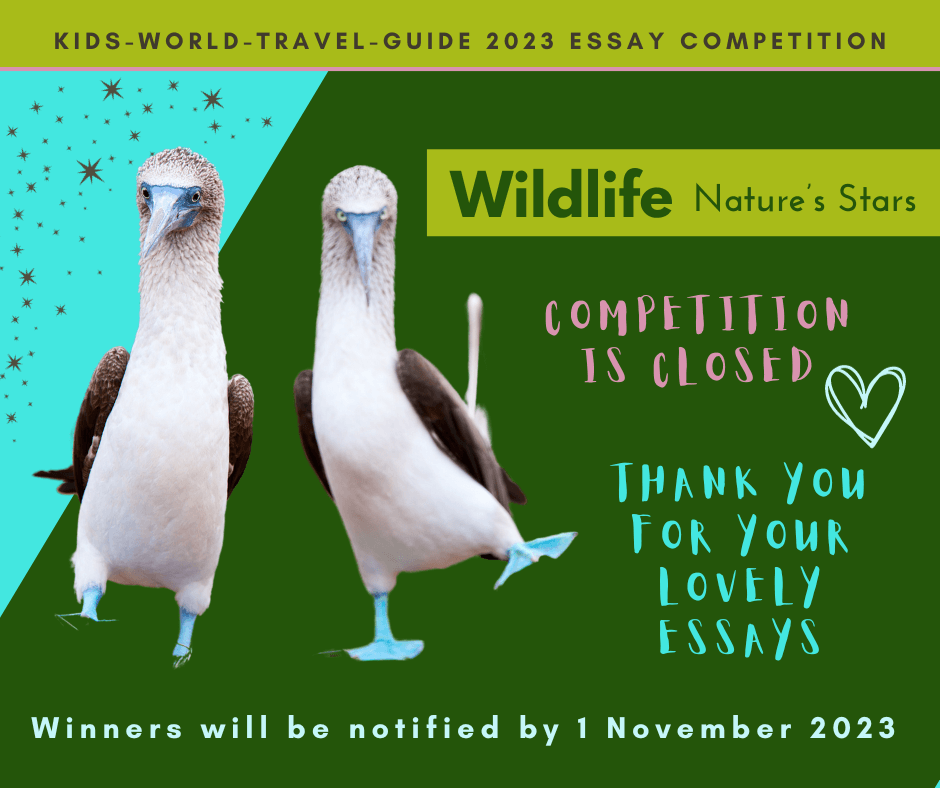 Watch this space
Competition 2024 will be announced in February