North America Quiz
Hello and welcome to our North America quiz. Here you can test your geography knowledge with some of the best North America geo trivia.
Let's start right away with our favourite geography quiz questions about the North American continent.
First play our North America Quiz for kids and then try to find the right answers to more fun North America quiz trivia below.

More North America Quiz & Trivia Questions
| | | |
| --- | --- | --- |
| | Which is the largest city on the North American continent? | 1 |
---
| | | |
| --- | --- | --- |
| | Which North American countries border the Pacific Ocean? | 2 |
---
| | | |
| --- | --- | --- |
| | Which is the national animal of the USA? | 3 |
---
| | | |
| --- | --- | --- |
| | Which is the most populous state of the United States of America? | 4 |
---
| | | |
| --- | --- | --- |
| | Which two rivers form the largest river system in the world? | 5 |
---
| | | |
| --- | --- | --- |
| | On which day do U.S. Americans celebrate Independence Day? | 6 |
---
| | | |
| --- | --- | --- |
| | Which is the driest place on the North American continent? | 7 |
---
| | | |
| --- | --- | --- |
| | Which is the highest mountain in North America? | 8 |
---
| | | |
| --- | --- | --- |
| | Which is the largest lake of the North American continent? | 9 |
---
| | | |
| --- | --- | --- |
| | What is the name of the longest mountain range of North America? | 10 |
---
| | | |
| --- | --- | --- |
| | Which colours are used in the flag of Barbados? | 11 |
---
| | | |
| --- | --- | --- |
| | Which is the biggest Caribbean island? | 12 |
---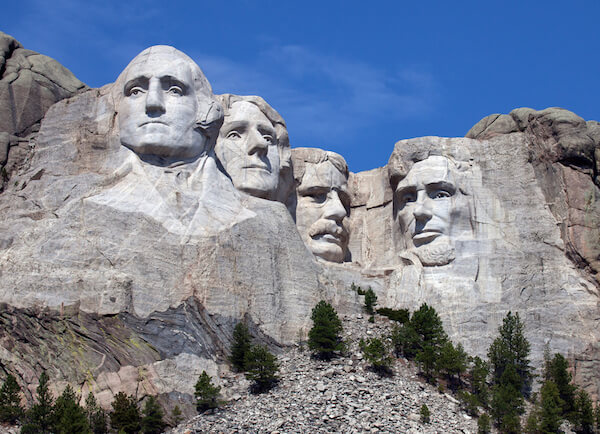 Mount Rushmore - Landmark in the USA
And here are the answers to the North America Quiz:
1. Mexico City - 2. Canada, USA, Mexico, Guatemala, El Salvador, Honduras, Nicaragua, Costa Rica, Panama - 3. American Bison - 4. California - 5. Mississippi and Missouri Rivers - 6. 4th of July - 7. Death Valley - 8. Denali - 9. Lake Superior - 10. Rocky Mountains - 11. Blue and yellow with black trident - 12. Cuba
Popular North America Pages
Other Fun Quizzes for Kids
on these pages
Image Credits on North America Quiz page: shutterstock.com and own images