Festivals in China
Do you want to know about traditional festivals in China? China is a huge country that has a beautiful culture and fascinating festivals and annual celebrations. Now let us introduce some very special Chinese festivals to you!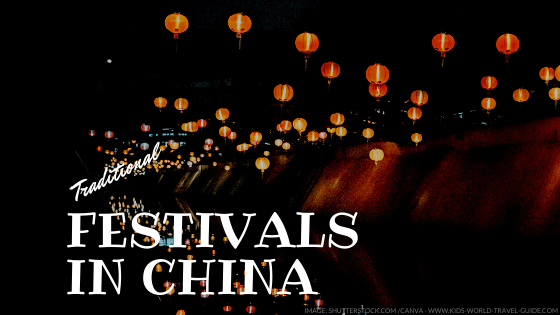 Traditional Festivals in China
There are about 14 major traditional festivals in China. Most of them come from the ancient Chinese history.
There are four main holidays: Spring Festival, Qing Ming Festival, Dragon Boat Festival and Mid-Autumn Day.
1 | Spring Festival | Chinese New Year
The Spring Festival is the most important festival for Chinese people, just like Christmas is for many people in the West.

Chinese dumplings
Setting off firecrackers is one of the customs in Spring Festival. Let me tell a story about it. A long time ago, a giant monster named Nian lived in China. He slept all year, but Nian woke up on the last day of the year.
Then he looked around for people - to eat them! Everyone was scared.  Suddenly there it thundered and people found out that Nian was afraid of thunder. And people remembered that the noise of firecrackers sounds like thunder! From then on, people set off firecrackers to drive away the monster on the last day of the year. So the Spring Festival is also called "Guo Nian", which means in English "Overcome Nian".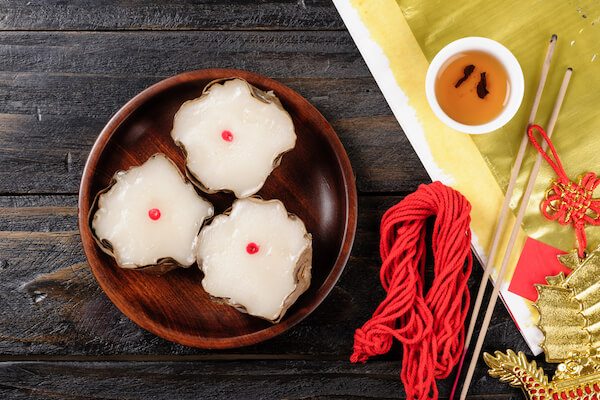 Niangao - Traditional Chinese New Year cake
All the family get together at Spring Festival. We dress up. Children can get money in red paper envelopes as New Year gifts when they wish each other "Happy New Year".
We eat dumplings and Niangao during Spring Festival. Niangao is a sweet and soft New Year rice cake. Because  dumplings look like the money of ancient China, and Niangao means "higher and higher, one year after another", we think that eating dumplings and Niangao will bring us luck.
My favorite festival is the Spring Festival. I go to my hometown every Spring Festival. I play with my friends who I can't see during the year. I can get many gifts and blessings. I am very happy in Spring Festival.
Read more about Chinese New Year celebrations here.
2 | Dragon Boat Festival 
- Festivals in China
The Dragon Boat Festival takes place on the 5th day of the 5th lunar month and has a history dating back 2,000 years.

Dragon Boat Festival
This festival lets us remember a patriotic poet who was called Qu Yuan. He wanted to help his country, but he couldn't. Thus he was so sad that he jumped into a lake. Therefore today we have dragon boat races in the Dragon Boat Festival to remember Qu Yuan.

We eat Zongzi during the Dragon Boat Festival. Zongzi is made of sticky rice and wrapped in bamboo leaves. We also throw Zongzi into the river to avoid the fish eating Qu Yuan.
Chinese Zongzi parcels eaten during the Dragon Boat Festival
Let me tell you also the story about mugwort and calamus. These are important spices in the Chinese traditions. Once upon a time, the village caught fire in the Dragon Boat Festival. The gods put mugwort and calamus on good people's houses. So the good people were safe, but the bad people died. From then on, we put mugwort and calamus around doors in the Dragon Boat Festival. This is a custom for good luck.
In my family, we bathe in mugwort water on Dragon Boat Festival. It can make us healthy. Mugwort water has special smell and I like to play in the bathtub and I imagine rowing a dragon boat. So I like this festival.
3 | Qing Ming Festival - 
Festivals in China
Qing Ming Festival is also named Tomb Sweeping Day. This tradition began about 2,500 years ago. This festival usually takes place in the early April.
Qing Ming Festival will take place from 3 - 5 April in 2022.

On this day, people go to the tombs of their family members and sweep the dust on it. People eat Qingtuan, which is made from rice and Aicao, a wild plant with a special scent. People still do as is tradition to celebrate this festival. During the festival, the most important to remember are the dead members of the family. I feel blue and cold thinking of this festival.
4 | Mid-Autumn Festival 
- Festivals in China
Mid-Autumn Day is an interesting festival that takes place in September or October. This year it will be celebrated on 10 September.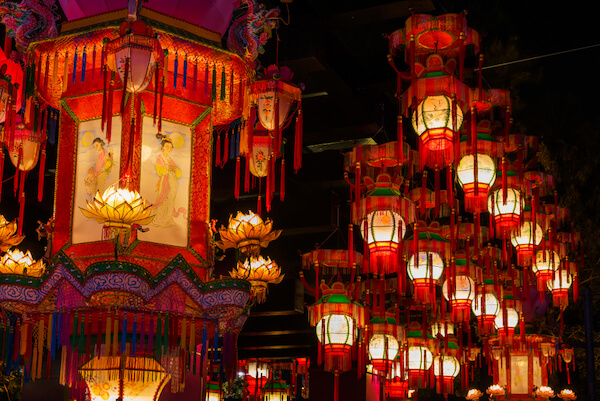 Laterns at night in Midautumn Festival
There is an fascinating story about this festival. Many years ago, an immortal named Houyi killed nine sons of the God of Heaven. He was chased away by the God to the human world. His wife named Chang'e wanted them to live forever, so she asked Houyi to find a medicine. But she took all the medicine herself. Later she was ashamed of actions and hid in the Moon Palace in heaven. 
Ancient people started a festival to honor this woman and hoped Houyi and Chang'e could come together again someday. They also used flour, sugar, nuts and eggs to make a desert named Yuebing for the festival.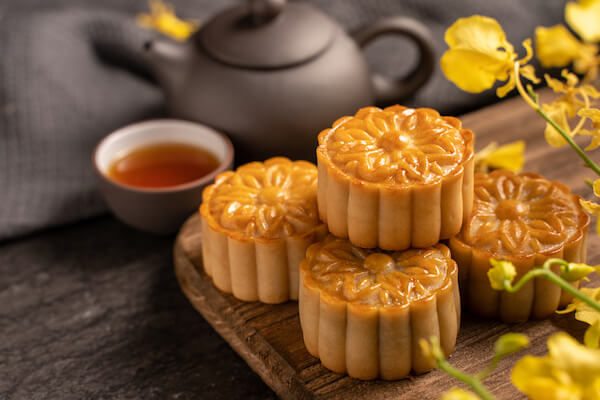 Tradition in China: moon cakes
Yuebing is also called moon cake. People in China now also make different kinds of moon cakes every year. The festival's meaning includes gathering family and friends and love for the family.

Traditions in China
China is a large country that has 56 ethnic groups as official information states. Each ethnic group has their own traditions. Some of the traditions we have already described above. But there are some other important traditions such as birthday celebrations. 
China celebrates birthdays especially for older people. But we do not just have birthday cake. Our traditional cake is called And Ku Kueh and has the shape of a tortoise which symbolises longevity, which means long life.

Tortoisecake - Ang Ku Kueh
We have many different and delicious foods for birthdays. Among these are also fish, oranges, glutinous rice balls and long noodles. All these have special meanings to us:
fish means that every year you have enough
oranges mean that you are flourishing
glutinous rice balls means going round and round
long 'longevity' noodles: that means a long life 
National Day 
- Festivals in China
National Day is not a traditional festival. National Day is a country's birthday. Just like every person has a birthday, a country has a birthday too. Do you know when is your country's birthday? 
The National Day of the People's Republic of China is celebrated on 1 October. National Day is celebrated in China since 1949.
Every ten years we have a special traditional event, the Military parade. This is very spectacular. First our Chairman Xi will make a statement. Next the military will line up with the land force, the navy, the air force and the female army. The uniforms are deep green blue white and red. So colorful!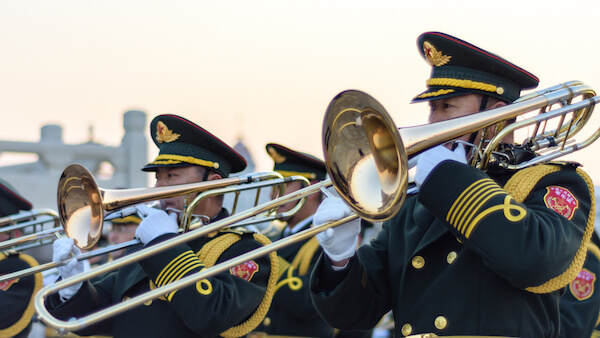 Chinese National Day parade - image by Mirko Kuzmanovic
The grand military parade takes place on Tian'anmen square. It is both very powerful and shocking! When I watch it on TV, I'm always so proud and excited. We also have a national holiday on National Day. We can do whatever we want. We can sleep, travel, go shopping, read, sing, play games and so on. We can be together with friends or we enjoy do it alone. I like it very much.

The celebration will continue through the night. So spectacular!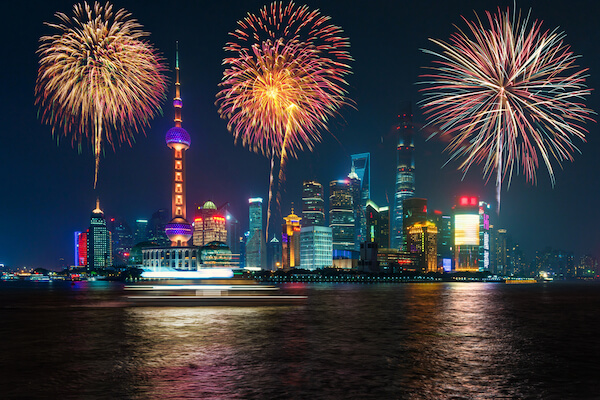 China National Day - Fireworks over Shanghai
Popular Pages
Festivals in China | Resources

This article was researched and compiled by Abby Song and Annie Jiang, both from UP Ultra Phonics Reading Center in Chengdu/ China.
Thank you for this amazing article and all your wonderful insights into these Chinese traditions and popular festivals in China. A huge thank you goes also to Lisa, their amazing teacher for her support in growing and expanding our China pages for young readers.
Resources used for Festivals in China:
Images on Festivals in China: Shutterstock.com; Musical corps at the Chinese National Day parade image by Mirko Kuzmanovic/shutterstock.com
Competition 2023 closed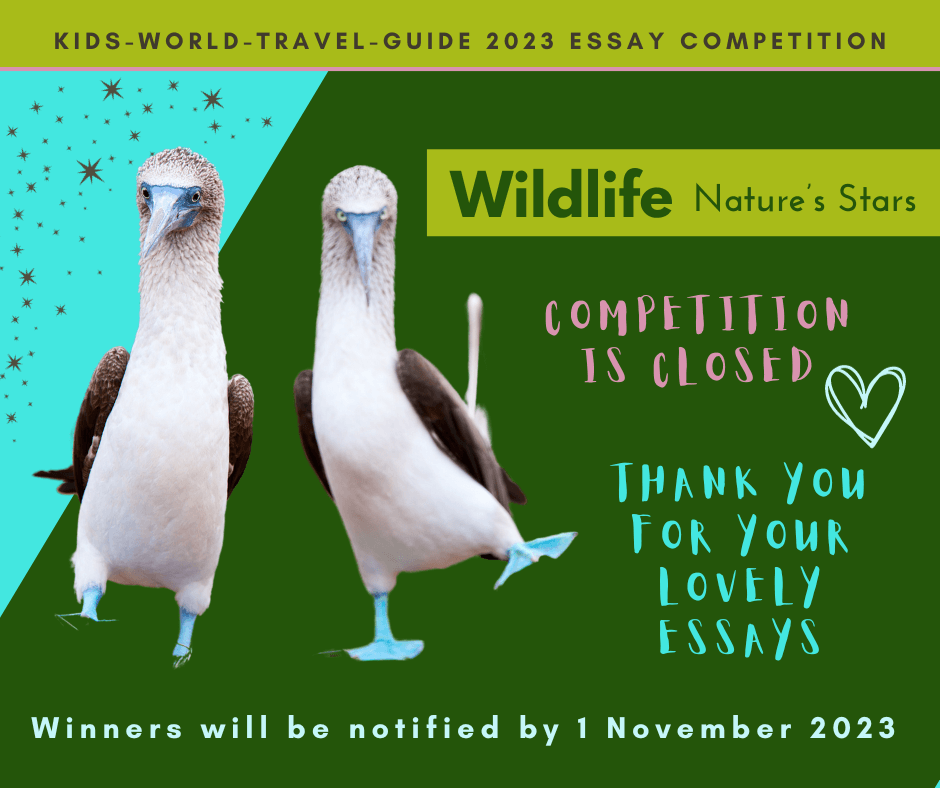 Watch this space
Competition 2024 will be announced in February