Sports in China
Do you want to know about popular sports in China? China has a large population and in all the various regions some sports are more popular than in others. Of course depending on climatic conditions and any listing also depends on who judged what is a popular sport. 
Now let us introduce some sports that are very popular with two girls who live in the capital city Chengdu of the Sichuan province in south western China!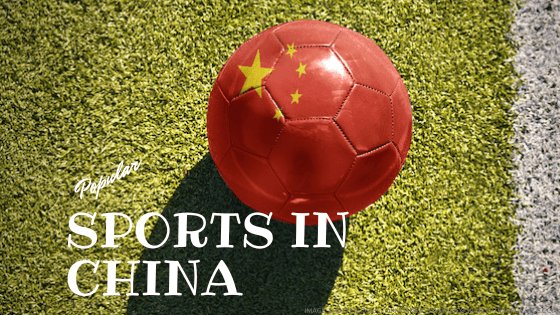 Popular Sports in China
Although you can see a soccer ball in our header image, and although soccer certainly is a very popular sport in China, there are many other popular sports in the country. Just think about basketball or badminton.
However, here our young writers focus on five other sports. So let's read which sports these young Chinese students prefer.
1 | Equestrianism or Riding 

- Sports in China
Equestrian sports means horse riding. This is a growing sport in China although riding was already a fascinating pastime in China a long time ago.
About 3060 years ago, the ancient Chinese people rode on the horse to play ball. They rode on the horse to join in the war.
Now there are about 2000 riding clubs in China, where riders train with horses in a ring in a riding club. Most riding clubs have an indoor ring, also called arena, or open fields for riders and horses to exercise.
Equestrianism
There is an outstanding horse rider named Alex Hua Tian. This 33-year-old Equestrian sportsman has won many gold medals and has helped Chinese kids to understand this sport.
Alex Hua Tian is the first ever Chinese eventing rider and the youngest Olympic eventer in the world. Alex Hua Tian lives in England where he was born to a British mother and a Chinese father and started riding when he was just four years old.
Alex Hua Tian
Eventing is known as the triathlon of riding sport and a combination of cross country, jumping and dressage.
Kids like to make friends with horses, so there are more and more children joining in this sport. I like horses and horse riding very much. When I ride on the horse's back, I feel like I am the wind.
2 | Artistic Swimming 
- Sports in China
Artistic swimming is also called synchronized swimming. It is a sport where several swimmers present a special routine or choreography to music.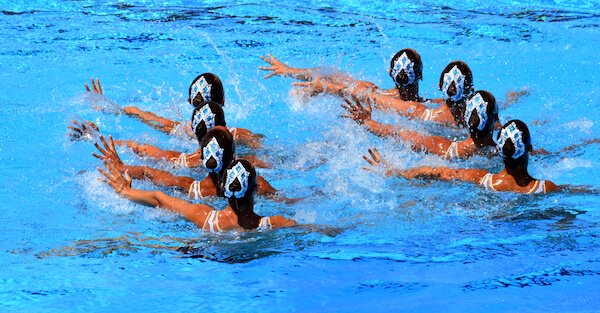 Synchronised swimming
The swimmers practice special movements and techniques in the pool. They present their synchronised moves in shows. Synchronised means making the same moves at the same time, like a ballet troupe.
People also refer to this as 'water ballet'. For shows, the swimmers wear shiny swimming suits and makeup, and present the same postures at the same time. They are just like beautiful fish in the swimming pool.
Artistic swimming
There are two famous Olympic winners from my hometown. They are named Jiang Wenwen and Jiang Tingting. The sisters are amazing. They help to train the young swimmers. Kids can find a swimming club to learn this sport.
Artistic swimming is a team sport, everyone must learn to coordinate with each other's moves. It's quite fun for me and I enjoy it very much.
3 | Volleyball - 
Sports in China
The Chinese people started to play volleyball in Guangzhou in South China in 1905.
The first Chinese volleyball team to win the first medal for China was 1982, and the Chinese people were very proud of it. Their famous coach was named Langping, born in 1960, and she lead the Chinese team to win more and more medals. Then the whole country began to learn volleyball. This sport is very cool!
Chinese volleyball players - image by Yu Chun Christopher Wong/ shutterstock.com
When I see the player jump in the air and hit the ball, the player looks like an eagle to me.
4 | Table Tennis 
- Sports in China
Table tennis is a sport where two or four players hit a small and light ball with a special short paddle called racket.
The sport is played on a table with a low net across the middle and the players must hit the ball back and forth across the table. The ball is not supposed to fall off the table. The sport is also called ping pong.
Both adults and children like this sport.
Table tennis is a popular sport in China - image by xian photos/ shutterstock.com
Table tennis is an Olympic sport since 1988.
The Chinese players are very strong. China has won a lot of gold medals in Table Tennis competitions and the Chinese have won more World Championships than any other country.
Table tennis players Ye Yihan (Singapore) and Meng Zi (China) - image by Stefan Holm/ shutterstock.com
There are a lot of famous Chinese champions, for example Deng Yaping, Liu Guoliang, Wang Nan and Ma Long.
5 | Figure Skating 
- Sports in China
Figure skating is a very elegant sport. All the athletes will perform on skates in an ice ring and dance to music.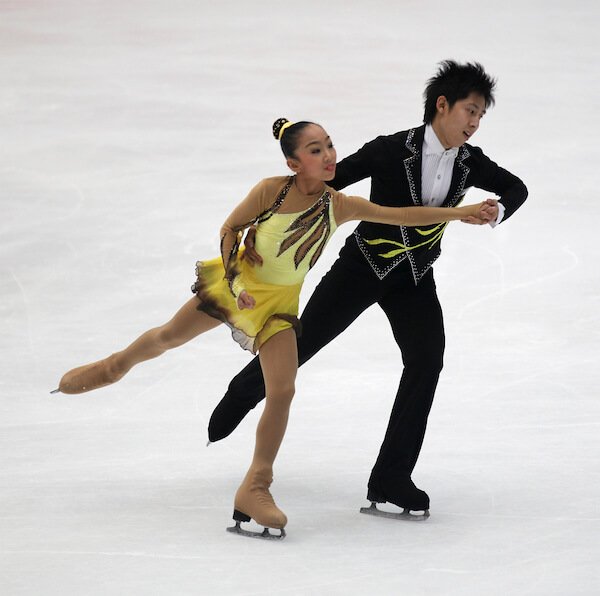 Chinese figure skaters Wenjing Sui und Cong Han - image by testing/ shutterstock.com
Figure skating is practised for many centuries and is part of the Olympic Games since 1908. In China this sport is only about 100 years old. The first gold medals were won by Chinese skaters Shen Xue and Zhao Hongbo at the Vancouver Winter Olympics in 2010.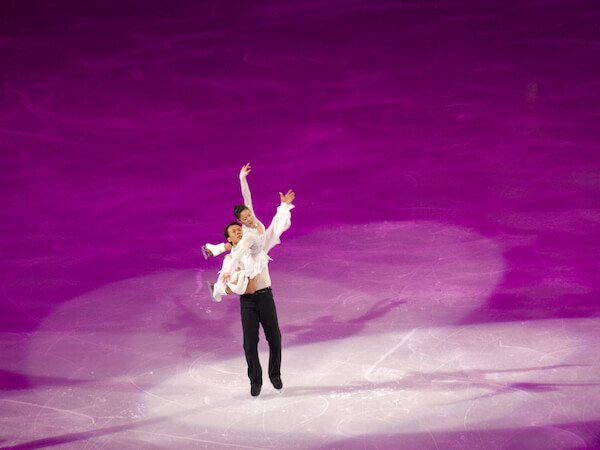 Shen Xue and Zhao Hongbo at the Vancouver Olympics 2010 - image by AlexAranda/ shutterstock.com
Some countries are very good at figure skating, such as Russia, the USA and Japan, but China is getting better too.
In the 2022 Winter Olympic Games in Beijing, China had a good achievement and ranked third in the medal table.
Popular Pages
Sports in China | Resources

This article Sports in China was researched and compiled by Annie Jiang, aged 8, and Laura Wang, aged 9, from UP Ultra Phonics Reading Center in Chengdu/ China.
Thank you for this lovely article on popular Chinese sports and your favourite activities. A huge thank you goes also to Lisa, their amazing teacher for her support in growing and expanding our China pages for young readers.
Resources used for Sports in China:
Alex Hua Tian. "Equestrian Sport." AlexHuaTian.com. Last accessed 29 July 2022
Claudia Klingelhöfer. "Chinese National Sports." ISPO. 12 January 2021. Last accessed 29 July 2022
Images on Sports in China: Shutterstock.com; Volley ball image by Yu Chun Christopher Wong/ shutterstock.com and Figure Skating image by AlexAranda and testing/both shutterstock.com, table tennis photo by Stefan Holm and xian-photos/ both shutterstock.com, Alex Hua Tian from AlexHuaTian.com