Kids Travel Health
Here are some kids travel health tips for you to have peace of mind when travelling with kids. Be prepared and you will not have to worry should some health scares come along during your vacation.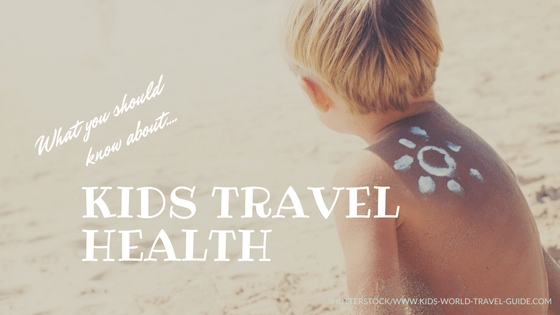 Here are our travel health tips for a happy healthy holiday:
• Make sure the vaccinations are up to date. Vaccinations are a must when travelling abroad and I would always recommend taking along the vaccination booklet with your travel medical kit. Polio, Tuberculosis, Diphtheria are standard vaccinations all around the world now and the inoculations against MMR (Measles, Mumps, Rubella) are recommended as well, as these childhood diseases are still occurring in many countries around the world. Inoculations for Hepatitis A and B are as well advised when travelling to several hot countries and especially in developing countries.
• Make an appointment at a travel clinic or health practitioner before your trips and get some more information about any special condition of your child.
• Research and print out list of doctors and hospitals in the region you are visiting. Several big insurance companies compile a list of recommended doctors, try contact your insurance broker
• Get private medical travel insurance. Never underestimate the costs you could occur if your child is involved in an accident or gets sick and needs medical attention or even hospitalization. Make sure you have all relevant info about your child's special condition with you when travelling.
• Take a Travel Health Kit along with Essential medication for Kids. Whenever you travel with kids, you will need some specific mediation and self-help remedies when trouble hits.

Find our tips for your Essential Kids Travel Health Kit here:

Need to know! What you must take when travelling with kids
More Kids Travel Health Tips
Do not eat raw fruit and vegetables in hot countries
Try not to drink before you eat in hot countries, as fluid thins the stomach acid and flashes out the good bacteria as well.
Instead of soft ice cream, get some ice lollies or ice cream from restaurants
Keep kids from running in grass or bushes in tick high risk areas and check your child's body thoroughly every day for tick bites
In areas where there are poisonous snakes or spiders be careful when collecting wood for camp fires and watch where you walk when hiking
Put on plenty of sunscreen and remember to top up even after a quick splash in the water
Get the child to shower off salt residues after swimming in the sea especially when the beach is sandy! Some children suffer badly from allergic reactions when the three "S" come together: sea, sand and sun.
Get some good sun shirts and hats as well as beach sandals for walking on the beach, as sand often gets very hot or broken seashells might cut the feet.
We hope our Kids Travel Health Tips will help you to enjoy a great relaxed and healthy holiday:-).
Return to Kids-World-Travel-Guide Homepage
Enter our competition NOW