Norway Facts
Interesting Norway Facts for Kids
Here are some interesting Norway Facts which were chosen and researched by kids especially for kids.

Population: Over 5.1 million people live in Norway (2014)
Capital: Oslo, which is the third biggest city in Scandinavia after Stockholm and Copenhagen, with over 634,400 city inhabitants.
Name: Kingdom of Norway, short: Norway, in Norwegian: Norge
Government: Constitutional Monarchy.
Language: Norwegian
Religion: mainly Christians
Life expectancy: 79 years
Currency: 1 Norwegian Krone (NOK)=100 ore
National Symbol: Lion
Norway Geography:
Where is Norway? - Norway Map
Norway lies in northern Europe, in Scandinavia, and lies above the Arctic circle. A trip to Oslo takes a 2-hours flight from London/England, 6-hours flight from New York/USA. 
On the map below you can see where Norway is in Europe.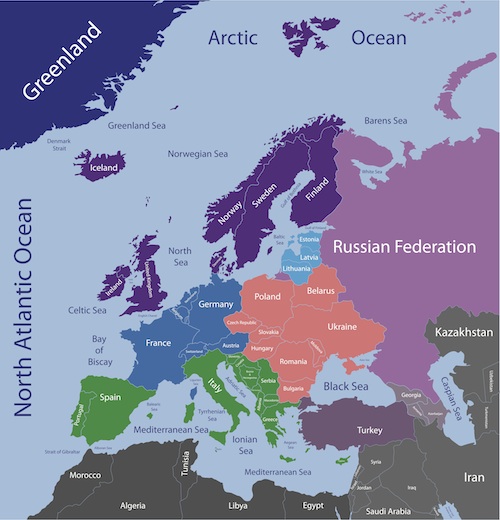 Norway is a fjord country with many great fjords to visit, like the Sogna fjorden, which is the biggest fjord in Norway with its 180km long finger. 
The most spectacular fjord is said to be the Geiranger fjord, which you can see on the picture below.
Geiranger Fjord
Norway Attractions
Here are our favourite Norway attractions for kids:
Lofoten Islands: visit the Trollfjord and join nature safaris or see the northern lights

Lillehammer: Go skiing or snowboarding in one of the oldest ski resorts in Norway

Visit any of the fjord such as the popular Geirangerfjord, Hardangerfjord or Sognefjord
Oslo: The Viking Ship Museum exhibits two of the best preserved Viking ships from the 9th century or explore Norwegian culture in the world's oldest open-air museum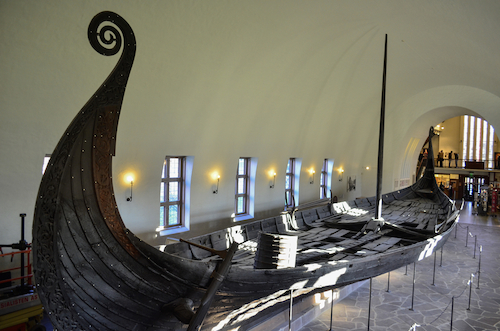 Norway Animals
| | |
| --- | --- |
| In Norway you will find reindeer, which are also called caribou. These animals which only live in the northern hemisphere above the Arctic circle, travel far to get food. They have antlers, which they use for scraping the snow away from the ground to find food. The caribou have four toes. | Reindeer |
In Norway lives also the Arctic fox whose coat changes with the seasons. In winter his fur is mainly grey and white, while in summer it changes to a light brown.

Interesting Norway Facts
Did you know...?
... that the Nobel Peace Prize is awarded in Oslo annually since 1901 for outstanding work in making or keeping peace. The Norwegian King Harald V is also present at the award ceremony in Oslo. 
The Nobel Prize awards are given for these sciences: physics, chemistry, physiology or medicine and literature and for peace. The prizes are presented either in Stockholm/Sweden or in Oslo (Nobel Peace Prize). 
By the way, Alfred Nobel was Swedish, that is why the other Nobel Prizes are awarded at ceremonies in Stockholm.
Norway Facts for Kids: Useful Resources
Article about Norway in the CIA World Fact Book
Great articles about Norway and Norwegians on Life in Norway
We hope you enjoyed reading our Norway Facts for Kids. Make sure to bookmark this page, as we plan to add on more information to make this page even more interesting, not only for children:-)
More countries will be added shortly too.
Picture credits on this page: Images by SXC.hu and Shutterstock.com, Geiranger Fjord by emanuela (arancia.org) at sxc.hu; Caribou by Garrisonphoto.org;