News for Kids
Here you will find a new section with news for kids. Please bookmark this page as we will post new articles on a regular basis and plan to expand this page by adding different news sections with fun world news and travel news which are really worth knowing about. These news have been selected by our team of junior editors and we are sure your children will enjoy to read them as much as we do.
Let's start with these fascinating world news:
Astronauts return from Space
12 April 2017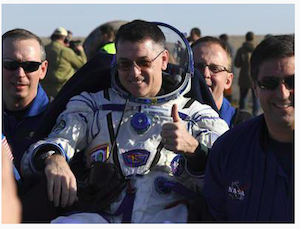 © dpa
Home at last! This is what most people who have been on the road for a long time think when they finally get home. However, three astronauts must have thought, 'Finally, back on Earth!'
The three men had been very far from home. They spent 173 days aboard the International Space Station, known as ISS. That is about six months. They carried out research and many experiments there to get more information about space. Their names are Shane Kimbrough from the United States of America and Andrey Borissenko and Sergey Ryzhikov from Russia. The men landed back on Earth in the country of Kazakhstan in Central Asia on Monday.
The ISS space laboratory has been orbiting Earth since 1998. The ISS is about the size of a soccer field. It has two bathrooms, a gym and several other rooms for the astronauts to live and work in. Sixteen countries, including the USA, Russia, Japan and Canada worked together to build the station. © dpa news for kids
Rare diamond sold for millions
12 April 2017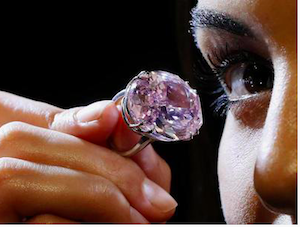 © dpa
A very rare pink diamond was found at a secret location in Africa in 1999. This diamond weighed 11.92 grams, which is about the same weight as two marbles. The diamond called 'Pink Star' now was sold for over 72 million US dollars (or 67 million euros or 970 million South African rand) to a buyer in Honking/China.
Diamonds are valuable gemstones because they were formed billions of years ago deep under the ground. They were pushed up towards the earth's surface over time and are now mined. South Africa is well known for its diamond mines. The world's largest diamond, the Cullinan Diamond, was found here in 1905. It weighed about 620 grams. That is just a bit bigger than a block of margarine.
After they are taken out of the ground, diamonds are cut into shapes, polished and sold. Diamonds are one of the hardest natural substances on earth and are not only used in beautiful jewelery, but they are also used to make cutting tools and drills. © dpa news for kids
The Dog Teacher
5 April 2017

© dpa
This tiger cub and the big black dog are good friends. The cub and his two siblings play with the dog Blakely regularly. The tiger cubs were born in a zoo in Cincinnati in the United States of America in February. However, their mother did not care for the cubs after they were born. So the zookeepers fed them every day. Still, the zookeepers say they cannot teach the tiger cubs everything an animal needs to know. This is what Blakely does.
He plays with the cubs, wrestles with them and chases them. He teaches them things only animals know. For example, with him, they learn the difference between a bite when playing around and a real bite that will injure or kill an animal. Blakely knows his tasks well. He has helped teach many animal babies over the years. © dpa news for kids
The World's Newest Continent?
30 March 2017

© dpa
How many continents are there in the world? Right now there are seven. But there may soon be another one. That is because scientists recently discovered what they believe is another continent. Say hello to Zealandia!

It turns out that New Zealand isn't made up of just a few islands on the Pacific Ocean. Scientists say the country is part of an entire continent, most of which is under sea. They say if it wasn't for the sea, they would have long discovered Zealandia.
Many many years ago, Zealandia broke away from its neighbour, Australia and sank.
Scientists now want it to be recognised as a new continent because it fits all the criteria. For example, it has continental rocks such as granite, like other continents. If this happened, Zealandia would be the eigth and smallest of the world's continents. © dpa news for kids
Ancient Statue discovered in Egypt
30 March 2017

© dpa
A fascinating discovery has been made in the northern African country of Egypt. Archaeologists from Egypt and Germany have found a huge statue in the country's capital, Cairo. 'We found the bust, lower part of the head, the crown, right ear and a fragment of the right eye,' says government Minister, Khaled al-Anani.

The statue is about eight metres long. Officials believe it is a statue of one of Egypt's leaders. His name is King Psammetich I. He ruled Egypt from 664 to 610 BC. They say he was a powerful ruler who led the country to win many wars.
Archaeologists says such discoveries are very rare. They will now put the statue back together again. It will then be kept in a statue museum to be opened in Egypt next year.  © dpa news for kids
World Happiness Report
21 March 2017

© dpa
Every year researchers ask 1,000 people in each of the 155 countries of the survey how happy they are when they think of their lives as a whole. This year, the result is that Norway, in northern Europe, is the world's happiest country.

Countries in the top ten are Denmark, Iceland, Switzerland, Finland, the Netherlands, Canada, New Zealand, Australia, and Sweden. 
The report says people in the happiest countries are happy because there is more care, freedom, generosity, honesty, health, good income and good governance than in other other countries. By the way, the United States of America is only 14th on the list.

People in African countries, however, see themselves as not so happy. The highest ranking countries in Africa are Algeria at number 53, Morocco at 84 and Nigeria at 95 and South Africa at 101 out of the 155 countries. Three African countries are right at the bottom of the list. Tanzania, Burundi and the Central African Republic are the least happy countries in the world. © dpa news for kids
Read here more about Africa on our Africa Facts for Kids
Dubai: Taxis that fly
9 March 2017

© dpa news for kids
Can you imagine flying from your house to school? Not having to deal with taxis or traffic? In the near future, this may be one of the ways people travel around Dubai.

Dubai is a small but very modern state in the Middle East. This city is hoping to introduce drone taxis in July. A drone is a type of small aircraft that flies without a pilot. Yes! These drones won't have a driver. A passenger will just need to give his or her destination and the drone will fly straight there.
Dubai says passengers should not be afraid of using them. In case something goes wrong in the air, drone experts can control them remotely from the ground.
It all sounds like straight out of a science fiction novel, doesn't it? But Dubai's government is serious about it. However, it is still somewhat unclear whether the drone taxis will work reliably and by when they will be rolled out for use by the public.
Dubai, which often experiences traffic jams, hopes the taxi drones will help reduce traffic on the roads. If this works, Dubai will be the first country in the world to use taxi drones as a form of public transport. © dpa news for kids
DPA - News for Kids
Thanks to the support and collaboration with DPA-Deutsche Presse Agentur GmbH, we can bring the most interesting news for kids to you! Find selected news for children right on our website. So bookmark this page and enjoy being always informed!
Go back from News for Kids to Kids World Travel Guide Homepage