Canada Facts
25 Awesome Facts about Canada
Here on this page about Canada Facts you will find 25 fascinating facts and interesting information - not only for kids but for all who want to know more about this wonderful country.
Canada is the second largest country in the world after Russia. The country is divided into ten provinces and three territories. This huge country in North America has lots of superlatives on offer. 
Canada Facts
Nunavut territory in Northern Canada was just created in 1999 and is home to the Inuit population.
Canada has the longest coastline in the world with 202,080km (WorldFactBook)
Did you know that the number plate for cars, motorbikes and snowmobiles in the Northern State of Nunavut is the shape of a polar bear?
Three Canadian islands are among the top ten biggest islands in the world. They are: Baffin Islands (more than double the size of Great Britain), Victoria Island and Ellesmere Island (both are roughly the size of England).
Canada has more than 31,700 big lakes (over 300ha.)
The country also has two of the biggest lakes in the world: Great Bear Lake and Great Slave Lake.
Montreal, Canada's second biggest city after Toronto, is also the second biggest city in the world  (after Paris) that has a French-speaking population after Paris?
Nine out of ten Canadians live in the US-Canada border region (up to 200km from the US/Canada border).
The Bay of Fundi in the eastern part of Canada has the highest tides in the world. The waves there are more than thirteen metres high.
Jasper Nationalpark in the Rocky Mountains spans over several vegetation zones.
Canada's biggest bay is Hudson Bay which was discovered in 1610.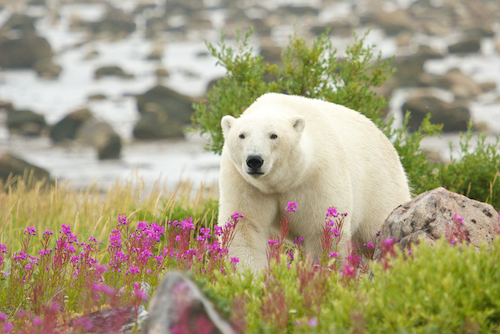 Canadian polar bear in the tundra at Hudson Bay
Image Credits: Shutterstock.com
References: BBC News: Canada Profile latest update 24 April 2014
Canada Statistics: Government of Canada official website
Radio Canada: Hockey by the Numbers. Interesting article on junior sports
The Canadian Encyclopedia: various Geo quizzes, last accessed 3 September 2014
Read more interesting facts about Canada

Return from Canada Facts to Kids World Travel Guide Homepage