Romania Facts
Interesting Facts for Kids
Our Romania facts were chosen and researched by kids especially for kids and shall provide insights into the geography of this Eastern European country.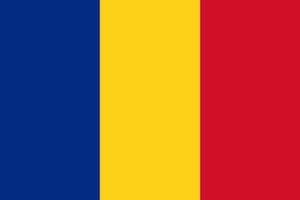 Romania flag
Population: 21 million people live in Romania (2023)
Capital: Bucharest with 2.4 million inhabitants
Government: Semi-Presidential Republic
Language: Romanian

Literacy: almost 99% can read and write.
Religion: mainly Christians (Eastern Orthodox 82%)
Currency: Romanian Leu = 100 bani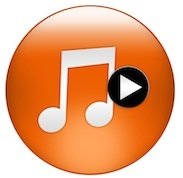 Anthem
National anthem: Deșteaptă-te, române! (Wake up, Romanian!) The anthem was written in 1848 but only adopted in 1990.
National symbols: blue, yellow, red (national colours) golden eagle
National Day: 1 December
History: 1862 the Walachia and Moldavia united to form Romania, the unification of Romania and Transylvania in 1859 led to the formation of Greater Romania, Romania's independence was declared in 1878, the First republic was proclaimed in 1947. The Romanian Revolution in December 1989 led to the fall of dictator Nicolae Ceausescu. In 2007 Romania joined the EU.
President: Klaus Iohannis (since 2014)
Romania Facts | Geography of Romania

Where is Romania? Romania is a country in southeastern  Europe and is a member country of the EU.
Romania borders the black Sea and five countries: Ukraine, Moldova, Bulgaria, Serbia and Hungary.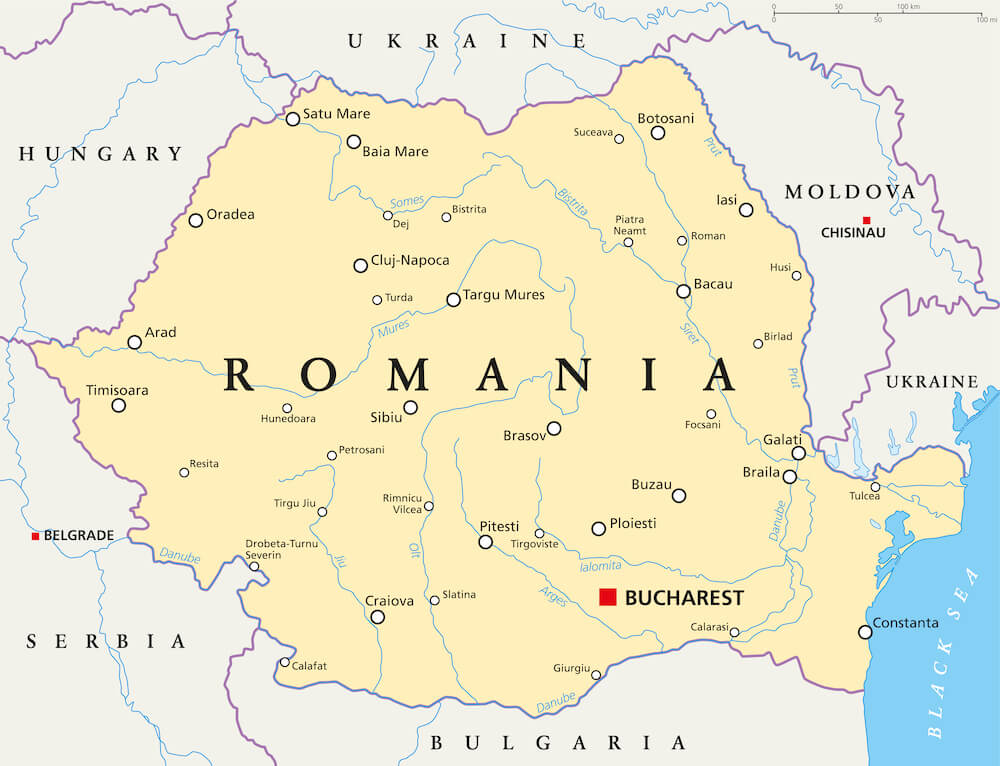 Map of Romania
The longest border is shared with Moldova and measures 683 km/ 424 miles in length.
Romania's coastline is 255 km/ 158 miles long and the country has mountains and hills as well as plains. About one third of the country are forests. The Carpathian mountain range dominates the centre of the country. Romania has a temperate continental climate.
Romania can be compared in size with the state of Oregon in the USA. 
The name 'Romania' originates from the local name for a Romanian or those coming from Rome.
Romania Facts | Geo Superlatives
Romania's capital city Bucharest is the biggest city in the country with about 2.4 million inhabitants living in the metropolitan area. 
Bucharest is the sixth largest city in the European Union.
The parliament buildings in Bucharest are the largest parliament building in the world.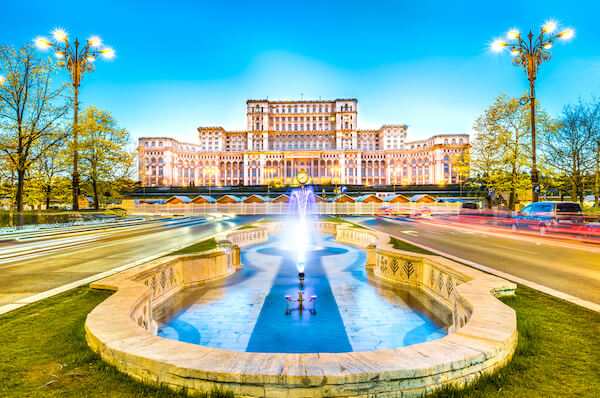 Palace of Parliament in Bucharest
The Danube River is the longest river in the country and forms in large parts the border with both Serbia and Bulgaria.
The Danube Delta is Europe's largest marshland and second largest delta.
The highest mountain in Romania is the Moldoveanu Mountain with 2,544 m/ 8,346 ft. 
Mount Moldoveanu
The oldest human remains ever found in Romania date back to about 38,000 BCE and are those of 'homo sapiens' and are the oldest known human fossils in Europe.
Romania Facts
Attractions and Landmarks
Here are some of the most famous landmarks of Romania.
Parliament building in Bucharest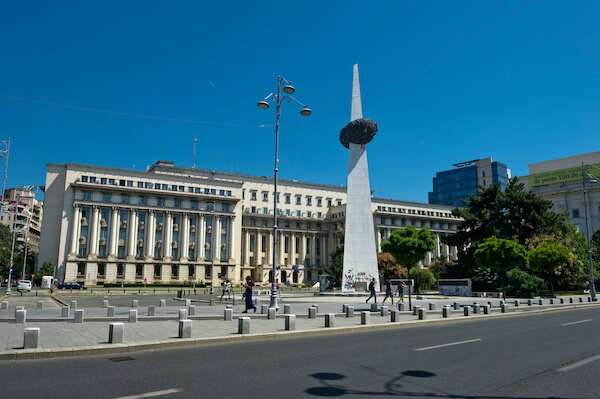 Revolution Square in Bucharest - image by Liviu Gherman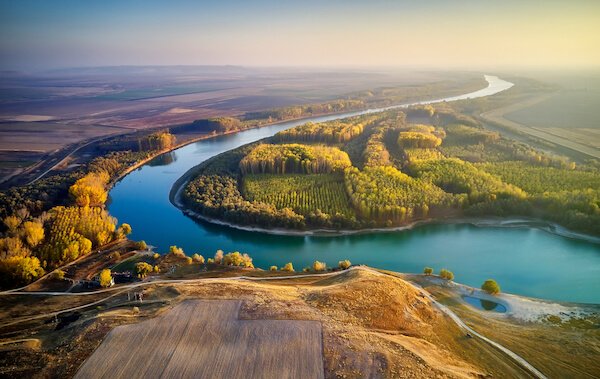 Danube Valley in Romania
Fortified church in Prejmer/ Transylvania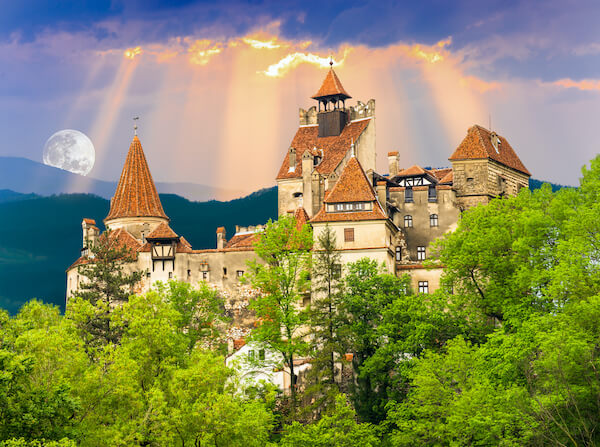 Bran Castle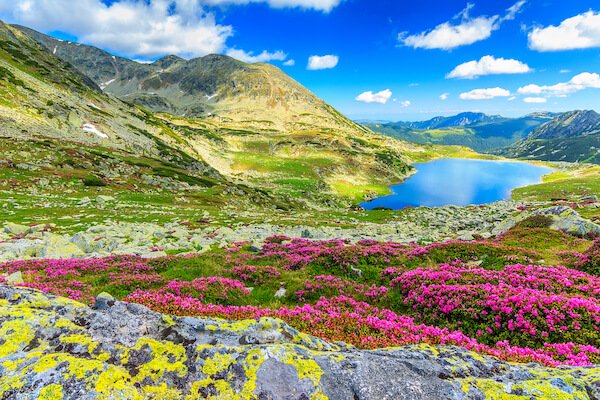 Retezat Național Park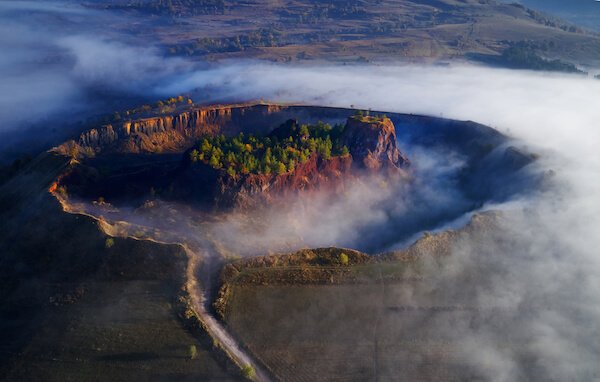 Brasov Volcanic Crater
Romania Facts | Romanian People
Just over half of all Romanians live in urban centres. Romania's biggest city is the capital city Bucharest with about 2.4 million people living in the metropolitan area of the city.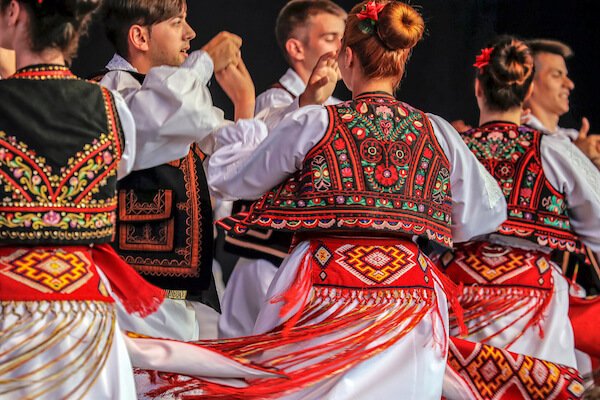 Romanian dancers in traditional costumes - image by Florin Cnejevici
Among the larger Romanian cities, however all with a population of less than half a million people, are Cluj-Napoca, Timisoara and Iasi. The northern and eastern parts of Austria are more densely populated.

Hungarians are the largest minority group in Romania. They mainly live in eastern Transylvania. 
Soccer and tennis are the most popular sports in Romania.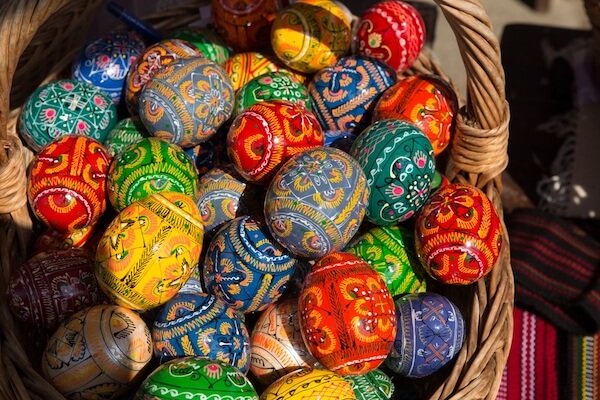 Traditional Romanian easter eggs
Please keep this page bookmarked, we will add more info here soon.
Romania Facts | Romanian Language
Romanian is the official and most spoken first language in Romania. There are several minority languages spoken in the country and these include Hungarian, Vlax Romani, Ukrainian, German, Serbian and Turkish.
Romanian is a Romance language which is similar to French, Spanish or Italian. The Romanian alphabet has 31 letters including five very specific Romanian letters: ă,â,î,ț, and ș
The oldest document written in the Romanian language is from 1521.
English and French are taught in most schools.

Romania Facts | Romania Economy
Romania is one the world's foremost producers of plums. Romania is also among the largest maize producers in the European Union. Germany, Italy, France and Hungary are the main trading partners.
Romania is part of the European Union since 2007, however, the country has not joined the monetary union yet and still uses the Leu as currency.

Romania Facts | Romanian Food
Popular Romanian food specialties include:
Tochitură: This is a Romanian long simmered stew. This dish includes pork meat, smoked pork sausages, kidneys and liver. Tochitură is traditionally accompanied by mămăligă, fried eggs and cheese.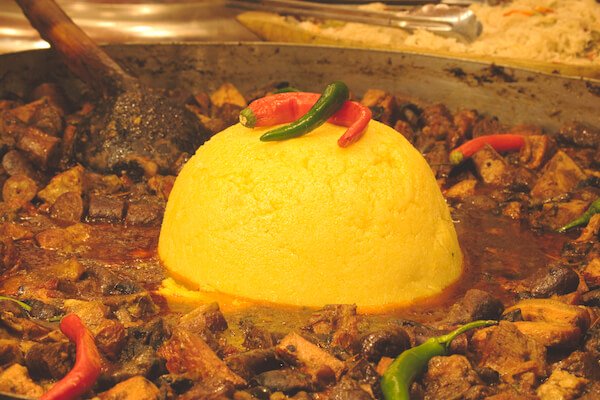 Romanian dish 'tochitura'
Mămăligă

: similar to polenta made with corn flour but mixed with sour cream or cheese

Mici

: grilled minced meat rolls made with pork or beef mince that has been mixed with garlic, onions and spices.

Papanasi

: fried cheese donuts that are served hot with sour cream and blueberry jam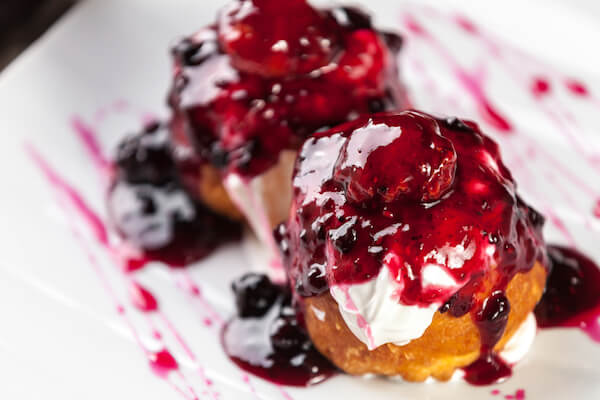 Papanasi
Sarmale: delicious cabbage rolls are served at special celebration feasts such as Christmas or weddings
Romania Facts | Romania Animals
Romanian Shepherd Dogs are a unique Romanian breed originating from the Carpathian mountains. 

Romanian shepherd dog
These patient watch dogs are very good with children and thus also used as protective and affectionate family dogs. And they usually only bark to alert.
Resources for Romania Facts
Resources for our Romania Facts page were:
Central Intelligence Agency. "Romania." WorldFactBook. Last update 19 September 2023. Last accessed 21 September 2023

Rolandia. "14 mouth-watering Romanian foods that everyone should try". Rolandia.eu Last accessed 21 September 2023
American Kennel Club. "Romanian Mioritic Shepherd Dog." AKC. Last accessed 21 September 2023

Popular Pages
Return from Romania Facts to Kids World Travel Guide Homepage
Enter our competition NOW